It's been a month since I last posted on the theme of disenchantment, and a lively month at that. The cracks in America's global empire have become increasingly visible around the world.  Here at home the mentally challenged resident of the White House continues to blunder through a vague approximation of his constitutional duties while the coterie of neoconservative zealots that hand him his talking (or rather mumbling) points is busy trying to start more wars the United States no longer has the resources or the national unity to win. Donald Trump is basking in the success of his recent CNN town hall, Robert Kennedy Jr. is rising steadily in the polls as he campaigns to unseat Biden for the Democratic nomination—well, let's just sum things up by saying that it's a good time to go long on popcorn futures.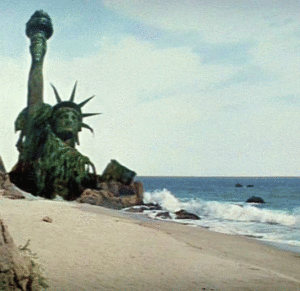 With all this and more happening, it may not seem timely to return to so apparently abstract a point as the historical alternation between eras of enchantment and disenchantment. Here as so often, however, appearances deceive.  What Max Weber called "the disenchantment of the world" is a massive political fact, but it's by no means as cut and dried as Weber apparently thought—and it's also not a one-way process. Grasp the way that the modern experience of disenchantment unfolded across historical time, and where it can be expected to lead next, and you understand much that is otherwise obscure about how we got into our present predicament and what we can expect in the years ahead.  This is the theme I plan on developing in this and a sequence of future posts.
Let's start with a glance back over the ground we've already covered. Back in September of 2020, when I asked readers what they wanted me to write about for the fifth Wednesday that month happened to have, the largest number of votes came in for a discussion of Max Weber's claim that "the disenchantment of the world" was an essential feature of modernity. I'd brought that claim up earlier, having read several reviews of Jason Josephson-Storm's then-recent book The Myth of Disenchantment, which challenged Weber's notion.  The resulting post was titled "The Mask of Disenchantment," and the process of writing it brought me face to face with the serious problems at the heart of the popular claim that we live in a disenchanted world.  That in turn sent me down the proverbial rabbit hole, chasing a cast of characters at least as colorful as those that stocked the Wonderland Alice visited.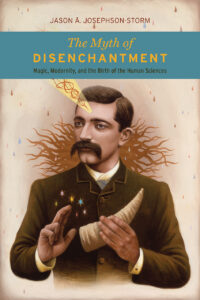 The resulting research finally yielded a series of further posts starting in January of this year. The first of those, "The Nature of Enchantment," went deeper into what it is that we're talking about when we speak of the enchanted world of the past, and noted the significant changes in human consciousness that mark the difference between enchantment and disenchantment. The next three posts (here, here, and here), all titled "Against Enchantment," discussed three influential authors—Ken Wilber, Owen Barfield, and Jean Gebser—who all rejected enchantment as an outworn relic of the primitive past. All of them, as we saw, assumed that the end of enchantment was a unique and permanent transformation, and all of them argued that in the future we could expect another equally unique and permanent transformation to some better state of being.
A later post, "The Reign of Quantity," explored the very different ideas of René Guénon, who also saw the modern world as having fallen away from enchantment but saw this as a bad thing which would eventually go away, to be replaced by a return of enchantment. Before that I took a detour with another post, "The Destiny of Disenchantment," which used the most famous work of Roman pornography and one of the most famous works of Christian hagiography to raise hard questions about the one-way timeline of history presented by Wilber, Barfield, and Gebser.  In that post, I pointed out that the ebb and flow of enchantment appears to move in lockstep with the rise and fall of civilizations.
I want to make sure this last point is clear, because it's foundational for the posts to come. One of the central themes of my blogging, since early in the days of The Archdruid Report, has been the life cycle of civilizations, ours very much included. It's a matter of common belief in today's industrial societies that we've broken free of the cycle of rise and fall that shaped the history of past civilizations. My take, of course, is that this common belief is wrong.  Modern industrial civilization is in decline, it's been gradually picking up speed on the downslope for more than half a century now, and we're not going to get the endlessly rehashed fantasy of humanity zooming off to the stars.  What we're facing instead is something much more familiar:  a long, slow, uneven descent unfolding over the next few centuries, which will end in a dark age and eventually give birth to the successor civilizations of the future.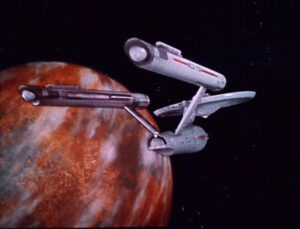 I've explored this point from a great many angles over the years, but most of those have been more or less material in nature.  I've talked about the exhaustion of nonrenewable natural resources, the disruption of ecological processes that support the industrial system, the economic blowback of empire, the loss of essential skills that might enable our societies to downshift to a more sustainable mode of functioning, and so on. All those remain relevant. Yet there's a deeper dimension to the rise and fall of civilizations—a dimension of consciousness. People in the early and late stages of a civilization don't experience the world in the same way, and they also don't experience themselves in the same way. The difference in both cases is the presence or absence of the quality we've described as "enchantment"—that is, the capacity to experience the world as full of life, consciousness, meaning, and magic.
Enchantment covers a great deal of territory, but one aspect in particular deserves close attention in the present context. Owen Barfield is particularly helpful here, as so often in our exploration. In Saving The Appearances he defines the state of enchantment—his term for it is "original participation"—in the following way:  "The essence of original participation is that there stands behind the phenomena, and on the other side of them from me, a represented which is of the same nature as me. Whether it is called 'mana', or by the names of many gods and demons, or God the Father, or the spirit world, it is of the same nature as the perceiving self, inasmuch as it is not mechanical or accidental, but psychic and voluntary."
Read that again, and think about the implications. What he's emphasizing here is the role of personhood in the experience of enchantment. When you encounter the world in an enchanted way, it isn't a world of dead matter bobbing about in empty space. It is not, in his neat phrasing, "mechanical or accidental." Rather, it is psychic—that is to say, it contains consciousness and mind—and it is voluntary—that is, it expresses intentions and desires.  The enchanted world is not a collection of things; it is a community of persons.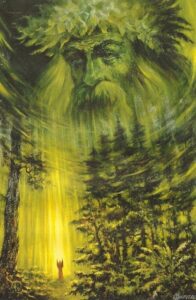 It is not, crucially, "believed to be" a community of persons.  It is experienced as a community of persons. The inability to grasp that is one of the great blind spots of our disenchanted mode of consciousness. It is inconceivable to most people in the modern industrial west that our ancestors weren't simply engaged in a sort of earnest make-believe, pretending that the world was full of gods and spirits while aware somewhere in the back on their minds that it just wasn't so. In a condition of enchantment, belief is unnecessary, because people encounter gods and spirits. They may not do so in exactly the same way that they encounter trees and porcupines, but they see gods, spirits, trees, and porcupines, as well as human beings, as inhabiting the same world, a world of enchantment. Furthermore, those trees and porcupines are also persons, also members of a community that embraces all the inhabitants of the enchanted world.
It's amusing to me that many people who are willing to edge up to the concept of enchantment back away in considerable discomfort from this recognition.  I'm thinking here among others of Christian blogger Rod Dreher.  Some time back one of my readers forwarded me part of a subscribers-only post Dreher made, discussing this series of essays.  As you'd expect from Dreher, it was good thoughtful stuff.  He drew up sharply, though, when it came to the notion that enchantment might reflect something real. I'd suggested that in the state of enchantment, the Sun is experienced as (not just "believed to be") a person, a great radiant being who gazes down at the world as he passes from horizon to horizon. That was too much for Dreher to handle, and he backed away, insisting that it simply isn't true that the Sun is a person.
This would have been news to St. Francis of Assisi, whose famous canticle addresses Brother Sun among other nonhuman persons. Yes, I know it's fashionable these days to insist that this is merely a poetic metaphor, but I'd like to encourage my readers to reflect on the possibility that it is nothing of the kind. Francis lived in the high Middle Ages, the era when the colorful marvels of Jacobus de Voragine's Golden Legend were treated as matters of sober fact.  It was an era when enchantment had begun to wane in the European mind; a century and a half later, Geoffrey Chaucer could insert into The Canterbury Tales the Wife of Bath's famous account of why fairies are no longer to be found in Britain—but the saint's capacity to greet the Sun and everything else in the world of his experience as persons rather than things was understood in his day, as well as ours, as a sign of his great personal sanctity.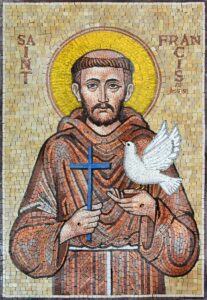 Let's go a little deeper, though. Look again at Barfield's definition of original participation. By "the phenomena" he means everything we encounter through our five material senses. In the state of original participation we experience the world of phenomena as a world of persons.  In the modern condition, in which original participation has broken down, we—or at least some of us—experience the world of phenomena as a world of things. There is, however, one crucial exception, and it casts a wry light on Barfield's definition.
The world of phenomena, after all, includes those odd objects we call human beings. To most people nowadays, it seems obvious that human beings are persons and other things are not. Yet this seemingly obvious distinction is far from obvious once you take a hard look at it.
What happens, in fact, is that each of us in childhood learns to assign personhood to human beings, and to deny it to most other things. Cognitive scientists speak of "theory of mind," by which they mean the ability of one person to reflect on their own experience of personhood and project it onto other human beings, recognizing that these other phenomena have an inner life and consciousness equivalent to one's own.  This recognition isn't immediate or inevitable. Most children attain it gradually over the course of their early lives, and some never get there at all.
Furthermore, the decision to apply that recognition only to other human beings is far from automatic. Most children, as they learn to project their experience of conscious personhood, do it with enthusiastic abandon, giving their toys, their pets, and any number of other things the same condition of personhood until they are coaxed, bullied and browbeaten into accepting the fixed definitions of personhood and thinghood that our society provides them. Plenty of people never quite accept the denial of personhood to animals, for that matter, and everyone who's ever snarled at a computer for misbehaving is projecting at least some dimensions of personhood onto it—a thing, after all, cannot misbehave, since it has no inner life and no capacity to choose to behave or misbehave in the first place.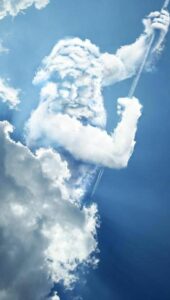 It's crucial in this context to recognize that there is no simple objective test of personhood.  This is why there's a school of philosophers these days, the so-called eliminative materialists, who insist that no one is a person, not even human beings.  There's no way to prove them wrong by logic. That doesn't mean they're right; it just means that the statement "eliminative materialists are wrong" belongs to the category Kurt Gödel described in his famous theorem:  a true statement that cannot be proven by logic. It's perfectly possible to demonstrate the internal absurdity of the claims of eliminative materialism; all you have to do is treat its proponents in accordance with their beliefs. Very few people can stand being treated as mindless, impersonal objects whose mouths make sounds that, though they oddly resemble language, obviously can't mean anything, since only persons can have meaningful thoughts.  This is not a logical proof, however!
As this example suggests, the decision to treat some part of the world of phenomena as a person or a thing is a choice. Like most of the choices in our lives, it's one we make most of the time in an unthinking, habitual fashion, but it's one that we can make deliberately and consciously. That point was made most of a century ago by German philosopher Martin Buber in his book Ich und Du (usually translated I and Thou, though I and You would be clearer English).  Buber argued that broadly speaking, people can relate to the world and everything in it in two ways. One, to which he assigned the label "I-it," is the relationship between a conscious person and a mere thing—between a subject and an object.  The other, to which he assigned the label "I-you," is the relationship between a conscious person and another conscious person—between a subject and another subject. The difference between these two relationships, again, is a matter of choice.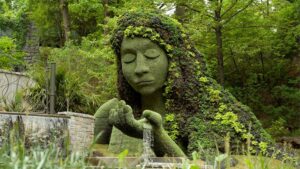 The I-you relationship, as Owen Barfield suggests, is characteristic of ages of enchantment.  It's precisely in an enchanted world that the Sun, the Earth, the weather, olive trees, grapevines, and even such seemingly disembodied factors as the experience of falling in love are experienced as persons. Yes, we're talking about gods—the ones I've just named were known respectively as Apollo, Demeter, Zeus, Athena, Dionysus, and Aphrodite by one set of people living in one age of enchantment. To those of monotheist bent, they could just as well be described as angels or saints, and of course they were so described by another set of people living in a different age of enchantment, the one in which Jacobus de Voragine and St. Francis of Assisi flourished.
People in those ages chose to experience the Sun, the Earth, and the rest as persons. Most of them made that choice in an unthinking, habitual fashion, following the customs and traditions they picked up from their societies.  That is to say, they did so the the same way most people in our time unthinkingly assume that the Sun, the Earth, and the rest are things rather than persons. Now and again there were people like St. Francis who affirmed that choice in a deliberate fashion, and by and large they were honored and revered for it. Our modern assumption, of course, is that they were just being silly, since they were wrong and we are right.
Aren't we?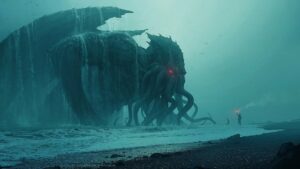 Of course that's exactly the point at issue. Psychologists know about a phenomenon known as the Pygmalion effect, whereby the assumptions you bring to a relationship affect the behavior of the other participant even when those assumptions remain unspoken. It's been shown many times by experiment, for example, that if you bring a substitute teacher into an unfamiliar class and tell the teacher that the class consists of gifted students, they will perform measurably better than if you send another substitute teacher to the same class, having told her that the students are poor learners. That happens because every child is capable of being both brighter and duller than his or her average performance, and social cues are among the things that determine which of these potentials will come out at any given time.
I'd like to venture the utterly unfashionable suggestion that the same thing is true of the world as a whole, and of most or all of the phenomena that make up the world. Approach them as persons, and tolerably often they will behave that way; approach them as objects, and the same rule applies. I've wondered more than once, in fact, if the regularities of nature central to the scientific revolution were at least partly an artifact of the decision by scientists to treat nature entirely as an object, never as a subject. By refusing to consider the personhood of nonhuman things, they got the lowest common denominator of nature's behavior, the sullen passivity of those who know they have nothing to gain by giving anything more than they have to.
It's important, though, not to fall into the trap of thinking that we human beings get to decide all by ourselves whether the phenomena around us are things or persons. We get to decide how we approach them, but the phenomena have elements of both in them. We cannot assume that they will always respond to us as persons just because we approach them that way. Nor can we assume that they will always behave like passive, mindless things just because we choose to assign them that role. The same thing is true of human beings, for that matter—and it's worth reflecting on just how many of our current crises are caused or worsened by the way that our current managerial elite can't stand the thought of treating people outside their own social class as persons rather than things, and get so consistently blindsided when other people refuse to be passive and do what they're told.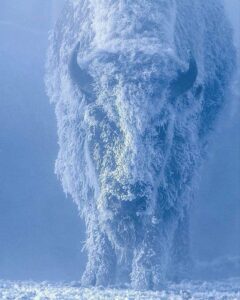 Central to the historical cycle we have been discussing, in fact, is a gradual shift over time from I-you relationships to I-it relationships. The feudal systems central to dark age societies are governed by I-you relationships from top to bottom—the foundation of the social structure is the personal bond between lord and vassal—and the same pattern of relationships extends outward from the human sphere into the realms of nature and spirit, which are experienced as part of the great community of persons making up the world. Over time, these personal relationships give way to more abstract and arbitrary interactions, personhood slowly bleeds out of the world, and in due time you end up in a situation where only human beings are considered persons.
Then the process continues, excluding more and more phenomena from personhood, until the vast bureacratic systems that run every dying civilization erase the personhood of the population, and the ruling elites of society fall deeper and deeper into the habit of thinking of themselves as the only subjects in a world full of passive, meaningless objects.  That's where we are in the modern industrial world. What happens after that is the decay and disintegration of the society, as people outside the elite classes shrug and walk away from a system that no longer even makes a pretense of meeting their needs.  We're starting to see the first stirrings of that, too—and we'll see more of it as modern industrial civilization stumbles onward through the fog its own consciousness has conjured into existence, blind to the way that human and nonhuman persons alike are responding to its actions.
And after that?  We'll discuss that in upcoming posts.