This week's Ecosophian offering is the monthly (well, more or less!) open post to field questions and encourage discussion among my readers. All the standard rules apply — no profanity, no sales pitches, no trolling, no rudeness, no paid propagandizing, no long screeds proclaiming the infallible truth of fill in the blank — but since there's no topic, nothing is off topic — with one exception.  There's a dedicated (more or less) open post on my Dreamwidth journal on the current virus panic and related issues, so anything Covid-themed should go there instead.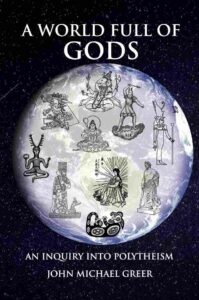 In other news, in case you missed it, I'm delighted to report that my exploration of polytheism as a live religious option, A World Full of Gods, is back in print in a revised and expanded edition.  Through the end of this month, if you order it from the publisher and use the discount code JMG20, you get 20% off the cover price. Enjoy!
With that said, have at it!