English princes should not take American brides. The experiment has been tried twice now and the results are in:  the princes become whiny and petulant, while the brides become arrogant and shrill. Since the Duke of Windsor and the Duke of Sussex had very little in common before their respective marriages, and their duchesses had even less, I don't think the problem is one of personalities.  Rather, it's a matter of the way that divergent national characters collide with the peculiar psychological impacts of royal status.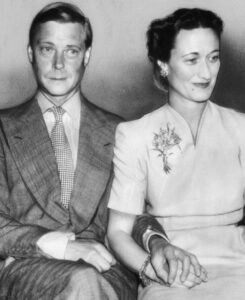 In much the same way, it's a very bad idea for American intellectuals to take French intellectuals too seriously.  Here again, that's not a matter of personalities, nor is there any lack of seriousness in the French intellectual tradition.  The difficulty here is again national character.  It's the difference between barbarism and decadence, between the intellectual climate of a society like the United States that has not yet achieved civilization—our clumsy attempts to ape European graces have been a reliable source of hilarity on the far side of the Atlantic for two centuries now—and that of a society like France that entered into civilization a long time ago and is well into the process of passing out the other end.
One of the places you can see that difference in action is the way that French intellectuals so often fit into specific social roles, as stereotyped as the characters in an old Italian commedia dell'arte play. One of the more colorful of these roles might best be described in our homely American jargon as the epic jerk:  the guy who swaggers about the intellectual landscape with a raised eyebrow and a sneer on his lips, dismissively brushing aside everyone else's work in order to present his own notions as the beau ideal to which all others must pay homage.  In French intellectual life, it's a familiar pose, and everyone knows not to take it too seriously.  Import such a person's ideas to America and you're in trouble, because our intellectuals are by and large too naive to realize that it really is just an act.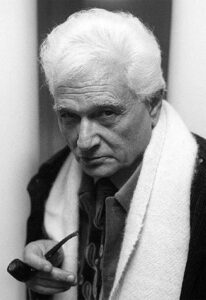 Those of my readers who know their way around the intellectual follies of the last half century or so will doubtless be thinking by now of Jacques Derrida, the most important figure in the birth of the academic movement of deconstructionism. Derrida gave a first-class performance in the role of epic jerk, and European intellectuals chuckled and went along with it. Here in America, by contrast, an entire generation of dewy-eyed academic innocents took Derrida's entertaining bombast at face value; our universities have not yet recovered from the resulting damage to their capacities to teach and reason. Yet there's another figure, not as widely influential but far more profound as a thinker, who also adopted the epic-jerk role for his own, who gathered up another bleating flock of American fans, and may yet cause even more carnage.
Yes, it's time for us to talk about René Guénon.
Let's start with the essentials:  René Guénon was unquestionably a genius.  He was born in Blois in 1886, died in Cairo in 1951, and spent a good fraction of the interval between these two dates writing some of the most remarkably insightful books on metaphysics ever penned. He put at least as large a fraction of that time, however, into writing some of the most irate, unfair, and irritatingly smug denunciations of rival ideas ever penned.  Geniuses don't have to be pleasant people, especially if they grow up in an intellectual culture that values entertaining nastiness.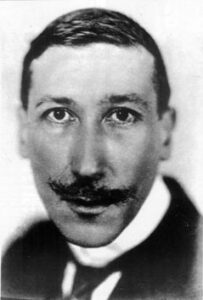 Guénon's basic gimmick was the claim that he could speak for the primordial tradition, the original spiritual teaching handed down to humanity at the dawn of time.  Various attempts have been made by his followers to fabricate some kind of lineage linking Guénon from his earliest years back to the "mystic East" Edward Said anatomized so trenchantly in his book Orientalism, but it's pretty clear that this is merely window dressing. "Tradition" for Guénon meant simply the grab-bag of Asian and Western spiritual traditions he'd pieced together out of his own studies:  some Hinduism here, some Sufism there, a cup of Taoism minced up fine, stir briskly with a Masonic gavel and bake in a Hermetically sealed vessel until well done.
It was a common gambit at the time.  European intellectuals since the Renaissance have been obsessed with the quest for the one true primordial tradition, but every attempt to reassemble that supposed perennial wisdom has foundered on the robust diversity, not to mention the sheer cussedness, of human spiritual traditions. The perennialist stance assumes that all religions are different roads climbing the same mountain, but a sustained look at different religions and spiritual paths suggests a very different metaphor:  the different paths really do lead up different mountains.  Though there are certainly similarities in the methods of ascent—climbing a trail up one mountain requires many of the same skills as climbing a trail up another—the landscapes to be crossed and the views from the top are emphatically not the same.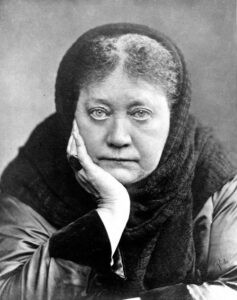 The claim that there had to be one true primordial tradition, however, was widely accepted in the late nineteenth-century European setting in which the young René Guénon grew up, flunked out of college, and settled into the Paris occult scene.  The Theosophical Society was still a major force, claiming to possess the one true primordial tradition in the form of H.P. Blavatsky's sprawling and heavily plagiarized works Isis Unveiled and The Secret Doctrine. Another major player was Dr. Gérard Encausse,  known by his nom d'occultisme Papus, head of the Martinist Order and a hugely influential figure in the development of European occultism.  Guénon joined the Martinist Order, but got thrown out of it after a few years after pilfering its mailing list in an unsuccessful attempt to launch an occult order of his own.
Thereafter Guénon denounced Martinism, flirted with conservative Catholic circles for a while, and then set out to construct his own version of the one true perennial wisdom.  Since he was a genius and he also had access to a great deal of first-rate scholarship on Asian spiritual traditions, his bricolage of teachings was far more intellectually rigorous than the one served up by Blavatsky and her heirs. Such works of Guénon's as Man and his Becoming according to the Vedanta, The Multiple States of Being, and The Symbolism of the Cross are intellectually and philosophically light-years beyond anything Blavatsky ever wrote, but then Blavatsky wasn't engaged in metaphysical philosophy; she was leading a last-ditch attempt to turn Western society away from its doom and had no time for intellectual niceties. Guénon shared the same vision of the future but not the same response:  he recognized the approach of doom but seems to have relished it.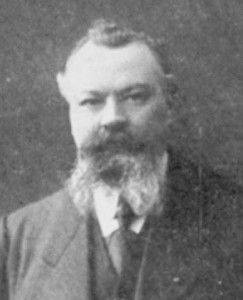 The book in which he explored the relationship between spirituality and history is arguably his most famous work, and it certainly has plenty to contribute to the project I've been pursuing here in recent months, an exploration of enchantment and disenchantment in history. The English version of its title is The Reign of Quantity and the Signs of the Times.  It's a challenging, irritating, and very rewarding book. I heartily recommend it to any of my readers who can handle a writer whose basic goal seems to have been making its readers fling his books across the room.
Guénon starts from the two great spiritual schemes of historical decline in the traditions of the Old World, the sequence of ages in Hesiod's Works and Days and the comparable scheme in the Hindu Puranas. (The similarities between these schemes are close enough that a common source further back in time seems likely.)  Hesiod traced the course of decline from the Golden Age in the distant past through the Silver Age of clueless folly, the Bronze Age of war and plunder, the Heroic Age in which strong men battled with the forces of evil, and finally the Iron Age, Hesiod's own time, in which misery, poverty, sickness, and grueling labor defined the human lot.  The Puranas trace out a corresponding sequence of four ages in which the Krita Yuga, Treta Yuga, Dvapara Yuga, and Kali Yuga mark stages in the process of descent. As far as I know, all the Hindu sources agree with Hesiod that we are in the last and worst of these stages, the Kali Yuga, marked by decay and corruption in the whole range of intellectual, cultural, and spiritual and spiritual forms.
That was where Guénon placed humanity, too:  in the last stages of the decline, waiting for the end of the cycle and the chaotic transition to a new golden age of spiritual aristocracy guided directly by divine forces. His version had a wrinkle the older accounts left out, however. To him, what marked the lowest stage of the descent was not just the absence of spirituality but the rise of a counterfeit spirituality. Just as his vision of the one true primordial tradition centered on the concept of initiation, so the negative forces of the Kali Yuga center on its evil twin, the Counter-Initiation.  With utter inevitability, Guénon identified this with all the esoteric movements in France and elsewhere that disagreed with him, with Papus' Martinist Order high on the list of Counter-Initiatory movements. (Guénon was never one to let go of an old grudge.)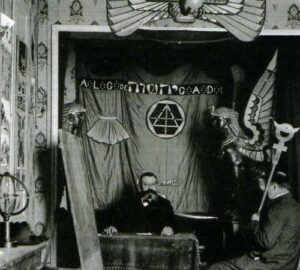 It's when you get past the sniping at rival schools of thought that The Reign of Quantity gets interesting. Guénon points to the distinction between quality and quantity as an essential marker of the two ends of the historical process. In the golden age, quality is everything; in our present age of iron, quantity is everything.  Take number as one example among many.  In earlier times each number was understood as a quality, not just a quantity:  "one-ness," "two-ness" and so on through the natural numbers.  Each has a distinct qualitative meaning, which inevitably reaches up into the realms of myth and spirituality. If you're familiar with the history of ideas it's not at all hard to watch this purely qualitative sense of number trickle away over time, to be replaced by a purely quantitative sense in which (say) four differs from three and five not in terms of any sort of deeper meaning, but only by the addition or subtraction of a single unit.
This complementary relation between quality and quantity is the axis about which Guénon's exploration rotates. He identifies it with the distinction between essence and substance in the philosophy of the Middle Ages, and the corresponding relation between Purusha (consciousness) and Prakriti (primal substance) in Hindu tradition. Essence is active, substance passive; essence is spiritual, substance material; and so the process of historical decline he traces out leads from a state in which the the world is experienced as active, alive, and spiritual to one in which it is experienced as passive, lifeless, and material.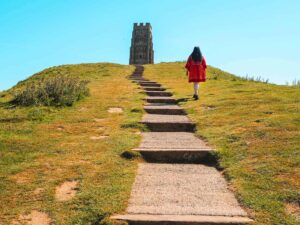 Space and time are affected by this transformation along with everything else. In an age of quality, each place has its own specific quality distinct from anything that happens to be present in that place, and each period of time likewise has its own specific quality distinct from whatever might be happening just then. Both these concepts are difficult for many people nowadays to grasp at all, so it may be worth spending a little while with them.  Consider a holy place—Jerusalem or Varanasi, Glastonbury or Mecca or Mount Fuji, or any other holy place you like. That place is set apart from other places by a presence that is qualitative in nature.
Consider, along the same lines, a holy day—again, take you pick from whatever calendar of sacred days you prefer. "Why is this night different from all other nights?" a child asks in the Passover seder; it's a question that could be asked of any other holy night in any faith, and the answer will be that some sacred event happened, or happens, or will happen at that point in the cycle of the year.  That makes a qualitative difference, not a quantitative one.
It's embarrassingly common to hear people insist nowadays that every place is a sacred space and that all times are sacred times. That's the sort of thinking you can expect to find during what Guénon called the reign of quantity, the stage of the historical process we're in today. To begin with, of course, if every place is sacred, "sacred space" no longer means anything at all, just as the word "blue" would have no meaning if everything was that color. Yet there's a deeper issue here as well. The entire concept of sacred space presupposes that different places have their own distinctive qualities, that they're not simply interchangeable cubic volumes.
In the same way, the idea of sacred days and times implies that time is not a uniform thing distinguished only by arbitrary numbers.  Qualitative times have their own distinct meaning and spirit, and sacred calendars are among the ways these are mapped. Most people nowadays assume as a matter of course that all such distinctions are arbitrary, but this is simply another reflection of the reign of quantity.  That time might not be a uniform commodity, to be chopped up and packaged by industrial society in any convenient manner, is unthinkable to those who can only see quantities when they look at the world.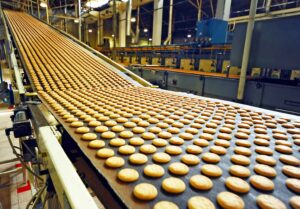 This same distinction, Guénon argues, is true straight across the entire range of human activities and experiences. He points out, for example, that one core difference between the crafts of previous eras and the industrial products of our time is that crafts were made and valued according to their quality, while industrial products are made and valued primarily in terms of quantity. Price, by the way, is a measure of quantity; we've all seen plenty of situations in which shoddy goods marketed at high prices are valued according to their price alone, without reference to their quality or lack of same. This is typical of the reign of quantity.
This whole process can also be understood as the materialization or solidification of the world. In the golden age, the reign of quality, the human experience of the world is permeated with spirit; in the iron age, the reign of quantity, this gives way to a world permeated with matter, a world turned solid and prosaic and inflexible.  What people nowadays call "everyday life" begins to stir partway through this process, emerging first as intervals in which the spiritual side of life is less evident.  Those intervals become longer and more intense, while the corresponding intervals of spiritual presence become briefer and less clear, until finally "everyday life" devours all of time and the reign of quantity has arrived.
There's much more in Guénon's book that has bearing on the current project of this blog, but let's move on for now. The end of the cycle comes as the process of solidification gives way to dissolution. "All that is solid melts into air," first on the intellectual plane, then on the cultural and emotional plane, and finally on the physical plane.  About this latter Guénon gives veiled hints about global cataclysms, but there's another, stranger dimension to the process. As the world and its human inhabitants approach the nadir of the historical process, the oh-so-solid reality of the world humans experience begins to break apart, and evil influences begin streaming in from the lower dimensions of the Unseen.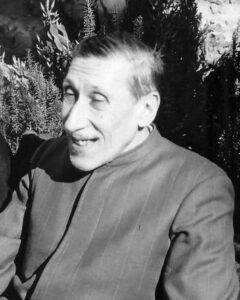 Now to some extent this latter claim is simply part of Guénon's angry polemic against all other Western esoteric traditions, and especially against those that chucked him out on his ear (cough, cough, Martinism) or never paid attention to him in the first place (cough, cough, Theosophy). Yes, these fissures in the walls of reality are the source of the Counter-Initiation he decries and the Counter-Tradition that lies behind it. Nearly a third of The Reign of Quantity is devoted to Guénon's fulminations against rival schools, and this is where he plays the role of epic jerk to the hilt. Still, there's more going on here than an irritable old man raging about the self-inflicted disappointments of his youth.
We have encountered this same vision of dissolution before, after all, in the very different historical vision of Jean Gebser. What Gebser saw as the transparency that marks the arrival of the integral structure of consciousness, Guénon portrayed as the dissolution that lets malign forces seep into the world and bring about the ending of the cycle. Gebser cheered on the process because he thought it would bring heaven on earth, Guénon denounced the process because he saw it leading to the opposite—but they were talking about the same process.
More generally, Guénon's account of history is remarkably parallel to those given by the three authors we've discussed already. Like them, he presents history as a more or less linear process leading from an initial state through the present day toward an imminent breakthrough into an eagerly anticipated state to come. The difference lies purely in the value judgments placed on those states.  The three believers in progress we've surveyed all see the historical process as a journey Up From Eden, to borrow a phrase from the title of one of Wilber's books; Guénon sees it as an unavoidable but regrettable fall from a vanished golden age; but all four writers are tracing out the same historical process, and all of them look for a dramatic lurch somewhere in the near future which will bring about a world more to their taste.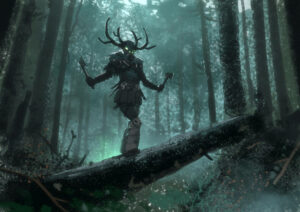 As we saw a few weeks ago, however, history isn't the straight line modern ideologues like to imagine.  The movement from quality to quantity, which is also Barfield's movement from participation to nonparticipatory consciousness and Max Weber's movement from enchantment to disenchantment, has already taken place more than once in human history. How that journey unfolds, and what lies on the far side of it, will be central to the posts to come.