Two weeks ago we talked about Max Weber's claim that the disenchantment of the world is one of the basic elements of modernity, Jason Josephson-Storm's counterargument that Weber was engaged in an attempt to erase the presence of magic and enchantment in modernity, and the way that Weber's claim, inaccurate as it is, expresses one of the core beliefs of modern culture. No matter how pervasive magic, astrology, and other practices of enchantment are—and they are extraordinarily widespread in modern life—most people today insist that such things belong to an outworn past and have no legitimate presence in  our up-to-date, cutting-edge world.
That decidedly odd belief makes a good starting point for the next stage of our discussion, because it's not merely a popular conviction. It's been developed at great length by several highly regarded thinkers of the last century or so, and turned into the mainstay of some of the most interesting ideas of our times. Those ideas cover a good bit of ground, but they have certain things in common: notably, they all insist that enchantment is a thing of the past, and they all argue that its continuing presence in modern culture is both misguided and morally wrong.
To make any kind of sense out of the history of enchantment, then, it's going to be necessary to confront those ideas and some of the thinkers who've presented them.  That'll take more than one post, but we can make a start by talking about one of the most influential figures of this kind, Ken Wilber, who was not so long ago the doyen of the New Age movement's intellectual wing.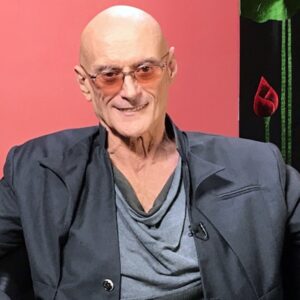 Until he came down with a rare chronic illness a few years back, Wilber was a very prolific writer and speaker, and his work covers an enormous range of topics. If he's missed any topic you can think of, in fact, it's not for want of trying, because his stated goal is to integrate every field of study without exception into a single overarching synthesis.  His fans, including such figures as Al Gore and Tony Robbins, insist that Wilber's Integral Philosophy is the capstone of all previous human thought and has laid the foundation for a new age of utopian progress. His detractors argue that he's simply cherrypicked the work of other scholars to gather a grab bag of fashionable ideas and slapped them together into a pastiche with no real intellectual merit.
The quarrel between Wilber's admirers and opponents isn't one that I intend to get into here.  I also don't propose to summarize his Integral Philosophy in any kind of detail, partly because that would take a book rather than a blog post and partly because Wilber's already written the book in question, and modestly titled it A Brief History of Everything. What I want to discuss here is specifically his belief that human history and prehistory have been shaped by the evolution of consciousness through a sequence of structures of consciousness. He has an abundance of ways of talking about these structures; the specific labels I'll use here—the archaic, magical, mythical, mental, and integral structures—were borrowed by Wilber from an earlier thinker, the Swiss philosopher of history Jean Gebser, who will get a post of his own a little later in this sequence.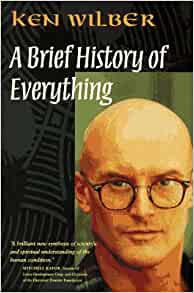 There are several additional levels above the five just listed, which have been traced out by great sages and mystics, but we can stop here for now. In Wilber's books, the five structures just listed are equated with developmental stages, through which individuals as well as humanity as a whole pass in due order. He also assigns the stages to prepersonal, personal, and transpersonal categories, as well as a set of colors and labels that Wilber derived from Spiral Dynamics theory,  and so on—again, sheer space won't permit more than a brief summary here.
Very roughly speaking, though, the archaic structure corresponds to prehistoric humanity and to earliest infancy, the magical structure to primitive tribal societies and to later infancy and early childhood, the mythic structure to civilizations before the modern era and to later childhood and early adolescence, the mental structure to today's modern societies and to late adolescence and early adulthood, and the structures beyond that to societies that haven't evolved yet and to kinds of maturity most people never reach. In theory, each new structure of consciousness integrates the previous structures into itself, creating a broader, more expansive structure that takes up the best elements of previous structures and does new and more creative things with them, while discarding all the elements of previous structures that don't work. Enchantment in the sense discussed two weeks ago?  That's one of the things that, in Wilber's theory, was discarded because it doesn't work. Those who still perceive the world that way are either falling behind in the great onward march of evolution, or mistakenly headed the wrong direction.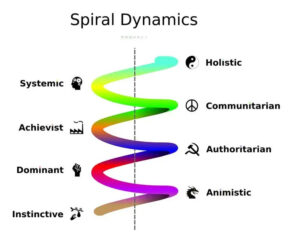 Wilber argues that the modern world was born when humanity evolved past the mythical structure of consciousness into the mental or, as he also calls it, the rational structure.  This also was a transition from what he calls pre-personal evolutinary stages to the personal stage (or stages, depending on how you slice it). Ahead of us, as he sees it, is the equally important transition from the personal stage to the transpersonal stages.  This further evolutionary transition, in turn, is the goal of genuine spirituality.
That word "genuine" is worth noting. Wilber warns at length about what he calls the Pre/Trans Fallacy, which is his term for anything that moves back toward the pre-personal stages instead of going forward to the transpersonal stages. Any tradition of spiritual practice in the modern world that makes respectful use of myth and magic is considered by Wilber to be an example of the Pre/Trans Fallacy.  That includes those of us who practice magic, of course, but it also includes anyone who seriously embraces any religion in its traditional form, as well as thinkers such as Carl Jung, whose attentiveness to the mythic dimensions of consciousness is in Wilber's way of thinking wrongheaded, a throwback to a pre-personal stage of evolution.
What about the great sages and mystics of the past Wilber cites as evidence for the existence of structures of consciousness above the integral level?  Here's where Wilber's theory becomes really fascinating. His developmental scheme is rigidly linear; to reach those transpersonal stages, everyone has to pass through each of the previous stages in order. So those great sages and mystics of the past had to work much harder to attain their spiritual insights than we do today, since they started further down the ladder of evolutionary stages. We, on the other hand, have a much easier time of it, being so much further ahead of where people were back then, and our descendants will reach those high spiritual states in the normal course of personal development, since they'll have progressed so much furher beyond us.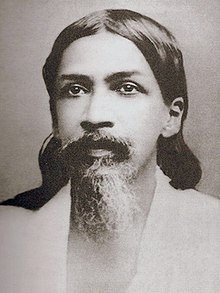 That is to say, what Wilber is presenting in his theory of evolutionary stages is perhaps the most detailed and consistent attempt yet to shoehorn mystical spirituality into the modern belief in progress. He borrowed some of his key ideas from mystical sources, notably the Integral Yoga of Sri Aurubindo and some of the more austere branches of Mahayana Buddhism, and others from developmental psychology, notably the structural stage theories launched a century ago by Jean Piaget.  He then proceeded to equate these two viewpoints (along with much more) and construct from them an elaborate theory of evolution that claims to predict the destiny of humanity.
In the process, he's made it possible for some rationalists to embrace mystical ideas.  He did this by the simple if extremely clever expedient of convincing them that mysticism is the next step in the onward march of progress, and defining genuine spirituality as a way moving even further from the mythical and magical structures of consciousness they've been taught to despise.  There are apparently quite a few people practicing meditation and yoga who would never have thought of doing such a thing if Wilber hadn't gussied these ancient practices up in the garments of cutting-edge, avant-garde thought.  That's a real achievement, and one for which he deserves considerable respect from those of us who value these practices.
That being said, there are problems with Wilber's theory.  One of those problems—the total mismatch between his scheme and the evidence of history—is so widely shared by theories of the evolution of consciousness, and so pervasive in contemporary thought more generally, that it's going to get a post all its own, once we've surveyed a wider range of thinkers.  The other problem is rather more specific. That's not to say it's unique to Wilber himself; in fact, it's very widespread in modern thought, and there are plenty of thinkers these days whose plunge into the pitfall in question is much more embarrassingly clumsy than anything Wilber has done. Wilber's theories, however, rest squarely on this particular mistake, and so offer a fine opportunity to understand what it is and why it reduces so much modern thinking to gibberish.
The mistake in question?  A near-total misunderstanding of the nature of evolution.
Let's start with some basics. Evolution is a common property of systems. It depends on two factors present in almost every imaginable system.  The first is some means of generating free variation. The second is a selection procedure that sorts the variations in terms of how well they relate to some set of variables. No matter what the context, if you have those two things—a source of free variation and a selection procedure—you get evolution.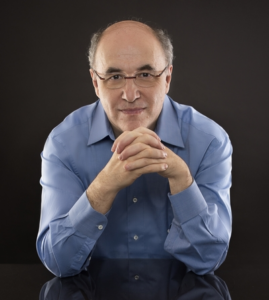 Stephen Wolfram's brilliant tome A New Kind of Science is among other things a demonstration of how evolution works. Wolfram, for those readers who haven't encountered his ideas yet, is an archetypal computer geek who went to work many years ago exploring the properties of a set of very simple programs called cellular automata. What set Wolfram on his quest was the startling discovery that incredibly simple sets of rules can produce wildly unpredictable results if you just  let them run for a while. The rules that define cellular automata include variation and selection as basic features, and the results are often stunningly weird. As Wolfram points out, they trace out an exact parallel to the development of biological complexity over time.
Given a source of variation and a selection procedure, systems always evolve in a manner that is easy to describe in general and impossible to predict in detail.  The overview is that they take up every opportunity available to them:  that's the part that's easy to describe. What's impossible to predict is how and in what order they'll do it. That's true of cellular automata, and it's also true of living things over time. Follow the evolutionary trajectory of any group of living things, from club moss to crocodiles to Galapagos finches to human beings, and you'll see that same process at work. Metaphorically, it's as though you were inflating a big balloon inside a space too small to contain it:  the balloon pushes outwards in all directions, now here, now there, until it runs up against the hard limits of walls and floor and ceiling.
Do evolutionary breakthroughs take place?  Of course, and the process just outlined explains how and why those happen. Imagine for a moment that you've got a balloon made of some absurdly flexible substance, so that it can just keep stretching no matter how big it gets.  You start inflating it inside your bedroom  The door's closed, the windows are closed, pretty soon the balloon's outer surface is pushing hard against the walls, the floor, the ceiling, and the furniture—but there's an inch-wide gap under the door you forgot about.  Once the pressure gets high enough, the balloon pushes out through that gap, and all of a sudden it's in the hallway and there's a vast amount of previously inaccessible space for it to expand into.
Whoosh! Before long it's filling up the living room and pushing against half a dozen other doors and windows. If one of those happens to be open a little, another evolutionary breakthrough follows. It's not a linear process, and many different lines of evolutionary development can—and did—unfold at the same time.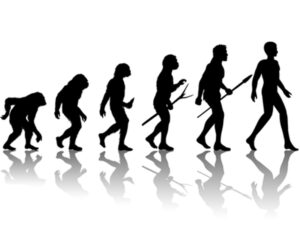 That's the story of life on Earth. The walls, floor, and ceiling are the laws of nature and the limits of environment, and the balloon represents the range of niches occupied by living things. Yes, I'm well aware that this isn't how evolution is understood, or misunderstood, in popular culture.  It's also not how Ken Wilber understands, or misunderstands, the evolutionary process. "Why on earth," he writes, "would dirt get right up and eventually write poetry?" That's an absurdly simplistic way of talking about evolution, of course; it wouldn't be unfair to call it a straw man. But it's a typical way of dismissing the actual mechanism of evolution in order to insert something else in its place.
The "something else," in turn, is what philosophers call teleology: the insistence that evolution marches ahead in a straight line toward some predetermined goal. That's the standard gimmick that people who don't understand evolution use to insert their own notions of meaning and purpose into the development of life. It's perfectly possible to reconcile evolution with spirituality—in terms of the metaphor set out above, who was it that built the house?  In more straightforwardly theological terms, an omniscient Creator wouldn't have had the slightest difficulty selecting laws of nature and environmental constraints such that one of the many currents of evolution would go the way he wanted.  The problem with this, from the point of view of the teleologists, is that it doesn't justify the claim that this or that human theorist knows in advance where the whole shebang is headed.
That claim, of course, is central to Wilber's theory.  The whole point of his intricate scheme of evolutionary stages is to justify the claim that humanity is evolving—or rather progressing—in a straight line from stage to stage toward bigger and better things, and he and his followers are in the vanguard of that process. On a smaller scale, he's claiming that humanity is poised on the border between first-tier and second-tier stages of consciousness, and agreeing with him is a great way to cross over to the second tier and get on the winning side of evolution.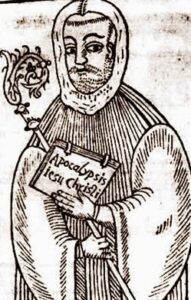 That's a familiar claim to anyone who knows their way around the history of ideas. As far as I know, it was first sketched out in rough draft by the medieval mystic Joachim of Flores, whose visions convinced him that around the year 1260 the Age of the Son would give way to the Age of the Holy Spirit, in which all the world would be ruled by love and freed from the burden of sin. He also earnestly told Richard the Lionheart, who stopped in to see him on the way to the Third Crusade, that Jerusalem would surely be recaptured by the Christian armies. Both predictions, of course, turned out to be wrong.
From Joachim's time straight through to the seventeenth century, predictions of that kind were inevitably wrapped in explicit religious language. Thereafter, just as Western intellectuals in every other field sedulously filed the serial numbers off all sorts of other Christian properties and got them fitted out in secular drag, would-be prophets got to work on the idea of an imminent transformation of consciousness and a teleological interpretation of human history. Karl Marx is the most famous of the lot, but there were hundreds if not thousands of others; for something like two and a half centuries, it was rare to find any intellectual in Europe or the European diaspora who didn't at least toy with a teleological scheme of this kind.
History shows that they were wrong, and not just a little wrong, either:  completely, utterly, humiliatingly wrong. It's impossible to sugar-coat that unpalatable fact. Show me a teleological prophet who claimed history would inevitably march forward to better things he could define in advance, from Joachim of Flores through Charles Fourier to Charles Reich's The Greening of America, and I'll show you someone whose predictions turned out to be total flops. The fact that evolutionary breakthroughs do sometimes occur does not mean that they will show up on request, much less that such breakthroughs can be mapped out in a nice neat set of stages that invariably lets the speaker and those who share his or her political and cultural opinions portray themselves as heroic figures poised right there on the breaking wave of the future.
The irony is that the problems with Wilber's theory can be predicted very precisely from within Wilber's theory itself. In one of his essays, Wilber critic Frank Visser has pointed out quite accurately that Wilber's understanding of evolution is strictly speaking pre-Darwinian. He notes that the entire notion that evolution proceeds in fixed stages toward greater perfection is a reworking of the medieval concept of the Great Chain of Being, with living things mounting up the ladder of evolution toward its supposed pinnacle in humanity.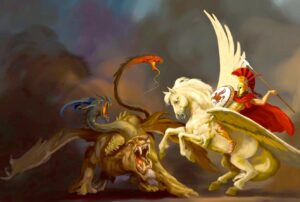 Here we have passed into a territory rich in ironies. The linear notion of evolution just described is an emotionally appealing narrative that relies on ancient symbolism. It is, in fact, a myth in every sense of the word—and thus, in Wilber's terms, an example of the mythical structure of consciousness, which we have supposedly transcended in favor of the formal operational thinking of the mental or rational structure of consciousness. In a very real sense, he's guilty of the same Pre/Trans Fallacy for which he lambastes those of us who practice magic and revere myths.  That is to say, he thinks he's going on to a level of thinking that transcends rationality, but what he's actually doing is explaining the world by way of an emotionally compelling narrative deriving its power from archetypal symbols of the mythic structure of consciousness.
Yes, dear reader, I know.  You're chuckling at the sight of a druid who invokes pagan deities and practices ritual magic criticizing Ken Wilber for not being rational enough. The laugh's far from inappropriate, and it reflects another irony, one that's become very familiar to me since I started blogging. From my perspective, the narrative structures of mythic thought aren't a stage to be outgrown, they're healthy and necessary elements of all human consciousness, just as much so as the discursive structures of rational thought. Give the mythic structure its proper place and it's easy to keep it in that proper place. Try to insist that you've outgrown myth, as Wilber does, and you can count on having it sneak up behind you so and playing merry hob with your oh-so-rational ideas, inserting mythic narratives into those ideas when you're not looking.
Or, rather, inserting one mythic narrative over and over again. The great problem with the myth of progress, as I've noted before, is not that it's a myth. The problem with the myth of progress is that many of the people who believe in it literally can't use any other story to think with. Every pattern of events thus ends up getting forced into the straitjacket of the progress myth, and when it doesn't fit—and it often doesn't—that leads to cascading failures of understanding and action.
There is no monomyth. (Sorry about that, Joseph Campbell.) It's precisely because no one story makes sense of everything that traditional societies had so many myths, each with its own lesson to teach and its own applicability to the events of everyday life. It's precisely because our culture has become obsessed with a single story, in turn, that we're in our current mess. Eventually, as this sequence of posts continues, we'll be exploring alternative narratives—but first, by way of two other important thinkers, we need to plunge even deeper into the central myth of modern industrial culture.