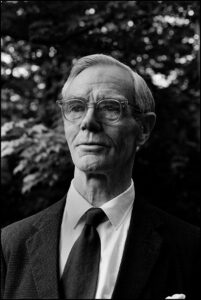 Last month's exploration of the history of enchantment began with a look at the other side of the equation—the disenchantment of the world mapped out by Max Weber—and then a survey of the ways that enchantment and disenchantment were understood by Ken Wilber, one of the modern thinkers who's built a theory of history on Weber's thesis. Wilber's insistence that myth and magic belong to an outmoded stage of human development is far from unique to him, of course; it's an attempt to give intellectual respectability to one of the widely held beliefs of our time.
Plenty of other serious thinkers have made the same sort of effort. The one I want to discuss this week was less interested in publicity than Ken Wilber, or possibly less adept at it. Despite his connections with one of the twentieth century's most famous literary circles, he remains little known outside certain modern intellectual subcultures. That's unfortunate, because Owen Barfield—close friend of C.S. Lewis and member of the Inklings, the group that counted Lewis, J.R.R. Tolkien, and Charles Williams as its leading luminaries—is a writer and thinker worth reading, reflecting on, and contending with.
While his writings are nothing like as voluminous as Wilber's, they cover a comparable range of ideas, and I have no intention of trying to summarize his whole philosophy here. As I did with Wilber, I simply intend to discuss his understanding of the evolution of consciousness, the part of his philosophy that bears most directly on our theme. This is easier than it was with Wilber, because Barfield summed up his view of the subject crisply in a single, relatively short book, Saving The Appearances.  It's an impressive piece of work, not least because of its brevity; the average reader can finish it in an evening, but its ideas deserve the kind of attention and reflection that can occupy years of thought.
Like Wilber, Barfield argues that among modern Western people, at least, what I am calling enchantment is an outworn condition of consciousness that cannot and should not be brought back to life. Like Wilber, furthermore, he argues that our current state of consciousness, with its materialistic fixations, is a temporary phase that will be replaced, not by the previous state of enchantment, but by a higher state which will make room for a great many of the spiritual impulses that modern materialist thought brushed aside.
His map of this journey of consciousness is rather simpler than Wilber's, however.  The journey starts in a condition Barfield calls "original participation," in which the human mind does not distinguish its own contents from its surroundings. In the state of original participation, there is no boundary between thoughts and things, mind and matter, and everything that is perceived by the senses is understood as having the same kind of inner life of experience and feeling that human beings have. Barfield's summary is typically neat:  "The essence of original participation is that there stands behind the phenomena, and on the other side of them from me, a represented which is of the same nature as me."
If this sounds like the definition of enchantment I offered a month ago, there's good reason for that; I modeled my definition on Barfield's. He was talking about enchantment in the same terms I am, and he was alive to its spiritual dimensions in a way I'm not at all sure Wilber has ever been. The final sentence in his book, along these lines, offers another, even more precise definition:  "the other name for original participation, in all its long-hidden, in all its diluted forms, in science, in art, and in religion, is after all—paganism."
That last word all but gives away the show, of course. Barfield was a Christian—an exotic type of Christian, as he was an adherent of Rudolf Steiner's quirky system of Christian occultism, but a Christian nonetheless. To him paganism could never be anything but an error of the past that the good people have now outgrown. The process by which it was outgrown, and the direction he thought that this process was destined to take in the future, was the entire subject of Saving the Appearances. Put another way, Barfield set out to take the classic Christian narrative of history from Eden to the New Jerusalem and make sense of it in philosophical terms.
That's been tried many times, of course, but the way that he does this deserves respect. He starts by pointing out that modern science has utterly disproved the naive notion that what we perceive with our senses is what's actually in front of us. Consider a rubber ball. Our senses tell us that it's red, that it makes a squeaky noise when squeezed, and so on. What modern science has demonstrated is that these qualities—the red color, the squeaky noise, and the rest of it—are not part of the lattice of field-effects in raw spacetime that make up the ball in reality.
Instead, they are the result of two complicated processes.  First, your senses interact with various things—photons, vibrations, and so on—that are deflected from their normal course by the lattice of field-effects in raw spacetime. This produces a set of perceptions:  color, sound, and the like. Second, your brain assembles those perceptions into objects.  It can assemble them inaccurately—that's what happens when you look at an optical illusion, or when you mistake one thing for another thing.  What this shows, in turn, is that the process by which we experience things in the world is a kind of thinking.  Barfield gives a name to that kind of thinking:  figuration.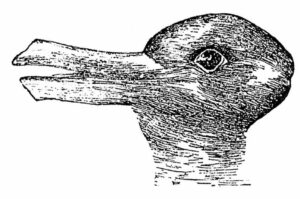 Alongside figuration, Barfield notes two other mental activities. The first is the activity of treating figurations as things outside ourselves, and thinking about their relations with each other; this he calls alpha-thinking. The second is the activity of thinking about the results of alpha-thinking, thinking about thoughts; this he calls beta-thinking. There are no hard barriers between these three kinds of thinking, and alpha-thinking in particular tends to slide across the line into figuration:  if you're used to thinking about a particular set of objects in a particular way, that habit will shape the way you figurate the perceptions that give rise to those objects.
In this way our ideas shape our reality.  This is why, for example, people who speak European languages see orange as a distinct color between red and yellow, while people who speak some other languages do not—for them, red and yellow run right up against each other, and what we call "orange" is for them either a shade of red or a shade of yellow.  In both cases, the figuration of color has been shaped by the product of alpha-thinking we call "language," and the result is that speakers of these two groups of languages literally perceive the world differently.
To Barfield, this is the key to the evolution of consciousness. Throughout human history until the rise of the modern Western world, with one significant exception, people lived in a state of original participation: that is to say, they did not differentiate their thoughts about things from the things themselves, and therefore the world they experienced included their thoughts. When some ancient person experienced a tree or a mountain or a star as a conscious being gazing back at them, that was an actual experience, as real as the typical modern experience of tree, mountain, or star as dead matter with no life, consciousness, or meaning of its own. The ancients weren't simply making up stories; they were describing the world as they experienced it.
The entire dynamic of history since ancient times, accordingly, was for Barfield the process by which this state of original participation broke down.  The leading role in that dynamic, he says, was played by the Jewish people, whose traditional prohibition against image-worship Barfield sees as the decisive turn against original participation. He saw Christianity as picking up the same task and taking it further. As Christianity spread and ousted the older Pagan worship of the gods of nature, it forced people to let go of the habit of original participation and enter into what the disenchanted state we have been discussing, in which the natural world is experienced as a jumble of dead matter, and the difference between inner experience and the outer world became increasingly sharply drawn.
The dissolution of original participation and the coming of Max Weber's "disenchantment of the world" is not the end of Barfield's story, however. People in European societies achieved the complete abandonment of original participation in the nineteenth century, a milestone marked by the triumphs of modern science, which made it impossible to avoid noticing the participation of the human mind in the creation of its own experiences.  Barfield believed that humanity, with European humanity squarely in the lead, was moving beyond disenchantment toward a new state, that of final participation, in which human beings consciously put meaning and value into nature by means of creative imagination.
In Barfield's view, this is the God-given goal of the entire process.  While the state of original participation involved sensing the divine in nature, and the disenchanted state is that of not being able to sense the divine at all, people in the state of final participation will experience the divine presence exclusively in their own souls.  Thus human beings will become co-creators with God. This is an immense challenge, Barfield freely admits, since the human imagination can be turned as easily to evil as to good, but his Christian faith convinces him that ultimately, in the words of Julian of Norwich, "all manner of thing will be well."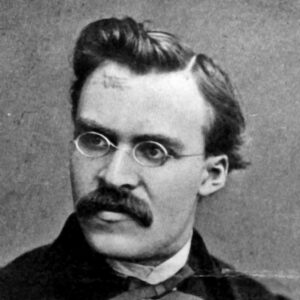 I'm not sure how many of Barfield's modern readers grasp just how daring this vision of the future of human consciousness actually is. To see that, you have to know your way around the work of the bad boy of late nineteenth century philosophy, Friedrich Nietzsche. Nietzsche's conception of the human future, as most people know vaguely these days, was the Overman.  Despite the vacuous babblings of his tenth-rate imitators in the Nazi Party, Nietzsche was not talking about a racial type.  The Overman was always and irreducibly an individual who came to terms with the hard fact that life has no meaning of its own, and proceeds to give it a meaning of his choosing through a perpetually renewed process of self-overcoming.
This is more or less what Barfield was talking about, too, but he set out to make the Overman a Christian, and succeeded in that improbable feat about as well as anyone could have done.  It's an impressive performance, and demonstrates Barfield's grasp of German philosophy and also his recognition of the serious problems in Nietzsche's always-uneven oeuvre. He also drew from Nietzsche important elements of the German philosopher's acerbic history of the decline and fall of morality, and redefined it into a trajectory through which human consciousness moves on its way from the Eden of original participation to the New Jerusalem of final participation.
This same trajectory runs all through Barfield's work.  In explicating the way this process has unfolded in British cultural history, Barfield was at his best, and some of his finest books—notably History in English Words—do a brilliant job of showing how the English language shifted over time from concrete to abstract concepts and from the enchanted to the disenchanted state.  It's when he moves out of this familiar ground that the trouble begins, because Barfield was one of those unfortunate thinkers who cannot find it in themselves to be fair to ideas they dislike.
That stands out most glaringly, perhaps, in his treatment of Darwinian evolution. He insisted that Darwin's theory was nothing more than the claim that species arose through chance variation. This isn't even a straw man; it raises serious doubts as to whether Barfield ever actually read The Origin of Species, or even a decent article on the subject in a popular magazine. To insist that Darwinian natural selection is nothing but chance variation is much the same as insisting that an automobile is nothing but the gasoline that makes it go, and then heaping scorn on the notion that anyone can drive around town in a puddle of gasoline.
It would be bad enough if this was the only example of the kind. It is not. His treatment of what he calls "primitive man" is riddled with dismissive oversimplifications of the same kind. Now it is only fair to note that he had the enthusiastic help of a great many late nineteenth- and early twentieth-century ethnographers in taking up that bad habit. Lofty speculations on the allegedly crude and superstitious minds of primitive man—always in the singular, as though there's only one of him, sitting there on his lionskin, wearing a feathered war bonnet and playing the didgeridoo—run all through the European ethnographic literature of the time.  With monotonous regularity, for that matter, those speculations fixated on exactly the sort of linear evolution toward European humanity that Barfield presents.
In the world we actually inhabit, by contrast, the tribal cultures labeled "primitive" by the ethnologists of Barfield's time differ from each other just as significantly as they differ from European cultures. There is no nice neat ladder of cultures leading from tribal hunter-gatherers up step by step, with Oxford-educated Englishmen poised on the last rung below the still unreached summit. Instead, the world of human culture presents us with an extraordinary gallimaufry of different ways of being human, which vary in the complexity of their technological systems but not in the richness and sophistication of their cultural resources. It is certainly true that the English are by and large better at being English than anyone else, but this doesn't justify the claim that all other cultures are inadequate attempts to reach that goal!
The most important lack of fairness in Barfield's account, however, is his breezy dismissal of Indian thought, which he lumps in together with the notions of "primitive man" as one more example of original participation. Here he is quite simply wrong, and wrong in a way that inflicts fatal damage on his entire scheme.  Indian philosophers were writing about figuration and participation in great detail in the Upanishads, the oldest of which were written well over two thousand years ago.  The classic example, repeated and discussed endlessly in Indian philosophical literature, pictures a man who thinks he sees a poisonous snake in the grass. What is actually there in the grass, as it happens, is a piece of cast-off rope—but this is not what the man sees.  He sees a snake, because his mind figurates the sensory cues his eyes receive, and then participates in that figuration, giving the rope all the attributes of a snake.
This is as good an example of figuration as anything Barfield discusses. In the vast literature of Indian philosophy, it became a key starting point for centuries of earnest and thoughtful debate concerning epistemology—for those who aren't fluent in philosophical jargon, this is the branch of philosophy that deals with how human beings know anything at all about the world, and it's one of the fields that Indian philosophy has explored most deeply. Get past simplistic Western summaries of Indian philosophies, for example, and the concept of the world as maya ("illusion" in too many Western translations) is in fact identical in meaning with Schopenhauer's account of the world as representation and Kant's distinction between appearance and the thing-in-itself.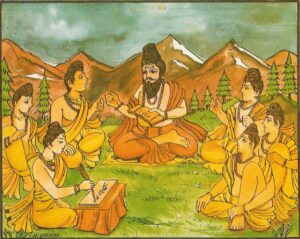 The difficulty is that this is lethal to Barfield's historical scheme. If Indian philosophers more than two millennia ago were already discussing the insights that Barfield credits to Western science, then it won't work to claim that the presence of those insights in our time show that modern Western humanity is at the cutting edge of some grand teleological process. If anything, it makes Western humanity a collection of Johnny-come-latelies, finally getting around to insights other peoples reached a long time before.
It also poses a question of no small importance—what happened in the Indian subcontinent in the centuries and millennia after that insight was achieved?  The answer offered by history undercuts any attempt along Barfield's lines to portray the current state of Western humanity as a springboard to bigger and better things. What happened in the Indian subcontinent after the writing of the Upanishads, of course, was a couple of millennia of history as usual. That doesn't offer much support for Barfield's insistence that what will follow the modern European discovery of the same thing will be the grand ascent toward final participation he predicts.
None of this makes Barfield unimportant to our future discussion—quite the contrary. His insights simply have to be lifted out of the unworkable historic framework in which he put them. His discussion of the transition from enchantment to disenchantment remains among the best that I know of; it's simply that his take on what happened before the European Dark Ages and what can be expected to happen after the modern era can't be justified. It's entirely possible, as we'll see, that his ultimate predictions about final participation may yet turn out to be correct in some sense.  It's just that the route there is going to be more complicated than he thought, just as the route to our current state of consciousness involved a great many more twists and turns than Barfield took into account.
In an upcoming post, we'll talk about those twists and turns, with the evidence of history as our guide.  Before we get there, however, we've got another couple of important thinkers to contend with—the visionary historian Jean Gebser, who pioneered many of the ideas that Ken Wilber used, and the exasperating but brilliant Traditionalist philosopher René Guénon, who disagreed savagely with everything our first three writers have proposed, but ironically made many of the same mistakes as they did. We'll proceed to those figures in the next two posts in this sequence.