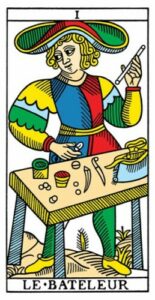 With this post we continue a monthly chapter-by-chapter discussion of The Doctrine and Ritual of High Magic by Eliphas Lévi, the book that launched the modern magical revival.  Here and in the months ahead we're plunging into the white-hot fires of creation where modern magic was born. If you're just joining us now, I recommend reading the earlier posts in this sequence first; you can find them here.  Either way, grab your tarot cards and hang on tight.
If you can read French, I strongly encourage you to get a copy of Lévi's book in the original and follow along with that; it's readily available for sale in Francophone countries, and can also be downloaded for free from Archive.org. If not, the English translation by me and Mark Mikituk is recommended; A.E. Waite's translation, unhelpfully retitled Transcendental Magic, is second-rate at best—riddled with errors and burdened with Waite's seething intellectual jealousy of Lévi—though you can use it after a fashion if it's what you can get. Also recommended is a tarot deck using the French pattern:  the Knapp-Hall deck (unfortunately out of print at the moment), the Wirth deck (available in several versions), or any of the Marseilles decks are suitable.
Reading:
"Chapter One:  Preparations" (Greer & Mikituk, pp. 209-217).
Commentary:
Those of my readers who have been following along with my online essays will find little in this chapter that is unfamiliar to them. There's a good reason for that.  Eliphas Lévi's approach to ceremonial magic is the foundation of my magical philosophy and practice.  Partly that's because I've studied his writings closely for a good many years; even more to the point, so did most of the other mages whose writings have influenced me.  When it comes to practical magic, Lévi casts a long shadow. I apologize, then, to any of you who were expecting something startling and new this month, and are left at the end of this post muttering to yourself, "There goes Greer again, rattling on endlessly about the magical will."
I'm sorry to say that it can't be helped. Magic is what it is, and the particular philosophy of magic that guides my practice is what it is. Are there other approaches?  Sure, but the one I use works, and works well, with little risk of disastrous blowback if you follow the instructions exactly as given; I can't guarantee that for any of the others.  With that said, let's proceed.
It used to be common in the occult community to encounter people who loved to talk about occult theory but turned bug-eyed and silent at the thought of occult practice. I knew one of them a good many decades ago:  the always genial Leon Reed, who worked at the Tenzing Momo herb and book store in Seattle's Pike Place Market. Uncle Leon, as everyone called him, had been active in the occult scene since about a week before the dawn of time, and could point you to good books on just about any imaginable part of occult teaching, but he drew the line at practice. He once confided to me that the Lesser Ritual of the Pentagram was so terribly dangerous that it should only be done once or twice in a practitioner's life.
At that time I was practicing that very ritual at least once a day—that's what you do if you want to master Golden Dawn magic—but I wasn't interested in arguing the point, so I nodded and let the conversation go somewhere else. It was a familiar habit of mine in those days.  Not long before then, I checked out one of Franz Bardon's books on magical training from Seattle's Theosophical Library, and had the librarian glance up at me sharply and say, "What are you planning on doing with that?" I smiled and said, "I'm going to read it," and left it at that. There were conversations you didn't get into if you wanted to stay on friendly terms with that end of the occult community.
Though he doesn't mention this anywhere in our text, I suspect Eliphas Lévi had his share of similar experiences during his magical education in mid-19th century Paris. Certainly he starts his discussion in this chapter by flinging down a gauntlet or two at the feet of anyone who believes that practice is unnecessary: "All intentions which are not manifested by acts are vain intentions, and the words which express them are idle words."  This is true of life in general but it is above all true of magic.  "To be, one must do:"  Yes, and even more emphatically, to be a mage, one must do magic.
This is easier now than it once was.  When Lévi wrote, the only volumes of magical instruction that were generally available were late medieval and early modern grimoires, and these were (and are) a very mixed bag indeed. A great many of them were manufactured by frauds to be sold to the clueless, along the lines of certain branches of New Age literature more recently. They promised to teach the reader how to summon demons from the nethermost pits of hell for no better reason than to point out the location of buried treasures and hand over an assortment of magical trinkets that supposedly granted miraculous powers.  Did anyone ever get rich by way of these books?  Certainly the authors and printers did, which was why so many of them flooded the market. The readers, however, benefited mostly by getting the chance to learn a certain important lesson about what happens to a fool and his money.
There were and are grimoires that don't fall into that category.  Most of them are deliberately incomplete, since they were written mostly for medieval and early modern Catholic clergy who came to them with an extensive background in theology, demonology, and ritual practice. (It's not often remembered in the occult scene that the entire grimoire tradition was an offshoot of the literature of Catholic exorcism; if you're going to have to command demons anyway, the idea seems to have been, you might as well make them do something useful.) All the grimoires without exception assume that their practitioners approach the work from within the worldview of late medieval and early modern Europe, which is very difficult for modern readers to do.
This is why Lévi refers to the published rituals as "mystifications or enigmas." His approach to them, the approach that launched the modern magical revivals, was to try to understand the principles that underlay the complicated requirements of the old ritual. As a former Catholic seminarian, he had the necessary intellectual background to unpack the grimoires and the handful of other ritual texts available in his time.  The first half of our text, the Doctrine, outlines his understanding of the worldview necessary to make magic work.  This chapter and those that follow it, by contrast, plunges into the method itself.
Lévi is arguing here that the fine details of the ritual don't actually matter, because what makes magic happen is the human will.  To some extent the will itself does all that's necessary—you can transform your life from top to bottom by developing a strong will and using it intelligently, without any need for magical forces. You can accomplish much more, however, by focusing the will through symbols in order to set up patterns in the astral light, the Great Magical Agent of Lévi's system.  This is what ritual is and what it does, and in Lévi's view, at least, any ritual will do the job, no matter how eccentric or absurd.
Is he correct?  To a certain extent, yes, but only to a certain extent. One feature of the astral light that Lévi doesn't seem to have understood is that it retains patterns.  Do the same ritual a hundred times and the effect of the hundredth repetition will be much stronger than the first, because the pattern of the ritual has been established in the astral light, which flows far more readily in an already established pattern than it does the first time the ritual is done. (Rupert Sheldrake's theory of morphogenetic fields is more than a little relevant here.)  This is why it's best to learn magic by taking up an existing system of magical training and following it exactly as given, no matter how peculiar or unwelcome its details might be. Partly this is fine training for the will, but it also means that your efforts will be assisted by the momentum of the astral light, and you will get results much more quickly than otherwise.
Training of this sort is not a casual matter, nor is it for everyone. Even the simplest works of magic require the practitioner to develop capacities uncommon in human beings—capacities to know, to dare, to will, and to keep silent.  To become an adept, it's necessary to push these capacities consciously, deliberately, painstakingly beyond the limits of the ordinary human condition. There is another way, as Lévi also points out; it is possible to get magical effects by whipping yourself up into a frenzy of passion, drowning consciousness rather than exalting it; but the abandonment of clarity, insight, and self-mastery that comes with this latter approach involves unavoidable dangers.  The story of the sorcerer dragged down to Hell by the spirits he has summoned is among other things a reference to these dangers.
Whichever way you choose, it's necessary to take it beyond the ordinary human level.  There's a colorful passage in the Book of Revelations where Jesus, seen in a visionary state by John of Patmos, has hard things to say about the Christian church in Laodicea. Its members were the original lukewarm Christians, comfortable in their self-righteousness. Jesus wasn't impressed:  "I would thou wert cold or hot. So then because thou art lukewarm, and neither cold nor hot, I will spue thee out of my mouth."
On its own plane, magic has much the same attitude.  You can get magical results by losing yourself in frenzied passion, or you can get them by achieving perfect contemplative self-mastery. What you can't do is mix the two.  The classic recipe for failure in magic is to dabble in self-knowledge and self-mastery while clinging halfheartedly to this or that craving, or to dabble in passionate frenzy while clinging halfheartedly to this or that token of respectability.
If you follow the path Lévi sets out, you need to keep your magic and your passions separate, and only use magic to achieve things to which you have no emotional attachment at all; if you choose to pursue something that you feel strongly about, you need to learn how to let go of your attachment to it;  you also need to accept that during the course of your training you will outgrow many of the passions you currently imagine are central to your identity.  Equally, if you choose the path of passionate frenzy, you need to accept that you will slam face first over and over again into the unintended consequences of your desires, however unwelcome those may turn out to be. As Manly P. Hall says in one of his books, the gods put the entire world before us like one titanic smorgasbord of experiences, and said, "Take whatever you want—and pay for it."
Magical power results from unity of will. If you try to will two contradictory things at the same time you will waste your effort and achieve neither of your goals; it's as though you decided to drive east and west at the same time, and spent half of every day driving east and the other half driving west. For the duration of any magical working—that is to say, from the moment you decide to achieve something until the moment you achieve it—you must focus all your efforts on that one thing, and treat everything else as an irrelevance if it can't be put to work as a means to your goal.  Most people aren't willing to do that, which is why most people never achieve great things. Again, magic is not for everyone.
What do you accomplish by following these instructions? Most people assume that magical powers are supernatural in nature. Our text accepts this only in a very nuanced sense:  only to the extent that the word "supernatural" means natural in an extraordinary or exalted degree. In any other sense, the powers of magic are natural. Lévi's definition here is classic:  "Magical operations are the exercise of a natural power but are superior to the ordinary forces of nature.  They are the result of a science and a habit which exalts the human will above its normal limits."
The effects of magic can look miraculous to those who don't understand how they were brought about. The same is true all through human life, of course. We watch a juggler keep a dozen balls dancing in the air; it looks like magic, so long as you don't think of the countless hours the juggler has invested into practicing the art.  Most overnight successes come out of long years of preparation. The same equation works just as well in the other direction: people are shocked by the sudden bankruptcy of an apparently prosperous business, but they haven't noticed the long series of bad decisions and short-term gimmicks that made the bankruptcy essential. Magic very often works the same way: gradually, and then all at once.
Let's suppose, then, that you decide to follow Lévi's instructions and become a mage. Your will, if you're like most people, is halfhearted, self-contradictory, unsteady, and easily distracted. How do you fix that? The same way that a physically weak person becomes strong;  by taking up some set of exercises and maintaining it no matter what. Our text points out that religions always impose certain disciplines and austerities on their believers, and those disciplines and austerities are the secret power source behind the miracles of the faith.  Thus Lévi recommends that the student of magic should follow the rules and attend the services of his or her religion, since—aside from the other spiritual benefits this may bring—it is excellent training for the will.
Lévi also recommends for the magical beginner a forty day period of celibacy, vegetarian diet, avoidance of intoxicants, and regulated sleep, together with such basic practices as daily bathing, scrupulous household cleanliness, and a simple ritual each morning on rising. The student must also keep his or her interest in magic completely secret from all other people. Yes, this is also training for the will, but it has another function. Of a hundred people who think they're interested in magic, maybe ten will go on to attempt the practice, and one will persevere with it and become a mage. The sooner the other 99 can be encouraged to find something else to do with their time, the less time—their own as well as their teacher's—will be wasted.
Thus it's quite standard for occult teachers to require some mildly difficult task from students at the beginning of their training. One of my teachers called a task of that sort a flake filter; it's a rude phrase but not an inaccurate one. The forty day period is Lévi's flake filter. The 99 people who think they're interested in magic but aren't interested enough to pursue it will find as many excuses as necessary not to invest those forty days of mild inconvenience in the work. The one who's seriously interested will do it, and come out the other end with a sense of achievement and a realization that he or she really can choose to do something and do it.
In the most precise and literal sense, this is the initiation that Lévi offers potential students of practical magic.  There are many other ways to initiate yourself into magic, and no shortage of ways to have someone else help you with that task, but this one remains available to anyone who decides to commit to it. I don't advise you, dear reader, to do this, nor do I advise you to refrain from it. You and you alone can decide whether this is the right thing for you to do at this moment in your present life.
Notes for Study and Practice:
It's quite possible to get a great deal out of The Doctrine and Ritual of High Magic by the simple expedient of reading each chapter several times and thinking at length about the ideas and imagery that Lévi presents. For those who want to push things a little further, however, meditation is a classic tool for doing so.
Along with the first half of our text, I introduced the standard method of meditation used in Western occultism:  discursive meditation, to give it its proper name, which involves training and directing the thinking mind rather than silencing it (as is the practice in so many other forms of meditation).  Readers who are just joining us can find detailed instructions in the earlier posts in this series. For those who have been following along, however, I suggest working with a somewhat more complex method, which Lévi himself mention in passing:  the combinatorial method introduced by Catalan mystic Ramon Lull in the Middle Ages, and adapted by Lévi and his successors for use with the tarot.
Take the first card of the deck, Trump 1, Le Bateleur (The Juggler or The Magician). While looking at it, review the three titles assigned to it:  Disciplina, Ain Soph, Kether, and look over your earlier meditations on this card to be sure you remember what each of these means. Now you are going to add each title of this card to Trump II, La Papesse (The High Priestess): Chokmah, Domus, Gnosis. Place Trump II next to Trump I and consider them. How does Disciplina, discipline, relate to Chokmah, wisdom?  How does Disciplina relate to Domus, house?  How does it relate to Gnosis?  These three relationships are fodder for one day's meditation. For a second day, relate Ain Soph to the three titles of La Papesse. For a third day, relate Kether to each of these titles. Note down what you find in your journal.
Next, combine Le Bateleur with Trump III, L'Imperatrice (The Empress), in exactly the same way, setting the cards side by side. Meditate on the relationship of each of the Juggler's titles to the three titles of the Empress,  three meditations in all.  Then combine the Juggler and the Emperor in exactly the same way. Then go on to the Juggler and the Pope, giving three days to each, and proceed from there. You'll still be working through combinations of Le Bateleur when the next Lévi post goes up, but that's fine; when you finish with Le Bateleur, you'll be taking La Papesse and combining her with L'Imperatrice, L'Empereur, and so on, and thus moving through all 231 combinations the trumps make with one another.
Don't worry about where this is going. Unless you've already done this kind of practice, the goal won't make any kind of sense to you. Just do the practice.  You'll find, if you stick with it, that over time the relationships between the cards take on a curious quality I can only call conceptual three-dimensionality:  a depth is present that was not there before, a depth of meaning and ideation.  It can be very subtle or very loud, or anything in between. Don't sense it?  Don't worry.  Meditate on a combination every day anyway. Do the practice and see where it takes you.
We'll be going on to chapter 2, "Magical Equilibrium," on June 14, 2023. See you then!
*****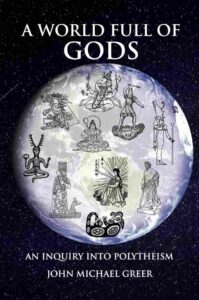 In other news, I'm delighted to report that my exploration of polytheism as a live religious option, A World Full of Gods, is back in print in a revised and expanded edition.  If you order it from the publisher and use the discount code JMG20, you get 20% off the cover price. Enjoy!