One of the traditions that's evolved over the lifetime of this blog is that whenever there are five Wednesdays in a month, the readers get to vote on what subject I write about for the fifth Wednesday post.  That's landed me in some complicated territory over the years, and this month will be no exception. In recent votes, the subject of "sacred and toxic masculinity" began to field a good share of votes, and this month it came in a little ahead of the competition.
Left to myself, that's not a subject I would have chosen to write about. Partly, of course, the entire tangled mess of issues summed up very imperfectly by the words "sex" and "gender" is among the hottest of hot-button issues these days. I have no objection to offending people; in fact, if a post of mine doesn't field at least a few screams of outrage from both of the armed camps into which corporate mass media have driven most Americans of late, I try to figure out what I did wrong.  That said, I like to aim these essays so that at least some of my audience will get the point I'm trying to make, rather than simply shrieking like a pack of gutshot banshees.  When it comes to sex and gender, that's not exactly easy these days.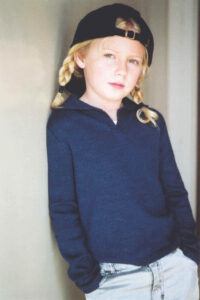 I also have a good many old and unpleasant memories tangled up in this whole issue. As a child I found the cultural definition of maleness that was loaded onto me by parents, schools, media, and other children to be a reliable source of misery.  Partly, for reasons I didn't figure out until I turned forty and was finally diagnosed with Aspergers syndrome, I was supremely clumsy as a child—not once in all my childhood did I ever manage to hit a baseball with a bat, for example—and there was no room in the collective mindset of the time for a boy who was a total loss at sports, and was bored by them into the bargain. But there was more to it than that. A lot of other things that were standard parts of boy culture at the time didn't interest me at all.  I liked to wear my hair longer than was fashionable for boys, and I cried easily, which didn't help. I wasn't into dolls or frilly clothing, but other than that, yeah, I was pretty much a janegirl.
Given the current climate of opinion on the subject, I probably need to clarify one detail before going on. I was not (and am not) uncomfortable with having a male body. It doesn't distress me in the least that I have an outie rather than an innie between my legs, and when I got old enough to start growing a beard, I was delighted. (I decided at the age of ten that what I wanted to be when I grew up was Gandalf, so facial hair struck me as a step in the right direction.)  These days, as often as not, a boy who doesn't fit the current stereotypes of budding masculinity right down to a T will get pressured by school counselors and the medical industry to redefine himself as a girl.  There's no room for tomboys and janegirls in our frantically rigid society, where everyone must be crammed into the narrowest possible pigeonhole.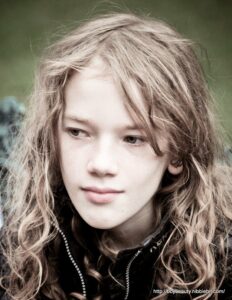 I came of age long before that became fashionable, so I didn't run the risk of being bullied and wheedled into getting castrated and stuck on a lifelong cocktail of "gender-affirming" drugs with a list of nasty side effects longer than your arm. I simply had to put up with a childhood in which media-enforced standards of masculinity were weapons used against me at pretty much every available opportunity. By the latter half of my adolescence I'd discovered the movement then called "humanistic psychology," which has been almost entirely erased from our collective memory these days because it offered troubled people a lot of options that didn't involve surgery and drugs.  One of the things it pointed out to me is that there are many different ways to be a man, and most of them have nothing to do with the caricatures of masculinity pushed so enthusiastically on everyone by the corporate media and the mass-minded.
But of course there was another resource I found during those same years, and it had an even deeper impact on my approach to my own masculinity and to sex and gender issues more broadly. Yes, that was occult philosophy.  I'm going to talk about that in this post.  That's partly because I have no clue what the term "sacred masculinity" might mean; like its counterpart "sacred femininity," it's thrown around freely in certain circles these days, but it makes about as much sense to me as, say, "sacred gravity." Masculinity, like femininity (or gravity), is neither sacred nor profane. It's a basic mode of existence, it manifests in all things and all persons to a greater or lesser extent, and it functions on all planes from matter to spirit.
There's another reason, though, why I plan on talking about what occult philosophy has to say about masculinity. What I found in my teen years, and have found even more generally since then, is that the old occult teachings about sex offer a way to cut through a vast amount of balderdash and bring clarity to a realm of experience our society goes out of its way to make as opaque as possible. So climb in and brace yourself; we're about to launch into a brief survey of what the mages of an older era called "the Mystery of Sex."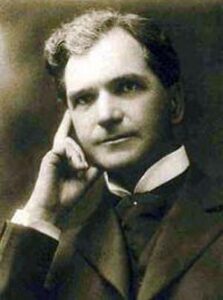 We can start with one of the classics of occult philosophy, The Kybalion by William Walker Atkinson. One of the seven fundamental principles of occultism Atkinson sets out is the  Principle of Gender: "Gender is in everything; everything has its masculine and feminine principles; gender manifests on all planes." Take a moment to think about what this implies. The masculine principle creates by projecting something out from itself; the feminine principle creates by receiving something into itself. If this confuses you, think of the way that human beings and other mammals reproduce.  This is a reflection, on the material plane, of the way that all creation happens:  one principle projects, the other receives, and new life comes into being.
In this sense, gender is a universal function, of which biological sex is only one expression on one plane.  Furthermore, nothing in the entire cosmos is entirely male or entirely female.  All things and all persons embody both principles—but they don't all do it in the same way.
In occult philosophy we talk about different planes of being.  Human beings are conscious of four of these, though our culture insists on treating only one of them as real and consigns the other three to a sort of limbo of subjective not-really-thereness. To occultists, by contrast, the material plane—the sort of reality we experience with our five material senses—is no more and no less real than the etheric plane, the plane of life force; the astral plane, the plane of imagination and dreams; and the mental plane, the plane of meaning and value.  As human beings, we are souls that incarnate in bodies drawn from the substance of these planes; we currently have senses that perceive the first three of these planes, and we are evolving the senses necessary to perceive the fourth.
Each of these bodies, by the way, has its own gender.  The gender of the material body—that is to say, its sex—is determined by its chromosomes and expressed by its primary and secondary sexual characteristics at birth. The genders of the etheric body, astral body, and mental sheath (technically speaking, we don't have a fully developed body on the mental plane yet, but the sheath functions as the first draft of one) are determined by structures on their own planes.  They are also independent of each other.  That is to say, the genders of your etheric and astral bodies and your mental sheath may or may not be the same as the gender of your material body.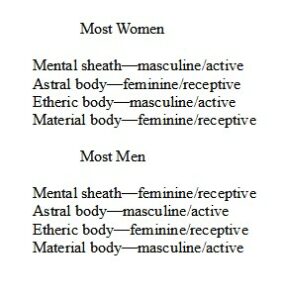 It's almost universal for people to have two bodies of each gender, and in most cases, the bodies are of alternating genders. Thus if you've got a male material body, most likely you have a female etheric body, a male astral body, and a female mental sheath. Similarly, if you've got a female material body, most likely you have a male etheric body, a female astral body, and a male mental sheath. Much of what counts as "male" or "female," and a great many of the differences between the sexes, are reflections of these alternating polarities.
I'll take a deliberately crude example: masturbation.  Most men, if they masturbate a lot, end up feeling weak and drained. Most women, if they do the same thing, end up feeling clogged and congested. Why?  In ordinary heterosexual intercourse the life force, the substance of the etheric plane, flows from the woman (who usually has a masculine etheric body) into the man (who usually has a feminine etheric body). Lacking a partner to provide him with etheric energy, the man who masturbates feels weak; lacking a partner to draw out and receive her etheric energy, the woman who masturbates feels clogged. It's all very straightforward.
The same thing works on the other planes. It's very common, for example, for male artists, writers, musicians, and other creators to need female companionship in order to create; it's not that they get ideas or imagery from the women in their lives, it's a subtler and more profound sense of inspiration.  Female artists, by contrast, rarely have a comparable need. Why?  Most men have female mental sheaths, which need fertilization; most women have male mental sheaths, which need to inspire rather than to be inspired. On the astral plane, it's the other way around.  Have you noticed that fanfic—fiction that takes some existing set of characters and settings from media and spins stories about them—is mostly a women's habit?  That's because most women have female astral bodies, and so their imaginations work best when fertilized with images and ideas from some outside source.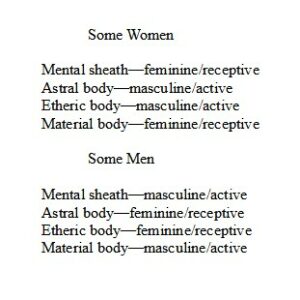 Notice, however, the presence of words such as "most" in the paragraphs above. It's very rare for men (i.e., people with masculine material bodies) to have male etheric bodies; and equally rare for women (i.e., people with feminine material bodies) to have female etheric bodies. The two higher bodies, though, are tolerably often reversed—that is, in something like ten per cent of the population, you find men with male mental sheaths and female astral bodies, and women with female mental sheaths and male astral bodies. I'm an example. My imagination needs to be fertilized by outside images and ideas, which is why my most successful fiction to date is basically an elaborate H.P. Lovecraft fanfic. On the other hand, I don't need the kind of mental-plane fertilization via female companionship that so many male writers and artists do.  I'm happily married, but my wife doesn't have to do double duty as my muse.
These are only two of the many variations in human subtle body structure. Most of the others have to do with less general aspects of the subtle bodies. The differences between straight and gay or lesbian orientation are a function of some of these other variations. So are many, though by no means all, of the subtle complexities of polarity that attract certain people to each other and repel certain people from each other.  Sex is complex; love, romance, mutual attraction and repulsion—all of it is complex, and all of it relates to the complex structure of human gender and human subtle anatomy. Attempts to simplify it in the service of some arbitrary ideology or other (whether the ideology is liberal, conservative, or something else) inevitably fail, and cause a hefty quota of human misery in the process.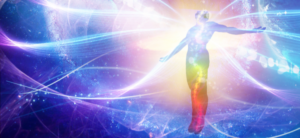 Entire books have been written on the subject of the occult dimensions of sex.  I've got such a book in process right now, focusing on polarity magic—the art of sublimating erotic energy for magical purposes. Still, I think I've covered enough of the subject at this point to go on to what I suspect most of the readers who asked for this post want me to talk about—the complex and difficult experience of being male in American society today.
It should be clear, to begin with, that gender is not a simple thing. It's just as mistaken to insist that your physical sex doesn't matter as it is to insist that your physical sex defines everything about who you are and what you ought to think, feel, and do. Whether you have an innie or an outie between your legs, whether you have Y chromosomes or not (and all the intricate biochemical changes that their presence or absence causes), makes a big difference, but they're not the only things that make a difference. Furthermore, there are many different ways to be male or female; if you don't happen to fit the currently fashionable stereotype of your material plane sex, that doesn't mean you're the other sex, it means the stereotype doesn't work for you.  A society that makes room for tomboys, janegirls, and the like is going to be healthier and more humane than one that refuses to do so—provided, of course, that the rights conferred on those who vary from the majority aren't permitted to run roughshod over the rights of those who don't.
Yet there's more going on in the tangled mess around masculinity in today's America than a failure to grasp the points just made. An indirect approach is helpful here, so let's take a moment to talk about what launched second wave feminism in the wake of the Second World War.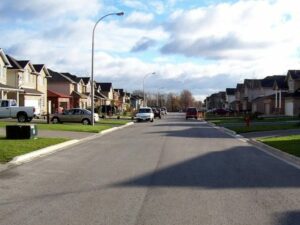 The rise of America's suburbs in the postwar years drove a great many drastic cultural shifts, but one that hasn't gotten the attention it deserves is the destruction of women's culture in the middle classes.  Before suburbanization, most middle class women lived in upscale city and town neighborhoods in which homes, businesses, and social venues all existed cheek by jowl. A very large share of women belonged to clubs, lodges, and other women-only social groups, and less formal interactions were constant—it was routine for women to get together for coffee, shared work projects, mutual aid, and many other reasons.  That fostered a distinct women's culture, varying by class and ethnicity but present all over America.
The suburbs wrecked that. Suburbs by definition consisted of vast tracts of housing isolated from businesses and social venues, and the flight to the suburbs disrupted generations-old networks of family and friendship, leaving suburbanites isolated among neighborhoods of strangers. Men had their workplaces, but in the wake of the war, middle class women were expected to leave the workforce and stay isolated and bored in their suburban homes. Meanwhile saturation propaganda over the newly deployed medium of television pushed new definitions of womanhood at them—definitions that had been manufactured mostly by men, embodying masculine perspectives, without any input relevant to the actual lives that women led.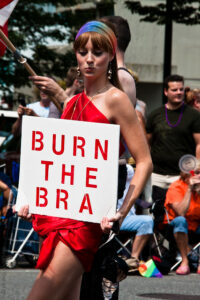 That was what made the explosion of second wave feminism inevitable. You can impose horrific repression on a population and still get obedience out of them—that's happened countless times in history. What you can't do is subject them to extreme cognitive dissonance. "This is your life, this is what it means to be a woman, and if you're not happy with it, there's something wrong with you"—that was the message that corporate media, the advertising industry, and the medical profession pushed at women night and day, until women started pushing back.
The aftermath, though, is what matters here. It's one of the reliable ironies of history that most revolutions end up copying at least some of the worst features of the regime they overthrew. One of the central themes of the feminist revolution was accordingly the destruction of middle class men's culture, and the abolition of the masculine social spaces that once gave men venues to define themselves. Instead, men in the middle classes are now expected to accept new definitions of manhood which are largely manufactured by women, embodying feminine perspectives, without any input relevant to the actual lives that men lead.  We're currently in the very early stages of the explosion that this burst of cognitive dissonance makes inevitable.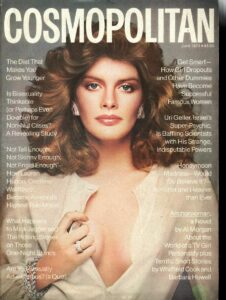 What fascinates me about the rise of what we may as well call masculism is the extent to which it's copied the successful strategies of the early feminist movement. Readers of a certain age will recall Helen Gurley Brown's championing of the "Cosmo Girl," the liberated woman whose entire life focused on exploiting men for whatever she could get. The precise masculist equivalent is the pickup artist (PUA)—for some reason today's masculists adore acronyms—whose entire life focuses on exploiting women for whatever he can get.  Now of course the Cosmo Girl used sex for the purpose of manipulation, and the PUA uses manipulation for the purpose of sex; aside from that, there's not much to choose between them.
Readers of a certain age will also recall the separatist feminists of the 1970s, whose core strategy involved building successful lives for themselves in which men had no place—remember all those buttons and bumper stickers reading "A Woman Without A Man Is Like A Fish Without A Bicycle"? Their masculist equivalents are Men Going Their Own Way (MGTOW), who have embraced the same strategy of building successful lives for themselves in which women have no place. Then there were the women's rights activists of the same decade; their equivalents are today's Men's Rights Activists (MRAs), who are just as shrill and belligerent as women's rights activists so often were back in the day.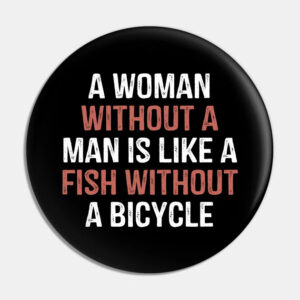 One measure of the potential of these strategies is the frantic, saliva-flecked denunciations all three of these small and marginal movements of the cultural fringes are getting from the feminist end of mainstream corporate culture. (The mere fact that it's possible to talk about "the feminist end of mainstream corporate culture" these days is a good measure of just how much things have changed over the last fifty years.)  I gather that the women involved in that pushback don't remember just how much the equivalent male denunciations in the 1970s did to publicize feminism and convince women not yet involved in the feminist movement that there was a point to women's rights. I expect the same effect to benefit masculism over the next decade or so.
I'm not saying, by the way, that this is a good thing.  Nor am I saying that it's a bad thing. I'm simply pointing out that it's happening. The mythology of progress has made it very hard for a great many people to see that forcing change in one direction very often results in an equal and opposite swing in the other direction. Just as the unbridled sexual license of Britain's Georgian era set the stage for the straitlaced sexual repression of the Victorian era, and extreme Victorian prudery then made the sexual revolution of the 20th century inevitable, the attempt to redefine women in terms framed by men gave rise to a comparable attempt to redefine men in terms framed by women, and the rise of feminism has driven the corresponding rise of masculism.
It would be helpful, to use no stronger word, if men and women could accept that people of both sexes (and the very small fraction of people who are intersex, too) have the right to define themselves, create spaces and cultures relevant to themselves, and negotiate the relations between the sexes, rather than trying to exploit positions of power to impose arbitrary rules that advantage one side or the other. It would be helpful, too, if the people who love to talk about "toxic masculinity" would recognize that toxic femininity is just as common, and that both are subsets of a much larger range of toxic behaviors that human beings irrespective of gender inflict on each other. Mind you, I don't expect that; human beings are what they are, a giddy mix of virtues and vices, strengths and weaknesses, the sacred and the toxic.  But it's an ideal to keep in mind, and those who try to move toward it may find that it has some advantages after all.