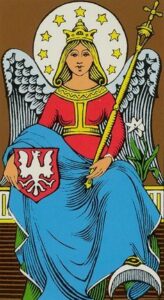 With this post we continue a monthly chapter-by-chapter discussion of The Doctrine and Ritual of High Magic by Eliphas Lévi, the book that launched the modern magical revival.  Here and in the months ahead we're plunging into the white-hot fires of creation where modern magic was born. If you're just joining us now, I recommend reading the earlier posts in this sequence first; you can find them here.  Either way, grab your tarot cards and hang on tight.
If you can read French, I strongly encourage you to get a copy of Lévi's book in the original and follow along with that; it's readily available for sale in Francophone countries, and can also be downloaded for free from Archive.org. If not, the English translation by me and Mark Mikituk is recommended; A.E. Waite's translation, unhelpfully retitled Transcendental Magic, is second-rate at best—riddled with errors and burdened with Waite's seething intellectual jealousy of Lévi—though you can use it after a fashion if it's what you can get. Also recommended is a tarot deck using the French pattern:  the Knapp-Hall deck (unfortunately out of print at the moment), the Wirth deck (available in several versions), or any of the Marseilles decks are suitable.
Reading:
"Chapter Three:  The Triangle of the Pentacles" (Greer & Mikituk, pp. 225-233).
Commentary:
When our author announced earlier in the book that he was going to unveil the practical secrets of magic, he wasn't making empty promises.  This chapter opens with one of the great secrets of magical work.  As Lévi himself notes, that secret is presented in terms that are too simple and too facile for most readers to grasp. That's a serious issue in magical training. By and large, the more powerful a magical working is, the simpler it is, but that very simplicity is the great barrier that must be overcome by the student. Half the ornate symbolism and complicated procedures of the magical art consists of ways to veil the simplicity of the great workings so that our minds can grasp what they are actually all about.
The example Lévi presents here is typical. Let's unpack it a step at a time.  Certain varieties of spiritual beings, the kinds that traditional magical writings call "intelligences," are embodied on the plane of thought the way human beings are embodied on the plane of matter.  Their bodies consist of thoughts thinking themselves, perceiving themselves, and understanding themselves.  To evoke such a being—that is, to call it into manifestation—all the operative mage needs to do is to enter into attunement with those thoughts. The result of the evocation will depend on the relative moral condition of the mage and the spirit.
This last point is easy to misunderstand.  Lévi wrote in French, and in that language morale means something broader than morality in the English sense of the word. It is the general condition and direction of the will, including its morality, its morale, its clarity and its potency. If the mage has a strong, balanced, confident, and ethically guided will, the evocation will result in the spirit becoming a familiar, in every sense of that word:  the thoughts that give the spirit its body will become familiar to the mage, even if they were previously unknown, and the spirit will assist the mage in anything corresponding to its own realm of consciousness. If the will of the mage is weak, unbalanced, or unguided by ethics, the mage will become a prisoner of the thoughts he has evoked, and the spirit will ride him—usually to his own destruction.
There are other varieties of spiritual beings whose embodiments exist on planes other than the realm of thought. Angels are embodied in the spiritual planes, and to evoke an angel is to enter into a state of consciousness that's quite literally superhuman; that's what many mystics try to do, whether or not they think of their practice in terms of evocation. Many other spirits, however, are embodied at levels below that of human thought, and evoking such beings involves certain serious dangers. It is for this reason that the old texts recommend that before evoking spirits or elementals, it is necessary to evoke the intelligence that governs them, and then to have the intelligence command the spirit or elemental.  That approach keeps mages safe from being drawn down into realms of emotion or passion where, unless they have an unusually strong and focused will, they risk being overwhelmed and dominated by the spirit on its own ground.
By this point, I suspect, a good many of my readers will already be asking themselves two questions. The first of these is quite simple:  does all this actually work?  Lévi's answer, the only answer that makes any difference, amounts to "try it and see."  I think most of us have realized by now that it's impossible to prove the existence of anything to a person who starts from the assumption that the thing in question can't exist. Those who invest the necessary time and effort into learning and mastering magic know that it works. Those who don't—who dabble a little in a half-hearted way and then give up, or who slam the door in the face of the possibility, shouting that magic doesn't work because this or that ideology forbids it—don't know enough about the subject to have an informed opinion.
That leads in turn to a second question:  what is the point of the whole farrago of wands, chalk circles, billowing incense, incomprehensible words, and the rest of it?  If evocation is simply a matter of attuning consciousness to unfamiliar patterns of thought, why not do it sitting comfortably in an armchair?  In point of fact, most people do this all the time. I'm sure that everyone reading this has had the experience of encountering some new set of ideas, thinking them over, entertaining them, and then deciding either to accept or to reject them. That's the art of evocation in a nutshell.  It can be done that simply, and in fact adepts do exactly that.
It's easy for modern people to fall into the trap of thinking that Lévi is saying that spirits are nothing but ideas, emotions, or passions. As Viktor Frankl pointed out a long time ago, the nihilistic spirit at the heart of today's mass culture isn't obsessed with nothingness, but rather with nothing-but-ness. What Lévi is saying is something considerably more threatening to the conventional wisdom of our time. He's saying that what we experience as ideas, emotions, and passions are spirits:  that is to say, beings with their own perceptions and intentions. Yes, he means that literally. Yes, I'm aware that there are few ways of thinking about the world more likely to baffle and enrage the conventionally minded. No, Lévi didn't care, and neither do I.
The independent and self-aware nature of spirits explains, among other things, why it's not always easy to engage, entertain, and then invoke or banish whatever new set of ideas you want, whenever you choose to do so. It's also why it can be even more difficult to do the same trick with patterns of emotion or passion, particularly the latter—the word "passion" comes from the same root as "passive," after all, and passions get their name because human beings are generally so passive in relation to them. The methods of magic, with all their wands, circles, and so on serve the same purpose in learning magic as training wheels in learning to ride a bicycle. They make it easier for apprentice mages to begin taking charge of their own interactions with the realms of ideas, emotions, and passions. Since that task takes quite a bit longer than learning to balance on a bicycle, the wands and circles have their place for a good long time.
Until adeptship is reached, the mage in training also needs to make use of another source of strength. As Lévi points out, the word "conjure" literally means "to take a vow together."  To be part of a living tradition, supported by the example of successful practitioners of past and present, enables apprentice mages to direct a current of force far greater than the ordinary individual can create. This is one of the many reasons why it's useful for the magical novice to train in an existing system of magic, rather than trying to create something new out of whole cloth. An adept can command spirits in his own name because he has the momentum of years of successful work behind him. A novice cannot, and so has to rely on the borrowed momentum of a school, a tradition, or a religious faith to get the same results.
Most of the rest of this chapter sets out the forms and symbols that allowed beginning mages in the middle of the nineteenth century to conjure spirits using the borrowed momentum of early modern magical practice. The ternary, the key to so much of Lévi's magic, is an essential part of this. Replace with ternaries the binaries that play so overwhelming a part in conventional thinking all through Western cultures—right or left, good or bad, this or that, and never any third factor—and you don't merely distance yourself from the conventional wisdom of our time and Lévi's; you place yourself in what Lévi calls a magic chain, a sequence of individuals linked together across space and time by shared states of consciousness. The triangles that play such an important role in the symbolism of magical ceremonies are meant to symbolize the ternary pattern, representing to the imagination what ternary logic represents to the intellect.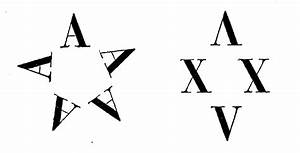 Other geometrical patterns are of comparable importance in magical practice.  This chapter discusses the hexagram, the form made by two interlaced equilateral triangles, which is also known in magic as the seal of Solomon, and can be formed out of letters—two As and two Xs, as one of Lévi's diagrams shows.  Another of comparable importance is the pentagram or pentalpha, which (as our text shows) can be envisioned as a pattern made of five interwoven As. Our text does not explain these; they are meant as themes for meditation, and those readers who take the time to explore them will find the effort worth making.
Alongside geometrical patterns, in turn, are traditional names of power. The word ABRACADABRA, so often misused by stage magicians and children's entertainers, is one of these, and can also be expressed in the form of a triangle, as our text shows. Lévi devotes two paragraphs to that word's interpretation, and here again, those who take the time to work through his logic and meditate on the symbolic meanings he unfolds in this section will find that they have a great deal to teach.
That kind of study and meditation are essential for the practice of high magic.  They are not essential for the practice of all kinds of magic.  As our text points out, "a practice, even a superstitious one, even a foolish one, is effective because it is a realization" (literally, a making-real) "of the will." Most of the everyday practice of religion consists of such realizations of the will.  The peasant woman in Lévi's example, who takes money she can little afford to spare and uses it to buy a candle to burn before the shrine of some local saint, is practicing an ancient, effective, and beneficent form of magic:  the effort of will and self-mastery involved in doing without a little milk in her tea so that she can afford the candle gives focus and strength to the intention embodied in her prayer, and it also refines and strengthens her own character.
It is essential, by the way, that she make this effort herself, of her own free choice, rather than having it forced on her by some authority. The fatal flaw in organized religion consists of the habit of bullying people into doing practices that only have strength and value when they are freely chosen by the individual will.  That flaw explains why the magical chains established by prophets and messiahs, which have so much potency in the hands of the immediate disciples of the founder, lose force over time and turn into empty forms.  You cannot conjure spirits effectively in the name of a magic chain whose links have been browbeaten into obedience—a rule that explains, with painful exactness, why so many churches today have become empty shells from which the glory of the spirit has departed, or maintain a weak simulacrum of their original power by whipping the congregation up into temporary emotional outbursts.
Magic is not exempt from this same rule. It has happened tolerably often in the history of Western occultism that what started out as an ebullient upsurge of potent magical force has turned into the same sort of empty mummery enacted in so many contemporary churches. Part of the reason for this is that the expanded consciousness needed to evoke and direct spiritual forces and beings, the exalted morale and morality that gives the mage superiority over the spirits, is hard to maintain and even harder to pass on to one's students.
The example Lévi uses is again highly appropriate. The Trident of Paracelsus was one of the most important symbolic patterns crafted by its namesake, one of the great occult philosophers of the late Renaissance. It is, as our text points out, "a concrete and absolute sign of an entire doctrine," which embodied a magical chain reaching back through the Middle Ages to the initiates of the ancient world. In Lévi's own time it was still in use, but it had degenerated into an amulet used by superstitious men as a cure for impotence! Lévi proposed the goal of reviving the power underlying the Trident by a systematic study of its symbolism, but what happened after his time was simply that the Trident entered standard use as an instrument of ritual magic, wielded far more often than not by practitioners who had only the vaguest idea of its meanings.
That same debasement, Lévi proposes, took place in a far more destructive way in the revolt of the European intelligentsia against religion.  That revolt, he argues, was spearheaded by magical initiates who turned their efforts against a monumentally corrupt and unspiritual church. The heirs of the great revolt, however, fell into a superstitious reverence for human reason, and tore down the religious institutions of their culture instead of renovating and purifying those institutions. In the process, they tore down the support for their own structure as well.
As Lévi foresaw, the rationalists have fallen in their turn, leaving only competing superstitions to quarrel over the wreckage. Those who insist that the reign of superstition is ended forever are themselves motivated by rationalist superstitions, and these are fragile when compared to the old strong superstitions of penny candles and saints' shrines.  Someday these latter will be gathered up into a new religious-magical synthesis, which makes ample room for the superstitions of the common folk but also provides a ladder of ascent for those willing to understand the higher and deeper dimensions of religious magic and magical religion. When will that happen?  Our text does not pretend to say.
Notes for Study and Practice:
It's quite possible to get a great deal out of The Doctrine and Ritual of High Magic by the simple expedient of reading each chapter several times and thinking at length about the ideas and imagery that Lévi presents. For those who want to push things a little further, however, meditation is a classic tool for doing so.
Along with the first half of our text, I introduced the standard method of meditation used in Western occultism:  discursive meditation, to give it its proper name, which involves training and directing the thinking mind rather than silencing it (as is the practice in so many other forms of meditation).  Readers who are just joining us can find detailed instructions in the earlier posts in this series. For those who have been following along, however, I suggest working with a somewhat more complex method, which Lévi himself mention in passing:  the combinatorial method introduced by Catalan mystic Ramon Lull in the Middle Ages, and adapted by Lévi and his successors for use with the tarot.
Take the first card of the deck, Trump 1, Le Bateleur (The Juggler or The Magician). While looking at it, review the three titles assigned to it:  Disciplina, Ain Soph, Kether, and look over your earlier meditations on this card to be sure you remember what each of these means. Now you are going to add each title of this card to Trump II, La Papesse (The High Priestess): Chokmah, Domus, Gnosis. Place Trump II next to Trump I and consider them. How does Disciplina, discipline, relate to Chokmah, wisdom?  How does Disciplina relate to Domus, house?  How does it relate to Gnosis?  These three relationships are fodder for one day's meditation. For a second day, relate Ain Soph to the three titles of La Papesse. For a third day, relate Kether to each of these titles. Note down what you find in your journal.
Next, combine Le Bateleur with Trump III, L'Imperatrice (The Empress), in exactly the same way, setting the cards side by side. Meditate on the relationship of each of the Juggler's titles to the three titles of the Empress,  three meditations in all.  Then combine the Juggler and the Emperor in exactly the same way. Then go on to the Juggler and the Pope, giving three days to each, and proceed from there. You'll still be working through combinations of Le Bateleur when the next Lévi post goes up, but that's fine; when you finish with Le Bateleur, you'll be taking La Papesse and combining her with L'Imperatrice, L'Empereur, and so on, and thus moving through all 231 combinations the trumps make with one another.
Don't worry about where this is going. Unless you've already done this kind of practice, the goal won't make any kind of sense to you. Just do the practice.  You'll find, if you stick with it, that over time the relationships between the cards take on a curious quality I can only call conceptual three-dimensionality:  a depth is present that was not there before, a depth of meaning and ideation.  It can be very subtle or very loud, or anything in between. Don't sense it?  Don't worry.  Meditate on a combination every day anyway. Do the practice and see where it takes you.
We'll be going on to Chapter 4, "The Conjuration of the Four," on August 9, 2023. See you then!
*****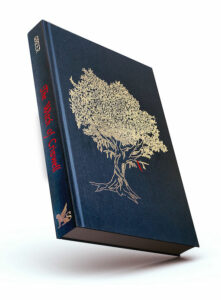 In other news, I'm delighted to report that there is now a limited hardback edition of The Witch of Criswell, the first of my Ariel Moravec occult detective novels.  As far as I know, current plans are to bring out all of these novels in hardback as well as paperback editions — and I expect to have good news along the same lines concerning The Weird of Hali shortly.
Speaking of which, all seven volumes of The Weird of Hali are scheduled for release on Halloween of this year. You can place an advance order for any of all of them here if you live in the United States and here if you live anywhere else.