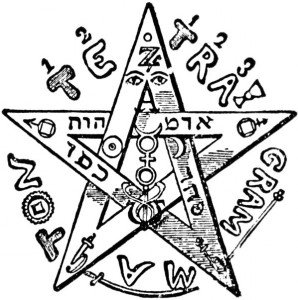 With this post we continue a monthly chapter-by-chapter discussion of The Doctrine and Ritual of High Magic by Eliphas Lévi, the book that launched the modern magical revival.  Here and in the months ahead we're plunging into the white-hot fires of creation where modern magic was born. If you're just joining us now, I recommend reading the earlier posts in this sequence first; you can find them here.  Either way, grab your tarot cards and hang on tight.
If you can read French, I strongly encourage you to get a copy of Lévi's book in the original and follow along with that; it's readily available for sale in Francophone countries, and can also be downloaded for free from Archive.org. If not, the English translation by me and Mark Mikituk is recommended; A.E. Waite's translation, unhelpfully retitled Transcendental Magic, is second-rate at best—riddled with errors and burdened with Waite's seething intellectual jealousy of Lévi—though you can use it after a fashion if it's what you can get. Also recommended is a tarot deck using the French pattern:  the Knapp-Hall deck (unfortunately out of print at the moment), the Wirth deck (available in several versions), or any of the Marseilles decks are suitable.
Reading:
"Introduction to the Ritual of High Magic" (Greer & Mikituk, pp. 191-207).
Commentary:
We've spent almost two years now studying the theory of high magic, or as much of it as can be teased out of Eliphas Lévi's deliberately evasive prose. Now it's time to proceed to the practice—and our text launches into this with a pair of complicated and richly developed metaphors with no obvious relationship to practice at all. By now, those of you who have been following along will know that this is par for the course. The Doctrine and Ritual of High Magic belongs to the Romantic movement in European literature and culture; it makes use of lurid prose, colorful imagery, and intense emotions to make points that are quite often anything but explicit, and this introduction is a fine example.
The first of the two metaphors just referenced is a classic bit of Romantic blood and thunder, as Death—mort is a feminine noun in French—goes romping through human society with her usual results. After her grand triumph winds up, of course, there come two smiling children who are supposed to represent "the intelligence and love of the century to come." Yes, it was standard practice in Lévi's time to project utopian fantasies onto the twentieth century, just as it was standard practice to project identical fantasies onto the twenty-first century when I was a child; it's a safe bet that by 2050 or so, these same shopworn fantasies will be projected onto the twenty-second century by people who still won't yet have figured out that the word "utopia" literally means "nowhere."
That is to say, Lévi wasn't a prophet. In point of fact, his predictions—and he made a fair number of them here and there—were almost bad enough to qualify him as a modern economist. Fortunately the book we're studying isn't The Doctrine and Ritual of Predicting the Future. You sometimes find the talents of mage and prophet in the same person, but they're different gifts; it's probably not an accident that Lévi puts his discussion of divination nearly at the end of his book, and doesn't seem to have practiced it much himself.
The second metaphor is just as lurid as the first.  It relies on a bit of astronomical sciences that turned out not to be correct—astronomers in Lévi's time still believed that comets were literally on fire. Here we have a scene out of a nineteenth-century grand opera, with the stars as a chorus of sopranos and altos in ornate robes, and the latest fashionable diva dressed in red starring as "The Comet." The overt theme of the performance is the necessity of pain, suffering, and evil in the cosmos:  the same evil that was so gaudily paraded in the first metaphor.  Yet there's a further dimension to both metaphors.
It's important to remember here that in writing this book, Lévi was rebelling against both sides of the Hobson's choice that Western societies in his time and ours have so reliably imposed on their inmates. Scientific materialism on the one hand, dogmatic religion on the other—take your pick, but don't you dare propose a third option.  Lévi is one of a long line of original thinkers who insisted on a third option, and thus brought down on his head the denunciations of both sides.
Has it ever struck you as odd, dear reader, that scientific materialists and mainstream religious believers, who agree on so little else, unite in fervent denunciation of such things as tarot cards?  Any time you're faced with a forced choice of the sort just outlined, once you identify the things that the two sides both reject, you can glimpse at the opposite pole the hidden unity of the two sides. In this case, that hidden unity is intellectual and spiritual subservience: the demand that you must  accept the dictates of a human (and indeed, as Nietzsche liked to put it, all too human) authority figure concerning the basic questions of human existence, rather than exploring for yourself and making up your own mind.
That forbidden option, in turn, is what Lévi is proposing here. Instead of believing what  scientific or religious authorities tell you to believe, he suggests, you can find out for yourself. It's a lonely path—that's one of the points the soliloquy of the comet is meant to communicate—and it's a path that will be misunderstood and condemned by those same authorities and all those who put their trust in them—that's another point the soliloquy of the comet is meant to pass on, and also one of the points behind the Gnostic beliefs about Lucifer that Lévi cites. To Lévi, remember, the Bible is one of the Western world's supreme collections of hieratic and symbolic narratives, to be interpreted symbolically rather than literally; for him God is the principle of reason acting through nature—the Chinese word Tao might be a fair translation—and Satan is a phantom projected by superstition onto the astral light. (Whether you agree with him or not is of course up to you, but this is what he thought.)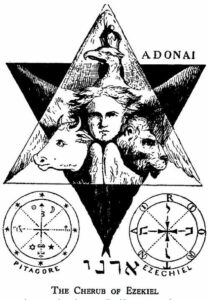 Much of this chapter, it's only fair to note, consists of Lévi's struggles to come to terms with his own Catholic roots. Like most French intellectuals in his time, and a great many Catholics today, he was Catholic by upbringing and felt a deep emotional connection with the rites, symbols, and traditions of the church, but he found it impossible to accept in any literal sense the theology he was presented, and he rejected with some heat the authority over the human soul claimed by the Vatican hierarchy. That's what lies behind the redefinition of Christian symbolism that takes up so much of this chapter, with "the spirit of the Christ" manifesting in a great many ways not mentioned in standard Christian theology.
Unlike so many of his contemporaries, he couldn't simply leap from belief to unbelief and embrace the popular scientific atheism of his time and ours.  It wasn't just that he had the strong emotional commitment to Catholic symbolism just mentioned; as an occultist, he knew better than to think that the world can be reduced to dead matter in empty space. Thus he saw himself in the same position as the comet of his metaphor, troubling the stately order of the established churches of his day while still serving the same God they did.
Among the things he lets slip in the course of the discussion are three words, Od, Ob, and Or or Aour.  These are Hebrew— אוד and אוב and אור respectively: three words for fire used in the Old Testament, borrowed first by Jewish Cabalists and then more generally by occultists, and used already well before Lévi's time for the three forms of the astral light. Our text has referenced these before in various ways, most of them symbolic in nature:  for example, the archangel Michael and the archfiend Lucifer, locked in a combat that is also a creative polarity, are Od and Ob respectively.   Keep these words in mind as we proceed, because the three currents are the motive power behind the magic Lévi has to teach.
Our text's long disquisition about the pentagram should also be kept in mind, and studied carefully, because this passage communicates several points that will be of crucial importance in the chapters to come. Notice how Lévi equates the pentagram with the human body, and especially with its extremities—the head, the hands, and the feet—from each of which stream two rays, Od and Ob, the active and passive modalities of the astral light.  This is an important bit of practical lore that can be put to work in many ways.
More important than this, however, is the critically important instruction our text includes on the last two pages of the chapter, when discussing the seal of Solomon and the flaming pentagram.  These are omnipotent over spirits, but only if the one who uses them understands them. (Read this italicized sentence several times until you grasp its meaning, for in this brief passage Lévi has communicated one of the supreme secrets of magic.)
The symbolic emblems and ritual acts have power because of what they represent. They can be used ignorantly, without attention to their meanings, and they will have some power under these conditions, but doing this is not unlike trying to drive while blindfolded.  Understand what the symbols mean, what metaphysical realities they represent, and the blindfold comes off.  It is when the mage passes beyond working spells by rote and understands their meanings, not by looking things up in books but by personal experience, that he or she becomes an adept. That understanding is gnosis, the knowledge gained by personal encounter: "recognition," as the historian Bentley Layton has translated the Greek word gnosis.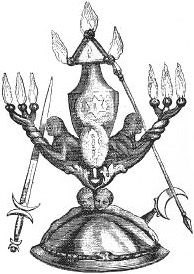 This is why, as Lévi stresses, it is necessary to get beyond prejudice, superstition, and incredulity to become an adept. Prejudice literally means "pre-judgment;" it is the mental habit of those who think they can judge anything on the basis of their existing assumptions.  It comes in two forms: superstition, which is unthinking belief, and incredulity, which is unthinking disbelief.  (Here again Lévi is challenging both the established viewpoints of his age and ours.)  When you stop believing and disbelieving without good reason, you have power over those whose belief and disbelief are automatic unthinking reactions. You may choose not to use that power, if you so wish—but you have it.
All this, as our text hints broadly in its last lines, is a summary of the first half of the book in terms of the lessons it has for the second half:
"One must KNOW in order to DARE."  Before you embrace the challenge Lévi offers you, you have to know what it is he is offering, and know yourself well enough to decide whether you are prepared to take it up.
"One must DARE in order to WILL."  To act deliberately and consciously, in response to your own understanding, is to flout the prejudices, superstitions, and incredulities of an age. This takes courage, because the pushback from other people and from the habits of thought and feeling your society has inculcated in you will be fierce.
"One must WILL to have the Empire."  The empire in question is not a political institution. It is the power that gathers itself in the hands of anyone who learns to live by the light of individual will and wisdom rather than the bullyings and blandishments of a corrupt society. Learn to will freely and forcefully, as Lévi says, and you will become king and priest—so long as you remember the last and most important precept of the mage:
"And to reign, one must BE SILENT."
Notes for Study and Practice:
It's quite possible to get a great deal out of The Doctrine and Ritual of High Magic by the simple expedient of reading each chapter several times and thinking at length about the ideas and imagery that Lévi presents. For those who want to push things a little further, however, meditation is a classic tool for doing so.
As we proceeded through the first half of our text, I introduced one of the standard methods of discursive meditation used in Western occult practice, and those of you who have followed along so far now have a solid background in how to unpack the inner meanings of an occult text using that method. As we proceed through the second half, I want to take things a step further and introduce a technique that Lévi understood but most of his successors and students never grasped: the art of combinations or, as it's also known, the Lullian art.
Ramon Lull was a Catalan mystic of the Middle Ages who worked out a system of meditation and taught it to a great many students. By the time of his death in 1316, the art of combinations was a common practice all through Europe, and it continued to be taught and studied by a great many people until the scientific revolution, when it fell out of use alongside so much of the spiritual heritage of the Western world. Eliphas Lévi seems to have been one of the few occultists of the nineteenth century who paid attention to Lull, and no later occultist known to me followed up on Lévi's hints and recognized that he had combined the Lullian art with the tarot.
The secret of the Lullian art is simple.  To practice it, you need a set of concepts general enough to apply to any conceivable subject. Lull himself found his concepts in theology, and used nine divine dignities—goodness, greatness, eternity, power, wisdom, will,  virtue, truth, and glory. Each of these was combined with each of the others to provide themes for meditation.  Later versions of the art of combinations used larger sets of concepts:  Giordano Bruno, for example, used thirty.  What Lévi realized was that the 22 trumps of the tarot make a suitable set of symbols for an imaginative version of the Lullian art.
Here is a way to do it. Take the first card of the deck, Trump 1, Le Bateleur (The Juggler or The Magician). While looking at it, review the three titles assigned to it:  Disciplina, Ain Soph, Kether, and look over your earlier meditations on this card to be sure you remember what each of these means. Now you are going to add each title of this card to Trump II, La Papesse (The High Priestess): Chokmah, Domus, Gnosis. Place Trump II next to Trump I and consider them. How does Disciplina, discipline, relate to Chokmah, wisdom?  How does Disciplina relate to Domus, house?  How does it relate to Gnosis?  These three relationships are fodder for one day's meditation. For a second day, relate Ain Soph to the three titles of La Papesse. For a third day, relate Kether to each of these titles. Note down what you find in your journal.
Next, combine Le Bateleur with Trump III, L'Imperatrice (The Empress), in exactly the same way, setting the cards side by side. Meditate on the relationship of each of the Juggler's titles to the three titles of the Empress,  three meditations in all.  Then combine the Juggler and the Emperor in exactly the same way. Then go on to the Juggler and the Pope, giving three days to each, and proceed from there. You'll still be working through combinations of Le Bateleur when the next Lévi post goes up, but that's fine; when you finish with Le Bateleur, you'll be taking La Papesse and combining her with L'Imperatrice, L'Empereur, and so on, and thus moving through all 231 combinations the trumps make with one another.
Don't worry about where this is going. Unless you've already done this kind of practice, the goal won't make any kind of sense to you. Just do the practice.  You'll find, if you stick with it, that over time the relationships between the cards take on a curious quality I can only call conceptual three-dimensionality:  a depth is present that was not there before, a depth of meaning and ideation.  It can be very subtle or very loud, or anything in between. Don't sense it?  Don't worry.  Meditate on a combination every day anyway. Do the practice and see where it takes you.
We'll be going on to chapter 1, "Preparations," on May 10, 2023. See you then!