One of the longstanding traditions of this blog is that when there are five Wednesdays in a month, the commentariat gets to propose and then vote on the subject for the fifth Wednesday post. The winner this time is the Austrian occultist Rudolf Steiner, one of the most interesting figures in twentieth century intellectual history.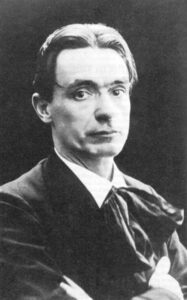 This didn't come as a great surprise to me. Steiner was one of the very few figures in the modern occult tradition who also wrote on some of the more practical themes I've discussed here and elsewhere in my writings. He was an occultist—he preferred the term "spiritual scientist," for reasons we'll get to in due time—but he was also a pioneering figure in ecological agriculture, holistic medicine, humanistic architecture, and spiritual approaches to the arts.
For reasons we'll also get to in due time, his esoteric teachings have received very little attention in the English-speaking world outside narrow circles of devotees, and those of his practical teachings that have caught on here have very often been stripped of their esoteric context.  Many people who are involved in Waldorf Schools (one of the movements he founded) or biodynamic agriculture and gardening (another of his creations) have little more than a dim sense that Steiner was some kind of mystic.
To get past that level of understanding, let's start with the basics. Rudolf Steiner was born in 1861 in a small town in what is now Croatia and was then part of the Austro-Hungarian Empire, where his father was a telegraph operator for the local railroad. He showed intellectual talent  early on, and in 1879 started classes in the Vienna Institute of Technology, where he graduated in 1883. His considerable gifts and capacity for hard work won him a spot editing the scientific papers of Goethe, and when he finished that gargantuan task successfully he was hired as an editor at the Goethe archives in Weimar, Germany. He then earned a doctorate in philosophy from the University of Rostock with a dissertation building on the ideas of Fichte.  To all appearances he was on his way to a successful career as a philosopher and literary critic.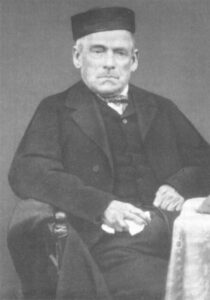 During these same years, however, he also took his first steps toward a very different kind of career.  At the age of nine he saw the ghost of one of his aunts; this came as a shock, as neither he nor anyone in his family knew at the time that she was dead. Other clairvoyant experiences followed. Then, while he was studying at the Vienna Institute of Technology, he encountered his first occult teacher, a professional herbalist named Felix Kogutzki. They met during Steiner's morning train commute into the Institute, which also happened to be the train that took Kogutzki from his home village to the Vienna pharmacies that bought his herbs.
Kogutzki was not just an herbalist. He was also a clairvoyant and a practitioner of folk magic, inhabiting a world where central European folklore and legend were still a living presence. Talking with him was a revelation for the young Steiner:  for the first time he was able to share his own clairvoyant experiences with someone who took them seriously, and had equally vivid and intriguing glimpses of the Unseen to share.  In due time, when he was sure of the younger man's character, Kogutzki also introduced him to a far more influential figure in the occult scene of the time:  the Rosicrucian adept Alois Mailander, who appears here and there in Steiner's own writings under the pseudonym "the Master M."
Mailander, a weaver who lived near Darmstadt in southern Germany, was one of the last inheritors of the centuries-old tradition of Christian occultism in central Europe that began with the sixteenth-century mystic Jacob Boehme and got its common name from the seventeenth-century Rosicrucian movement.   By the time Kogutzki led Steiner to him, Mailander was already known to the thriving Theosophical lodges in Vienna and Prague, where his impressive personal qualities and his mastery of abstruse mystical practices won him many followers.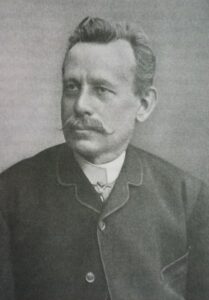 By then, Steiner had also made contact with the Theosophists in Vienna.  The Theosophical Society in those days was a force to be reckoned. Founded in 1875, it set out to make occultism respectable, and came as close to that improbable goal as anyone ever has. Steiner was visiting the Vienna Theosophical Lodge regularly by 1889, but he kept his connections private for another ten years or so. In 1899, however, after a move to Berlin and a stint editing an influential literary periodical, he was ready to take the plunge and make his occult interests public.
As a respected intellectual figure, he was a prestigious catch for the Theosophical Society, and the Society's leadership acted accordingly.  In 1902 he was made the head of the Society's German branch, and in 1904 he took charge of the German wing of the Esoteric Section, the inner circle of members who studied secret teachings. By 1913, however, he had had more than enough of the cascading scandals that surrounded the Society, and he and most of its German members broke away and founded a new organization, the Anthroposophical Society, which became a major presence in the European occult scene. We can hit the pause button here and zoom in for a closer look, because Steiner's embrace of occultism was not simply a reflection of his own clairvoyant experiences.  It was a carefully considered response to one of the great intellectual challenges of the time.
In Steiner's day, philosophy in the Western world had not yet transformed itself into the purely academic habit of intellectual onanism it has become since then. Philosophy was still an essential part of most scholarly disciplines, and important new philosophical works fielded reviews in the kind of newspapers that now devote columns to fashionable novels. Philosophy mattered—but philosophy just then was also in the midst of what turned out to be its terminal crisis.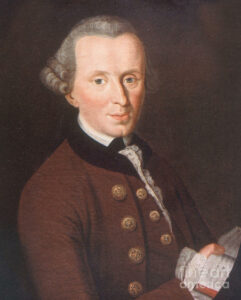 That crisis had its roots in the work of Immanuel Kant more than a century before. Before Kant, a series of philosophers—Locke, Berkeley, Hume—had taken on the challenge of sorting out just what human beings are capable of knowing for certain about the world that surrounds them.  (Those readers who are keeping score will want to know that this branch of philosophy is called epistemology.)  Building on their work, Kant demonstrated that our perceptions of the world around us are so extensively filtered and formatted by our sense organs and nervous systems that they offer only the most ambiguous data about the world. Even such apparently hard facts as space and time turned out to be conditions of consciousness rather than objective realities.
It is reasonable, Kant argued, to accept that there is in fact a world on the other end of our sensory and cognitive processes, and that this real world—the Ding an sich (thing-in-itself)—is the source of the world of appearances we experience. Yet we never actually encounter the real world.  All we know directly, and all we can know directly, is the world of appearances.
That realization turned out to be hugely important for the development of science. It was because Kant cut the real world free from the evidence of the senses that physicists stopped trying to make the evidence fit the commonplace sensory model of the world, and allowed their data to lead them to today's scientific vision of reality as a cascade of standing waves in raw spacetime. What Kant gave to science, however, he took away from philosophy.  If he was right, philosophy had to give up the old dream of understanding the world from first principles, and refocus on more human concerns such as ethics. A few philosophers—Schopenhauer, Kierkegaard, Nietzsche, Sartre—faced Kant's challenge squarely and went to work figuring out what philosophy could mean once it had to give up any claim to direct knowledge of objective reality.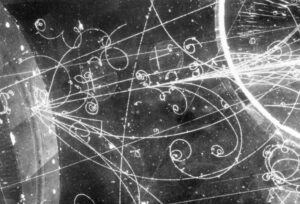 For most philosophers of the time, however, this was far too big a leap to consider, or even to contemplate. They set out instead to find some way around the barrier Kant had revealed between the human mind and the real world. The standard approach for many years was to engage in sheer handwaving, insisting that there was something called "intellectual intuition" that allowed philosophers to do an end run around the hard limits of human cognition. In practice, "intellectual intuition" meant no more than "I think this is true, therefore it must be true." That wasn't exactly a firm foundation to build on, and it broke apart promptly once people started to notice that no two philosophers' "intellectual intuition" told them the same things.
Steiner himself attempted a more intellectually rigorous version of the same thing in his early book The Philosophy of Freedom (also published in English as The Philosophy of Spiritual Activity and Intuitive Thinking as a Spiritual Path—his followers have an odd habit of endlessly retitling certain of his books). He argued there that thoughts about an object of experience were not merely abstract representations of that object constructed by the mind, as Kant and most other philosophers held, but were perceptions of the inner reality of the object itself.  It was an impressive attempt, especially for a young man—he was only 33 when it first saw print—but it fell afoul of the same problems as other attempts to make the mind go beyond its own bounds.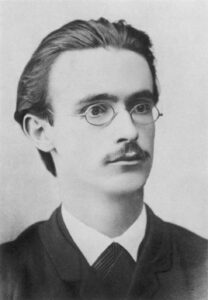 That, in turn, was what led Rudolf Steiner to occultism. He grasped that the occult traditions he studied with Kogutzki, Mailander, and the Theosophists promised an expansion of consciousness beyond the ordinary limits, and he hypothesized that this expanded consciousness could punch through the limits Kant had mapped out and grant the occult practitioner direct knowledge of objective reality.  It was a bold hypothesis, and his way of putting it to the test was no less bold:  he plunged into intensive occult study and practice, and began teaching and lecturing about occultism so that others could do the same thing.
It's quite common for occultists who are venturing onto new ground in such a way to come up with a new word or phrase for their teachings. Steiner did exactly that, and liked to refer to his teachings as Geisteswissenschaft. That translates out literally as "spiritual science," but neither of the two English words mean exactly the same thing as their German not-quite-equivalents. Geist is "spirit"—it's the German cognate of English "ghost"—but it also means "mind," "intellect," and "consciousness," in much the same sense as the French word esprit.  Wissenschaft is "science" in the older sense of that word, not the current much narrower sense popularized by today's scientists; any organized body of knowledge, whether or not it was gathered through what we now call the scientific method.
Understand Steiner's label and you understand what he was trying to do. The capacities that occultism develops and trains—especially those at the core of the kind of occultism he practiced—belong to "spirit" in the German sense, that is, the mind, the intellect, and consciousness, as well as "spirit" in the much vaguer English sense.  As a capable philosopher with a background in the exact sciences, he was acutely aware of the vagueness and disorganization that are the besetting sins of so much philosophy. His goal was to set things in order, to work out a systematic body of knowledge about the nature and powers of human consciousness and thought—a Geisteswissenschaft in every sense of the word.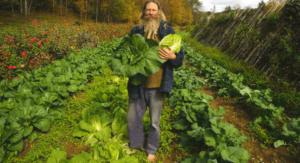 What is more, he didn't limit the focus of his project to the realm of abstractions that occupied the attention of most of the philosophers of his day. He understood that the natural sciences had seized their dominant position in the modern world because the explanations of nature they offered had practical consequences that could be picked up and put to work in the form of technology and engineering. Steiner set out to do the same thing with his spiritual science. Among the results were biodynamic agriculture and gardening, which is among the earliest and most successful of the modern systems of organic growing, and the Waldorf schools, among the most widespread alternative education systems today.
These were at least as important to his overall project as the spiritual disciplines he taught members of the Anthroposophical Society. Steiner wanted to show that spiritual science, like natural science, could yield practical results in the everyday world. Beyond that, he wanted to demonstrate conclusively that the expanded consciousness that resulted from occult training could surpass the barriers Kant had traced out, and make it possible for Western philosophy to continue the quest for absolute objective knowledge of the real world. Proving that occult insights could have useful applications served both those purposes.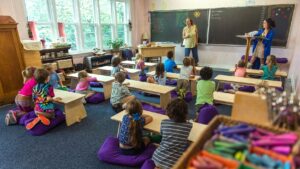 More than a century has passed since Steiner launched his grand experiment. (In fact, the centenary of his death will be two years from tomorrow, on 30 March 2025.)  At this point the results are in. The short form is that Steiner was right that clairvoyant perception and other capacities that can be developed by occult training can yield practical results in the everyday world. He was wrong, however, in thinking that clairvoyant perception and those other capacities are immune to the problems that face the material senses and ordinary thinking.
Let's start with the upside. Biodynamic farming and gardening work, and work very well indeed. In their original form and in a galaxy of adaptations, biodynamic methods have become standard practice all across a very large swath of today's organic food growing scene, and for good reason:  you can reliably get solid yields of nutrient-rich, chemical-free food crops by using those methods.  Similarly, the distinctive educational methods the Waldorf schools use are effective ways to teach children:  considerably more effective, by most standards, than the fashionable but inept techniques taught by university education departments and inflicted on children in public schools across the United States.
Those are the two most visible successes of Steiner's work, but they're not the only ones. One set of successes I've explored in more detail personally are his methods of occult training. Those work quite effectively in teaching the student how to use the subtle senses Steiner set out to explore and develop.  Those of my readers who are interested in following up on this could do much worse than to study his early works The Way of Initiation and A Road to Self-Knowledge, both of which have long since entered the public domain and are readily available from online archives.  Systematic practice of the exercises in these books will demonstrate to the unprejudiced reader how effective these training methods can be.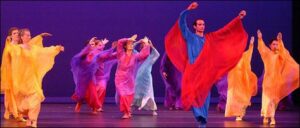 That's the upside. The downside is that Steiner also demonstrated, beyond a shadow of a doubt, that clairvoyant perception and other modes of expanded consciousness can also be dead wrong.  They are subject to the same difficulties as the ordinary senses, in other words, and don't provide the direct access to unfiltered truth that Steiner hoped they would achieve.
For example, in his time and for half a century thereafter, theories of the formation of the solar system followed one of two basic patterns. One set of theories claimed that the planets had been formed out of a mass of solar material flung off or drawn out of the sun.  Another set claimed that the sun and planets were formed together out of a cloud of dust.  This was still a live issue when I was a child; the copy of the Time-Life Science book The Planets that adorned the family room when I was small gave both versions and said scientists were still debating the matter. Since that time, however, the matter has been settled: the sun and planets formed together out of an accretion disk of dust and frozen gases.  The problem here is that Steiner's clairvoyant visions gave the other result. He was sure that the planets had been spun off one by one from the sun, and drew quite a range of conclusions from this. He was wrong, so were the conclusions, and that hard fact has to be taken into account in any assessment of the man and his work.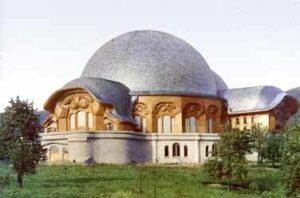 This is far from the only example. I know, for example, several beekeepers who have read Steiner's clairvoyant investigation of beehives and bee consciousness.  Their consistent opinion is that Steiner was wrong, and not just in minor details. It's worth noting, in fact, that the fields where Steiner's discoveries have proven most useful are precisely those where practitioners have had to cope with results on the material plane, and separate out those insights that didn't work from those that did. Crop yields are one good objective measure; children's reading and math scores are another. Pay attention to these, and it becomes immediately obvious that clairvoyant perception is a valuable source of possibilities but has to be balanced with attention to how things work out here on the material plane.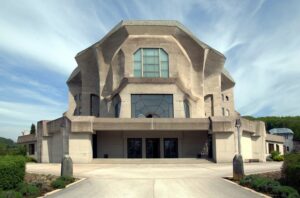 All this reminds me of a cliché in old science fiction movies. You'd see somebody in a white lab coat frown and say, "The experiment was a failure, we didn't get the results we expected."  It's an absurd misstatement of science, because an experiment that gets unexpected results is Christmas morning for any honest scientist:  it means the conventional wisdom is wrong and unguessed possibilities lie open to further investigation.  That's what the outcome of Steiner's great experiment means, too. To judge by the results he got, neither the easy dismissal of clairvoyant perception by the pseudoskeptical mainstream nor the uncritical embrace of it by incautious occultists can be accepted. Instead, some more nuanced and more interesting way of understanding the subtler potentials of human perception has to be found.
Unfortunately, the main body of Steiner's followers have provided no help in this process. To an embarrassing degree they've embraced a fundamentalism of the "Steiner said it, I believe it, that settles it" variety, and people who post anything less than hagiographical about Steiner field lengthy tirades by Anthroposophical trolls. (I expect to delete several of those once this essay goes up.)  The General Anthroposophical Society has done a heroic job of making sure that all Steiner's writing available in print, and they deserve praise for that, but beyond that?  I'm convinced that half the reason so few people in alternative culture are willing to look twice at Steiner is the shrill dogmatism expressed by so many of his followers these days.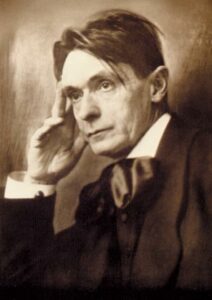 Still, that's common enough among the first few generations of followers of any charismatic spiritual teacher. The question that needs to be asked now is whether enough people are willing to take the next step, recognize that Steiner was a pioneer, accept that pioneering enterprises always run the risk of making big mistakes as well as big discoveries, and go on to correct the errors, build on the successes, and make something other than a dreary personality cult out of the work of one of the great occultists and spiritual scientists of modern times.