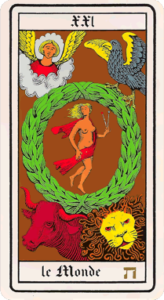 With this post we continue a monthly chapter-by-chapter discussion of The Doctrine and Ritual of High Magic by Eliphas Lévi, the book that launched the modern magical revival.  Here and in the months ahead we're plunging into the white-hot fires of creation where modern magic was born. If you're just joining us now, I recommend reading the earlier posts in this sequence first; you can find them here.  Either way, grab your tarot cards and hang on tight.
If you can read French, I strongly encourage you to get a copy of Lévi's book in the original and follow along with that; it's readily available for sale in Francophone countries, and can also be downloaded for free from Archive.org. If not, the English translation by me and Mark Mikituk is recommended; A.E. Waite's translation, unhelpfully retitled Transcendental Magic, is second-rate at best—riddled with errors and burdened with Waite's seething intellectual jealousy of Lévi—though you can use it after a fashion if it's what you can get. Also recommended is a tarot deck using the French pattern:  the Knapp-Hall deck (unfortunately out of print at the moment), the Wirth deck (available in several versions), or any of the Marseilles decks are suitable.
Reading:
"Chapter 22: Summary and General Key to the Four Occult Sciences" (Greer & Mikituk, pp. 183-187).
Commentary:
We have now reached the conclusion of the first half of our text, and a glance back along the route already traveled is in order.
In 1854, when Dogme de la Haute Magie was first published, magic and the occult sciences generally were at a very low ebb in western Europe. Were there still people who practiced magic?  Of course there were; there has never been a time or a place in all of recorded history without its own thriving magical scene. The social status of magic has varied up and down over the ages, though, and in Lévi's time it was very, very low.
In mid-nineteenth century France, you could talk about magic all you wanted, so long as you didn't try to suggest that it was real. Gothic novels—the 1850s equivalent of today's fantasy fiction—were all the rage.  Sorcerers, alchemists, wizards, and witches were among the stock figures in that mostly forgotten literary movement, adding their quota of marvels to a literature that got its effects by getting people to imagine things they didn't believe in.
All that was fine, but actually taking up the practice of occultism?  That had all the cachet of dropping a dead rat into the punchbowl.  Country folk who practiced traditional charms and spells were regarded the way urban sophisticates now think of the kind of Appalachian backwoods people who marry their kinfolk and handle live rattlesnakes at church. The few educated people who studied the occult sciences got the same sort of baffled pity directed today at people who spend their lives trying to prove that someone else wrote Shakespeare's plays.
Alphonse Louis Constant set out to change that, when he took on the pen name Eliphas Lévi and started work on his book.  While he covered a great deal of ground, all of it focused on the two core arguments he wanted to offer the modern, up-to-date, skeptical readers of 1854.
The first of these arguments proposed that accepting the reality of magic didn't require anyone to buy into the belief systems of the Middle Ages. Until Lévi's time, that was the great stumbling block for would-be mages. Occultism was a preoccupation of the far end of the conservative scene in Lévi's time, and it was fairly often presented in the context of full-blown Renaissance Christian Hermeticism, as though the scientific revolution had never happened and nobody had yet questioned that the sun went around the earth. That wasn't a leap of the imagination that most people in 1854 could manage. Lévi argued instead that magic could be understood in terms of what were then the latest hot concepts in philosophy, psychology, and the natural sciences.
His borrowings from cutting-edge thought covered a great deal of ground. His concept of the will as the great motive force in existence came partly from the philosophical writings of the period—Arthur Schopenhauer's The World as Will and Representation was one obvious source—and partly from psychological literature. Psychology also taught him to replace representation with imagination, and to recognize the extraordinary power of faith to shape the world we experience. From the natural sciences of his time he borrowed the ether—the basis of light, heat, electricity, and magnetism, according to the leading physicists of his day—and showed that this could explain the effects of magic just as readily. It was a bravura performance.
That was the more obvious of Lévi's two arguments.  The second was subtler but even more pervasive in our text, and the final chapter of this first half of the book—Lévi's summary and overall assessment of the theory of occultism—is devoted to it. It can be summed up in a single word, and the word is one that Lévi uses repeatedly:  analogy.
This is more explosive than it may seem at first glance. The rationalist ideology of his time and ours depends on the pretense of a strict and artificial restriction of the activities of thought.  The claim at the center of rationalism is that the universe is ultimately rational in nature and so can be understood from top to bottom using the tools of logic.
Popular as this belief is, it rests on very dubious foundations. Logic, as its Greek root logos suggests, is a set of rules for the clear and precise use of human language.  It's very useful for those activities in which clarity and precision of speech or writing are essential, but it's not especially useful for anything else.  Since only a very small fraction of human experiences can be clearly expressed in language, the rationalist faith is the same sort of mistake as the one made by the proverbial small boy with a hammer, for which everything must be a nail.
You can see the results in action in the problems faced by today's artificial-intelligence programs. Rationalists try, or pretend to try, to use nothing but logic; computers literally have nothing but logic, and so it's not at all hard for illogical human beings to manipulate them in unhelpful ways. I'm thinking here of a recent news story about a detachment of US Marines who were instructed to approach an AI surveillance device without being detected. One of them succeeded in doing so by somersaulting all the way up to the AI. The machine had been programmed to detect human patterns of movement, but somersaulting didn't fit any of the patterns it knew, and so it dismissed the Marine as irrelevant.
What the AI program lacked, of course, is the capacity to think in analogies. A human observer, even if limited to the same data set the AI used, would recognize that the somersaulting movement the sensors detected was analogous to walking, running, or other means of human locomotion, and sound the alarm. Analogical thinking—"A isn't B, but in certain ways A is like B"—is a better fit to most of the world we actually experience than logical thinking is; that's why rationalists use it all the time, even when claiming the strictest sort of logic for their beliefs.
Consider the concept of "natural laws." Logically speaking, the word "law" can't be applied to the observed regularities of nature in any but the most analogical sense; no legislature enacted the law of gravity, nor does anyone face a fine or imprisonment for violating it. Yet the observed regularities of nature are like laws in certain ways, and the analogy between the behavior of nature and the kinds of laws enacted by legislatures proved to be a fruitful metaphor for the flurry of inquiries into nature we call "science."
Lévi argued that the same sort of analogical thinking could be used much more broadly, and much more openly.  He noted, as most intelligent people note, that there are things the human mind can know by the exercise of reason and the evidence of the senses, but there are other things that cannot be known by such means. Rationalists like to insist that the things that cannot be known by reason and sensation not only cannot be known at all, but never existed in the first place. This is hogwash, but to many people in Lévi's time and ours, it's appealing hogwash, because the only other option widely discussed in Western culture is blind belief in the literal truth of religious doctrines.
The historian Oswald Spengler pointed out many years ago that the rationalist theories of every civilization are inevitably copies of its religious traditions with the serial numbers filed off. That's just as true of modern industrial civilization as it is of its predecessors—what is the Big Bang, after all, but a pseudosecular copy of God in the first chapter of Genesis saying "Let there be light"?—and hostility to analogical thinking is just as widespread in religious circles as it is in secular ones. If you doubt this, suggest to Christians that their creeds should be understood as metaphors rather than literal facts, and watch the reactions you get; if my experience is anything to go by, you'll get ten flat denials for every one person willing to consider the possibility.
Yet this possibility is exactly what Eliphas Lévi meant to suggest.  There are things we can know by the use of reason applied to the evidence of the senses, he said, but there are also things that we cannot know by such means.  These two categories, which we can call the knowable and the unknowable, can't be approached effectively with the same set of mental tools. The first category is well suited to the usual methods of philosophy and science, Lévi suggests, but religion and rationalism are both mistaken when it comes to the second category:  religion in insisting that doctrine and tradition provide the same kind of explicit knowledge as reason and sensation, rationalism in insisting that what can't be known by reason doesn't exist at all.
What Lévi proposes here, and throughout his book, is that the truths of religious doctrine and tradition are analogically rather than literally true.  They represent realities that are beyond our cognitive grasp; the best we can do, to borrow a turn of phrase from a later occult teacher, is to make use of the nearest approximate metaphor to phrase them in terms of the things we can grasp. The metaphors and analogies enshrined in doctrine and handed down by tradition, in Lévi's vision, are precisely that:  the closest approach we can make to understanding things that are beyond the ordinary capacities of the human mind.
Imagine, to borrow a metaphor that has seen much use in certain Asian traditions, that fire was an extremely rare phenomenon, and only a few people had ever seen it. As they tried to describe fire to others who had not seen it, the witnesses of fire would be forced to use analogies:  it is like the sun, as it gives off light and heat; it is like a flower, as it is beautiful and brightly colored, and it perches on its fuel the way a flower perches on its stalk; it is like an animal, as it feeds on its fuel and leaves waste behind.
The people listening to this description would doubtless scratch their heads, trying to figure out how something could be like the sun, a flower, and an animal at the same time. If any of the listeners happened to be rationalists, they could doubtless score plenty of points by bringing up the apparent contradictions between the analogies—something can't be the sun, a flower, and an animal at the same time, after all!  If any of the listeners happened to be dogmatic theologians, in turn, they might end up shouting at the top of their lungs that fire was in point of literal fact the sun, a flower, and an animal at the same time, and anyone who disagreed would be chucked into the Abyss of Firelessness and stumble around blindly in the dark for all eternity.
These squabbles between rationalists and theologians could go on for centuries and fill entire libraries with learned volumes. Meanwhile the handful of people interested in seeing fire for themselves would find no help from the squabbling professors or the learned volumes, and would have to turn to other sources—some of them forgotten, others denounced by all right-thinking people, still others garbled or dubious—as guidance in their quest.  Then, once they encountered fire, they might say, "Oh, that's what fire is like!  Yes, it's like the sun in a way, and like a flower in a way, and like an animal in a way, but it's not actually any of those things."
There's a further implication to all this, and it's one that Lévi never quite mentions explicitly in his book but references constantly in broad hints in chapter after chapter:  the truths known by magic and the other occult sciences are also analogical, not literal.  The Great Arcanum, the central secret of magic, is not concealed because Lévi or somebody else decided to hide it. It is concealed because it cannot be known by applying reason to the evidence of the senses. Our text has spent quite a few pages already providing analogies to help guide the quest for that central secret, and there are plenty of others in the volume to come. Keep this in mind as we proceed to the practical dimension of Lévi's work, which will occupy the second half of this commentary.
Notes for Study and Practice:
It's quite possible to get a great deal out of The Doctrine and Ritual of High Magic by the simple expedient of reading each chapter several times and thinking at length about the ideas and imagery that Lévi presents. For those who want to push things a little further, however, meditation is a classic tool for doing so.
The method of meditation I am teaching as we read Lévi is one that is implicit in his text, and was developed in various ways by later occultists following in his footsteps.  It is a simple and very safe method, suitable for complete beginners but not without benefits for more experienced practitioners.  It will take you five minutes a day.  Its requirements are a comfortable chair, your copy of Lévi's book, and a tarot deck of one of the varieties discussed earlier.
For your work on this chapter, take Trump XXI, "Le Monde."  Your first task is to study it and get familiar with the imagery. Sit down, get out the card, and study it.  Spend five minutes doing this on the first day you devote to this practice.
Your second task is to associate a letter with it. Lévi gives you two options, the Hebrew letter ת (Tau) or the Latin letter Z. As noted earlier, you should choose one alphabet and stick to it. The sound values aren't of any importance here, nor is there a "right" choice. You're assigning labels to a mental filing cabinet.  Most people can make the necessary association quite promptly, but spend a session exploring it. Sit down, get out the card, and study it.  Relate it to the letter in any way that comes to mind.
The third through fifth sessions are devoted to the titles Lévi gives for the card: Signa, Thot, and Pan. Sit down, get out the card, and study it. How does Signa, "sign," relate to the imagery on the card and the letter you've chosen?  That's one session.  How about Thot, the Egyptian god Thoth or Djehuti?  How about Pan, the Greek god of wild nature?   Approach these in the same way as the concepts you explored in earlier meditations.
Don't worry about getting the wrong answer.  There are no wrong answers in meditation.  Your goal is to learn how to work with certain capacities of will and imagination most people never develop.  Stray thoughts, strange fancies, and whimsical notions do this as well as anything.
Sessions six through the end of the month are done exactly the same way, except that you take the concepts from the chapter. Sit down, get out the card, and study it. Then open the book to Chapter 22 of the Doctrine and find something in it that interests you.  Spend five minutes figuring out how it relates to the imagery on the card, the letter, and the three titles. Do the same thing with a different passage the next day, and the day after, and so on. If you run out of material for meditation in this chapter, you can certainly go back to the previous chapters and review what they have to say.
Don't worry about where this is going. Unless you've already done this kind of practice, the goal won't make any kind of sense to you. Just do the practice.  You'll find, if you stick with it, that over time the card you're working on takes on a curious quality I can only call conceptual three-dimensionality:  a depth is present that was not there before, a depth of meaning and ideation.  It can be very subtle or very loud, or anything in between. Don't sense it?  Don't worry.  Sit down, get out the card, and study it. Do the practice and see where it takes you.
We'll be going on to the introduction to Part Two of our text, the Ritual of High Magic, on April 12, 2023. See you then!