As one of my readers pointed out last week—tip of the hat to Patricia Mathews—we've now embarked on the most sacred season of the American year, the season of Salesmas, when the conspicuous consumption fairy sprinkles cheap plastic glitter over all those who max out their credit cards to place the latest fashionable offerings on the household altars of planned obsolescence and bad taste. That's not my religion—to me, the day after Thanksgiving is Buy Nothing Day and I keep it strictly—but you know, this year I'm going to draw up a very short list of things I'd like Krampus to drop off at the usual time a few days after the solstice.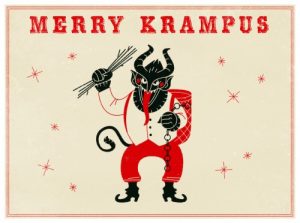 Krampus?  He's the other side of an old-fashioned Yule celebration. Back before good St. Nicholas was knocked over the head by corporate marketers and replaced by the leering figure of Santa, he used to go around each winter with a horned, hairy, long-tongued creature who carried birch switches in his hand and wore a big basket on his back. Krampus was the name for this latter in some parts of central Europe. The saint left gifts for good little boys and girls. Krampus was there for the others, who got whacked with the switches if they were just being ordinarily bad. The basket was for those spoiled, shrieking little horrors we all know and loathe:  in they went, away they went, and nobody ever saw them again. Were children better behaved when they knew Krampus was coming to town? You'd better believe it.
I know Krampus wasn't traditionally in the habit of bringing presents, unless the blessed silence that follows the disappearance of one of the spoiled, shrieking little horrors just mentioned counts as a gift. Still, I'm hoping I can prevail on him to consider my list. It's a very short list—in fact, there's only one thing on it, and it's not even for me. I want Krampus to bring real libraries to all the people who don't have them any more.
It's not a present I need for myself, because I happen to live in a place that still has real libraries. The East Providence public library system, all two libraries and a half dozen bookmobiles of it, is a pretty fair copy of what public libraries all over the United States used to be. The Weaver Library, the branch a few blocks from my apartment, is a pleasant, quiet, well-lit space with shelf upon shelf upon shelf of books; while there are new books to be had there, you can also find plenty of older books, nonfiction as well as fiction, eccentric as well as predictable, from small presses as well as big ones. It's open every day of the week, and it's always busy; have a seat at one of the tables and you'll watch people of every age and all the local ethnicities coming in, browsing the stacks, checking out books and heading for the door.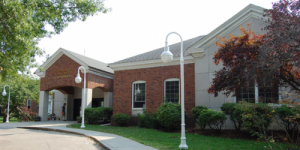 That sounds normal to those of us who grew up with such libraries, or have access to one now. For a growing number of Americans, though, that might as well be news from another planet.
I have a fair number of readers who are librarians, as it happens, and many more who are library patrons, and so I get to hear plenty of horror stories. In a great many libraries in the United States these days, books are treated as inconveniences at best and barbarous relics at worst. These libraries are shrinking their collections, discarding any book more than a few years old, replacing classics and oddities alike with the latest bland and heavily marketed corporate product, even closing the stacks so that patrons only get to browse among a carefully culled selection of approved titles. Many of them are run by administrators who insist smugly or angrily, as the case may be, that books are anachronisms and the libraries of the future will be "media centers" full of the latest, flashiest, trendiest effluent oozing from the orifices of huge media conglomerates. Many of them are putting up posters saying "What if everyone in our city read the same book?"—as though the mental monoculture of our society wasn't yet suffocating enough.
I have yet to meet a librarian who's in favor of this sort of thing. It's wholly a fetish among the upper end of the administrative caste, who can exploit the cult of bureaucracy in contemporary America to impose these changes on librarians and patrons alike. How much of it is the result of clever marketing campaigns on the part of big media and publishing combines, aimed at turning the nation's public libraries into yet another outlet for their products, is an interesting question, but one that will have to wait for another time.  What I'd like to discuss here and now is what to do about it, while we wait for Krampus to load up his bag.
I don't see a lot of hope in political action—or at least not yet. The ideology of managerial elitism central to today's cult of bureaucracy is rather the worse for wear just now, and I suspect that over the decades to come it's going to start falling apart in a big way, but we're not there yet. In the meantime, as with so many other aspects of our society, the iron triangle that links corrupt politicians, elitist bureaucrats, and corporate flacks in an alliance of mutual backscratching makes systemic change within existing libraries an option only in rare cases.
Fortunately, there's another option. Like most of the really promising options we have at the moment, it requires going back to an older way of doing things. When it comes to libraries, that means the subscription library.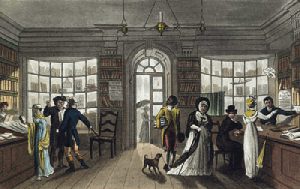 Those were one of the great cultural inventions of 18th century Europe.  A subscription library was a privately owned membership organization that bought books and circulated them among its members. The cost of membership varied, but most were relatively inexpensive and catered to a very large readership—readers of Jane Austen's Pride and Prejudice will recall that the Bennet girls, daughters of a gentleman of very modest means, got books from the local subscription library (one of which caused the pompous Mr. Collins to recoil in horror).  To join, you paid an annual fee and sometimes a deposit, and then you could check out a certain number of books at a time; the fees paid by the members covered the costs of the building, the librarians' salaries, the price of new books and necessary repairs on the existing collection.
That was the standard form of library in the Western world until the late 19th century in some areas and the early 20th in others. It was supplemented by a galaxy of other libraries that were organized along similar but not identical lines. Back when fraternal orders and friendly societies provided a social safety net to working families, for example, it was all but universal for local lodges of these organizations to have their own libraries, open to their members and oriented toward education as well as entertainment.  Back before universities took on their current role as gatekeepers of the professions, it was standard for ambitious young men and women to rise up out of the working class into jobs as lawyers, teachers, bookkeepers, and the like by individual study followed by apprenticeship, and lodge libraries helped a lot of them get there.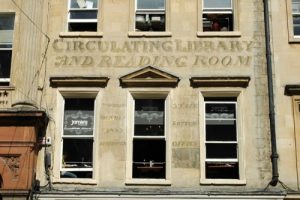 On a smaller scale still was the specialized reading room. As far as I know the Christian Scientists are the only small religious group that still does this, but back in the day it was a common strategy of new religious movements to rent a storefront somewhere, put in a room with tables, chairs, and bookshelves up front and a m eeting space in back, and use that as a small library/classroom/lecture space to give interested people a convenient place to go to find out about the movement and take in lectures and workshops. The same thing was also standard practice for small political groups at that time, and worked just as well.
So that's what the world of libraries looked like before the public library, funded by local tax dollars, became the standard option in most of the Western world. Was the move to public libraries an improvement?  Of course it was; it made it much easier for the very poor to get access to library services, and allowed for a really significant expansion of library systems in most areas. If public libraries were still doing the job for which they were founded—that is, providing ready access to the widest possible range of books in a quiet, clean, convenient, and comfortable setting—there would be no reason to go back to the subscription library model.
The fact remains that in a great many American communities these days, public libraries are no longer doing that job adequately or, in some cases, at all. This has happened, in turn, because too many library administrators have fallen victim to the usual bad habits of people who run monopolies, and become arrogant and complacent. What they need, in turn, is what the arrogant and complacent people who run monopolies generally need: a good brisk dose of competition.
That, in turn, is something that the old-fashioned subscription library is well able to provide.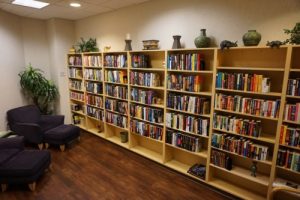 What I'm suggesting is that groups of people who are unhappy about what's happened to their local public libraries in recent years have a choice. It's not too hard to exercise such a choice, either:  all you need are a couple of spare rooms with bookshelves, a collection of books, and a few people who can do the relatively simple work needed to run a small library. Those who belong to an existing organization such as a church will have the easiest time of all.  It's a rare church these days that can't set aside two adjoining rooms—one for adult books, one for children's books, so that kids have a space where they can be a little rambunctious—and come up with a rotating staff of retirees who are looking for something quiet and constructive to do with their spare time.  Everyone who's interested pitches in the annual fee; donations of new books are encouraged; a couple of work parties get the rooms painted, the shelves in place, the books entered into some kind of catalog, and the rest of the necessary preparations taken care of; you hold a party for the grand opening, make sure the library is open and staffed before and after church services and Wednesday night Bible study, and away you go.
A group that doesn't have an existing building to house a library in will have to work a little harder and start a little smaller. Here again, volunteer staff are essential in the early days, to keep costs down, and if you can find a converted garage or some other free or very inexpensive space, that will help a great deal. The goal, of course, is to get enough people excited by the subscription library that you have the funds to rent a space of comfortable size and hire a full-time librarian—but that's a goal to aim for eventually, not a hurdle that has to be jumped before the project can begin. A pleasant room, a collection of books, a table and a few chairs, and a desk where the librarian can work:  that's enough to begin with. If you can have two rooms, one for the children and one for the adults, that's better still, but again, don't worry about it if you can't start with that. Ernest Thompson Seton's rule for outdoor learning—"Where you are, with what you have, right now"—is always a good rule of thumb to follow.
A word about which books to stock is probably in order. Obviously what books your library can have will depend on three factors—how much space you've got, how much money you have, and what your patrons are interested in reading. If you accept donations, you can count on getting vast numbers of volumes that nobody actually wants any more—Fifty Shades of Grey and its sequels, the Left Behind series, and so on—and some way to get rid of them will be necessary. Whether or not you accept donations, figuring out what will keep patrons coming to your library to check out books will be one of your main jobs. You can make that easier for yourself by keeping track of what gets checked out frequently, on the one hand, and asking patrons to suggest titles they want to see on the other. Stay away from the periodicals aimed at book buyers, institutional or otherwise: they've been coopted by huge corporate publishers who are trying to clear their warehouses, and their advice will benefit their corporate sponsors, not you.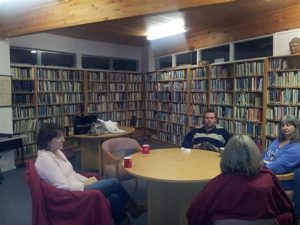 I also see a significant role for the old-fashioned reading room, with its small specialized library and its meeting space in back. It's a very effective way for small movements to get the word out and make contact with interested people. While the internet replaced that function to some extent, moves by social media and search engine companies to impose ideological censorship online shows which way the wind is blowing—and of course groups that use the internet also have a notorious problem with getting online enthusiasm to find its way out into the real world. The first political movement to do an end run around the censors by organizing a network of reading rooms, where people can learn about the movement, meet people involved in it, and go from there to active participation, will very likely leap ahead of the pack in a big way. The same's true in the realm of alternative spirituality, now that the New Age and Neopagan movements are imploding—but we'll talk more about that in an upcoming post.
To some extent this is simply meant to provide a way that people who want to visit a library—not a "media center" but a quiet, comfortable space with a large and diverse collection of books that can be checked out by patrons—can still do so, if they happen to live in an area where the local library system has stopped providing that service. To do that, though, is to challenge some of the most deeply rooted presuppositions of today's social mainstream.  It's going to be necessary to talk about that, if only because I expect this modest proposal to harvest a rich crop of anguished shrieks and no small amount of frantic pushback.
Central to the contemporary cult of bureaucracy is the notion that the decisions that matter ought to be left in the hands of qualified experts, who have gotten university degrees in some subject or other and so know much more about how to make those decisions than the rest of us. That's why, in the case presently under discussion, we've got a managerial elite of library administrators pushing changes in public libraries that aren't wanted by the librarians, nor by the patrons, nor by the communities that the libraries are supposed to serve.  The library administrators know better, right?  That's what gives them the justification to ignore what everyone else wants and pursue whatever fashionable wave of the future they claim is what people ought to want.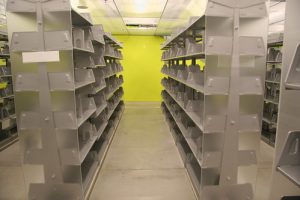 The difficulty here, of course, is that after decades of rule by qualified experts, most people in this country have realized that the experts can't be trusted. From the economists in the 1970s who insisted that offshoring millions of American jobs to other countries wasn't a problem because other jobs would take their place, straight through to Barack Obama, expert-in-chief, insisting that if Obamacare was passed health care prices would go down and you'd get to keep your current doctors and plans, the qualified experts have been selling a pack of lies, and people who believed them found that out the hard way. The sheer volume and reach of dishonest expertise in our society is almost impossible to exaggerate. Did you know, for example, that all those news stories that insisted that fat is bad for your heart were based on studies bought and paid for by the sugar industry, which was trying to deflect attention from their own product? Here's an article in JAMA documenting that.
The decisions of qualified experts are routinely guided not by expertise, but by dubious financial incentives, fashionable bad ideas, and vicious and pervasive bigotries against the working class: that's the takeaway from the last six or seven decades of American public life.  That's why the blowback against the cult of bureaucracy has become so potent in recent years, and why it's just going to keep on gaining force so long as the comfortable classes keep on trying to cover their naked biases and economic interests in an increasingly threadbare cloak of professional expertise. That's why so few Americans these days bother to listen to the claims being marketed by the officially approved experts. "Fool me once, shame on you," as the old saying goes: "fool me twice, shame on me." The American people have been lied to over and over again, you know, and a lot of them are sick and tired of it.
It's entirely possible that the blowback against the cult of bureaucracy could bring about the collapse of a good many institutions currently dominated by that cult. Not much of today's US higher education industry will likely survive, for example, once the inevitable happens, Federal guarantees on student loans are abolished, and people who want to borrow money to go to college have to convince a skeptical banker that they'll be able to pay it back with interest. There are already counties in at least one Western state that have shut down their public library systems completely, because the voters weren't willing to shoulder an ever-increasing tax burden for institutions that were completely unresponsive to their concerns. That could become far more common as the populist insurgency gains strength and the antics of library administrators become a convenient target.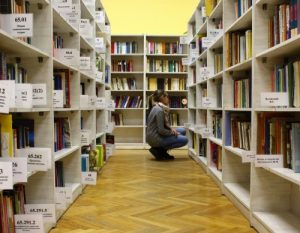 This is one of the reasons that I think founding independent subscription libraries now could be a game-changer. If worst comes to worst, it means that there will still be libraries when local public library systems get defunded by irate populists, but it might also prevent that from happening. Again, it's those who think they have a monopoly on something—be it library services, expert opinion, or anything else—who become arrogant and complacent, and engage in the kind of stupid stunts that bring down the wrath of ordinary people on dysfunctional institutions. If library administrators have to explain to the city council why they've had a 20% decrease in library patronage over the last year, while three private subscription libraries are thriving and one of them is starting to remodel a disused grocery store into its new, bigger facility, it's just possible that some of them will begin to remember that they're supposed to be public servants, not public masters.
In the meantime, if you happen to live somewhere that has real public libraries, then for the love of Hannah support them, and pester the relevant officials with letters praising the library and its staff in detail, specifying what you like about the services they provide. If you happen to live in one of the few places that still has an old-fashioned subscription library, and it's worth your support—I'm sorry to say not all of them are—then consider joining and helping to keep it going. And if you're one of the unfortunate many who have to put up with a glossy "media center" that doesn't provide you with the basic services a library is meant to provide—convenient and comfortable access to a large and diverse collection of books, old and new, classic and eccentric, from small publishers as well as big ones—why, then, you might consider some of the possibilities I've sketched out in this post.