This week's Ecosophian offering is the monthly (well, more or less!) open post to field questions and encourage discussion among my readers. All the standard rules apply — no profanity, no sales pitches, no trolling, no rudeness, no long screeds proclaiming the infallible truth of fill in the blank — but since there's no topic, nothing is off topic.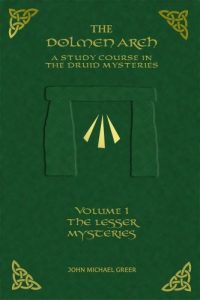 While we're at it, I'm also delighted to announce that the first volume of The Dolmen Arch is now available for preorder from Miskatonic Books. This is my reconstruction of an early 20th century correspondence course in Druid occultism, available to students for several years as a private study course and now in book form. This first of two volumes contains the four grades of the Lesser Mysteries — the Gradd y Newyddian (Grade of the Novice), Gradd y Damcaniwr (Grade of the Theoretician), Gradd yr Ymarferiwr (Grade of the Practitioner), and Gradd yr Athroniwr (Grade of the Philosophizer).
The first volume will be released in February of next year. The second volume, containing the three grades of the Greater Mysteries and a great deal of additional Druid teaching and practical instruction, is currently scheduled to appear about six months after that.  There are two editions of this book; the signed limited hardback edition may be preordered here for US$65.00; the oh my god over-the-top signed leatherbound fine edition with leather traycase may be preordered here for US$395.00. There are 550 copies of the first and only 35 copies of the second; first come, first served…
With that said, have at it!