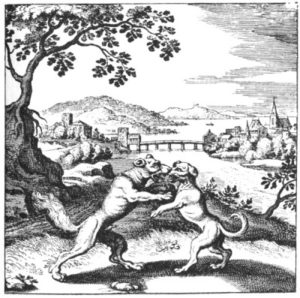 In last month's discussion of America's magical history, we explored the nineteenth-century transformations of alchemy into a system (or more precisely several systems) of spiritual transformation that had little or nothing to do with furnaces, retorts, and chemicals. It's a nice bit of synchronicity that the story we'll be discussing this month is best framed by an alchemical metaphor.  The metaphor in question is found in a number of old European alchemical texts, notably the Book of Lambspring, and it tells how a dog comes from the west and a wolf from the east to do battle in a field, and out of their combat the Philosopher's Stone is born.  That, in symbolic form, is the story of the founding of the Theosophical Society.
The dog of the metaphor was an Englishwoman named Emma Hardinge Britten. She was born Emma Floyd in 1823 in Bethnal Green, near Stepney; her father was either a sea captain or a schoolmaster—she claimed the first, her baptismal record claimed the second. She showed considerable musical talent at an early age. When she was 11, her father died, and to help support her family, she began teaching music at a local school. This is less improbable than it seems today. English schools at the time recruited intelligent and talented older children as teaching assistants, and many of these went on to become teachers themselves—this became one of the most important means of social mobility in Victorian England.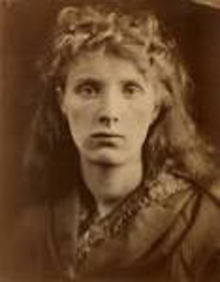 A year later Emma began to supplement her sparse income as a teaching assistant by singing and playing the piano. In her late teens, an unnamed benefactor took her to Paris and arranged for her to get a first-rate musical education.  Given the social habits of the time, the benefactor in question was almost certainly getting something more than musical entertainment out of the deal. What Somerset Maugham described in one of his spy stories as "the higher prostitution"—the demimonde of mistresses and kept women, who provided sexual favors to well-to-do lovers in exchange for support and gifts of various kinds—was another important means of social mobility in Victorian England:  tens of thousands of young women with flexible morals used that means to monetize their charms and rise out of the impoverished classes.
Well before she took that route, the talented Miss Emma Floyd had discovered another talent. Sometime before her thirteenth year she was recruited by an English magical lodge, whose identity she concealed in her later memoirs under the name "The Orphic Circle." (My guess, based on what I know of the individuals who composed it, is that the actual name was "The Hermetic Circle," but that's only a guess.) The Orphic Circle counted among its members Edward Bulwer-Lytton, the author of several occult-themed novels (and of the famous opening line "It was a dark and stormy night"), and like most nineteenth-century magical lodges, it was modeled closely on Freemasonry; its members took a vow of secrecy at their initiation, and their meetings were presided over by a Grand Master.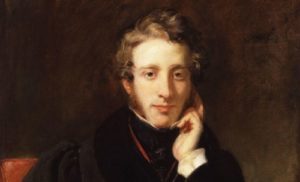 The ritual workings of the Orphic Circle used an entranced medium to make contact with spiritual beings, and the mediums in question were usually older children—this habit goes back to the Middle Ages in Europe, though it was discarded in the late nineteenth century when less indirect ways of contacting the Unseen became standard.  Emma Floyd was one of those mediums. Since the older tradition specified children before the age of puberty, she doubtless finished her service to the Orphic Circle when she began to menstruate, and became someone's mistress not long after that. By 1843 she was back in London, working as an actress—a common profession in the demimonde in those days—and in 1850 she became the live-in mistress of a Dr. Hardinge and began calling herself Mrs. Hardinge.
By then Spiritualism was all the rage in Britain, and Dr. Hardinge took it up with enthusiasm, with his mistress as his medium.  Emma's previous training in the Orphic Circle stood her in good stead, and before long she was giving spirit consultations and entranced lectures, in much the same style as Andrew Jackson Davis. Then, in 1854, Dr. Hardinge took up with a new medium (and, quite possibly, a new mistress). Emma Hardinge cut short her career as a London Spiritualist and relocated to Paris, where she resumed work as an actress.  It's an old story, and one that has been repeated many times in and out of occult circles.
During the years from 1850 to 1854, she had gotten back into contact with one of the members of the Orphic Circle, whose name she concealed under the pseudonym "Chevalier Louis de B." and who taught her a great deal about magical traditions much older than Spiritualism. Her sudden flight to Paris disrupted that for a time.  From Paris Emma moved on to America, arriving in 1855 in New York, where she left acting the next year and became a full-time Spiritualist author, speaker, and medium.  She was an immediate success in that field, and toured widely, returning to England several times to give trance lectures to large crowds. In 1870 she married Dr. William Britten, and they shuttled back and forth between Boston and New York thereafter. There we can leave them for the moment, for by then the wolf was on the prowl.
The wolf from the east was Helena Petrovna Blavatsky, arguably the nineteenth century's most influential occultist.  She was born Helena von Hahn in 1831, to an aristocratic German family who had migrated to Russia and entered the service of the Tsar.  Helena's great-grandfather Prince Pavel Dolgorukov had been an occultist and high-ranking Freemason, and in her teen years Helena had the run of the old man's library; Helena's mother had also translated the works of Edward Bulwer-Lytton into Russian, and her father had extensive dealings with the Kalmyk people of Siberia, who are Tibetan Buddhists. With these influences surrounding her, it's not surprising that she ended up involved in occultism.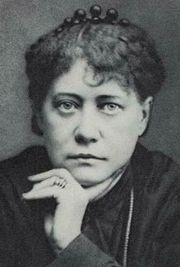 Before then, however, she had some turmoil to get through.  At the age of 17, she suddenly married a respectable widower in his forties, Nikifor Blavatsky. Given the social standards of the time, this almost certainly meant that she had become embroiled in scandal and was forced into marriage.  Certainly the marriage was not her idea; she tried to back out before the wedding, and made several attempts to escape her husband's home before he finally permitted her to visit her family in Odessa. En route she escaped her escorts, bribed a ship captain, and landed in Constantinople, to begin twenty years of wandering.
Blavatsky's own accounts of the years that followed are colorful, self-contradictory, and almost certainly imaginary. She claimed in later years to have roamed the world, receiving guidance from mysterious figures—the Masters or Mahatmas of her later teachings—and to have spent years in Tibet studying the wisdom of the East. Less hagiographical accounts suggest that, like Emma Hardinge Britten, she made the best of a difficult situation by supporting herself as a professional mistress; one name associated with hers was Agardi Metrovich, a Hungarian opera singer, with whom she had a son who died in infancy. She seems to have led a peripatetic life around Europe and the Mediterranean, and in the process picked up an extraordinary amount of information about magic and the occult to add to what she already knew.
She surfaced definitively in Alexandria, Egypt in 1870, where she was briefly involved in a Spiritualist organization.  After further travels in the Middle East and Europe, she took ship for the United States, landing in New York City in 1873. There she supported herself as a seamstress and advertising designer until the death of her father brought her a considerable inheritance. Over the next two years she met many of the important figures of the New York occult scene, including Henry Steel Olcott, William Quan Judge—and Emma Hardinge Britten.  The dog and the wolf had both entered the field.
One gift Helena Blavatsky had in abundance and Emma Hardinge Britten seems to have lacked was a talent for organization.  By the time she met Britten, Blavatsky and Olcott had already founded an organization called the Miracle Club, which sponsored talks on occult subjects.  At a meeting of the Miracle Club on September 7, 1875, the members present decided to found a more formal esoteric organization; at the suggestion of Charles Sotheran, one of the founding members, they voted to call it the Theosophical Society.  At two subsequent meetings—which were held at the Brittens' residence—Olcott became chairman of the new Society, Judge the secretary, and Blavatsky the recording secretary, and a set of initial bylaws were adopted.
A great deal of confusion and no little misinformation surrounds this first incarnation of the Theosophical Society.  The crux of the difficulty is that it met for a little more than twelve months, and then fell into abeyance, only to be relaunched in India by Olcott and Blavatsky in 1879.  Blavatsky, who was the dominant figure in the reorganized Theosophical Society, always insisted thereafter that the two were identical, but research by John Patrick Deveny and Robert Mathiesen has shown that the original Society was something distinct.  It seems to have had its own course of occult training, and nine degrees of initiation, of which only three could be taken in Europe or America; the others had to be received in the mystic East.
Whatever else the original Theosophical Society may have had, it certainly had a conflict hardwired into its initial membership. The two members of the original society with the most experience and knowledge of occultism appear to have been Emma Hardinge Britten and Helena Petrovna Blavatsky; they were strong-willed women who had graduated with advanced degrees from the school of hard knocks, and their conceptions of occultism differed sharply: Britten was broadly in favor of Spiritualism and Blavatsky was opposed to it; Britten was in favor of magical practices as part of occult training and Blavatsky was opposed to these.
One of the great might-have-beens of American occult history, and indeed of the history of the Western occult tradition generally, is what could have happened if Britten and Blavatsky had been able to work together effectively, or for that matter if Britten rather than Blavatsky had taken the lead in guiding the Society after its first years.  Still, that wasn't what happened.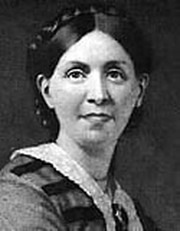 The conflict between Britten and Blavatsky certainly expressed itself in their competing books on occultism, which they both started writing in 1875.  In 1876, Britten published two books, Ghost Land and Art Magic, which were partly the work of her old friend from the Orphic Circle, Chevalier Louis de B., and published under his pseudonym, but were substantially rewritten by Britten. Ghost Land was made available to the general public, presenting a personal narrative of the Chevalier's experiences with uncanny phenomena of many kinds.  Art Magic was released in a limited edition of 500 copies, mostly sold to occultists known to Britten, and presented an overview of occultism past and present.  They are capably written books, but the themes they covered were familiar to readers of the time who knew their way around occultism, and they made little impact on the occult scene or the wider society.
The next year, Blavatsky entered the fray with her book, Isis Unveiled.  For its time, it was a groundbreaking book, though very few people read it these days. In its pages, Blavatsky basically invented the modern literature of rejected knowledge. It was in two volumes, one of them reviewing science, the other religion, and both subjecting their respective targets to unsparing criticism, comparing them unfavorably to the occult wisdom Blavatsky promoted, and picking out the contradictions and flaws of which, of course, every field of human knowledge is full. It was wildly successful—the first print run of 1000 hardback copies sold out in a week—and made Blavatsky a household name throughout those broad sectors of late nineteenth century society that found the teachings of orthodox science and religion unsatisfactory.
It may have been the sharp difference in the success of their respective books that drove the final wedge between Britten and Blavatsky, or some other cause may have done so. The original New York City lodge of the Theosophical Society had already stopped holding regular meetings in late 1876, even though other lodges of the Society had been founded in several American cities and in London as well, and in 1877 the organization seems to have blown itself apart.  In that year Britten and her husband suddenly left New York City for California, then sailed across the Pacific to Hawaii, New Zealand, and Australia.  Meanwhile Blavatsky and Olcott left New York City by ship for London, and from there proceeded to India. The dog had returned to the west, and the wolf to the east.
There the story of the Theosophical Society might have ended.  Once settled in India, however, Olcott and Blavatsky reorganized the Society and relaunched it on the basis of a set of teachings Blavatsky claimed to have received from superhuman Masters who dwelt in Tibet.  Over the years that followed, the Society grew steadily, establishing lodges on every continent but Antarctica and gradually evolving the elaborate teachings that characterize Theosophy today.  Blavatsky assisted this process mightily by penning another, even larger book, The Secret Doctrine, which claimed to pass on the age-old wisdom of the mystic East, as well as a short mystical text, The Voice of the Silence, which is probably the most read of all her works.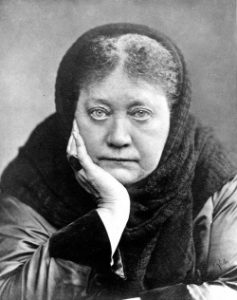 Claims and counterclaims surrounded her by then, and grew into a baroque jungle of conflicting notions once she died.  The London-based Society for Psychical Research, which investigated her in detail, noted in its 1885 final report:  "For our own part, we regard her neither as the mouthpiece of hidden seers, nor as a mere vulgar adventuress; we think that she has achieved a title to permanent remembrance as one of the most accomplished, ingenious, and interesting imposters in history." To this her followers responded with predictable fury.  Her own highly colored and thoroughly undocumented accounts of her past were further embroidered by Theosophist hagiographers and torn to shreds by rationalist critics, a struggle in which neither side showed much concern for fairness. Meanwhile the Theosophical Society was racked with frequent scandals and even more frequent bursts of bitter internal politics.
None of this mattered at first, or for many years to come. The dog from the west and the wolf from the east had indeed created the Philosopher's Stone, in the form of the modern world's first successful public organization for the promotion of occult teachings.  Lodges of the Theosophical Society sprang up all over Europe, the Americas, Australasia, and South Asia, providing anyone with an interest in esoteric spirituality with a convenient alternative to dogmatic religion and equally dogmatic science. As a result, anyone with an interest in occultism—whether or not they found Theosophy congenial—could count on making contact with kindred spirits at the nearest Theosophical lodge.
Since Blavatsky presented her system of teaching as the original ancient wisdom from which all later wisdom traditions descended, those lodges and the libraries and bookstores many of them founded promptly became centers from which a dizzying assortment of spiritual traditions could diffuse. To this day, if you go to a Theosophical library or bookstore, you can expect to find a good selection of resources on Hinduism, Buddhism, ancient Greek philosophy, Cabalism, mystical Christianity, and occultism of many kinds. The result was a sharp increase in the availability of occult literature and an equally dramatic spread of knowledge about the various branches of occultism and alternative spirituality.
These two factors—a means of networking for people interested in occultism, and an easy means of access to occult and spiritual literature—drove remarkable changes in many corners of the world. In the United States, in particular, their effect was electric. While various branches of occultism, as we've seen, had set down roots in American soil long before Britten and Blavatsky met, the resulting traditions had settled into the background of American society.  The rise of Theosophy transformed that utterly, and kickstarted the golden age of American occultism.
As for the two women who played such crucial roles in the early days of the Society, they ended up spending their last years in the same island nation.  Britten and her husband settled in England in 1881, but her work was almost completely forgotten—you can download Ghost Land here and Art Magic here, but if you do so, and read them, you'll be among the few. Blavatsky came to England for the last time in 1887.  As far as I have been able to tell, they were not in contact during those final years:  Britten devoted her time to Spiritualism, Blavatsky put hers into the Theosophical Society and her immense book The Secret Doctrine, which remains in print to this day and has had an incalculable impact on the occult traditions of the West. Blavatsky died in 1891, Britten in 1899; the dog and the wolf had finished their alchemical work, but the consequences of that work have not finished playing out yet.