This week's Ecosophian offering is the monthly (well, more or less!) open post to field questions and encourage discussion among my readers. All the standard rules apply — no profanity, no sales pitches, no trolling, no rudeness, no long screeds proclaiming the infallible truth of fill in the blank — but since there's no topic, nothing is off topic.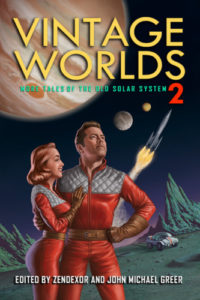 One thing before we get started — the Kickstarter campaign to fund Vintage Worlds 2 and 3, the forthcoming anthologies of science fiction set in the Old Solar System of rocket ships, ray guns, Martian swordsmen, Venusian jungles, and other planets loaded to the bursting point with alien critters, is 90% of the way to full funding…with 48 hours to go. It's turning into a real nailbiter for everyone involved in the project!  If you haven't already kicked in something to support this project, please consider doing so now!  You'll find the Kickstarter page, with a full description of the anthologies, here.
**Update: thank you, everyone, for your support! The Kickstarter closed this morning, having cleared its funding goal with more than $1100 to spare. Charge your blasters and strap yourselves in — we're headed for the Old Solar System!***
With that said, have at it!