In order to finish sorting out the foundations for the project this blog will pursue, I want to talk a little more about science fiction. That's not the digression that it may look like at first glance. Much of the work that's involved in midwifing the birth of ecosophy—of a way of wisdom that draws its core insights from living nature—involves coming to grips with the fears and fantasies that shape our collective vision of the future, and science fiction is one of the places those fears and fantasies come closest to the surface.
There's a rich irony in that fact, because science fiction got its status as a sensitive gauge of our imagined tomorrows at a time when it was very nearly the last word in lowbrow literature, read mostly by sweaty-palmed teenagers who plunked down a nickel or a dime at local newsstands to buy the latest issue of Weird Tales or Amazing Stories. Garish colors liberally bedecked with scantily dressed women, back pages packed with advertisements for X-ray glasses and strongman courses, letters columns full of the kind of obsessive fandom you have to surf the internet to find today—it was all there, alongside stories that created science fiction as we know it and provided a good fraction of the emotional impetus that put human bootprints on the Moon.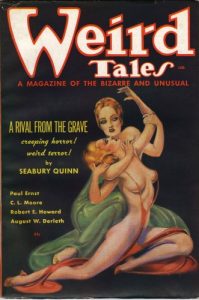 In turn, as science fiction went mainstream in the late 1970s, it lost its grip on the future. As tenured academics stopped turning up their noses at "all that Buck Rogers stuff," as a handful of the more literary SF authors found their work being reviewed in highbrow periodicals and the genre as a whole found itself afflicted with creeping respectability, the US space program began winding down, and a galaxy of technological breakthroughs that were supposed to happen sometime very soon—commercially viable fusion power comes first to mind—faded into that dim realm where might-have-beens spend their time.
Meanwhile the genre itself stagnated: on the one hand, ringing an endless sequence of changes on the already overworked gimmick of interstellar travel; on the other, pursuing an assortment of political agendas in which the political correctness of the left and the patriotic correctness of the right played equally unhelpful roles. Readers accordingly drifted away, sales declined, and the remaining fans sequestered themselves in various sub-sub-sub-genres like desperadoes holing up in a box canyon, blazing away with mostly unloaded guns at imaginary posses.
There are plenty of lessons to be learned here. One of them, to be sure, is the extent to which the so-called "cultural creatives"—those comfortably well-off and well-educated individuals who see themselves as the movers and shakers of cultural innovation—aren't innovators at all, but function mostly as the morticians who embalm the remains of once-vital movements and prepare them for their final rest. Still, that's a discussion for another time. The detail I want to focus on just now is the extent to which the late 1970s, the era when science fiction went mainstream, was also the era in which it started to become brutally clear that the splendid universe that science fiction writers and readers had built for their genre didn't actually exist.
You have to put some time into reading the science fiction of an earlier era to realize just how poor the fit was between the universe science fiction imagined and the one we actually inhabit. To begin with, the universe of science fiction is much, much smaller. That wasn't entirely true in the genre's early days—I'm thinking here of a story by Clark Ashton Smith in which two scientists set out from Earth on a voyage to Venus in middle age, and finally get there as old, old men—but as the genre ripened, transit times shrank, and gimmicks such as the "warp drive" that allowed the Star Trek franchise to squish the galaxy to lunchbox size supplanted realistic visions of just what it would cost to get to other planets or other stars.
The universe of science fiction is also much less hostile to human life than the one we actually inhabit. In science fiction's universe, interplanetary space isn't saturated with hard radiation from the huge unshielded fusion reactor blazing away at the center of the solar system, and when meteors put in an appearance, they're a bit of local color for heroes to cope with, not a sudden impact at 20,000 miles an hour followed by silence and blackness forever.  In the universe of classic science fiction, what's more, it's not just Mars and Venus that have atmospheres we can breathe; human adventurers can sail the seas of Neptune, human farmers can plow the green fields of Ganymede, and human prospectors can seek their fortunes in the nonexistent Twilight Belt of Mercury, between the half of the planet that's hot enough to melt lead and the half that's a few degrees above absolute zero, all without need of oxygen tanks.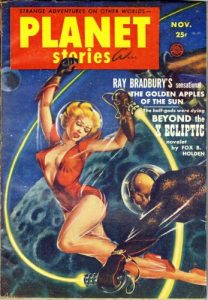 Finally, and crucially, the universe of science fiction is a great deal more romantic than the one we actually inhabit. Is Mars—the real Mars, the one that takes most of a year to reach from Earth if you have to ride on a real spaceship—a romantic place? Sure, if you're a geologist with a taste for airless, waterless, lifeless deserts.  To anyone else, it compares unfavorably to the less entertaining corners of rural Nevada. The Mars of science fiction is an utterly different place: an ancient, exotic, enticing world of dust-shrouded ruins that were great cities before our species climbed down from the trees, and ancient canals edged with greenery bringing scarce water from the ice caps—and of course it's also inhabited, by Martians who might as well be human beings of some other culture for all they really differ from us.
In the universe of classic science fiction, Venus is a gorgeous jungle planet beneath its layers of cloud, not a smoldering, sulfurous desert heated by a runaway greenhouse effect to temperatures that melt metal. The asteroids aren't just bare rocks tumbling through vacuum; some of them, at least, have atmospheres and life forms of their own. The whole solar system is a Bacchanalian rout of life, intelligence, and adventure, in which humanity's first tentative steps into space are guaranteed to meet the same kind of colorful panoply of exotic possibilities that Vasco da Gama encountered when his ships rounded the Cape of Good Hope, crossed the Indian Ocean, and deposited him on the shores of India. It really is a pity that none of it was ever real.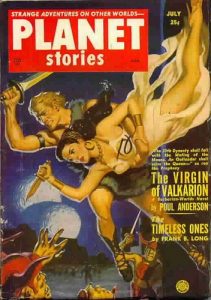 Yet it was the solar system of the pulp era that shaped the youthful imaginations of the American, European, and Soviet scientists and engineers who launched the space program on its way. The pulp science fiction I've described above was an international taste—the major American pulp magazines had British and Australasian distributors, and there were also thriving science fiction fandoms in most European countries, nourishing their dreams with a mix of local talent and translations from the English-language literature.  Throughout the industrial world, young people who were bored by the limited horizons of the Depression era and fascinated by the possibilities of technological progress gulped down classic science fiction wholesale…and a significant number of them, once the Great Depression gave way to the Second World War and that yielded in turn to the Cold War, got the chance to act out those dreams by contributing to one or another of the big postwar space programs.
What's more, until the late 1970s, nobody could be completely sure that the gorgeous universe of the pulp science fiction era didn't actually exist. As long as Mars, Venus, and the other worlds of the solar system were blurry dots in Earthbound telescopes, their atmospheres and local conditions a matter of informed guesswork at best, their suitability for life of any sort a complete unknown, the dream hovered tantalizingly in the interplanetary distance, and played a huge if usually unadmitted role in motivating the exploration of space. It wasn't until space probes with increasingly elaborate technology brought back hard data from our neighboring planets that the whole grand dream came crashing down at last.
The fixation on interstellar travel I critiqued earlier in this post was the logical reaction to the loss of the gorgeous solar system of the pulp era—if we can't have exotic, exciting, inhabited worlds circling our own sun, the logic seems to have gone, we can just haul them off and park them in orbits around other stars! In some cases, in fact, you can watch this relocation happen within the work of individual science fiction authors.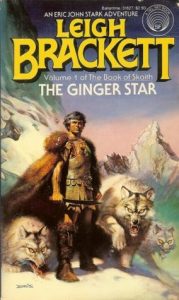 I'm thinking here especially of the inimitable Leigh Brackett, author of some of the best solar system adventure tales ever penned.  She wrote a series of lively tales in which Eric John Stark, a sort of interstellar Tarzan turned film noir soldier of fortune, wanders the solar system's mean streets getting into and out of various kinds of trouble. As the imaginary solar system of the pulp era came crashing down, she sent Stark zooming off to a world around a distant star for one last trilogy's worth of adventures. The Ginger Star and its sequels are great fun, but the sudden intrusion of interstellar travel into a series of tales previously set in the old solar system of the pulp era is jarring at best.
I don't think it was any kind of accident that science fiction's flight from the solar system to the interstellar void was followed in due time by the decline of science fiction itself. Handwaving about imaginary warp drives aside, it's pretty clear to anybody who does the math that even if there happen to be inhabitable worlds circling other stars, getting just one ship there is going to take an energy supply of the same rough order of magnitude as the world's total consumption of energy at present, if not more—and that as far as we know, the universe doesn't offer us any energy source sufficiently concentrated and abundant enough to make that an option.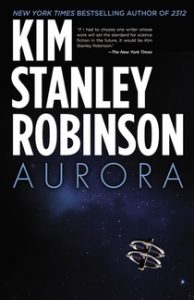 That's why handwaving about imaginary warp drives and the like plays so massive a role in science fiction these days. It's also why Kim Stanley Robinson—one of the best of the current crop of SF authors—caused something not too far from a collective nervous breakdown in science fiction a little while back when he wrote a novel, Aurora, that ditched the handwaving and grappled with the stark and sobering realities of trying to establish a human colony on a world orbiting another star.  A tolerably large number of science fiction fans did a fair imitation of a fist-pounding, heel-drumming, spit-spraying, five-year-old tantrum in response. How dare mean old Mr. Robinson take away their shiny starships?
Let us please be real: the fact that fans of a genre of pop literature in modern industrial society want some way to colonize interstellar space places no obligation on the universe to give them one. There's a sharp-edged irony in the fact that so many of the people who dream of bestriding the stars scornfully reject the New Age notion that "what you believe, you can achieve," except in this one case, and dismiss the evangelical Christian attempt to compress the vastness of deep time into a human scale of six thousand years from Creation to Judgment Day, while embracing just as anthropocentric an attempt to compress the vastness of deep space into a cosmos small enough for us to leap from star to star. Still, that's the nature of the return of the repressed.
We're not going to the stars. That's the unspeakable reality that a great many people in the industrial world are trying to evade right now, with increasingly limited success. The particular vision of endless elaboration of the kind of technologies our civilization happens to like, leading to a Star Trek future in which our kind of humanity with our kind of culture and mentality and society metastasizes across the galaxy, is not going to happen, not now, not in the lifespan of our species, and we really might want to deal with that and start thinking through the implications.
Granted, that's not going to be easy. One measure of the difficulty surfaced in a recent news story, about yet another astrophysicist who's noticed that the best explanation for the lack of evidence for star-spanning alien civilizations is that there aren't any. That's reasonable enough, but he jumped instantly from that to the claim that intelligent species, once they reach the industrial level, must inevitably go extinct within a few centuries. After all, why else wouldn't they be colonizing the stars?
That's a whopping non sequitur, because extinction is far from the only reason that an intelligent species might fail to colonize the stars. A far more likely reason, in fact, is the one that's staring humanity in the face right now: once a species reaches the industrial level of technology, it uses up its home planet's available supplies of concentrated energy resources and nonrenewable resources within a few centuries at most, and then drops permanently to a nonindustrial level of technology because that's what it has the resources left to sustain.
Thus the bug-eyed inhabitants of Zeta Reticuli IV may have had complex, literate, scientific civilizations for the last eighteen million of our years, for all we know.  Since they exhausted their world's equivalent of fossil fuels 17,999,700 Earth years ago, though, they aren't traveling to other worlds, broadcasting their existence to the cosmos, or doing any of the handful of other things that might make them show up on our radio telescopes. They're doing less energy-intensive things…and so, in the not too distant future, will we.
Those bug-eyed aliens, for example, might spend some of their ample free time reading stories written during their own species' brief period of industrial exuberance, when they dreamed of traveling to the other worlds of their own solar system—to yellow Xphlzzh, where they imagined incandescent breezes playing over oceans of liquid sodium, or to violet Glrrh, where they pictured the soaring crystalline ingestion-basins of forgotten species under the dulcet glow of bromine-gas skies. We could take a few lessons from their suppositious experience, because the same recreation will be available to our descendants as well.
Science fiction doesn't lose its value as a work of the imagination, after all, just because the future it imagined was never an option in the first place, and the worlds it envisioned never existed. Few people argue that The Wizard of Oz or The Lord of the Rings ought to be pulped just because Oz and Middle-earth don't happen to be real locations. The same rule applies just as well to science fiction, once we get out from under the notion that these brilliant works of imaginative fiction are somehow supposed to pretend to be sober predictions of the future.
A case could be made, in fact, that the solar system of classic science fiction is one of the great creations of imaginative literature, all the more impressive because it was a collective work of art. The imaginary Mars with its canals and ancient ruins was no one writer's invention; dozens of authors shared the weaving of the fabric, and though details varied, there's a recognizable planetary character that shows through works as different as Leigh Brackett's The Sword of Rhiannon and Ray Bradbury's The Martian Chronicles, like light from the same sun through stained-glass windows of different design. The same is true of many, perhaps most, of the worlds of classic science fiction in the solar system.
I'm pleased to note that in recent years, the imaginative power of the old vision has finally gotten some recognition. SF authors George R.R. Martin and Gardner Dozois a few years back edited a pair of anthologies, Old Mars and Old Venus, full of original stories set in the imaginary solar system of the classic science fiction era. Both books fielded their share of outraged screams for violating the conventional wisdom that science fiction must pretend to be possible, even when it obviously isn't, but they're both good solid collections. There's also a website, Heritage of Dreams, that hosts detailed essays and discussions about solar-system science fiction and has become the go-to place for fans of what's come to be called the Old Solar System
All of which brings me to the practical side of this month's post.
It's been a while since I've sponsored a writing contest on my blogs. The contests that resulted in the four After Oil anthologies were entertaining to me and others, and they also yielded a bumper crop of first-rate stories that broke free of the cliches and zoomed off into previously unimagined futures. The whole process was pleasant enough that I'm eager to do it again.
It so happens that I had a series of email conversations on this theme with Zendexor, the pseudonymous webmaster-pundit of the Heritage of Dreams website, and we agreed that a new anthology of stories set in the imaginary solar system of classic science fiction would be a very good thing. I then discussed the matter with Shaun Kilgore of Founders House Publishing, who agreed that such an anthology would be well worth putting into print.
So we're going to do it. You can find the details at www.solarsystemheritage.com/anthology-project-2017.html, but the short form is that we're looking for short stories (2500-7500 words), novelettes (7500-12,500 words) and maybe a novella (12,500 words on up) set in the Old Solar System. What kind of stories? You name it. Two-(or more-)fisted tales of adventure like C.L. Moore, solar system noir like Leigh Brackett, interplanetary travel with a religious dimension like C.S. Lewis, Old Solar System horror like Clark Ashton Smith – you name it, so long as it takes place in the imaginary solar system of the classic science fiction era. You can—indeed, you should—put your own twist on ancient and desolate Mars, lush Venus, or whatever other world or worlds you choose for a setting—and yes, Earth is also an option!—but it should fit more or less cleanly into the grand collective work of art that was the Old Solar System.
Stories may be submitted via the email address on the webpage just listed, and you can also get a better sense of what the Old Solar System is like, and a vast number of suggestions for reading, on the rest of the Heritage of Dreams site. The deadline for story submissions is January 30, 2018, so those of you who are interested may want to get typing.
In the meantime, next month, we're going to take a closer look at the sources of the Old Solar System's gorgeous planetscapes, and move closer to a clear sense of where we as a species are headed and why it matters.