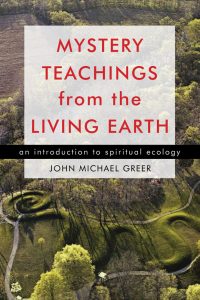 This week's post is part of a monthly series of open-discussion posts focusing on books I've written. Our theme for the present is Mystery Teachings from the Living Earth, and this week we're discussing "The First Law: The Law of Wholeness" (pp. 18-26). I'd like to ask readers to keep their questions and comments focused on that chapter and the ideas it contains; we'll have another Ask Me Anything post later this month, and of course a substantive monthly post and another Stormwatch links-and-discussion post in due time.
Here's the First Law, as it appears in the book:
Everything that exists is part of a whole system and depends on the health of the whole system for its own existence.  It thrives only if the whole system thrives, and it cannot harm the whole system without harming itself.
For the sake of clarity, here's an outline of the discussion:
1 – Like all living creatures, we habitually think of our environments solely as a background for our own actions and reactions. That's useful but incomplete. There's another way to see any environment — as a whole system in which every living and nonliving thing is a part, dependent on the whole for its survival.
2 – This is as true for human beings as it is for all other things. If we pretend that the environment only exists for our benefit, as a grab bag of resources and a dumping ground for wastes, we earn ourselves a bumper crop of nasty consequences. Thus we don't have the exclusive power to create our own reality — rather, we co-create it with all other beings, and our intentions are less important in this process than our actual behavior.
3 – What benefits the whole system ultimately benefits everything that is part of the system. What harms the whole system ultimately harms everything that is part of the system. The delusion that we can pursue our own benefit at the expense of the whole systems of which we are part is the source of most human suffering. Assessing our choices to take the needs of whole systems into account, and balancing those against our personal needs, is much wiser.
Questions? Comments? Discussions? Have at it—subject, of course, to the usual rules.
***********
In other news, I'm delighted to report that the first volume of the collected Archdruid Report essays, covering the years 2006 and 2007, is available for preorder and will be published next month. Details? You'll find them here.