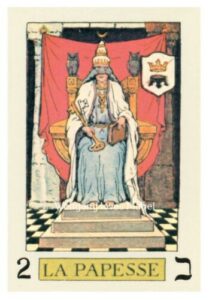 With this post we continue a monthly chapter-by-chapter discussion of The Doctrine and Ritual of High Magic by Eliphas Lévi, the book that launched the modern magical revival.  Here and in the months ahead we're plunging into the white-hot fires of creation where modern magic was born. If you're just joining us now, I recommend reading the earlier posts in this sequence first; you can find them here.  Either way, grab your tarot cards and hang on tight.
If you can read French, I strongly encourage you to get a copy of Lévi's book in the original and follow along with that; it's readily available for sale in Francophone countries, and can also be downloaded for free from Archive.org. If not, the English translation by me and Mark Mikituk is recommended; A.E. Waite's translation, unhelpfully retitled Transcendental Magic, is second-rate at best—riddled with errors and burdened with Waite's seething intellectual jealousy of Lévi—though you can use it after a fashion if it's what you can get. Also recommended is a tarot deck using the French pattern:  the Knapp-Hall deck (unfortunately out of print at the moment), the Wirth deck (available in several versions), or any of the Marseilles decks are suitable.
Reading:
"Chapter Two:  Magical Equilibrium" (Greer & Mikituk, pp. 218-224).
Commentary:
By and large, fantasy fiction is useful to students of occultism as a source of belly laughs. Whether we're talking about the Harry Potter franchise or some less giddily lucrative product of the genre, authors of fantasy fiction seem to go out of their way to avoid learning anything about what magic is and how it works, and it shows.  You have to go to the tackiest of tenth-rate science fiction or the shoddiest of lowbrow mysteries to get science or detection as absurdly detached from reality as the magic you find even in relatively good fantasy novels.
It happens now and then, though, that  by some cascade of accidents, a piece of genuine occult lore finds its way into a fantasy novel. I'm thinking of one of those just now. Readers who know their way around Ursula K. Le Guin's classic A Wizard of Earthsea will recall that the central principle that guides competent wizardry in that imaginary world is equilibrium. Le Guin probably got that idea from Taoism, which was one of her main philosophical influences; I doubt, all things considered, that she ever turned the pages of our text.  It's true nonetheless that for once, in that one section of her novel, her wizards were presenting the core concept of a genuine occult teaching.
Equilibrium is the law of existence. That doesn't mean, as Lévi is quick to point out, that all things are frozen in stasis, everything forever equal to everything else. The balance of the cosmos is active, not static, and the principle of equilibrium is a broader application of the law that Isaac Newton (who was, after all, an alchemist as well as a physicist) applied to motion:  for every action, there is an equal and opposite reaction.
Keep in mind that the law of equilibrium isn't a moral rule of the conventional sort—that is to say, a guide to behavior that most people insist they believe in but next to nobody actually follows. Our text is not saying that you ought to direct your magic or govern your actions according to the law of equilibrium.  It's saying, rather, that the law of equilibrium is going to affect you whether or not you approve of it, and also that it's going to do so whether or not you believe in it. Like it or lump it, every action of yours is going to generate an equal and opposite reaction.  That being the case, if you have any interest in getting the results you want, it's helpful to keep this law in mind and to be ready to deal with the equal and opposite reaction when it comes around.  Better still, you can be proactive, and include the equal and opposite reaction in your planning from the start.
Writing in 1854, Lévi used convenient metaphors from the science of his time.  He pointed out the way that electricity follows the law of equilibrium, and proceeded from there to show that the life force—the "animal magnetism" of Franz Anton Mesmer, which hadn't yet been consigned to the limbo of pseudoscience—also follows that law. This led him inevitably to speak of sexual politics, the inescapable subtext of animal magnetism at that time, and of course he did so in terms that made sense to a man of 1854. My readers may make of his comments on women what they will.  In his defense, it may be worth noting that the women he had in mind were sexually frustrated middle-class women in the Victorian era, and his comments are echoed and even expanded on in novels from the same period written by and for women.  No doubt my female readers will have also noted that his comments on how to deal with women work just as well with the gender labels reversed.
As though he knows he might have said too much, Lévi immediately shifts gears at this point and begins talking about magical practice. When he speaks of two breaths, cold and hot, he is not indulging in metaphor; bring your hand a few inches from your mouth, blow on it, and vary the way you breathe until you can make it hot or cold at will.  Those two breaths were (and still are) much used by old-fashioned occultists to direct Od and Ob, the two modes of the astral light, and the projection of these same two currents of the astral light through the hands is also a standard practice. It can be learned, as Lévi suggests, by regular practice, and its effects can be learned the same way. The energetic balance of the human body, symbolized by the pentagram, is another element of traditional practice, which was discussed in the introduction to this half of the book; it deserves a great deal of study and meditation.
The same principle of equilibrium has an even more crucial application to practice in the design and arrangement of magical workings. Most teachers of occultism have encountered their share of people who attempted to cast a love spell on someone, and ended up falling under their own spell and becoming hopelessly besotted with people who had zero interest in them. Most teachers of occultism have likewise encountered their share of people who attempted to cast spells to get money without earning it, and were perplexed when they ended up losing money instead. Equilibrium is even more obviously essential in these modes of magical working than in others, since they deal with such potent emotional drives.
There are two ways to manage the necessary balance. The first is to follow the practice of the temple builders cited by Lévi, who carried a sword in one hand and a trowel in the other—that is, to do paired workings, one directed toward generating the desired force in one person or place or situation, the other directed toward generating the opposite force in a different person or place or situation. That allows the mage to remain in the place of balance between the contending forces. The second way is to alternate the forces in the same person or place or situation, imitating the heartless flirt of Lévi's metaphor, who snuggles up against her targets at one moment and turns coldly away from them in the next, in order to fix them all the more tightly in her clutches.
Notice here again that we are not talking about morality.  There are ethical ways to practice either of the kinds of alternation Lévi is discussing, just as there are unethical ways to practice them. A pervasive bad habit of modern thought is the confusion between what is morally right and what is practically effective. It's just as foolish to insist that everything must work out if your heart is in the right place as it is to insist that evil is inherently more effective than goodness. In reality, morality and practicality run at right angles to each other; there are ethical and unethical approaches that succeed, and ethical and unethical approaches that fail. Our text has spoken of morality at rather some length in earlier chapters. Now Lévi is talking about what works.
To push in one direction for too long is to fail. To push for too long in any direction at all is to fail, too, because magic cannot be a full-time occupation; for best results, daily magical practices need to be followed by more mundane occupations, and major magical workings by periods of rest and enjoyment. It also works, and works well, to pull the swing back before you push it forward—that is, to choose to do something of a contrary nature to your working before you pursue the working itself. This is why medieval mages used to attend mass and give alms to the poor for a certain number of days before each working:  submitting their will to the will of God as they understood it was the pulling back of the swing, and was balanced by a burst of strength and independence of will that gave their magic additional power.
It's not necessary to follow that prescription exactly.  Nor is it necessary to follow the distinctly exotic requirements of archaic magical rituals that Lévi lists in an attempt to make his point.  (As he noted in the previous chapter, the ancient rituals can just as well be seen as mystifications or enigmas.) What matters, here as elsewhere in magic, is that every detail in a magical working should express its intention as exactly as possible.  The requirements of equilibrium are among the factors to keep in mind when formulating the intention. I don't recall ever meeting a mage who followed Lévi's advice literally and had two of every one of his working tools, but some important emblem of duality and equilibrium is normally present.  The two pillars of the sanctuary, whether full size as in a Golden Dawn temple or Masonic lodge, or small enough to place on the altar as in a temple of the Fellowship of the Hermetic Rose, are an example; some systems use another equally explicit emblem, while others are subtler about it.
The same principle applies throughout magical practice. The important thing is not that some specific traditional set of procedures is followed, though this can be a valuable part of training, and it has the advantage of making it more likely that beginners will get a balanced and effective symbolism without too much fumbling. The important things are to have an adequately precise and detailed symbolism expressing the intention of each magical working, and to deploy that symbolism in a balanced and functional way. This is what prepares the way for those nonordinary states of consciousness where, as Lévi points out, the water seems to boil though no heat is applied by it, the fire flares up of itself, the working tools behave strangely, and equally strange voices whisper through the hushed air as the ritual reaches its culmination.
Those states are the moments where magic takes place. They're the heart of what Lévi is talking about in the practical chapters of our text. Lévi believed that they could be attained without going through the elaborate rigmarole of medieval magical rituals—throwing a frog's head on burning charcoal, say, while brandishing a hazel wand cut at a single stroke at moonrise and reciting words that had been miscopied into gibberish a thousand years in the past. Strictly speaking, he was right; you can get to the same states of consciousness in a variety of other ways, and more than a century and a half of systematic exploration of magic since Lévi's time has uncovered some of those other ways.  None of them are much less complicated than the business with the frog's head, and it remains true that medieval rigmarole is just as effective at getting results as any of the other options; but the other options are there.
Lévi's goal, however, was to get those other options into circulation.  In his own eccentric way, he was a Christian and a Catholic; he explicitly disavowed any interest in restoring the Pagan mysteries of the ancient world, and the magic he presented in this and other books was intended to be suitable for other nineteenth-century Catholic people. He was quite aware that the Catholic church and most other religious traditions of his time (and ours as well) have a long history of denouncing and proscribing magic, but he considered that proscription to unfold from the necessities of priestcraft:  to keep the trust and obedience of the ignorant in earlier times, he believed, it was once necessary for priests and other religious professionals to practice magic and to keep its secrets as the exclusive possession of the priesthood.
Lévi was convinced that the day of such machinations was over.  In another sense, a sense he did not anticipate, it ended even more drastically a century or so after his time. In the United States and Western Europe, certainly, today's priests, ministers, and religious professionals in the mainstream faiths no longer know enough about magic to matter—certainly not enough to use will and imagination to direct the astral light to confirm the faith of believers through wonders the way the ancient and medieval priesthoods did.
The religious proscription of magic thus ended up having a disastrous effect on religion itself. In our time, seminaries have been transformed into third-rate liberal arts colleges that teach their students anything and everything but how to call down the power of their gods for the benefit of their congregations, and how to call up the focused emotion and intention of their congregations as an offering to their gods. Weekly services have devolved into political meetings, Marxist-lite consciousness-raising sessions, or simply dreary get-togethers accompanied by tacky music for people who know that once upon a time there was a point to going to meeting on Sunday but seem to have forgotten what that point might have been.
Attention to what Lévi has to say could change that, but I suspect it will be a very long time before The Doctrine and Ritual of High Magic becomes required reading for seminarians. In the meantime, those of us who feel called to the study and practice of magic have to make do with the available spiritual options, and pursue the secrets of the old mysteries in whatever way we can manage.
Notes for Study and Practice:
It's quite possible to get a great deal out of The Doctrine and Ritual of High Magic by the simple expedient of reading each chapter several times and thinking at length about the ideas and imagery that Lévi presents. For those who want to push things a little further, however, meditation is a classic tool for doing so.
Along with the first half of our text, I introduced the standard method of meditation used in Western occultism:  discursive meditation, to give it its proper name, which involves training and directing the thinking mind rather than silencing it (as is the practice in so many other forms of meditation).  Readers who are just joining us can find detailed instructions in the earlier posts in this series. For those who have been following along, however, I suggest working with a somewhat more complex method, which Lévi himself mention in passing:  the combinatorial method introduced by Catalan mystic Ramon Lull in the Middle Ages, and adapted by Lévi and his successors for use with the tarot.
Take the first card of the deck, Trump 1, Le Bateleur (The Juggler or The Magician). While looking at it, review the three titles assigned to it:  Disciplina, Ain Soph, Kether, and look over your earlier meditations on this card to be sure you remember what each of these means. Now you are going to add each title of this card to Trump II, La Papesse (The High Priestess): Chokmah, Domus, Gnosis. Place Trump II next to Trump I and consider them. How does Disciplina, discipline, relate to Chokmah, wisdom?  How does Disciplina relate to Domus, house?  How does it relate to Gnosis?  These three relationships are fodder for one day's meditation. For a second day, relate Ain Soph to the three titles of La Papesse. For a third day, relate Kether to each of these titles. Note down what you find in your journal.
Next, combine Le Bateleur with Trump III, L'Imperatrice (The Empress), in exactly the same way, setting the cards side by side. Meditate on the relationship of each of the Juggler's titles to the three titles of the Empress,  three meditations in all.  Then combine the Juggler and the Emperor in exactly the same way. Then go on to the Juggler and the Pope, giving three days to each, and proceed from there. You'll still be working through combinations of Le Bateleur when the next Lévi post goes up, but that's fine; when you finish with Le Bateleur, you'll be taking La Papesse and combining her with L'Imperatrice, L'Empereur, and so on, and thus moving through all 231 combinations the trumps make with one another.
Don't worry about where this is going. Unless you've already done this kind of practice, the goal won't make any kind of sense to you. Just do the practice.  You'll find, if you stick with it, that over time the relationships between the cards take on a curious quality I can only call conceptual three-dimensionality:  a depth is present that was not there before, a depth of meaning and ideation.  It can be very subtle or very loud, or anything in between. Don't sense it?  Don't worry.  Meditate on a combination every day anyway. Do the practice and see where it takes you.
We'll be going on to Chapter 3, "The Triangle of the Pentacles" on July 12, 2023. See you then!