"The most merciful thing in the world, I think, is the inability of the human mind to correlate all its contents. We live on a placid island of ignorance in the midst of black seas of infinity, and it was not meant that we should voyage far. The sciences, each straining in its own direction, have hitherto harmed us little; but some day the piecing together of dissociated knowledge will open up such terrifying vistas of reality, and of our frightful position therein, that we shall either go mad from the revelation or flee from the deadly light into the peace and safety of a new dark age."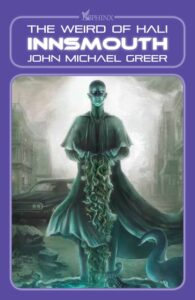 Those are the wry opening lines of H.P. Lovecraft's most famous story, "The Call of Cthulhu." That passage has been on my mind more than usual of late. Partly, of course, that's because my seven-volume epic fantasy with tentacles, The Weird of Hali, is back in print. Sphinx Books, the new publisher, did a fine job with the reprint, catching and correcting the typos and occasional continuity errors that crept into the original edition; you can order copies here in the United States and here anywhere else. Since The Weird of Hali is among other things my idiosyncratic tribute to, and argument with, Lovecraft's vision of the cosmos, it's probably not surprising that eldritch, rugose forms are slithering through the crawlspaces of my imagination just now.
But there's more to it than that. It's been fashionable among so-called serious thinkers, ever since Lovecraft's first stories saw print, to dismiss his tentacled horrors as the last word in lowbrow schlock.  Partly that was a function of where his stories saw print. In early twentieth century America, if you liked weird fantasy, you got it from pulp magazines, and especially from the pages of Weird Tales:  "The Unique Magazine," as it billed itself. Decked out in lurid cover art by the inimitable Margaret Brundage and her peers, Weird Tales went out of its way to thumb its nose at the conventional taste of the time, and the arbiters of the conventional taste responded accordingly. Fans of J.R.R. Tolkien like to chuckle at Edmund Wilson's cluelessly nasty review of The Lord of the Rings, "Ooh, Those Awful Orcs;" not too many people recall that Wilson gave Lovecraft the same shabby treatment in a review titled "Tales of the Marvelous and Ridiculous."
But the rejection of Lovecraft, like that of Tolkien, had roots going deeper than simple snobbery. Both men were political conservatives at a time when the literary world was dominated by liberal ideologies. Both men, not coincidentally, rejected the entire mythology of human progress, to which Edmund Wilson in particular was so passionately committed. What makes this fascinating is that Tolkien and Lovecraft came to their convictions by opposite routes.  Tolkien, as I think most people know, was a devout traditionalist Roman Catholic. Lovecraft, by contrast, was an atheist, a materialist, and a rationalist—but he took these commitments seriously, and had the clarity of mind to follow them to their necessary conclusions.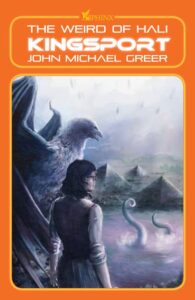 That's embarrassingly rare among today's soi-disant rationalists. Consider all those people who claim to be atheists, materialists, and rationalists, but love to babble on at great length about how humanity is destined to bestride the stars, or some such drivel. Destiny is a theological concept; it makes sense only if you believe that the history of our species has a narrative structure hardwired into it—and a narrative presupposes a narrator.  If atheism, materialism, and rationalism are correct, by contrast, human beings are just blobs of cells hawked up by the mindless mechanisms of Darwinian evolution, and the history of our species is nothing more than the cascade of random events that happens to take place between the time when the first humans evolved and the time when the last of us go extinct. Concepts such as destiny have no place in that vision.
Most of today's self-proclaimed rationalists, in other words, don't take their own beliefs seriously.  Scratch the surface of their ideas, and you'll find a jumbled mess of secondhand religious notions burbling away merrily underneath. What set Lovecraft apart is that he actually thought through and accepted the consequences of his beliefs. To him, human beings were simply one more species of living organism on an unimportant planet in a vast and utterly uncaring universe, no more significant in the great scheme of things than pterodactyls, penguins, paramecia, or tentacled horrors from distant galaxies.
It will probably come as no surprise to my readers that both Lovecraft and Tolkien thus had a very significant impact on my thinking. They're not alone in that, of course, but their influences go deep and far—deeper and further, in some ways, than any others, not least because I'd read The Lord of the Rings and some of Lovecraft's more famous stories long before it first occurred to me that the civilization around me was pretty clearly tipping into history's dumpster. I suppose I could just as well have written a series of novels by picking up Tolkien's ideas, holding them up in front of a funhouse mirror, and weaving a tale from the images thus produced; in point of fact, I've considered doing that more than once, and may get around to it one of these days. (Of course I'd have to change all the names and identifying details, as the Tolkien family is very careful to guard the rights to its gravy train.)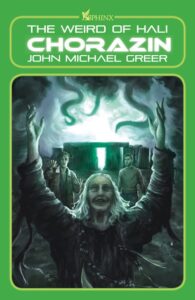 But it was Lovecraft's work that became the anchor for my most extended fictional work so far—more exactly, Lovecraft's work and the work of more than a dozen other writers before and during his time who contributed to one of the greatest of all shared fictional worlds, the Cthulhu Mythos. There are plenty of reasons for that, but one thing in particular made Lovecraft's invented world of special interest to me:  his relationship to occultism.  Both Lovecraft and Tolkien were much more conversant with occultism than their modern fans like to admit. Tolkien, for all his devout Catholicism, uses occult ideas and terminology so easily and so accurately that I've come to think that in his youth, he went through a period of dabbling in occult study that he was careful not to mention to his biographers later on.
It's not hard to figure out what he studied, either, for Tolkien's occult references all come from Theosophy, the most popular occult tradition in early twentieth century Britain. Tolkien's version of the fall of Atlantis,  for example, is based entirely on a theme that Blavatsky introduced to the Atlantis narrative in The Secret Doctrine—the idea that the fall of Atlantis was brought about because the Atlanteans fell under the sway of evil sorcerers—and that theme as far as I know wasn't yet found outside of Theosophical writings when Tolkien penned the first version of the Númenor legend. Gandalf's description of the high elves—"those who have dwelt in the Blessed Realm live at once in both worlds, and against both the Seen and the Unseen they have great power"—might as well be taken straight from Theosophical literature.  For that matter, consider Gandalf's words at the bridge of Khazad-dûm:  "I am a servant of the Secret Fire, wielder of the flame of Anor."  What is that Secret Fire?  Any Theosophist could tell you in a heartbeat.
Lovecraft's use of occultism is at once more straightforward and more satiric. He went out of his way to reference the popular occultism of his time in his stories, and he did it in a way I find highly amusing.  Take the sentences that follow the quote from "The Call of Cthulhu" cited earlier:  "Theosophists have guessed at the awesome grandeur of the cosmic cycle wherein our world and human race form transient incidents. They have hinted at strange survivals in terms which would freeze the blood if not masked by a bland optimism. But it is not from them that there came the single glimpse of forbidden aeons which chills me when I think of it and maddens me when I dream of it." That sums up Lovecraft's approach to the occultism of his day.  Sure, he's saying, you occultists are right that there are vast cosmic cycles compared to which all human history is a momentary blip, mighty beings far beyond our understanding, weird powers that wizards can wield—and all of it, right down to the last rugose tentacle, is out to devour us all!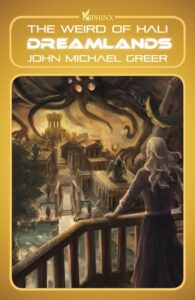 That's one of the two things that makes Lovecraft's fiction so delectable to me. (We'll get to the other a little later on.)  His tentacled gods, forbidden tomes, and sinister cultists are a parody—a fine, intelligent, and hilarious parody—of actual occultism.  Take the Necronomicon, the sorcerous tome to end all sorcerous tomes, written by a mad Arab in the early Middle Ages, translated into Latin by medieval European mages, and passed from hand to hand by an underground network of sorcerers who hoped to use its spells to call down eldritch powers from the stars. It's a great plot engine in Lovecraft's stories and in the stories of his friends and followers—but it's also a straightforward parody of a real book.
That book is called the Picatrix. It was written in the tenth century by an Arab sorcerer about whose sanity I don't propose to speculate; it was translated into Latin in the thirteenth century, and owned and used by most of the serious mages of late medieval and Renaissance Europe, at a time when being known to have a copy would get you the place of honor at one of those famous bonfires hosted by the Inquisition. As an instructional book on astrological magic, it does indeed contain incantations meant to call down eldritch powers from the stars—and as it happens, Christopher Warnock and I translated it from Latin into English a few years ago, published it, and got it into the hands of thousands of modern occultists.
That is to say, I'm one of the people that H.P. Lovecraft warned you about.
I mean that quite literally. The sinister cultists that Lovecraft imagined donning robes and strange amulets to invoke archaic tentacled powers from the Unseen—the Wilbur Whateleys, Robert Suydams, and Enoch Bowens of his tales—are parodies, again, of the occultists of his time.  I don't imagine it will shock anyone if I mention that yes, I own several robes and some fairly strange amulets, and while the powers I invoke from the Unseen are singularly bereft of tentacles, I doubt anyone would object to using the word "archaic" to the deities of the Druids.  More to the point, I live in the universe of vast cosmic cycles, strange survivals, and forbidden aeons that Lovecraft satirized in his stories. You might be interested to know that, all things considered, it's a tolerably comfortable place to live.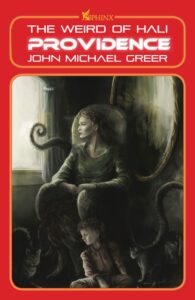 That's the other thing I find delectable about Lovecraft's fiction:  his horrors don't fill me with fear.  He wrote one truly scary story, "The Color Out Of Space," and it's a fine work of horror. His other works?  In me, at least, they don't raise the least trace of a shudder. That doesn't mean he's a bad writer; quite the contrary, I'd rate him as the greatest American writer of fantasy the twentieth century produced. The guy had an astonishing imagination; he could portray a million years of planetary history with less effort than some authors need to describe a roadside inn, and he didn't fall into the cult of faux-medievalism that pervades so much modern fantasy and makes the majority of it so dull. It's just that among the various effects he tried to achieve with his writing, one of them, the rush of vicarious fear that makes horror fiction work, goes right past me without raising more than a chuckle.
Horror is like that. What scares readers of one era or culture or social class may or may not scare readers in another.  In Japan, I'm told, the symbolism of Christianity is seen as spooky and rather morbid.  The thought of praying toward a statue of a man being tortured to death, which is of course what a crucifix is, doesn't trouble most Americans, but it strikes many Japanese with horror; thus crosses play a similar role in Japanese media that pentagrams play in Western media, as an indication that something spooky and unnerving is about to put in an appearance.
In the same way, H.P. Lovecraft and many of his readers found a rich vein of horror in a mix of occultism, modern scientific thought, class prejudices, and the biology of molluscs.  So their stories are stocked with ancient tomes full of direful incantations, glimpses of space and time that reduce humanity to unimportance, standard markers of early twentieth century class conflict, and a free use of tentacles and slime. (I'm not sure what twentieth century weird tales authors had against molluscs, but nearly all their biological effects come from the family that gave us octopuses and slugs. Echinoderms are frankly more horrible, but evil starfishes from space somehow never got much attention.)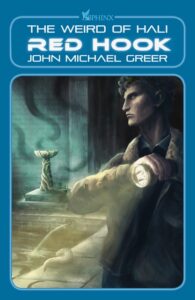 It so happens that I think octopuses are cute, and I have equally warm thoughts toward most molluscs. (I draw the line at slugs, but only because they're such an annoyance to gardens.)  I don't share Lovecraft's prejudices about race, social class, and culture, so the fear that everyone else in the world might gang up on middle-class white Anglo-American men—a central theme of early twentieth century horror—doesn't make me fret. The vastness of space and time and the relative insignificance of human existence as revealed by modern science doesn't trouble me, either—I find it comforting to know that the universe will go its merry way no matter what kind of a mess I make of the brief period of existence I can expect—and of course occultism doesn't exactly worry me either. So the images of terror that Lovecraft and his fellow writers deployed so freely don't produce their standard effect. Quite the contrary, they're all familiar faces.
That's the thing I think most people outside occult circles miss about Lovecraft's imagined cosmos:  it really is the cosmos of traditional occultism, seen through a funhouse mirror that doesn't actually distort that much. Theosophists in Lovecraft's time did indeed guess "at the awesome grandeur of the cosmic cycle wherein our world and human race form transient incidents."  Rather, they did more than guess; they sketched out the history of that cycle, and the cycles preceding and following it, in terms that deserve labels such as "awesome grandeur."  Old-fashioned occultists are used to seeing their own lives in the context of gargantuan reaches of time and space, in which there are countless other beings unrelated to (and uninterested in) us, some of which doubtless have their share of tentacles and slime.
And of course all that flowed into my epic fantasy with tentacles. It occurred to me more than twenty years ago, when I was writing my book A World Full Of Gods, that a story approaching the Cthulhu Mythos from the point of view of the other side, the side of the cultists and the tentacled gods, would be an intriguing fictional way to talk about polytheism, not to mention the hatred of spirituality and the natural world that pervades so much of mainstream culture these days. I made a few attempts at writing such a story thereafter, but nothing really took fire until the spring of 2015, when the story that became The Weird of Hali:  Innsmouth came surging up into my imagination. I wrote a first draft of 70,000 words in eight weeks, the fastest I've ever done a project on that scale.
Plenty of revisions followed, of course, but by the time it first saw print in 2016 I was already well into the manuscript that became The Weird of Hali:  Kingsport.  The rest of the series followed in due time, along with four other novels that are set in the same fictional cosmos but aren't part of the tale of the weird of Hali and its fulfillment. (Those are scheduled to be republished by Sphinx Books next year.)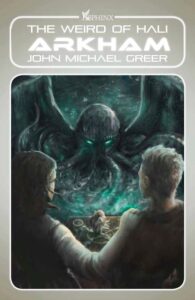 Looking back on The Weird of Hali, the thing that comes to my mind first is how much fun the whole project was to write. I spent the entire period of writing marinating my brain in as much fiction by Lovecraft and his fellow Mythos writers as I could find time to fit.  I made a point of only reading works from before the Second World War so that I could get as close as possible to the authentic pulp-era flavor.  Since nearly all of those are long out of copyright, I also took the liberty of borrowing nearly everything the Mythos had to offer that wasn't nailed down, and putting it to work as stage properties in my tale; readers familiar with the works of Lovecraft, Clark Ashton Smith, Arthur Machen, Robert W. Chambers, and other classic authors in the field will find a lot of familiar places, faces, and eldritch items putting in an appearance—some obviously, some less so.
Of course a lot of other things got woven in. Among other things, like Lovecraft and Tolkien, I don't believe in the modern mythology of progress.  Since The Weird of Hali takes place over a span of twenty years (to the day) beginning more or less this autumn, those two decades of future history follow the kind of trajectory I expect our slightly less fictional world to follow, which some readers will find rather more unsettling than tentacled horrors.  There's a good helping of economic crisis and a currency collapse in there, along with the general unraveling of our supposedly omnipotent technological society that's been happening for a good few years already. Quite a bit of philosophy found its way into my novels, too; among other things, Lovecraft and I share a taste for the ideas of Arthur Schopenhauer, and so the old grouch of Frankfurt had some of his notions picked up and woven into the story.
It's probably necessary to caution readers, however, that the gods, spells, magical devices, and other occult plot engines in The Weird of Hali and the Cthulhu Mythos more generally belong to the world of weird tales, not to that of operative occultism. That is to say, I don't recommend trying to use the Vach-Viraj incantation to banish sorcerous energies, nor will the other spells that some of the characters wield have the effects in reality that they do in my stories. The seven volumes of The Weird of Hali are novels, not grimoires, and the only enchantment they can offer is the one that readers usually get from a novel.
That said, I tried to make the world of The Weird of Hali look as much as possible like the way this world looks from the point of view of an old-fashioned occultist like me.  The way that cosmic vastnesses and eldritch powers exist cheek by jowl with a world of dishes to wash and other mundane realities to cope with is something that every operative mage knows from long experience. I also wove a fair bit of traditional occult symbolism into the story in odd ways—those readers who pay attention to the sequence of the seven books may notice a familiar pattern. But if you're interested in learning magic rather than reading a fantasy series with tentacles, I have some other books of mine to recommend.
*****
I am reminded by eager readers that this month has five Wednesdays, and by longstanding tradition on this blog, the readers get to propose themes for the fifth Wednesday post — I'll write about whichever themes gets the most nominations. What interests you?