This week's Ecosophian offering is the monthly open post to field questions and encourage discussion among my readers. All the standard rules apply — no profanity, no sales pitches, no trolling, no rudeness, no paid propagandizing, no long screeds proclaiming the infallible truth of fill in the blank — but since there's no topic, nothing is off topic — with one exception.  There's a dedicated (more or less) open post on my Dreamwidth journal on the ongoing virus panic and related issues, so anything Covid-themed should go there instead.
Before we go on, though, I'm delighted to announce two new books of mine — well, more precisely, one new book and one older book greatly revised and expanded — that may be of interest to my readers. The older one is Coelbren: Traditions, Divination Lore, and Magic of the Welsh Bardic Alphabet. This is a greatly expanded and revised edition of my first book on the Coelbren alphabet, somewhat unimaginatively titled The Coelbren Alphabet; it has everything in the earlier book — the history of this strange bardic alphabet and detailed instructions for using it as a divinatory oracle — but it also has new chapters on Coelbren magic and gematria. Readers interested in my work on Druidry will want a copy. You can get it from your favorite full service bookstore, or order it here if you're in the US and here if you're elsewhere in the world.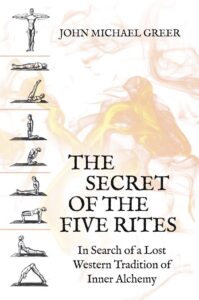 The second book is an adventure into entirely new territory.  I think most of my readers have heard of the Five Rites aka Five Tibetans, a set of yoga-like exercises that have become very popular over the last half century or so. A chance encounter of the usual kind sent me chasing their origins, and I ended up plunging into a mostly forgotten world of American and European occultism and exercise traditions, and rediscovering the other practices that once gave the Five Rites their context. That's the theme of this new book, The Secret of the Five Rites: In Search of a Lost Western Tradition of Inner Alchemy.
It was a wild ride, and covers a lot of unfamiliar territory, but the book gives complete details of how to use the Five Rites and the practices associated with them to awaken subtle energy in the body for health and spiritual development. Interested?  Once again, you can get it via your local full service bookstore, or order a copy online here if you live in the United States and here if you're elsewhere.
With that said, have at it!