If you happen to read the edgier end of the internet these days, you've probably seen talk about something called the Great Reset.  I've been asked several times already what I think of it, and since the shape of the industrial world's future is a longtime interest of mine, I was quite willing to discuss the matter.  If you haven't encountered it yet, this bit of fiction by Danish politician Ida Auken is the best starting point. The original title (it's now been changed due to the public backlash) sums up the intended theme quite well:  "Welcome to 2030. I own nothing, I have no privacy, and life has never been better."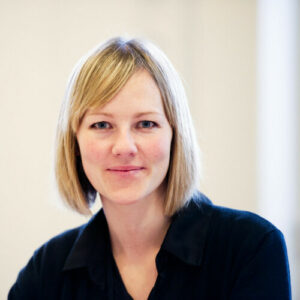 With a title like that, it's pretty clear that Auken thinks of her imagined future as a wonderful place. Mind you, she insists that this isn't so, that she's just trying to spark debate, but if I may be frank, I don't believe her.  The stickily enthusiastic gosh-it's-grand tone of the piece belies her claim, to say nothing of the fact that her essay is being splashed all over the internet as a template for the future by no less important an organ of the corporate status quo than the World Economic Forum, and greeted with approving noises by the establishment's current collection of tame intellectuals. Make no mistake, this is the future that the movers and shakers of our contemporary corporate aristocracy are dreaming of just now.
In Auken's imaginary 2030, she owns nothing, because any time she wants something, she just has to order it online and a drone delivers it to her promptly. She doesn't even own her own underwear.  What's more, it's all free; she doesn't even have to pay rent for her home, because when she's not there, someone else uses it for business meetings.  She's subject to 24/7 electronic surveillance that records her every word and action, and despite a pro forma hope that nobody ever abuses the data, she's fine with that. She worries about the people who didn't sign on to her lifestyle, and who have been relegated to lives of grinding poverty scraping out a living in rural communes or squatting in abandoned homes in the countryside, but she can't understand why they don't just hand over their lives to Big Brother and share her doubleplusgood future.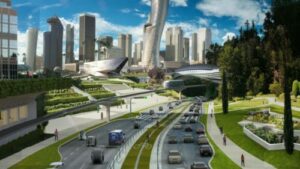 What's left out of Auken's future is even more telling than what goes into it. Of course the numbers don't work—even with the most expansive assumptions, there would only be enough business meetings each week to take up a small fraction of the available homes during business hours—and it's been demonstrated over and over again that if people can get the things they need and want for free, it's all but impossible to motivate them to put in a hard day's work in a factory or farm, though of course sitting in the Danish parliament is doubtless a good deal less strenuous. Yet the most serious gaps in Auken's fauxtopia are political.
It's no exaggeration to say that her imagined future is a totalitarian wet dream, since where there is no property and no privacy, there is no freedom.  Put actual human beings with actual human motives into the mix, and it's easy enough to trace the progression to its inevitable end:  "We're sorry, Ms. Auken, but that book has been flagged as inappropriate and is no longer available."  "We're sorry, Ms. Auken, but you've tried to request too many inappropriate books and your access to further books has been suspended." "We're sorry, Ms. Auken, but your trip abroad has been cancelled because you've spoken to people on our watch list." "We're sorry, Ms. Auken, but unless you stop criticizing the government at the dinner table your food quota will be cut." "We're sorry, Ms. Auken, but your home has been reassigned to another family, and we're here to take you to a labor camp…"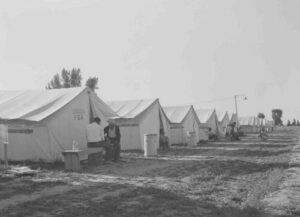 It's a very familiar landscape of ideas to anyone who knows modern history.  Abolition of private property?  Check.  Constant intrusive surveillance?  Check.  Everyone's personal lives dependent on the actions of cadres of apparatchiks?  Check.  Fawning propaganda about how wonderful life is in the worker's paradise?  Check. That is to say, when the World Economic Forum set out to imagine a new, exciting, cutting-edge future as a goal for humanity, the very best that they and their pet Danish politician could do is reinvent the Soviet Union.
That colossal failure of imagination, in turn, marks a historical inflection point of immense importance.
Over the decade and a half since I first started posting essays on the internet, one subject I've discussed repeatedly is the civil religion of progress:  the belief system, as passionately held as any more obviously theological faith, that newer always means better and change is always good, that the ideas of the past have been disproved and the practices of the past rendered obsolete by the mere passage of time, and that history follows an inevitable trajectory from the ignorant squalor of the past to a shining gizmocentric future somewhere out there among the stars. That belief is the established religion of our society.  Those who have the indepence of mind to reject it can count on facing the same sort of baffled rage you'll reliably get by asking true believers hard questions about any other variety of blind faith.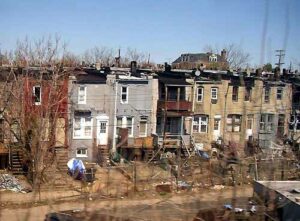 What makes that baffled rage so pervasive these days is that progress hasn't exactly lived up to its billing in recent decades. It's not just that life in the year 2020 doesn't feature the domed cities and space colonies it was supposed to, or in particular that it lacks the limitless material abundance that was promised so freely not so many years ago. It's that life in the year 2020 is looking decidedly shabby even by comparison with life in the recent past.  The grand march of progress from the caves to the stars wasn't supposed to result in a future of grubby, violent, and dysfunctional cities, entrenched rural poverty, crumbling infrastructure, failing public health, and the pervasive crapification of everyday life—and yet that's where we are.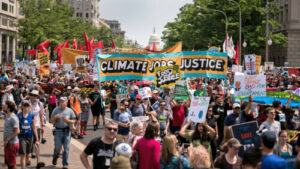 Human nature being what it is, the first reaction to the failure of the prophecies of the civil religion of progress was to double down on them, and brandish around even more colorful predictions of the wonderful future that would surely be ours someday soon, once the great god Progress got around to ushering in the promised utopia.  That was what generated the gaudy fantasies of the Transhumanists and the serene cluelessness of a generation of activists who convinced themselves that if they just held enough protest marches, everyone in the world would surely become environmentally conscious vegan pacifists by and by. That sort of going to extremes is the normal response to the cognitive dissonance that arrives when reality fails to conform to a passionately held belief system.
The habit of doubling down doesn't necessarily keep well, though, because it commits the true believer to even more extravagant and improbable prophecies than the ones that have already failed.  When those fail, too, the standard move is to fall back to a defensible position:  a set of predictions that are so deeply entrenched in the collective imagination that it's inconceivable to most people that they won't eventually come true. Given the importance of the corporate mass media in today's industrial societies, it was probably inevitable that the predictions in question would end up being anchored by some bit of media that became embalmed in pop culture. Yes, this is where we talk about contemporary culture's weird obsession with Star Trek.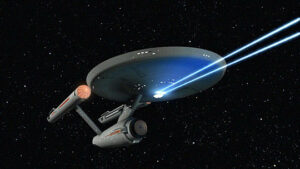 I noticed quite a few years ago, when most of my online writing was focused on the depletion of energy resources and the long-term impact of that process on the future of industrial civilization, that Star Trek had decidedly creepy effects on many people's ability to think about the future. It was as though the starship Enterprise had set its phasers on "lobotomize" and used them with reckless abandon on Earth's 21st-century population.  Any time serious questions about the long-term viability of the industrial project came up, an embarrassing number of people fled at once into a fantasy future stocked with replicators and powered by dilithium crystals. It wasn't just the people I was debating with, either.  All through the crawlspaces of contemporary society where you find people who have rejected the civil religion of progress, you'll hear sour jokes about Star Trek. It's become the defensible position I mentioned above, the fallback to which true believers in progress scurry for shelter when the world fails to conform to their belief system.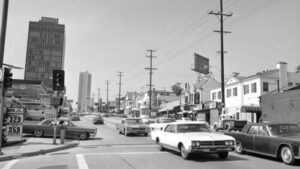 What I didn't really think about until recently is just how geriatric the Star Trek future is.  Keep in mind that Star Trek originally premiered in 1966. Do you remember 1966, dear reader?  I do, barely; I celebrated my fourth birthday that year.  Lyndon B. Johnson was president, cars had tailfins, LSD was still legal, and most observers of the rock-and-roll scene thought that the Beatles were already past their prime and would be elbowed out of the way by some newer group any day now.  The night that Star Trek premiered, even though it was past my bedtime, I got to stay up in my bright yellow footie pajamas and watch it on my family's black and white teevee.  A child who was born that night will be able to get a senior discount next year.
That an imaginary future churned out by the corporate mass media more than half a century ago is still the cynosure of our collective imagination is good evidence that the civil religion of progress is sprawled flat on its back, struggling for air, as the medics shake their heads.  Yet it's worth noting in that context that the equally dubious imaginary future being marketed by the World Economic Forum just now isn't a Star Trek future, or anything like it. No, it's the new, exciting, cutting-edge future of 1920.  That's what the Soviet Union was in its early days, after all, when a galaxy of intellectuals in western Europe and North America insisted at the top of their lungs that the newly founded Bolshevik regime in Russia was the best hope for the future of humanity, and anyone who mentioned that regime's already noticeable penchant for prison camps and mass graves could still be shouted down without too much difficulty.
What that shows, in turn, is that the Star Trek future no longer commands the blind faith and kneejerk enthusiasm that it once did.  I suspect, though it's just a guess at this point, that all those years of pretentious babble about Man's Future in Space may finally be wearing thin, as more and more people realize the obvious problems with trying to colonize other worlds when space outside the Earth's protective magnetosphere is saturated with hard radiation from the vast unshielded nuclear reactor we call the Sun, and the only worlds we can get to in less than geological time are frozen, airless deserts blasted by gamma rays, millions of miles from any reliable source of oxygen, water, food, or rescue. (That's why the United States and the Soviet Union quietly shelved their plans for manned planetary missions in the 1970s, you know.)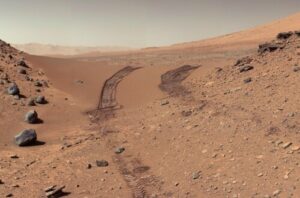 The reflexive retreat to an earlier set of clichés about the glorious future that the great god Progress is sure to bring us is a normal response to the collapse of the defensible position once it cracks under the strain of unfulfilled promises.  That second retreat, however, is unlikely to work as well as the first one did, for two reasons.  First, of course, the fact that believers in progress have already been forced out of two positions and are dropping back to try to hold out at a third is bad for morale, and it doesn't exactly make their belief system more credible to the growing number of people who have begun to question it. Still, in this case it's the second factor that's likely to be the most important one.
The twilight years of the Soviet Union, after all, are still a matter of living memory. Plenty of people alive today know all too well what happens when an ideology claims to be able to provide a wonderful life for everyone by abolishing private property, instituting pervasive and intrusive surveillance, and putting all the activities of life under the management of cadres of experts whose decisions supposedly will be ever so much more efficient than letting individuals make their own choices about their own lives. Ida Auken's little story is highly reminiscent of similar literary productions from the days before Marxian socialism had the chance to show what it would do once it seized power.  Readers who want to see for themselves might want to find a copy of William Morris' fine socialist utopia News from Nowhere and give it a read. Follow that up with Aleksandr Solzhenitsyn's One Day in the Life of Ivan Denisovich, as a reminder of how those glossy dreams worked out in practice.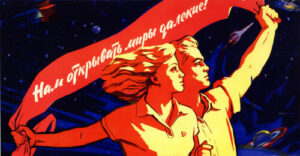 With that parallel in mind, it's not at all hard to see how the Great Reset would turn out if it ever gets far enough along to be enacted. We'll suppose that the European Union embraces it, along with a few other countries in various corners of the world. Glowing reports from the new consumer's paradise saturate the global media, and plenty of intellectuals prostitute themselves as publicists for the Great Reset the way that George Bernard Shaw among others did for Lenin's regime in the 1920s. Meanwhile conservatives dig in their heels and push back hard—there were a flurry of Communist revolutions in eastern Europe after the First World War, remember, and all but the one in Russia ended in a counterrevolutionary bloodbath.  So the world is divided again, between those countries that embrace the latest notional wave of the future and those that prefer something called freedom instead.
Then, of course, troubling rumors begin trickling out of the glorious consumer's paradise of the Union of European Resettist Republics about prison camps, mass graves, and ever-lengthening delays waiting for those drones to show up with the goodies (the up-to-date equivalent of bread lines).  Refugees have grim stories to tell, and though the intelligentsia insist angrily that they're not true and anyone who believes them is a (insert snarl word here), the stories find audiences. About the time the walls go up and people who try to flee the consumer's paradise start being shot dead by border guards, it becomes clear that this latest attempt at a managed collectivist economy has all the same problems with economic dysfunction and political tyranny as every previous attempt at the same thing.  Finally, late in the 21st century, the whole thing comes crashing down in a familiar fashion, and the people of the Former European Union finally get to rejoin the world.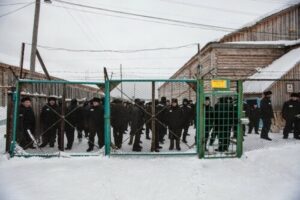 No, I don't think this is actually going to happen. The Communist revolution of 1917 was brought about by masses of peasants and workers who had been driven to the thin edge of desperation by a hopelessly incompetent Russian government and a devastating war, and who turned to the one effective political force that offered them an alternative.  The Great Reset is being marketed by a gallimaufry of politicians, plutocrats, and tame intellectuals:  some of the most cosseted people on earth, sheltered in a cozy bubble of privilege that keeps them safe from any untoward encounter with the harsh realities of life.  Not for them the world the rest of us have to deal with—the bleak and violent urban neighborhoods, the grinding poverty of the countryside, the cracked and crumbling highways and bridges, the stealth inflation of shrinking product sizes and plummeting product quality!  Flitting from gated residential communities or high-end condos to office towers to exclusive vacation resorts, they aren't the Lenins of today's world—they're the Brezhnevs, the Andropovs, and the Chernenkos.  They represent the end of an era, not its beginning.
The broad public reaction to the Great Reset, in turn, is a good measure of just how tone-deaf today's corporate aristocracy has become. Across the political spectrum from far right to center to far left, people are regarding the prospect of being dependent on the vagaries of a vast and unaccountable corporate technostructure for their next change of underwear and their next day's meals with the anger and mockery that it so richly deserves.  I suppose in a way Ida Auken and her corporate masters have done those of us in the United States a favor.  After half a decade of extraordinarily divisive politics, they've given us something about which most people of good will can heartily agree.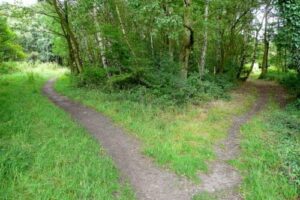 They may have done something else. As I noted earlier, the civil religion of progress has been struggling for quite some time now to deal with a world that, as it usually does, displays serene indifference to human notions of what it ought to do. The abandonment of the geriatric Star Trek future for the even more senile vision that brought the Soviet Union its fifteen minutes of historical fame may turn out to be the Waterloo of progress, the point at which most people stop believing that history is heading anywhere in particular, and start refusing to let it go where today's pampered corporate aristocrats think it ought to go.
Once that has happened, it will become possible for more of us to remember that the future is a choice, not an inevitability.  If individuals, families, and communities decide they want less gizmocentric lives, less dependent on kleptocratic corporate and political systems and more responsive to their own wants and needs, they can have such lives—and the frantic attempts by the commisars and apparatchiks of the corporate world to bully them into accepting something less need not be an insuperable obstacle.