Over the last sixteen years I've spent blogging, one of my most reliable sources of amusement is the experience of being condemned as a hopeless pessimist by some readers and denounced as a clueless optimist by others.  What makes this even more interesting is that the two groups of critics are usually incensed by the same statements. Some subjects draw this bizarre reaction more than others. The one I plan on discussing this week—anthropogenic climate change—is one of the most reliable magnets for this sort of thing.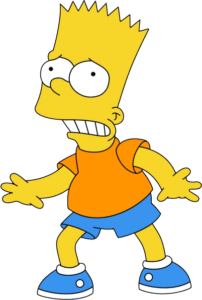 Partly, of course, that's a function of the frankly weird claims being made by both sides in the public controversy over our changing climate. The standard right-wing set of claims about anthropogenic climate change, to begin with, have quite a bit in common with Bart Simpson's famous utterance: "I didn't do it, nobody saw me, you can't prove anything." To be more precise, most people in the conservative mainstream who discuss anthropogenic climate change like to insist that it isn't happening, it's not being caused by greenhouse gas emissions, and it's a good thing anyway.  They have other claims worth noting:  in particular, they claim that the people on the left who disagree with them are lying in order to promote a political agenda.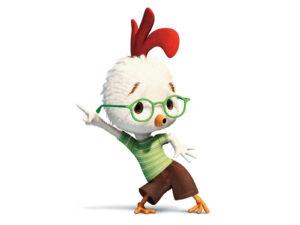 Go to the leftward end of the political landscape and you exchange Bart Simpson's company for that of Chicken Little. Most people in the liberal mainstream who discuss anthropogenic climate change like to insist that it's the biggest crisis ever to threaten the globe—well, except for whatever they were going on about last week—and it will surely kill us all unless we surrender a long list of individual freedoms to the same corporate-bureaucratic system that got us into this mess in the first place. Like the conservatives, they have other claims worth noting:  in particular, they claim that the people on the right who disagree with them are lying in order to promote an economic agenda.
As it happens, I think both sides are quite correct in those latter statements. That is to say, the conservative mainstream is indeed pushing dubious claims to promote an economic agenda, and the liberal mainstream is doing the same thing to promote a political agenda. Watch how they respond to any less extreme claim and you can see this clearly enough in the way that they turn on the heretic from both sides. I've fielded that reaction often enough to be used to it, and I expect to see a good solid display of it this week, too.
I expect to see that because we're going to talk this week about the realities of anthropogenic climate change, and what kind of world we can expect to take shape over the next few centuries as a result of our mismanagement of our relationship to the planet that supports our lives.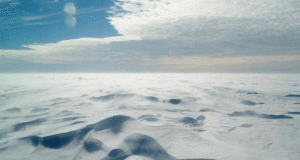 Let's start with some basics. Climate change is a constant feature of the long history of the Earth. Sixteen thousand years ago—an eyeblink in geological time—the corner of Rhode Island where I live these days had the climate of central Greenland, complete with ice sheets and howling winds at subzero temperatures.  Eight thousand years ago, during the heat wave that followed the end of the ice age, this same corner of Rhode Island had a climate more like South Carolina's. Sixteen thousand years ago, for that matter, Death Valley was green with grass and pine trees, with a clear blue lake in the midst; eight thousand years ago the western Great Plains resembled the Sahara, while the Sahara at that same time was a vast sweep of grassland dotted with trees, watered by annual monsoons and inhabited by lions, gazelles, and giraffes. This kind of change is normal.  Stable climates are not.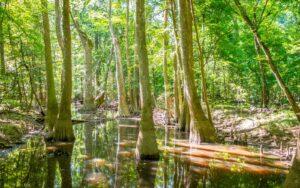 Some of these changes are slow, but others are not. The end of the Younger Dryas climate period around 9600 BC, to judge by the evidence from dozens of ice core samples and proxy measures, saw global average temperatures shoot up between 13° and 15°F in less than a decade—a jolt much more sudden and extreme, that is, than anything predicted by even the most apocalyptic climate change theories. Paleoclimatologists are still trying to figure out exactly what caused that spectacular temperature spike; there are several plausible theories but nobody's yet sure which of them is correct. The green Sahara that followed the ice age began and ended almost as suddenly—according to recent research, it went from desert to grassland in less than a century once shifting climate belts brought the monsoons, and then six millennia later plunged into a series of catastrophic droughts ending in its current condition over a few centuries.
Again, this sort of thing is normal. So is the role of greenhouse gases such as carbon dioxide and methane in driving sudden upward shifts in temperature. One of the theories about the heat spike at the end of the Younger Dryas period focuses on the possible role of huge releases of trapped methane from undersea sediments.  Less speculative is the role of carbon dioxide from the  volcanic eruptions that triggered the Toarcian greenhouse event in the Jurassic period or the Turonian-Cenomanian greenhouse event in the Cretaceous.  If you're thinking of Mt. St. Helens or Mount Pinatubo, think again; these were gargantuan eruptions from miles-long chasms in the earth, spilling hot lava over areas the size of entire European nations and blackening the skies over whole continents with ash clouds that mounted up halfway to space. (Yes, the Earth can do this any time she has a mind to.) Those caused centuries-long temperature spikes far more extreme than anything our smokestacks and tailpipes will ever be able to manage.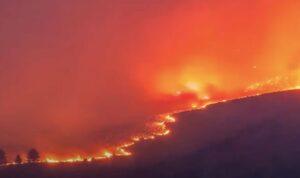 There are two takeaways from these bits of prehistory that I'd like you to grasp. The first is that the Earth's climate is delicately balanced, and can lurch one way or the other with terrifying suddenness, driven by relatively modest shifts in atmospheric gas composition.  The second is that the consequences, traumatic as they can be, don't add up to the end of life on earth. They don't even add up to the end of humanity. Our species was already here in 9600 BC when the Younger Dryas period ended, after all. You know those flood legends found in practically every culture around the world?  The cataclysmic glacial melting and sea level rise that followed the 9600 BC temperature spike account for most of those—and that shows, in turn, that there were people who survived to tell those tales.
That is to say, both the mainstream conservative and mainstream liberal views discussed toward the beginning of this post are wrong. It's in the middle ground between "it's not a problem" and "we're all going to die" that we can find the future toward which we're headed.
I should probably stress at this point that it's not a matter of getting that future if X or Y or Z isn't done in time. We're long past the point where that rhetoric means anything. For one thing, the amount of carbon dioxide and other greenhouse gases already spilled into the atmosphere is more than enough to destabilize the planet's climate and tip us over into drastic changes. For another, it's not as though the people who insist we have to stop emitting carbon or we're all going to die have shown the least willingness to stop emitting carbon themselves. I trust all my readers are aware of the annual clownfest at Davos, where rich people fly private planes from the far corners of the planet, belching CO2 into the skies all the way, to make earnest statements about how important it is to cut our CO2 releases. If you actually believed that the survival of humanity depended on cutting your CO2 output, would you do that?  Of course not.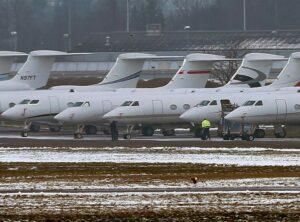 That same attitude extends far down the social pyramid from the oxygen-deprived heights of Davos. I was amused a little while ago to read a diatribe on a collapsitarian forum online, insisting that it was as wrong as wrong can be to claim that individual actions had anything to do with climate change. No, it was all the fault of those awful multinational corporations! The person who posted this either didn't know, or didn't want to admit, that the vast majority of the greenhouse gas pollution released by multinational corporations comes from producing and distributing goods and services for ordinary consumers. I don't recommend mentioning this to climate activists, much less suggesting that they could help the planet no end by cutting their own indirect carbon footprints by, you know, buying fewer products and using less energy. If my experience is anything to go on, you'll get a hysterical meltdown.
There's a lot of this sort of doubletalk in climate change activism, even aside from the Davos crowd trying to use climate change as an excuse to impose their dream of corporate Stalinism on the rest of us, or the Marxists insisting that smokestacks magically stop emitting CO2 the moment they become the property of the proletariat. To judge by what we've seen so far, no matter how heated the rhetoric gets, there's no great risk that the people who believe in climate change will give up their cozy carbon-intensive lifestyles. As long as they refuse to do so, in turn, nobody else is going to do it either—and that being the case, climate change, here we come!
So it's important to take a clear-eyed look at what we're facing. The evidence from earlier periods of rapid climate change is extremely useful here, since it gives us a good idea of what a period of sudden warming is like.  Current trends are already moving in directions sketched out in advance by the Hypsithermal (the post-glacial warm period) or the Eemian climate period, the warm interval between the last two ice ages. Those don't justify the lurid claims made by climate activists in and out of white lab coats:  tropics too hot for human survival, runaway greenhouse effects, and the like. Nor, of course, do they justify the claim that nothing will happen or that it'll all work out for the best.
As I've noted more than once on this blog, the main effect of adding extra heat-retention capacity to the atmosphere will be to increase the efficiency by which heat gets pumped from the equator to the poles.  That means the tropics will warm slightly and the poles will warm dramatically—and since that's what's been happening so far, it's a safe bet that that's what we'll get as things proceed. That's going to have dramatic effects, but they'll be more complex and less simpleminded than your standard climate screed suggests.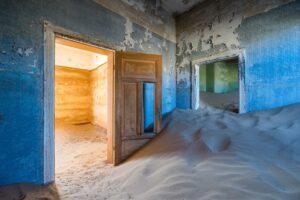 What we're looking at, first of all, is significant shifts in rain and temperature belts. That's already happening, of course. The Colorado River basin is the poster child here. Until recently it got enough rain and snow to keep one of the continent's great river systems flowing, but that's changing.  Water levels in Lake Mead, the main water source for Las Vegas, have fallen so low that people are finding bullet-riddled corpses in barrels in the mudflats, the legacy of Mafia rubouts whose targets were dumped in deep water so no one would ever find them. If this suggests that water levels are at record lows, why, yes, they are—and if things continue as they have been going for the last few decades, we're not that many years from the point at which Las Vegas and quite a few other southwestern cities will have to be abandoned because there's not enough water in the region to support human habitation.
The same thing is happening in other parts of the world, of course, and that's gotten a certain amount of press. What doesn't get a comparable amount of notice is that there are winners as well as losers in this process. Russia is expecting an all-time record harvest for its wheat crop this year, and improved climate conditions in Siberia are an important part of the reason.  The most recent movie in the Mad Max franchise couldn't be filmed in the Australian outback—they had to move filming to Africa because rainfall in the outback has increased so much that it looks too green. Once we pass whatever threshold will be needed to bring the monsoons back to north Africa—as far as I know, nobody knows what that is yet—the people of parched countries such as Sudan and Chad will be staring openmouthed at miracle as water comes sluicing down from the skies for the first time in five thousand years.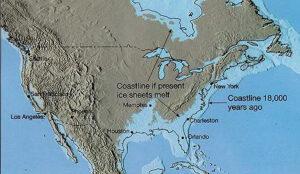 So there are upsides as well as downsides. That's less true of the next impact of climate change I want to discuss, which is glacial melting and sea level rise. Like so many things in nature, this is a relatively slow process punctuated with sudden disasters. The melting of the arctic sea ice, the focus of so many media diatribes of late, isn't the thing that matters most.  What matters most is Greenland and Antarctica. There's enough ice in the Greenland ice cap to send sea level up 50 feet, and enough more in Antarctica to send it up another 250 feet beyond that.  Once those melt, and there's no reason to think that they won't, most of the world's big cities will be underwater, and Tennessee will have a seacoast.
That won't happen overnight. (If you're thinking of that dreary Hollywood potboiler The Day After Tomorrow, relax; it's roughly as realistic as Sharknado.) Really fast sea level rise in an era of global melting is around a foot a year. A more common pace is an inch or two a year. There are two things that can speed up the rising waters, admittedly, and those need to be kept in mind. The first is that meltwater from sheet glaciers like Greenland's and Antarctica's tends to pool in huge proglacial lakes, which dump into the sea at unpredictable intervals. There aren't any of those yet, though they'll likely make things fun for our descendants.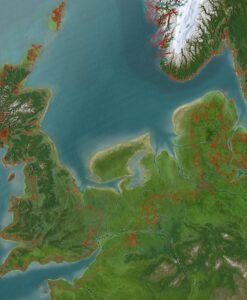 The second is that melting ice sheets very often destabilize undersea sediments, which can cause gargantuan underwater landslides and equally huge tsunamis.  How huge?  One of them cut off Britain from Europe in a single hideous day around 6200 BC. There were people living on dry land in what's now the North Sea at that time, quite a few of them.  They all died. A scattering of their artifacts have been found by archeologists who have sampled the sea floor:  silent witnesses to entire peoples and cultures that were scoured off the face of the planet by one of nature's ordinary convulsions.
The risk of huge tsunamis from sediment collapse is localized, and depends entirely on being not too far from a melting ice sheet. I wouldn't want to be close to sea level in western Europe or the southern parts of Africa, South America, or Australia, but outside of those areas the direct effects probably aren't much of a problem. Equally, if you don't happen to live in one of the areas that's going to be hit by desertification from shifting climate belts, your exposure to climate change will be mostly indirect. That doesn't mean that they'll be nonexistent; it means that they'll hit you and the rest of the world in that most vulnerable place, the pocketbook.
Consider what happens once serious glacial melting gets started in Greenland and Antarctica, and sea level begins its slow and inexorable rise.  There are thousands of cities around the world at or near sea level, with infrastructure worth trillions of dollars, and there are ports on which the flow of goods around the world depend. You can't just pick those up and move them to higher ground.  You can't move the port facilities too far, or ships won't be able to reach them—but if you don't, you'll have to move them again in another decade or two, at more expense, or come up with some way for the port facilities to rise with the water, at still more expense.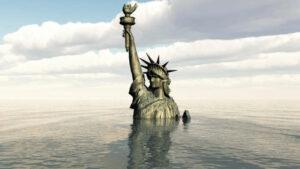 All those abandoned buildings with salt water sloshing in their basements and salt rust gnawing at their structural steel have to be replaced, too, and that costs more money, more resources, and more energy. Now factor in the infrastructure losses involved in the near-abandonment of the western half of the United States and a great many similar areas around the world, the new infrastructure needed in other areas that get rain again for the first time in millennia, and the need to retool and reorient our remaining agricultural acreage for completely different crops, in a situation when nobody knows for sure just how long the growing season will be and just how much rain to expect from one year to the next. Let's just hope that the technology mavens don't try to fix things, either—nobody knows enough about global climate to do this without a very high risk of making things much, much worse.
Keep on totting up the cost, and the real impact of anthropogenic climate change comes into sight:  a crippling economic burden dragging down national economies and standards of living across most of the warming world, with famines of varying severity thrown in at random intervals just to add spice to the mix. Population contraction is already a done deal—we will certainly see peak global population within a decade, given current demographic trends, and we may already be at the peak. Add in the impact of famines, economic depressions (which historically drive birth rates down), and the likelihood of wars over resources, farmland, and food supplies, and you've got a world in deep trouble for the next half millennium or so, with no way out.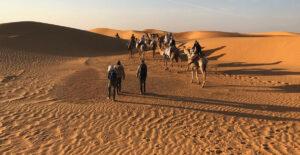 That being the case, dear reader, how do you prepare for it?  If you live in a region that's starting to suffer from desertification, your options are very limited and you may want to get out now, before the mass migrations start. If you're sure the place where you're staying will become one of the oasis towns in the new desert, and you're willing to cope with a great deal of turmoil and dislocation, buckle down and learn as much as you can about survival in very dry conditions. Elsewhere, consider the climate a few hundred miles closer to the equator and get ready for it. If you have acreage, or even a little garden space, consider finding out what grows well in your future climate and planting some.
That's not limited to food plants, by the way. Animals can migrate, but plants have a harder time pulling up their roots and heading toward the poles; if you can get some plants well suited to the climate you're going to have, and get them in the ground now, that's going to help the local ecosystem shift. Yes, those will be invasive species. Invasive species are how the biosphere deals with environmental change, and the frantic hatred of invasive species shown by the clueless in recent years is another sign of just how detached most people are from the realities of nature.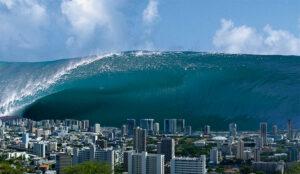 If you live within twenty feet of sea level, by the way, or within a hundred feet of sea level anywhere in a straight line from a soon-to-be-disintegrating ice cap, you might want to consider relocating. If your livelihood depends on access to the ocean or to products shipped from overseas, you might want to consider figuring out what you're going to do if we get a burst of fast sea level rise and most of the world's port facilities become inoperable. An inland port, such as the ports on the Great Lakes, might be an option worth considering.
The time frame?  That's the wild card when it comes to climate change.  If things continue along their current track, expect problems really beginning to pile up around the time that the current energy crisis winds down—say, ten years from now.  If we get whatever abrupt amplification process triggered the end of the Younger Dryas period, it could be much sooner—or not.  We really, truly, just don't know.