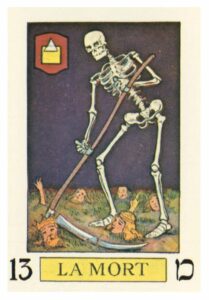 With this post we continue a monthly chapter-by-chapter discussion of The Doctrine and Ritual of High Magic by Eliphas Lévi, the book that launched the modern magical revival.  Here and in the months ahead we're plunging into the white-hot fires of creation where modern magic was born. If you're just joining us now, I recommend reading the earlier posts in this sequence first; you can find them here.  Either way, grab your tarot cards and hang on tight.
If you can read French, I strongly encourage you to get a copy of Lévi's book in the original and follow along with that; it's readily available for sale in Francophone countries, and can also be downloaded for free from Archive.org. If not, the English translation by me and Mark Mikituk is recommended; A.E. Waite's translation, unhelpfully retitled Transcendental Magic, is second-rate at best—riddled with errors and burdened with Waite's seething intellectual jealousy of Lévi—though you can use it after a fashion if it's what you can get. Also recommended is a tarot deck using the French pattern:  the Knapp-Hall deck (unfortunately out of print at the moment), the Wirth deck (available in several versions), or any of the Marseilles decks are suitable.
Reading:
"Chapter 13: Necromancy" (Greer & Mikituk, pp. 124-131).
Commentary:
This chapter, with its deliberately spooky title and its focus on the apparitions of the dead, has to be understood in the context of a cascade of events that was busy shaking the popular beliefs of the western world right down to their core while Lévi wrote.  In 1848, three young girls living with their parents in a village in upstate New York heard knocking sounds coming from under the floor of their farmhouse. The girls decided to try to communicate with the sounds, using codes of the "one for yes, two for no" variety, and promptly received a classic ghost story: a man murdered and secretly buried under the farmhouse by an earlier tenant.
Ghost stories along these lines were standard bits of frontier folklore at the time, and have parallels dating back to ancient times in every corner of the world. The reaction, however, was anything but standard. The burgeoning mass media of the United States picked up the story of the Fox sisters and their conversations with a ghost and ran with it. In the months that followed, other reports of communication with the dead began to appear, and people who had learned the methods made famous half a century before by Franz Anton Mesmer found that they could make the communication a much simpler and more public experience by putting themselves into trance and allowing spirits to speak through them. Astounding events were reported: objects moving by themselves, visions taking shape in the darkness, ghosts passing on secrets no one else could have known. The Spiritualist phenomenon was born.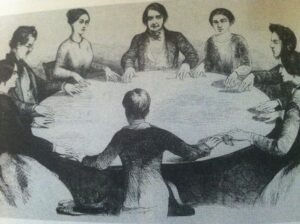 It deserves to be noted here that a great many of these amazing events were the result of nothing more spiritual than stage magic and deliberate fraud. Accusations of fakery swirled around the phenomenon from the very beginning, and some of them were very well founded. There was also no shortage of well-meaning mediums who were tapping into nothing more profound than the shallow end of contemporary pop culture, filtered through their subconscious minds. At the same time, not all Spiritualist mediums were fakes or fools, and "psychical researchers," as they called themselves, who set out to investigate Spiritualism with open minds documented a certain number of really remarkable paranormal events.  The resulting tangle of fraud, folly, and genuine high strangeness has defined Spiritualism from its beginnings right up to the present.
By the time Lévi started writing The Doctrine of High Magic, in other words, the phenomenon that started in the Fox family cellar had to be taken into account by anyone who hoped to talk  about occultism. Spiritualism had long since leapt the Atlantic, successful Spiritualist mediums from America were doing European tours, and European mediums were beginning to compete with them for large and lucrative audiences. Occultists on both sides of the Atlantic were fascinated by the new phenomenon and set out to make sense of it in the light of traditional occult teaching. Lévi was neither the first nor the most famous of those who put their occult interpretation of Spiritualism into print, but his analysis influenced many later writers and is worth studying on its own account as a thoughtful response to a pop-culture frenzy.
He made four points in his discussion. The most basic is that there really was something going on.  He was doubtless aware of the fake end of the Spiritualist scene but does not mention this in the chapter we are discussing. His starting point was that in at least some cases, something genuinely uncanny was happening, and he backed this up with references to his own experiences evoking the spirits of the dead, using a more traditional method than the one that had become popular among mediums and their audiences.
The second point, which follows from the first, is that there was nothing new about Spiritualism except for the method that mediums were using to give voice to the dead. If Lévi had lived a little later and had access to information about the magical practices of other cultures, he could have drawn an even firmer line, for the only thing unique about Spiritualist mediums in 1848 was that trance mediumship hadn't been common in the western world for a while. To cite only one example, mediums in Japan have been going into trance and giving voice to spirits variously human and unhuman as far back as written records go; Carmen Blacker's fine book The Catalpa Bow, which should be required reading for anyone interested in the cross-cultural dimensions of magic, documents this among other elements of Japanese occultism.
Go back a couple of centuries, in fact, and Spiritualism had another name, the one Lévi used: necromancy. This literally means "divination by the dead," from the Greek words nekro-, "dead," + manteia, "divination." Some branches of western magical literature are well stocked with rituals for conjuring the spirits of the dead into visible manifestation in order to receive information no living person knows. The art of necromancy had a dubious reputation at best in earlier times, for reasons we'll discuss shortly, but it was certainly known.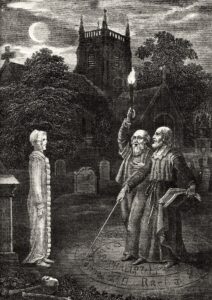 The third point Lévi made was more challenging to the received wisdom or folly of popular culture. This point holds that the methods of necromancy, or its modern equivalent Spiritualism, don't actually make contact with the souls of the dead. It is the astral light, he points out, "that makes tables speak and gives answers by knocking on walls." Spiritualist mediums and ancient necromancers alike make contact with images in the astral light, some of which are simply reflections of the person made while still living, and some of which have a grimmer origin.
As our text notes, in the process of death the soul leaves behind two cadavers, not one: a physical corpse, which is buried, and an astral corpse, which remains in existence for a certain period and then dissolves. It is these astral corpses which are the source of the more dramatic Spiritualist manifestations. Even after the soul finally leaves the astral corpse, which can take some time, the astral shell retains echoes of the passions and motives that drove its occupant during life, and sometimes a ghostly remnant of personality. These details of occult philosophy explain the phenomena of the seance-room far better than the claim that the dead are really present.
It's a common finding of Spiritualist research that the ghosts who speak through mediums can feel and remember but can't think. Mediums who claim to be in touch with great philosophers and mystics routinely embarrass themselves by being unable to give voice to anything other than vacuous platitudes.  Lévi's interpretation explains this neatly.  Yes, he says, necromancy can conjure up genuine visions, which are honestly experienced by the witnesses; yes, it can be possible to get accurate information from the phantoms thus evoked; no, the person in question isn't actually there. He or she has risen to a plane beyond the reach of conjurations.
Lévi's fourth point is edgier than any of the previous three points. He argues that necromancy is dangerous to practice, and causes harm to the physical and mental health of the person who practices it.  He was far from the only occultist who came to this conclusion. The kind of evocation he describes in this chapter seems to be particularly dangerous to the practitioner, but trance mediumship of the Spiritualist variety can be just as toxic if it's not surrounded by appropriate protections and invocations of benevolent spiritual entities.
Our text's comments about the elderly woman who provided Lévi with the material for his evocations will ring true to any of my readers who has spent time in the occult community. The pointless outbursts of irrational anger and the sudden lapses in reason are common enough among occultists of a certain stripe. It's true, of course, that every spiritual tradition has its potential problems and its besetting sins; the pervasive troubles with sexual abuse roiling the Southern Baptist movement as I write this, which of course has done the same thing for plenty of other Christian churches already, is one example of many, and it's by no means the worst.
The problem with mental imbalance seems to be specific to dealings with the dead, or with malefic spirits; Lévi includes goetia—that is, the art of summoning demons—in his discussion of the dangers of ceremonial magic. By contrast, trance possession by deities and other superhuman beings has been an important part of many spiritual traditions around the world for a very long time, and for that matter can be seen in any old-fashioned Pentecostalist church.  From any perspective but theirs, after all, possession by the Holy Ghost is simply one more example of possession by a nonhuman spiritual entity. People can apparently do this under certain conditions without ill effect, so long as the entity in question is far enough above the human level.
Lévi is making a somewhat broader point here, however, and it's one that he will develop in much more detail as we proceed. Grant that will and imagination have the power to influence the astral light, grant that the human mind can put itself into a condition  where it can perceive the astral light directly, and grant that these are the secrets behind the traditions of ceremonial magic: is it really necessary to go through the elaborate forms of medieval ritual in order to get the effects in question?  Lévi's implication is that this isn't necessary at all. While he faithfully sets out a classically ornate system of ceremonial magic in the second half of his book, one of the core themes of his entire teaching is that this is only one way to do the work, and not necessarily the most useful of the available options.
That theme became a significant fault line across the occult community for more than a century after Lévi's time. Among the occult schools of that era, a minority enthusiastically embraced ceremonial magic—the Hermetic Order of the Golden Dawn is of course the most widely known example—while a substantial majority turned aside from the full-blown ceremonial path and worked with will, imagination, and the astral light using other means: meditation, visualization, affirmations, and more. Both of these are valid approaches. Both have their downsides and their difficulties, both also have their strengths and distinct benefits.  Lévi was subtle enough to leave both options open to his readers.
In addition to the explicit discussion of ceremonial magic and the implicit discussion of Spiritualism that take up most of this chapter, Lévi inserts a few other details of Cabalistic lore regarding the beginning and end of incarnation. He seems to have drawn all of this from one Hebrew tractate, Shaar ha-Gilgulim or Treatise on the Revolutions of Souls, by the sixteenth-century Jewish Cabalist Isaac Luria. Luria was hugely influential in the development of Jewish Cabalistic thought, but his ideas were also idiosycratic and expressed in an intricate symbolism far from easy to decipher and by no means always to be taken literally.
The ideas that souls are born from the intercourse of angels, that souls fleeing from the astral phase of the afterlife can take on an "embryonic" status in the living bodies of other people, and that souls can go on into the afterlife while their former bodies are still alive—these are, as far as I know, not part of the teachings of any later occult school. (You'll have to talk to a well-informed Jewish Cabalist to find out what their status is in the Jewish Cabalistic scene; the gap between occult and Jewish ends of the tradition, here as in most things, is considerable.) Treat them as symbolic statements, explore them in meditation, and see what they teach you
Notes for Study and Practice:
It's quite possible to get a great deal out of The Doctrine and Ritual of High Magic by the simple expedient of reading each chapter several times and thinking at length about the ideas and imagery that Lévi presents. For those who want to push things a little further, however, meditation is a classic tool for doing so.
The method of meditation I am teaching as we read Lévi is one that is implicit in his text, and was developed in various ways by later occultists following in his footsteps.  It is a simple and very safe method, suitable for complete beginners but not without benefits for more experienced practitioners.  It will take you five minutes a day.  Its requirements are a comfortable chair, your copy of Lévi's book, and a tarot deck of one of the varieties discussed earlier.
For your work on this chapter, take Trump XIII, the traditionally nameless card of Death.  Your first task is to study it and get familiar with the imagery. Sit down, get out the card, and study it.  Spend five minutes doing this on the first day you devote to this practice.
Your second task is to associate a letter with it. Lévi gives you two options, the Hebrew letter מ (Mem) or the Latin letter N. As noted earlier, you should choose one alphabet and stick to it. The sound values aren't of any importance here, nor is there a "right" choice. You're assigning labels to a mental filing cabinet.  Most people can make the necessary association quite promptly, but spend a session exploring it. Sit down, get out the card, and study it.  Relate it to the letter in any way that comes to mind.
The third and fourth sessions are devoted to the titles Lévi gives for the card: Ex Ipsis and Mors. Sit down, get out the card, and study it. How does Ex Ipsis, "out of itself," relate to the imagery on the card and the letter you've chosen?  That's one session.  How about Mors, "death"?  That's the next one.  Then choose a third word that sums up, for you, the lessons of this chapter, and use it for the next meditation. Approach these in the same way as the concepts you explored in earlier meditations.
Don't worry about getting the wrong answer.  There are no wrong answers in meditation.  Your goal is to learn how to work with certain capacities of will and imagination most people never develop.  Stray thoughts, strange fancies, and whimsical notions do this as well as anything.
Sessions six through the end of the month are done exactly the same way, except that you take the concepts from the chapter. Sit down, get out the card, and study it. Then open the book to Chapter 13 of the Doctrine and find something in it that interests you.  Spend five minutes figuring out how it relates to the imagery on the card, the letter, and the three titles. Do the same thing with a different passage the next day, and the day after, and so on. If you run out of material for meditation in this chapter, you can certainly go back to the previous chapters and review what they have to say.
Don't worry about where this is going. Unless you've already done this kind of practice, the goal won't make any kind of sense to you. Just do the practice.  You'll find, if you stick with it, that over time the card you're working on takes on a curious quality I can only call conceptual three-dimensionality:  a depth is present that was not there before, a depth of meaning and ideation.  It can be very subtle or very loud, or anything in between. Don't sense it?  Don't worry.  Sit down, get out the card, and study it. Do the practice and see where it takes you.
We'll be going on to "Chapter 14:  Transmutations" on July 13, 2022. See you then!