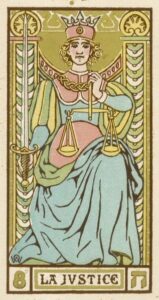 With this post we continue a monthly chapter-by-chapter discussion of The Doctrine and Ritual of High Magic by Eliphas Lévi, the book that launched the modern magical revival.  Here and in the months ahead we're plunging into the white-hot fires of creation where modern magic was born. If you're just joining us now, I recommend reading the earlier posts in this sequence first; you can find them here.  Either way, grab your tarot cards and hang on tight.
If you can read French, I strongly encourage you to get a copy of Lévi's book in the original and follow along with that; it's readily available for sale in Francophone countries, and can also be downloaded from Archive.org. If not, the English translation by me and Mark Mikituk is recommended; A.E. Waite's translation, unhelpfully retitled Transcendental Magic, is second-rate at best—riddled with errors and burdened with Waite's seething intellectual jealousy of Lévi—though you can use it after a fashion if it's what you can get. Also recommended is a tarot deck using the French pattern:  the Knapp-Hall deck (unfortunately out of print at the moment), the Wirth deck (available in several versions), or any of the Marseilles decks are suitable.
Reading:
"Chapter 8: Realization" (Greer & Mikituk, pp. 88-95).
Commentary:
One of the great difficulties faced by scholar and mage alike in the present era is the general decay of vocabulary that has afflicted all the languages of the West. Words that once had a specific and definite meaning have become vague sounds indicating approval or disapproval, not noticeably different in function or meaning from the whine or the growl of a dog.  Even when some shred of conceptual meaning still clings to a word, too often it has next to nothing to do with what the word meant when some author of an earlier century put it to use. The result is a confusion that can be avoided only by those who remember that the words they encounter might once have meant something.
This chapter's title is a good example of the confusion that this process can cause. When most English-speaking people these days use the word "realization" they mean, if they mean anything at all, the mental process of coming to remember or understand something: "That's when I realized that I'd forgotten to mail the letter," for example. This isn't what Eliphas Lévi is writing about in this chapter. Those readers who have investments or like to track the markets will know another meaning:  to realize on an investment in brokers' jargon is to cash it in, and convert its notional value to money you can spend. That's not what Lévi is writing about here, either, though it's a little closer to the meaning he had in mind.
To realize is literally to make something real.  When our text talks about realization, it means the process by which something in the realm of thoughts and ideas takes shape in the astral light, and descends from there into material form.  This is an essential part of magical practice, for magic, to borrow a phrase from theology, is justified by works rather than faith.  From the perspective of the mage, a belief is true if it works.  Here is a claim of fact: if you accept it as a hypothesis and act accordingly, do the results fulfill the promise?  If so, the claim is true enough for working purposes. Do the results fail to measure up to the promise? Discard the claim, no matter what abstract arguments or claims of authority bolster it.
Lévi phrases this principle in terms that were more transparent to the audience of his time than they are today: "Magic…does not make a priori judgments until after having established the a posteriori basis for those judgments[.]" The supreme question of classic Western philosophy was what can be known about the world a priori, that is, on the basis of first principles, without bringing in specific data from the empirical sciences or the experiences of daily life. The answer turned out to be "not much," but Lévi isn't interested in exploring what was still, in his time, a fierce and ongoing debate. The mage, he suggests, starts from the other end of the question.  Start with effects you can actually be sure of, and reason from there back to theoretical causes; if you do that, whether or not your theories are true in any absolute sense, you can count on getting the results you want when you want them.
The essential tool that traditional magical thinking uses to work back from effects to causes is the law of analogy. Start with what you know, and use that as a model or a metaphor for what you don't know:  that's how occult philosophy works. If, as some religions teach, humanity is made in the divine image, what you know about yourself becomes a source of metaphors you can use to reason about divinity. Do some of those metaphors seem awkward, embarrassing, bizarre?  That didn't matter to the creators of the ancient myths, who were comfortable using the most robustly physical aspects of human existence as a source of analogies. It also didn't matter much to the compilers of the Old Testament, who were equally comfortable imagining God walking like a human being in the garden of Eden in the cool of the day (Genesis 3:8).
The thing to keep in mind about these analogies is that they may start out as abstractions but they don't remain that way for long. Again, the conceptions of the world of thoughts and ideas take on form in the astral light, for good or ill, and become powers that influence human consciousness. The astral light, as Lévi points out, is the expression of the intellectual light, as the intellectual light is the expression of the divine light—or, more precisely, the intellectual light can express the divine light. It can also express the diabolical darkness, or for that matter the whole spectrum of color between these two poles. Its forms can be pure or debased, they can lead to regeneration or degeneration, and to a galaxy of other destinations as well.
The medium for these transformations is the process that Lévi (like many other occultists of his time) called magnetic respiration. By "magnetism," as usual, he refers to the life force, the substance of the astral light.  The diaphane, the body of astral light possessed by everything that exists, breathes in and out, taking in astral influences from its surroundings and giving off astral influences in turn. In the presence of wise and holy persons, or of the places they have been and the things they have touched, the diaphane of another person draws in their influence and makes that person a little wiser and more holy.  Equally, the same process has other effects when we are in the presence of people, places, and things charged with different influences.
One implication of this set of processes is that there is no privacy in the astral light.  Everything you have thought, said, and done is imprinted permanently on your diaphane. From there, the influences of those imprints radiate inward to shape your experience of yourself and the world, but they also radiate outward to affect the people, places, and things you encounter.  Most people sense those outward radiations to some degree, and find other people attractive or repulsive as the radiations of the two diaphanes harmonize or clash.  People who have developed an unusual degree of sensitivity to the astral light can sometimes sense the details of a strongly imprinted desire or memory in another person's diaphane. All this is normal; as Lévi points out, nothing is more natural than miracles. What seems miraculous to us is simply the working out of natural laws we do not yet know how to anticipate or understand.
The astral side of sex is equally subject to those laws, which exercise considerable influence on every dimension of sexual desire and fulfillment. In Lévi's time students of occultism had just begun the hard work of sorting out the subtle dimensions of the human organism, and so his comments here should be taken as a helpful first sketch of a picture developed in much more detail after his time. He notes that most men have diaphanes that are polarized one way, and most women have diaphanes that are polarized the opposite way; that opposition of polarities plays a potent role in sexual attraction between men and women.  In a significant number of cases, as he also notes, the polarities don't match this pattern, resulting in same-sex attraction.
Aside from its role in explaining some aspects of human sexual behavior, that variation in polarity has other implications. Practitioners of magnetic healing, our text suggests, need to be aware of variations in the diaphane in order to heal effectively. Lévi is not in the business of teaching magnetic healing, so his comment about including instructions for magnetizers in the second part of his book needs to be taken in context; what he means here, and in various other contexts where he makes such promises, is that systematic practice of the disciplines covered in The Ritual of High Magic will provide the student with the necessary skill.
The astral light has effects that go beyond sexual interactions between individuals, for that matter.  It mediates between the individual and the collective consciousness of family and communlty, with immense consequences for good or ill. Lévi is concerned to warn his readers about the destructive side of this equation, for reasons that are more than usually relevant just now. The examples he cites are all causes celebrés from French history, and readers who are interested in learning more about the potential for dangerous effects from the astral light could do worse than to look up, for example, the cases of the nuns of Loudon or Louviers, and watch the way that a literal witch's brew of celibacy and frustrated (or not so frustrated) passion can spin out of control and lead to atrocious consequences.
It's important to keep in mind that these consequences, and the processes that drive them, are no more moral or ethical than earthquakes or electrocution.  As Lévi points out, the astral light is the weapon on both sides of the legendary battle between the fallen and unfallen angels, and reflects the imaginations and desires of all and sundry without taking sides or playing favorites. In the language of the alchemists, it is Mercury, who roams the world enjoying the company of the good and evil alike.  This doesn't mean that ethical principles don't matter when dealing with the astral light; what it means is that your ethical principles won't protect you from the consequences of stupid actions.  What makes an action smart or stupid in terms of the astral light has no necessary connection to its ethical dimension.
Plenty of things that are significant parts of traditional religious practice, for example, have no moral dimension at all, or at most have moral metaphors pasted on over a practical reason rooted in the behavior of the astral light. Most religions that have been around for more than a few centuries, for example, have formal requirements for purification with water that need to be met before entering into sacred spaces. The holy water available at the doors of Orthodox churches, and those Catholic churches staffed by clergy who haven't given up and become agnostic in all but name, are cases in point: using water to purify oneself before entering a church or temple goes way back—ancient Greek and Roman temples had similar arrangements, for example, and you can find the same thing in common use today at Shinto shrines in Japan.
A great deal of moral commentary has been loaded onto this but the reason for it, from a magical point of view, is pragmatic. Approaching a sacred space when your diaphane is full of influences not suited to such a space is bad for the space, the other worshippers, and you. Cleansing yourself with water, which absorbs the astral light in certain ways and can communicate a blessing or wash off a contamination, helps keep that from happening.  Is more thorough purification appropriate?  Sure; your devout Shinto practitioner, like Orthodox Jews in a mikveh or Agamemnon and his warriors in the first chapter of the Iliad, uses complete immersion in water to remove more serious impurities.
It's possible to approach certain kinds of behavior that look entirely ethical with this same way of thinking, and make unexpected sense of them. Lévi does this in the last paragraphs of this chapter. Are mercy and forgiveness moral virtues?  Yes, but they also have a wholly pragmatic magical value because of their effects on the astral light.  If you put a curse on someone, even with the best motives in the world, that act will circle back around to affect you in destructive ways—and no, it doesn't matter in the least whether you believe this or not. The law of repercussion is as impersonal and amoral as the law of gravity, and your lack of belief in it will not affect it any more than believing that you can fly makes it safe for you to jump off a bridge.
In exactly the same way, if you direct your efforts toward blessing and healing others, even if you do this for reasons that have not a single scrap of altruism in them, the results will circle back around to affect you in beneficial ways. What goes around really does come around, irrespective of the motives that set the cycle in motion.  Keep this in mind and act accordingly, and the future that you make for yourself will be more to your liking.
Notes for Study and Practice:
It's quite possible to get a great deal out of The Doctrine and Ritual of High Magic by the simple expedient of reading each chapter several times and thinking at length about the ideas and imagery that Lévi presents. For those who want to push things a little further, however, meditation is a classic tool for doing so.
The method of meditation I am teaching as we read Lévi is one that is implicit in his text, and was developed in various ways by later occultists following in his footsteps.  It is a simple and very safe method, suitable for complete beginners but not without benefits for more experienced practitioners.  It will take you five minutes a day.  Its requirements are a comfortable chair, your copy of Lévi's book, and a tarot deck of one of the varieties discussed earlier.
For your work on this chapter, take Trump VIII, La Justice, "Justice."  Your first task is to study it and get familiar with the imagery. Sit down, get out the card, and study it.  Spend five minutes doing this on the first day you devote to this practice.
Your second task is to associate a letter with it. Lévi gives you two options, the Hebrew letter ח (Cheth) or the Latin letter H. As noted earlier, you should choose one alphabet and stick to it. The sound values aren't of any importance here, nor is there a "right" choice. You're assigning labels to a mental filing cabinet.  Most people can make the necessary association quite promptly, but spend a session exploring it. Sit down, get out the card, and study it.  Relate it to the letter in any way that comes to mind.
The third and fourth sessions are devoted to the two titles Lévi gives for the card: Hod and Vivens. Sit down, get out the card, and study it. How does Hod, Glory relate to the imagery on the card and the letter you've chosen?  That's one session.  How about Vivens, "living"?  That's the next one.  Once again, you'll have to choose a third word for this chapter, and that word is the theme of the fifth session.  Approach it in the same way.
Don't worry about getting the wrong answer.  There are no wrong answers in meditation.  Your goal is to learn how to work with certain capacities of will and imagination most people never develop.  Stray thoughts, strange fancies, and whimsical notions do this as well as anything.
Sessions six through the end of the month are done exactly the same way, except that you take the concepts from the chapter. Sit down, get out the card, and study it. Then open the book to Chapter 8 of the Doctrine and find something in it that interests you.  Spend five minutes figuring out how it relates to the imagery on the card, the letter, and the three titles. Do the same thing with a different passage the next day, and the day after, and so on.
Don't worry about where this is going. Unless you've already done this kind of practice, the goal won't make any kind of sense to you. Just do the practice.  You'll find, if you stick with it, that over time the card you're working on takes on a curious quality I can only call conceptual three-dimensionality:  a depth is present that was not there before, a depth of meaning and ideation.  It can be very subtle or very loud, or anything in between. Don't sense it?  Don't worry.  Sit down, get out the card, and study it. Do the practice and see where it takes you.
We'll be going on to "Chapter 9:  Initiation" on February 9, 2022. See you then!