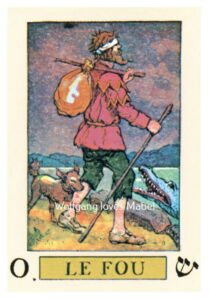 With this post we continue a monthly chapter-by-chapter discussion of The Doctrine and Ritual of High Magic by Eliphas Lévi, the book that launched the modern magical revival.  Here and in the months ahead we're plunging into the white-hot fires of creation where modern magic was born. If you're just joining us now, I recommend reading the earlier posts in this sequence first; you can find them here.  Either way, grab your tarot cards and hang on tight.
If you can read French, I strongly encourage you to get a copy of Lévi's book in the original and follow along with that; it's readily available for sale in Francophone countries, and can also be downloaded for free from Archive.org. If not, the English translation by me and Mark Mikituk is recommended; A.E. Waite's translation, unhelpfully retitled Transcendental Magic, is second-rate at best—riddled with errors and burdened with Waite's seething intellectual jealousy of Lévi—though you can use it after a fashion if it's what you can get. Also recommended is a tarot deck using the French pattern:  the Knapp-Hall deck (unfortunately out of print at the moment), the Wirth deck (available in several versions), or any of the Marseilles decks are suitable.
Reading:
"Chapter 21: Divination" (Greer & Mikituk, pp. 177-182).
Commentary:
Among the things that must be kept in mind when reading The Doctrine and Ritual of High Magic are the changes that have reshaped the entire concept of occultism in popular culture and the occult community alike since Lévi's book first saw print. One of the more striking of these changes is the way that understandings of occultism itself have changed.  Nowadays, when the subject of occultism comes up, a very large number of people think of it as mostly having to do with magic, and specifically with the kind of magic that causes things to happen in the world. An occultist is someone who makes things happen by nonordinary means:  that's the standard view these days, splashed around fantasy novels and Hollywood movies or simply taken for granted among ordinary people.
It's interesting to speculate about how that happened, and to wonder how much of it came from our modern fascination with technology.  Between the zap guns brandished by the heroes and heroines of cheap science fiction, and the lightning bolts coming out with dreary inevitability from the fingertips of countless imaginary wizards, there really isn't that much difference, after all. Science fiction writer Arthur C. Clarke's famous dictum, "Any sufficiently advanced technology is indistinguishable from magic," gave a crisp verbal form to a very common attitude—and of course a certain number of pop-culture occultists have followed suit by pretending to be able to do the kinds of things that technology does, but by nonordinary means.
Widespread as that notion is, however, it's quite simply wrong.  Magic is not technology; the differences between them aren't simply a matter of means but of ends. That's why, if you go hunting in online archives or used bookstores for books on occultism from before the great occult revival of the 1970s, most of the volumes you find won't have much to say about spells to make this or that happen. What they'll teach you, sometimes in astonishing detail, is divination.  That was the heart of the older conception:  an occultist is not someone who makes things happen by nonordinary means, he or she is someone who knows what's happening and what's going to happen, using nonordinary means to gather that knowledge.
Knowledge rather than power is the keynote of the older occultism. That's a concept to keep in mind any time you venture into most pre-1970s traditions of magic. Now of course there were exceptions even in those days. The Hermetic Order of the Golden Dawn taught a lot of ritual magic to its initiates, for example, and Aleister Crowley made ritual magic one of the two core elements of his system of occult training and initiation—but the Golden Dawn was an outlier in its own time, however influential it has become since then, and Crowley was almost universally dismissed in his lifetime as an irritating crank. Most occultists back then went a different route.
All this is of crucial importance in reading this chapter of our text, because Lévi wants to discuss the ultimate secret of occultism:  in his words, "the Great Arcanum, that terrible secret, that secret of life and death expressed in the Bible by the formidable and symbolic speech of the symbolic serpent itself: I. You shall never die, II. but you will become, III. as gods, IV.  knowing good and evil." (Those numbers, of course, are not in the Bible verse Lévi is quoting, and they are also far from irrelevant.)  This ultimate secret, in turn, he proposes to reveal in a chapter about divination.
In this chapter Lévi comes as close as he ever does to revealing the secret of the Great Magical Arcanum, the supreme secret of the occultist.  He gives a riddle, the answer to which is one of the names of the Great Arcanum, and I'd encourage those of my readers who know their way around Hebrew gematria to try their hand at solving it.   He also has some rather less cryptic things to say about the subject, however, and we'll consider those here.
The word "diviner" in English, like its cognate devin in French, comes ultimately from the Latin word divinus, "belonging or relating to a deity." English allows a less labored pun here than the French one Lévi is forced to use:  to divine is to interact with the Divine. This is why the oracles of the ancient world, the most famous places of divination in those times, were all under the guardianship of a deity, and why less prestigious forms of divination such as augury by the flight of birds still had their mandatory religious rituals. The same insight, interestingly, can be found on the other side of the world:  in the esoteric Buddhist traditions that fed into the Japanese martial art of ninjutsu, the goal of certain practices meant to achieve supernormal awareness is described as attaining "the eyes and mind of God."
Here, of course, we are not talking about telling fortunes. We are talking about using the methods of divination—especially, as our text points out a little further on, the tarot deck—as a way to expand consciousness beyond its ordinary limits and perceive the spiritual patterns that underlie all material happenings. Central to the art of divination as Lévi conceives it is the principle he has described as the unique doctrine of magic and the primordial doctrine of Hermes:  that the visible is a representation of the invisible. Take the visible world as a symbol representing the Unseen; what does that symbol mean, and what does it have to teach you?
Implied in this concept is a central theme of Lévi's teaching.  It's a common habit of modern thought, as widespread in Lévi's time as in ours, to see the material world as a closed system. Whatever other reality might exist, according to this way of thinking, its effects can't break through the hard boundaries of the world of matter.  This is true whether that other reality is theological, as in the sort of popular Western Chritstianity that treats religion solely as a ticket to a happier afterlife; cognitive, as in the even more popular custom of thinking of the contents of mind and consciousness as existing solely in a world of their own, without any capacity to influence the closed system of material cause and effect; or imaginative, as in all those fantasy novels that contrast some colorful magical place way off there on the far side of the rainbow with the irredeemably dreary real world in which we all are supposed to live.
Lévi rejected this way of thinking root and branch; so do the occult traditions for which he spoke, and of course so do the spiritual traditions of nearly all places and times. To all of these, the material world we see around us is a realm of effects, and the causes of those effects are found in the Unseen:  the visible is the representation of the invisible. He also held that the laws that govern the material world also govern the spiritual world, and vice versa; this is why he affirmed the reality of the alchemical transmutation of metals, since he already knew of the alchemical transmutations of minds and spirits.
Divination in the technical sense was, in Lévi's view, simply a collection of ways to focus the will and imagination of the diviner on the process of divining. He recognized three broad ways of doing this. The first involves using some source of random blots as a spur for the imagination: tea leaf reading is the form of this that most people nowadays have heard of.  The second involves using a blank visual field to give the imagination somewhere to project its images:  looking into a crystal ball is the form of this second version familiar to most people today.
Both these methods rely on what Lévi calls "the universal and magical doctrine of analogies." The same logic that psychotherapists a century ago used to interpret dreams was applied much earlier by diviners to a wider range of imagery—though divination by dreams was already an ancient tradition when the Old Testament was written, as the patriarch Joseph's career as a dream interpreter demonstrates. Look at the cluster of tea leaves or the dream-images that surface in a crystal ball:  what do they mean?  That's where skill comes into play.
Then there is sortilege, which is the technical term for any form of divination in which the diviner generates or extracts one or more symbols out of a fixed set. Tarot divination is the version of this that Lévi knew best, and discusses in this chapter. There are 78 tarot cards; if you deal yourself one of them, you are certain to get a symbol that you recognize and can interpret—which is not always the case with tea leaves or images in a crystal ball!  Once you have your card, you have to figure out how its message applies to the question you have asked; this is where imagination comes into play, and also where intuition takes over from any more mechanical way of interpreting the cards.
Lévi, as it turned out, was a crucial figure in defining the tarot deck as the most important and influential form of sortilege in the Western world. Before his time, and for some time afterwards,  tarot was mostly a card game; diviners in Paris and Bologna had picked up the habit of using it for fortune-telling, but the same was true of every other commonly used card deck in those cities, and card divination elsewhere typically made use of whatever decks were most commonly used in card games where they lived.
Well before Lévi's time, Antoine Court de Gebelin had claimed that the tarot was  a surviving wisdom tradition from ancient Egypt, and interpreted the enigmatic word "tarot" as a garbled version of tar rosh, which was supposedly Egyptian for "royal road." Unfortunately for this theory, Court de Gebelin wrote before Egyptian hieroglyphs had been deciphered, at a time when not one person on the planet knew a single word of ancient Egyptian; as it turned out, tar rosh doesn't mean anything at all in ancient Egyptian, and "royal road" turned out to be w3t nesw. You can still find people repeating the business about tar rosh, I'm sorry to say; the occult scene has its virtues, but an enthusiasm for accurate history is not often among them.
Jean-Baptiste Aliette, the wigmaker turned diviner Lévi discusses in this chapter, took up the cause and founded a Society of the Interpreters of Thoth to teach his version of tarot divination, but it was still a specialized taste in the occult scene when Lévi picked up his pen. The Doctrine and Ritual of High Magic changed that forever, defining tarot  across much of the occult community as "the perfect instrument for divination."  It was in response to Lévi's enthusiasm for the tarot that Oswald Wirth, Pamela Colman Smith, Paul Foster Case, and the other creative minds who made the tarot what it is today picked up the 78-card deck and did things with it.
Unquestionably the tarot is a very effective instrument for divination. I'm far from sure it's fair to call it, as Lévi did, the best such instrument. Myself, I get equally good results with several other card-based methods of sortilege, and better results with geomancy.  That said, Lévi was a pioneer, making a first exploratory trek through a landscape abandoned by European intellectuals for two centuries; if his report requires amendment in the light of later ventures, it still provides extremely useful guidance to today's explorers.
Notes for Study and Practice:
It's quite possible to get a great deal out of The Doctrine and Ritual of High Magic by the simple expedient of reading each chapter several times and thinking at length about the ideas and imagery that Lévi presents. For those who want to push things a little further, however, meditation is a classic tool for doing so.
The method of meditation I am teaching as we read Lévi is one that is implicit in his text, and was developed in various ways by later occultists following in his footsteps.  It is a simple and very safe method, suitable for complete beginners but not without benefits for more experienced practitioners.  It will take you five minutes a day.  Its requirements are a comfortable chair, your copy of Lévi's book, and a tarot deck of one of the varieties discussed earlier.
For your work on this chapter, take Trump 0, "Le Fou."  Your first task is to study it and get familiar with the imagery. Sit down, get out the card, and study it.  Spend five minutes doing this on the first day you devote to this practice.
Your second task is to associate a letter with it. Lévi gives you two options, the Hebrew letter ש (Shin) or the Latin letter X. As noted earlier, you should choose one alphabet and stick to it. The sound values aren't of any importance here, nor is there a "right" choice. You're assigning labels to a mental filing cabinet.  Most people can make the necessary association quite promptly, but spend a session exploring it. Sit down, get out the card, and study it.  Relate it to the letter in any way that comes to mind.
The third through fifth sessions are devoted to the titles Lévi gives for the card: Dentes, Furca, and Amens. Sit down, get out the card, and study it. How does Dentes, "teeth," relate to the imagery on the card and the letter you've chosen?  That's one session.  How about Furca, "fork"?  How about Amens, "mindless"?   Approach these in the same way as the concepts you explored in earlier meditations.
Don't worry about getting the wrong answer.  There are no wrong answers in meditation.  Your goal is to learn how to work with certain capacities of will and imagination most people never develop.  Stray thoughts, strange fancies, and whimsical notions do this as well as anything.
Sessions six through the end of the month are done exactly the same way, except that you take the concepts from the chapter. Sit down, get out the card, and study it. Then open the book to Chapter 21 of the Doctrine and find something in it that interests you.  Spend five minutes figuring out how it relates to the imagery on the card, the letter, and the three titles. Do the same thing with a different passage the next day, and the day after, and so on. If you run out of material for meditation in this chapter, you can certainly go back to the previous chapters and review what they have to say.
Don't worry about where this is going. Unless you've already done this kind of practice, the goal won't make any kind of sense to you. Just do the practice.  You'll find, if you stick with it, that over time the card you're working on takes on a curious quality I can only call conceptual three-dimensionality:  a depth is present that was not there before, a depth of meaning and ideation.  It can be very subtle or very loud, or anything in between. Don't sense it?  Don't worry.  Sit down, get out the card, and study it. Do the practice and see where it takes you.
We'll be going on to Chapter 22, "Summary and General Key to the Four Occult Sciences," on March 8, 2023. See you then!