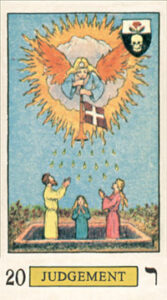 With this post we continue a monthly chapter-by-chapter discussion of The Doctrine and Ritual of High Magic by Eliphas Lévi, the book that launched the modern magical revival.  Here and in the months ahead we're plunging into the white-hot fires of creation where modern magic was born. If you're just joining us now, I recommend reading the earlier posts in this sequence first; you can find them here.  Either way, grab your tarot cards and hang on tight.
If you can read French, I strongly encourage you to get a copy of Lévi's book in the original and follow along with that; it's readily available for sale in Francophone countries, and can also be downloaded for free from Archive.org. If not, the English translation by me and Mark Mikituk is recommended; A.E. Waite's translation, unhelpfully retitled Transcendental Magic, is second-rate at best—riddled with errors and burdened with Waite's seething intellectual jealousy of Lévi—though you can use it after a fashion if it's what you can get. Also recommended is a tarot deck using the French pattern:  the Knapp-Hall deck (unfortunately out of print at the moment), the Wirth deck (available in several versions), or any of the Marseilles decks are suitable.
Reading:
"Chapter 20: The Universal Medicine" (Greer & Mikituk, pp. 173-176).
Commentary:
You, dear reader, are going to die. So am I. So is everyone else who is currently alive, and so is everybody who ever will live.  That's one of the fundamental realities of incarnate existence. Thoughtful people and practical philosophies deal with that fact; they do so in various ways, but they deal with it. On the whole—there have been embarrassing exceptions—the modern occult movement that took its impetus from Eliphas Lévi's writings has dealt with it.  That's one of the major distinctions between occultism and the many pop culture movements that refuse to do so.
I recall chuckling a good many years ago, while reading Alan Harrington's 1969 book The Immortalist, when I encountered this proclamation of his: "Death is an unacceptable imposition upon the human race."  Harrington was the very model of a mid-twentieth century American avant-garde intellectual; he dropped acid with Timothy Leary, hung out with the Beat poets, and appears under a pseudonym in Kerouac's On The Road. His book talked a lot about advanced medical technology on the one hand, and mind over matter on the other.  None of those things kept Harrington from his encounter with the common fate; he died in 1997.
He was one of the more recent entries in a long, long list. I wonder how many people have heard of Joseph Rutherford these days. He was one of the founders of the Jehovah's Witnesses, a firm believer in the imminence of the Second Coming, and his signature line was "Millions now living will never die!" He wasn't one of those millions—he died in 1942—and neither were the enthusiastic crowds who listened to him preach back in the day. (There may be some people who dimly remember him from their childhoods, but they're very, very old.) Go back further in time and you can find plenty of hucksters marketing that same snake oil, back at least as far as the serpent who features in the first chapters of the Book of Genesis.
It's necessary to make this point, and make it firmly, before we turn to this month's chapter of our text. The reason this is necessary is that Lévi is talking about ways to avoid dying, or to return to life after apparent death. Too often this has been taken by those who aren't paying attention as a blanket claim that death can always be avoided or that everyone who appears to be dead can be revived. This isn't what Lévi is saying, and in fact it stands in flat contradiction to the point of this chapter, but the common human desire to wriggle out of unpleasant experiences applies to the experience of dying above all, and wishful thinking—always a potent source of misunderstandings—is even more so than usual in this context.
It's not the only source of misunderstandings, and another of them pops up promptly when anyone who's used to the modern English language reads the first sentence of this chapter:  "Most physical maladies derive from moral maladies, according to the unique and universal magical doctrine and due to the law of analogies."  The trap set for the unwary reader in this passage is the word "moral." The dangers of translation show themselves with unusual force here; there's no English word that comes closer to the meaning of its French cognate morale, but the meanings of the two words are emphatically not the same.
The English speaker thinks of the adjective "moral" as referring solely to one's conformity, or lack of same, to some set of rules of good behavior handed down by a god, sage or philosopher. The French word covers a much broader area:  the entire realm of human motivations, in fact. Consider the English word "morale," which comes a little more directly from the French language, and mostly applies these days to the collective spirit of a group of people, such as a military unit.  It's not the same as morality—keeping your army well supplied with whiskey and harlots, for example, is bad for morals but good for morale. Yet both these things are part of the realm that Lévi wants to discuss in this passage.
To abandon oneself to unreasoning passion, our text suggests, is to set the stage for a physical illness; to fixate on the pursuit of absurd and self-defeating goals is to shorten life considerably. Whether or not this is a universal rule, it's reliable enough that all of the world's wisdom traditions affirm it. To that extent, common notions of morality have useful lessons to teach. Yet there's another side to the question, of course. The passions that drive self-righteousness and moral bullying are just as unreasoning, absurd, and self-defeating as those that drive gluttony and lust, and just as likely to foreshorten one's existence.
It's just as easy to stray from wisdom in the direction of excessive harshness as in that of excessive slackness. Lévi's prescription for a long and happy life—"temperance, peacefulness of the soul, simplicty of character, the calm and reason of the will"—provides no encouragement to the notion that morality consists of angrily insisting that everyone else ought to do what you think they should do. The world's wisdom traditions have quite a bit to say about this, too:  cough, cough, let him who is without sin cast the first stone and all that, just for starters. But human cravings are as ineradicable as human stupidity, and the craving that leads people to puff up their egos by denouncing somebody else as the evilest evil that ever eviled is right up there at the front of the yelling pack.
It's here, however, that Lévi heads off in a direction that can prompt the misunderstandings I noted toward the beginning of this essay. "It is by becoming reasonable and good," our text says, "that man becomes immortal." Lévi is not talking about biological immortality. He makes that very clear in the paragraphs that follow.  Since this is a book of occult teaching and magical practice, not a catechism of a church or a manual of theology, he avoids getting too specific about the nature of the immortality he is discussing, but it is clearly intended to take place outside the material body. The fine metaphor he borrows from the old Stoics—"Let us then be afraid of dirtying and tearing our clothes, but let us not fear leaving them when the hour of rest arrives"—is testimony to that. Beyond that, and a certain amount of discussion in an earlier chapter of Hermetic and Gnostic ideas of the afterlife, he does not venture.
(It's only fair to say that occult traditions nowadays have quite a bit more to say about what happens to the human soul after death, and there's a reason for that. These days most mainstream churches have stopped saying anything useful about the subject, abandoning any sort of coherent theology of the afterlife in favor of empty platitudes that offer little in the way of meaning or comfort to people who are coping with the end of their own lives or the lives of the people they love, or dealing with such ordinary human experiences as near-death visions, encounters with ghosts, and the like. If the churches, synagogues, and other religious establishments would do their job and give people some useful pointers about dying well and dealing with the afterlife, occultists would field far fewer questions about the afterlife, and we could get back to our proper business of causing change in consciousness in accordance with will.)
The last part of our present chapter deals with what was, pardon the pun, a live issue in Lévi's time. Back before modern medical instrumentation was developed, it was surprisingly difficult to be sure that someone was actually dead. The custom of the wake, in which friends and family sat up with the supposed corpse for a period of a couple of days until actual decomposition set in, had its roots in this fact:  it happened often enough to matter that after a while, an apparently dead person might show faint signs of life, and could be revived fully given prompt attention.
Fans of Irish music, for example, will recall the lively traditional song "Finnegan's Wake," the inspiration for James Joyce's novel of the same name.  In the song, Finnegan gets hit on the head by a falling brick and is declared dead; his wake degenerates into a drunken party and the party into a brawl, and some whiskey accidentally gets spilled on the face of the dear (allegedly) departed.  This is enough to jolt Finnegan out of his coma and restore him to life. The song had the popularity it did because such things happened now and again.  The near-death visions reported by people who came through experiences like Finnegan's have, I suspect, a great deal to do with the all but universal human conviction that the death of the material body is a relatively minor event in the longer life of the soul.
Lévi has an interesting comment to make with regard to the resurrection of the almost-dead. He notes that this does not happen to those who have the moral (in both senses) force to overcome the astral attraction of physical incarnation.  He suggests that only elementary souls—that is, those souls that have not yet proceeded very far from the purely animal levels of existence—return spontaneously to their material bodies.  Whether souls of a higher grade can be called back into their bodies by spiritual or magical means is quite another matter, and one that our text discusses in some detail in a later chapter.
One other detail is covered in this chapter: the role of anesthesia.  In Lévi's time anesthetics had just begun to find their way into medical and surgical practice, and many people asked reasonable questions about whether this was in fact a good idea—whether pain was a necessary part of the healing process. The anesthetics then in common use, ether and chloroform, had a fairly high death rate all by themselves, which didn't do much to convince the skeptical that using them was a good idea. Lévi's comments about the use of chemical anesthetics and animal magnetism to eliminate pain need to be placed in the context of that public discussion. Whether Lévi was right in his skepticism toward anesthetics is a question I don't propose to get into here. Readers may come to their own conclusions about the subject.
Notes for Study and Practice:
It's quite possible to get a great deal out of The Doctrine and Ritual of High Magic by the simple expedient of reading each chapter several times and thinking at length about the ideas and imagery that Lévi presents. For those who want to push things a little further, however, meditation is a classic tool for doing so.
The method of meditation I am teaching as we read Lévi is one that is implicit in his text, and was developed in various ways by later occultists following in his footsteps.  It is a simple and very safe method, suitable for complete beginners but not without benefits for more experienced practitioners.  It will take you five minutes a day.  Its requirements are a comfortable chair, your copy of Lévi's book, and a tarot deck of one of the varieties discussed earlier.
For your work on this chapter, take Trump XX, "Le Jugement."  Your first task is to study it and get familiar with the imagery. Sit down, get out the card, and study it.  Spend five minutes doing this on the first day you devote to this practice.
Your second task is to associate a letter with it. Lévi gives you two options, the Hebrew letter ר (Resh) or the Latin letter U. As noted earlier, you should choose one alphabet and stick to it. The sound values aren't of any importance here, nor is there a "right" choice. You're assigning labels to a mental filing cabinet.  Most people can make the necessary association quite promptly, but spend a session exploring it. Sit down, get out the card, and study it.  Relate it to the letter in any way that comes to mind.
The third through fifth sessions are devoted to the titles Lévi gives for the card: Caput, Resurrectio, and Circulus. Sit down, get out the card, and study it. How does Caput, "head, beginning," relate to the imagery on the card and the letter you've chosen?  That's one session.  How about Resurrectio, "resurrection"?  How about Circulus, "circle"?   Approach these in the same way as the concepts you explored in earlier meditations.
Don't worry about getting the wrong answer.  There are no wrong answers in meditation.  Your goal is to learn how to work with certain capacities of will and imagination most people never develop.  Stray thoughts, strange fancies, and whimsical notions do this as well as anything.
Sessions six through the end of the month are done exactly the same way, except that you take the concepts from the chapter. Sit down, get out the card, and study it. Then open the book to Chapter 20 of the Doctrine and find something in it that interests you.  Spend five minutes figuring out how it relates to the imagery on the card, the letter, and the three titles. Do the same thing with a different passage the next day, and the day after, and so on. If you run out of material for meditation in this chapter, you can certainly go back to the previous chapters and review what they have to say.
Don't worry about where this is going. Unless you've already done this kind of practice, the goal won't make any kind of sense to you. Just do the practice.  You'll find, if you stick with it, that over time the card you're working on takes on a curious quality I can only call conceptual three-dimensionality:  a depth is present that was not there before, a depth of meaning and ideation.  It can be very subtle or very loud, or anything in between. Don't sense it?  Don't worry.  Sit down, get out the card, and study it. Do the practice and see where it takes you.
We'll be going on to Chapter 21, "Divination," on February 8, 2023. See you then!