This week we continue a monthly discussion of The Cosmic Doctrine by Dion Fortune, which I consider the most important work of 20th century occult philosophy. Climb in and fasten your seat belts; it's turning out to be as wild a ride as I expected. If you're just joining us now, please go back and read the previous commentaries, which are listed here; the material covered in these earlier posts is essential to making sense of what follows.
As noted in earlier posts, there are two widely available editions of The Cosmic Doctrine, the revised edition first published in 1956 and the Millennium Edition first published in 1995, which reprints the original privately printed edition of 1949. You can use either one for the discussions that follow. The text varies somewhat between the two editions, but the concepts and images are the same, and I'll be referring to both.
Assigned Reading:
Revised Edition:  Chapter 24, "The Law of Limitation, Part One," pp. 112-114.
Millennium Edition: Chapter 26, "The Law of Limitation," p. 152 to the end of the first paragraph on p. 155.
Commentary:
All through the chapters we've already covered, without drawing unnecessary attention to that fact, Dion Fortune has been laying the foundations for detailed, practical instruction on the art of magic. To some extent, that long slow buildup is a matter of camouflage, of a kind very familiar to any of my readers who know their way around the occult literature of an earlier time:  you've got to have the patience to work through the earlier chapters, and understand the terminology they present, in order to make sense of the exposition of practical methods when that arrives.  Yet it's also true that the more you understand about the magical vision of the universe, the more effectively you can use the technical details when you finally get to those.
In this chapter, we've gotten to some of the technical details. Hang onto your hats. What follows, though it's deliberately broken up into brief glimpses and comments, is among the clearest expositions of the mechanics of magical practice you'll ever find in print.
Let's start with the very first sentence of the chapter:  "Limitation is the first law of manifestation, therefore it is the first law of power." Yes, I know, that statement flies in the face of some of the most deeply rooted habits of contemporary popular culture.  To the modern mind, rules are made to be broken and limits exist solely as things to overcome; pop-culture spirituality prattles on endlessly about limitless this and infinite that. Tell most people these days that willingly accepted self-limitation is a source of personal power—in fact, the only source of personal power—and they'll look at you as though you suddenly sprouted an extra head.
Fortune is quite correct, though, and the rejection of limits in today's popular culture is among the main reasons that so many people just now lead lives of failure and frustration.  There are reasons why the idea of limitlessness has been spread so enthusiastically and systematically in recent years, and we'll get to those in next month's post.
Power without limitation is power wasted.  If you spill some gasoline and light it, all you'll get are flames, smoke, and a little waste heat.  Put the same gasoline into an engine, where it will be imprisoned in the hard limits of a steel cylinder when it's ignited, and it can send your car zooming down the road. This is the same principle Fortune introduced back in Chapter Two under the label of "negative evil"—the thrustblock that provides the resistance necessary to put energy into motion—but in this chapter she takes that concept much, much further.
Even the Solar Logos, Fortune suggests, had to accept limits in order to act in the world. She's on solid traditional ground here.  In the writings of Isaac Luria, one of the greatest of Jewish Cabalists, the process of creation begins with an act of self-limitation on the part of God: the first thing an infinite deity has to do, in order to create a universe, is to make it possible for there to be something that isn't God.  This withdrawal of the divine presence, Tzimtzum in Hebrew, set the creation of the universe in motion.  Fortune may well have been familiar with the Lurianic teachings; she was certainly familiar with Christian teaching about the tremendous self-limitation that God had to accept in being born as a human being, so that his death could accomplish the redemption of humanity.  Here again, limitation is the key to power.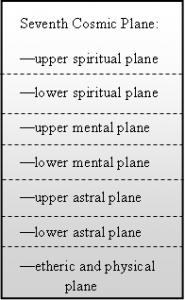 Now consider the second paragraph. Better yet, read the second paragraph three times slowly, paying attention to every word.  (If you've got the Millennium Edition, where the text is divided into paragraphs differently, do this with the first four sentences of the second paragraph.)  What's being described here is the basic template for magical operations. If you want to bring any energy into manifestation on any plane, you have to create a form for that manifestation on the plane immediately above the plane where you want the energy to take action. The diagram on the left shows Fortune's taxonomy of the planes for reference. (This is not the same taxonomy I use in my own writing, so be warned.)
If you want something to happen on the physical/etheric plane, you build the form for it on the lower astral plane, the realm of the passions; if you want something to happen in the realm of the passions, you build the form for it on the upper astral plane, the plane of imagination, and so on.  You build the form on the next plane up, and then call down forces from the planes further up and fill the form with them; the union of force and form then precipitates down onto the plane below the form, and takes effect. Ignorance of this principle is responsible for a great deal of failed magic.
For example, a lot of pop-culture magical practices try to affect attitudes and habits of thought (which belong to the lower mental plane in Fortune's system) using emotional energies from the lower astral plane.  If you want to affect attitudes and habits, you have to build your form on the upper mental plane instead, the plane of meanings and insights; all you can do on the lower astral is shape the etheric and physical plane—whence the frequency with which ideologies that use such methods end up trying to control people rather than convincing them.
Next comes the most important rule of magic you will ever learn. If you retain nothing else from this book, retain these words:  "In order to achieve an end you must outline that end and limit yourself to it, rejecting all that is irrelevant." There. You've just learned the secret of magical attainment. It really is that simple—but "simple," of course, is not the same thing as "easy."
You can attain anything that's possible for you to attain if you follow Fortune's rule. Let's say you want to have a million dollars. Nothing could be simpler.  All you have to do is focus your entire life on making that million dollars. When you get out of bed each morning, assess every hour of the day before you and figure out how you can use that hour as a stepping stone to your million dollars. Consider every activity you might engage in, and if it doesn't further your goal of making money, skip it. Treat every penny that comes your way as a tool for making more money—one of the secrets of wealth, of course, is that you get rich by making your money earn money for you.  Have your eyes constantly open for opportunities to earn money, and pay just as much attention to saving the money you earn and putting it to work for you. Do this, and you'll have your million dollars much sooner than you think.
Note, please, that there are things you cannot achieve this way. "In all undertakings the prime requisit for success is to know what you cannot do:"  Fortune's words offer a useful warning.  Not everything is possible for a human being. Not everything is possible for you.  If you don't have certain kinds of inborn talent, for example, you will never become a great mathematician. (Mathematics is one of the fields in which experienced teachers can tell very promptly which of their students has what it takes and which, no matter how hard they work at it, will never do any original work of value.)  If you're tone-deaf, please don't decide to become an opera singer—the world has already had its Florence Foster Jenkins. Here again the Law of Limitation is important: if you recognize your own personal limits you can use them as thrust blocks to put yourself in motion in some other direction.
What if you want to achieve more than one thing in your life?  Fortune's already waiting there for you.  To the extent that you can, you do one thing at a time. Earn your million dollars; then, once you've got that magic figure in your bank account, take a break, relax, recover from the effort, and then choose the next thing on your list—climbing Mount Everest, say—and do that. Then take another break.  The breaks are important; too much focus, too much intensity of will and singleness of purpose, will unbalance you and lead to various unhelpful states, such as fanaticism or mental illness.  The traditional habit of setting aside a couple of days a week and a couple of weeks a year to rest from labor is a good one, and should be applied as well to the work we're discussing.
Fortune makes a useful distinction in this context.  The terms she uses for the two sides of the distinction are "limited consciousness" and "limitation of consciousness," which is perhaps a little more confusing than it has to be. By the first Fortune means a consciousness that focuses on a narrow range of things because it's never encountered anything else.  By the second she means a consciousness that has encountered many things and chooses to focus on a narrow range of them for its own purposes. (The great mistake of every form of puritanism is that it confuses these two very different things.)  The alternation between concentration and relaxation is a good way to avoid that trap; each period of relaxation, in Fortune's words, provides "broadened consciousness and developed character," which then become the basis for future acts of deliberate and temporary limitation of consciousness.
Another useful point follows. Everyone who's gone through the process of taking up magical practice for the first time knows just how difficult it is to get any results at first. That experience, Fortune points out, is the result of simple inertia, and it doesn't work to try to overcome that by the unaided will. That's where the force of habit becomes an ally of the neophyte. By doing a set of practices by rote, even when they don't seem to be accomplishing anything, a new momentum  is established, and this balances out the existing inertia and gives the individual will the deciding vote. The same principle can used in many other forms of magical working: if you want to overcome the inertia of a habit, don't try to white-knuckle it, establish a countervailing habit and let that build its own momentum.
The next point Fortune makes has to be understood in the context of her time. In the early twentieth century, Theosophy was the template on which most occult teachings were based.  One of the ideas central to Theosophy was a belief in the existence of a spiritual Hierarchy of ascended masters, who accepted good Theosophists as students and servants.  Another was an insistence that good Theosophists should stay away from magic, and limit themselves to meditation and occult study.  Fortune here is simply reassuring her more Theosophically inclined readers that there's nothing wicked or forbidden about magical practice, so long as it's done in an ethical and appropriate manner. Here again, she's quite correct; ceremonial magic is not for everyone, but it's a valid option as part of a spiritually oriented life, and the principles Fortune sets out in this chapter can also be put to work in less obviously magical ways.
Let's go on. One of the major challenges faced by those who want to make change in the world, whether or not they use the specific technical toolkit of the ceremonial magician, is the awkward but inescapable detail that the individual human being counts for very little in the context of the cosmos as a whole.  Scale matters in magic. If you set out to change the world, or a nation, or a community, or even a family all at once, the inertia of your target's existing habits will overwhelm any energy you can bring to bear, and you will fail. As Fortune points out, though, this doesn't mean that you can only achieve small things. It means that if you want to achieve great things, you have to take them one step at a time, focusing on one small change that will further your intention, working on that until it happens, and then moving on to the next small change. The strategy of magic on a large scale is the strategy of drops of water falling on a stone and wearing it away.
Two principles of magical tactics should always be applied while using this strategy, and Fortune gives them both.  First, no matter how tightly you focus on a specific detail of the broader problem, always keep the whole context in mind, and see what you're doing in terms of the movements of the cosmos as a whole. This is one of the reasons that occultists who know what they're doing use astrology and other forms of divination to guide their work. By checking the ebb and flow of the cosmic tides, either directly through the positions of the planets or indirectly through the divinatory oracle of their choice, they stay in touch with what the cosmos is doing. Less obviously magical ways of doing the same thing are of course also important.
The second principle is to find and make use of the natural divisions within the whole system you intend to affect.  Nothing in the universe is an undifferentiated whole. There are always lines of fracture, points at which one part of the problem can be separated from other parts. Here Fortune's advice is extraordinarily canny.  Most people, in and out of occult circles, try to find the natural divisions on what she calls the mental plane, the plane of concepts and ideas, but this often doesn't work well:  things that seem very distinct conceptually very often have close connections in practice, while a single concept can cover several distinct phenomena.
What Fortune recommends instead is to pay attention to the emotions involved in the situation you are trying to affect.  Look for differences in emotional reaction among the people who are involved.  Notice what they want most, and what they want first. Since human beings are complex, figure out what appeals to one side of their nature and what appeals to another side.  Then choose a part of the problem that's linked with a specific, distinct emotional pattern, focus on it with laser intensity, and achieve the change you want.
One last detail of magical technique rounds off this short but extremely important chapter. The advice given earlier to alternate between periods of intensive one-pointed focus and periods of relaxation and broadened consciousness has another reason behind it, and Fortune gives it here. Your capacity for focus enables you to bring power to bear and accomplish work with it, but the power is generated in the periods of relaxation.  It's the latter, the periods when consciousness broadens and relates to the widest possible range of experience, that provides the broad and solid base for the pyramid of your power; only on that base can you rise to the apex of perfect, deliberate, willed focus, and accomplish wonders.
Whew! That's a lot of ground for a single short chapter. Spend the next month contemplating it line by line.  If you practice magic, see how you can apply the insights offered here to your own practices.  If you don't practice magic, consider applying the same insights to your own life. They work equally well either way.
Notes for Study:
As already noted, The Cosmic Doctrine is heavy going, especially for those who don't have any previous exposure to occult philosophy. It's useful to read through the assigned chapter once or twice, trying to get an overview, but after that take it a bit at a time. The best option for most people seems to be to set aside five or ten minutes a day during the month you spend on this chapter. During that daily session, take one short paragraph or half of a long one, read it closely, and think about what you've read, while picturing in your mind's eye the image you've been given for that passage of text.
As you proceed through the chapter and its images, you're likely to find yourself facing questions that the text doesn't answer. Some of those are questions Fortune wants you to ask yourself, either because they'll be answered later in the book or because they will encourage you to think in ways that will help you learn what the text has to say.  It can be helpful to keep a notebook in which to write down such questions, as well as whatever thoughts and insights might come to you as you study the text.
Questions and comments can also be posted here for discussion. (I'd like to ask that only questions and comments relevant to The Cosmic Doctrine be posted here, to help keep things on topic.) We'll go on to the next piece of the text on September 9, 2020.  Until then, have at it!