This week's Ecosophian offering is the monthly (well, more or less!) open post to field questions and encourage discussion among my readers. All the standard rules apply — no profanity, no sales pitches, no trolling, no rudeness, no paid propagandizing, no long screeds proclaiming the infallible truth of fill in the blank — but since there's no topic, nothing is off topic. (Well, with one exception: there's a dedicated (more or less) open post on my Dreamwidth journal on the current virus panic and related issues, so anything Covid-themed should go there instead.)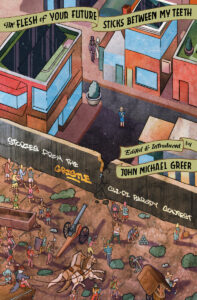 In other news, I'm delighted to report that another anthology project spawned by this blog is in print, and this one's a wowser. The Flesh Of Your Future Sticks Between My Teeth: Stories from the Gristle Cli-Fi Parody Contest had its origins a year and a half ago, when Grist Magazine launched a cli-fi (i.e., climate change fiction) contest heavily laced with fashionable pseudoprogressive rhetoric. (The winning story in that contest had humanity saved from a dire fate by learning to use new pronouns. No, I"m not making this up.)  I discussed the Grist contest on this blog here, that led to a conversation and then a contest, and here we are: an anthology of twelve stories making merry mock of the pretensions and posturings of those who've turned the realities of climate change into yet another excuse to dance the Wokey Pokey as though that really is what it's all about.
The Flesh of your Future Sticks Between My Teeth is published by Looseleaf Publishing, the firm behind the fine deindustrial SF magazine New Maps.  Interested? You can order copies here.
With that said, have at it!