Late in 2019 I wrote a series of posts entitled "Dancers at the End of Time," sketching out certain weird and deeply troubling shifts in the collective consciousness of our time; you can read them here, here, and here, if you like.  They got about as much attention as my posts here generally do, and I went on to other topics. The shifts I was tracking at that time haven't gone away, however, and at this point we've entered into a very strange landscape of thought.  Three data points, all having to do with climate change, may help provide some kind of orientation in the landscape in which the near future is taking form.
The first is a fiction contest launched last month by Grist Magazine, one of those glossy and shallow environmental journals that strain to put the latest fashionable spin on everything they touch. The editors are soliciting short stories in the genre of cli-fi—that is, climate fiction, science fiction that takes climate change into account; you can read about the contest here.  At first glance that seems promising, and it's a nice omen that this came out right about the time that the first issue of New Maps, a new quarterly magazine of deindustrial fiction, was landing in mailboxes. If you haven't checked New Maps out yet, do it—you're missing a treat.
Ah, but what Grist has in mind isn't that kind of cli-fi.  They're explicitly not interested in stories about people adapting, or failing to adapt, to the harsh limits of a deindustrial world, in which the absurd affluence and inflated expectations of the present have had to be discarded. "Our mission," they say, "is to make the story of a better world so irresistible, you want it right now."  The things they expect in stories submitted to their contest are as follows, and I quote: "hope; intersectionality; resilience; a society that is radically different from the one we live in today, and how we got there;" and all the way down at the very bottom of the list, "a focus on climate, with creative and clearly articulated solutions that put people and planet first."
Of course genuflections toward the latest social-justice buzzwords repeat themselves all through the announcement with the inevitability of a nervous tic.  It's thus a safe bet that the contest will get plenty of those dreary little morality plays in which you can tell the good people from the bad people the moment you know their respective genders and skin colors, and the good people inevitably win through a heroic effort at virtue signaling while the bad people just as inevitably lose by tripping over their own privilege. That's beside the point I want to discuss here, however. What interests me about this contest is that the people at Grist seem to think that this sort of onanism of the imagination is going to help solve the climate crisis.
It doesn't seem to have occurred to anyone involved in launching this contest that there could possibly be a problem with encouraging people to confuse daydreams of the future they want most with meaningful responses to the predicament of our time.  They haven't even noticed that you can't "put people and planet first," because there's only one spot at the head of the line:  you can put people first or you can put the planet first, take your pick, but someone's going to come in second.  (As mathematician John von Neumann pointed out a good many years ago, you can only maximize the value of one variable at a time. It's precisely because our civilization has tried to ignore that hard fact that we're in our present predicament.)
The readers of Grist are drawn almost exclusively, after all, from the comfortable classes of today's overdeveloped nations—precisely those classes whose lifestyles are responsible for the great majority of greenhouse gas emissions.  In an era when those classes have to come to terms with the end of the conditions that made their affluence possible, encouraging them to think that they can have whatever future they find most scrumptious is hardly helpful. A strong case can be made, I think, that what Grist is asking for is not cli-fi but enti-fi, the fiction of entitlement, with no better purpose than to let their privileged and cosseted readers continue to wallow in the hugely counterproductive delusion that they can have their planet and eat it too.
There's plenty more that could be said about the Grist fiction contest, but let's move on.  The second data point I have in mind also surfaced last month, when my fellow peak oil blogger and occasional debating partner Ugo Bardi was more or less made a nonperson by Facebook. (You can read his comments here.) His crime?  Raising awkward questions about the latest round of hoopla about the hydrogen economy.
Let's start by noting that Bardi is anything but ignorant about this subject. He's a professor of physical chemistry at the University of Florence, and he's published an impressive number of papers on alternative energy in peer-reviewed journals.  Assessing the prospects of a hydrogen economy is part of his job, in other words, and he's far better informed about the subject than the social-media flunkeys who are now deciding what he is and isn't allowed to say on Facebook.  Nor were the Facebook posts in question angry, abusive, or otherwise in violation of the terms of service. They were technical pieces full of number-crunching.
From a certain cynical standpoint, to be sure, it's not at all surprising that technical discussions of the practicality of a hydrogen economy would be unwelcome to the social media barons. Those of my readers who have been following along since the days of the peak oil movement will remember that every few years, corporate interests have trotted out some new technological gimmick that they claim will surely replace petroleum and save us all. Corn-based ethanol, algal biodiesel, rooftop photovoltaic panels—well, the list goes on and on.  One after another, they've been deployed to the accompaniment of lavish claims, they've soaked up millions of government dollars, they've made corporations rich, and then they've folded or faded into the background, having failed to live up to their promises. It's a familiar song and dance by this point.
Right now green hydrogen is being prepped for an identical role. Green hydrogen?  That's hydrogen produced using technologies that don't depend (directly) on burning fossil fuels. There are immense problems with it—energetic, economic, practical—but the same was true of the other nonsolutions just mentioned.  Like them, green hydrogen promises to be highly efficient at pumping tax dollars into the bank accounts of big corporations, and that's the only efficiency that matters to its promoters. Since Facebook can expect to rake in a share of the advertising dollars that will be deployed to promote green hydrogen to the gullible end of the public, it's wholly understandable that its censors would find Bardi's critical thinking unwelcome.
Yet from any other perspective, there's good reason to ask hard questions about the hydrogen economy, or any other proposed solution to the twin dilemmas of climate and energy we face.  If in fact—and I agree heartily that this is a fact—we're caught between a rock and a hard place, squeezed by the depletion of fossil fuel resources on the one side, and the consequences of dumping trillions of tons of greenhouse gases into the atmosphere on the other, we need all available information on the costs and benefits of proposed responses to that predicament. Deciding in advance of the evidence that the hydrogen economy must be feasible because it's emotionally appealing, and deleting expert advice to the contrary, is about as counterproductive a choice as I can think of. To be precise, it's the same attitude that's at work in the Grist contest, the insistence that the comfortable classes are owed whatever future they happen to fancy.
Here again, we could expand on that, but let's go on to the third data point, which is an interview in the British newspaper The Independent from January; you can read it here. The interviewee was Sir David King, whom the paper billed as "a top scientist," whatever exactly that very vague label might mean.  In there. along with a great deal of the same we-must-act-now rhetoric we've all heard endlessly repeated for the last forty years, is the claim that in order to prevent catastrophe, we need to refreeze the Arctic Ocean.
Reporters for the Independent routinely quote the most astonishing statements with straight faces, but this was a step too far; the reporter admitted that he burst out laughing.  King stoutly insisted that there's a study indicating that maybe, if the clouds over the Arctic Ocean are sprayed with salt water, that might make them reflect more sunlight and cool the underlying oceans. (That kind of cloud seeding has had exceedingly mixed results in practice, and King conveniently ducked the hard questions about the cost of doing any such thing at the necessary scale; I don't recommend posting anything about those questions on Facebook, however, or you'll end up in the same digital Siberia as Ugo Bardi.)
While we're at it, Sir David insisted, governments around the world have to halt all new carbon emissions as soon as possible and extract 50 to 60 million tons of CO2 from the atmosphere every year from now on—or if they can't do that, why, then at least they ought to stump up $30 billion for a climate innovation fund, which will go to fund scientific research. We don't have to get into the reasons why a professional scientist might want so very tidy a slush fund handed over to his fellow scientists, at a time when other sources of scientific funding are running dry. What I want to do here is compare King's rhetoric with the evidence of recent history.  Here's a chart of global primary energy use from 1965 to 2018: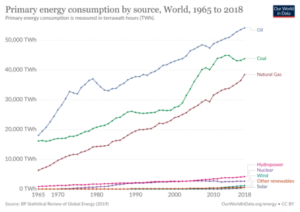 Keep in mind while looking at those lines that the Kyoto Protocol, which was widely ballyhooed as the turning point in the struggle against anthropogenic climate change, was signed all the way back in 1997.  Notice how much difference all the climate change activism and government initiatives since then have made to the pace of fossil fuel consumption—and also how much difference those have made to the gap between fossil fuels and renewables. Now think about the immense mismatch between these inconvenient truths and the wholly imaginary reality in which Sir David King thinks he can expect the governments of the world to shut down all fossil fuel consumption sometime soon, while he one-ups good old King Canute by standing on the shore of the Arctic Ocean, commanding the waters to freeze.
I probably need to make two points before we go on. First, I've picked on climate change activism here because it happens to have coughed up a trio of good examples, but situations in which the corporate establishment and its tame media insist that left is right, up is down, and sideways is straight ahead are anything but unusual these days. Visit a mainstream media website or a blog that retails officially approved opinions, for instance, and you can pretty much count on finding something that insists that some perfectly ordinary word— "racist" and "woman" are examples that come to mind—does not mean what it's meant for hundreds of years; no, it means, and can only mean, whatever the privileged classes want it to mean.  For connoisseurs of surreal thinking, it's a target-rich environment out there.
Second, as I mentioned earlier, I'm well aware that anthropogenic climate change is a reality, and indeed a very serious problem. It's been a source of some fascination to me for decades now that a great many people caught up in climate change activism don't seem to be able to process the idea that there's a difference between recognizing a problem, on the one hand, and falling into line behind their proposed solution, on the other. Industrial civilization is in deep trouble, no question, and the consequences of our profligate use of fossil fuels are crucial elements of the predicament we're in. The mere fact that the situation is dire, however, does not do anything to prove that the solutions to it being proposed by corporate-sponsored activists and ballyhooed by the mass media are viable—or even that they're sane.
Here, though, we've circled back to the strange landscape of thought I outlined back in the last months of 2019, when I talked about the way that a great many members of our comfortable classes—literate, educated, prosperous people, all of them—have lost track of the fact that their ideas about the world do need to have some contact with reality now and then.  When Grist's editors insist that they can further the cause of climate change activism by encouraging their readers to inflate their fantasies of entitlement to the bursting point; when Facebook censors a reputable scientist for asking necessary questions about a proposed technology; when Sir David King insists that the future of the world depends on something not too different from cutting down the tallest tree in the forest with a herring—or, failing that, coughing up a spare $30 billion to fund his scientist pals—strange days are dawning.
A great many people are of course aware of this to one extent or another, and some of them are trying to fight against some aspect of the craziness.  I understand their feelings, but I'd like to suggest that this may not be the most useful strategy just now.  One of the odd things about this kind of collective craziness is that it can all too easily infect those people who think they're opposing it. (The sorry history of the QAnon hoax is a good example of this.)  The best advice, rather, is expressed neatly by the internet catchphrase "back slowly away from the crazy person."
I mean this quite literally.  In several of his books, Carl Jung wrote of the dangers of what he called psychic epidemics, collective outbursts of mass psychosis that can take hold of entire societies and sweep them along to disaster. Having witnessed both World Wars, he warned that these were not unique events:  "the gigantic catastrophes that threaten us today," he wrote, "are not elemental happenings of a physical or biological order, but psychic events.  To a quite terrifying degree we are threatened by psychic epidemics."  The flight from reason I chronicled in those three 2019 posts, it seems to me, has become the kind of psychic epidemic Jung talked about, and it's therefore crucial for those who want to stay clear of the collective craziness to take steps to distance themselves from it.
There are at least three things you can do with this in mind. The first, which of course a great many people have already begun doing, is to avoid the vectors of the epidemic.  Obviously this means spending much less time on electronic media, and choosing the media you use with care. Less obviously, it means putting more thought into where you invest your spare time and your spare money, even outside the media. This is a good time to walk away from activities that bring you too close to the collective mind, and to take up things instead that you can do yourself, or with family and friends. You might also consider turning to activities that were invented a good long while ago, and so are less vulnerable to the current strangeness.
The second is to put more time into your spiritual life. That's a risky thing to suggest just now, because certain modes of popular spirituality function very efficiently just now as conduits for the psychic epidemic building around us, but the great majority of my readers already know what to watch out for. Provided that the spiritual tradition you follow hasn't been infected, prayer, meditation, study of sacred or spiritual writings, participation in rituals, all the standard methods by which human beings ask for help from transcendent powers—aside from their many other values, these are important safeguards to individual sanity in a time of collective madness.
The third is to spend time outdoors in nature as often as possible.  The human mind evolved in a natural setting, and nature accordingly functions as a reset button for our nervous systems. No, this doesn't require you to act like a celebrity environmentalist and dump tons of CO2 into the atmosphere to get to some fashionably exotic corner of the world; instead, a local park, an overgrown lot, or a backyard if you have one, are quite adequate, and an open window that looks out on trees and sky will do if that's what you can manage. Sit, clear your mind, and pay attention to the world that human beings didn't make.  In the Druid order I headed for twelve years, the standard advice is to do this for at least fifteen minutes every week, and that's a good minimum for normal times; since these are not normal times, more might be a good idea.
Meanwhile, there's something else I'd encourage my readers to do:  brace for serious trouble.
A headlong flight into fantasy is not a strategy with a high success rate, after all. To the extent that the editors of Grist succeed in convincing their readership that they can have the future they want, and therefore don't have to change their own lifestyles and cut their carbon footprints, they're making disasters more likely, not less.  To the extent that the censors on Facebook keep people from asking necessary questions about the latest heavily ballyhooed green-energy boondoggle, the more likely it becomes that nothing constructive will be done about the consequences of resource depletion and environmental disruption until it's far too late.  To the extent that Sir David King and others of his ilk retreat into a dreamworld in which freezing the Arctic Ocean is a sensible strategy—there's a joke in there about selling ice machines to the Inuit, but we'll let that pass for now—the more certain it is that few or none of the steps that might actually be possible this late in the game will actually be taken.
Here in the United States, certainly, the infrastructure that supports modern life is becoming ever more fragile while the environment in which we live is becoming ever more volatile.  The rolling blackouts in California over the last two summers and in Texas a few weeks ago are foretastes of a broader reality taking shape around us just now.  Our establishment and its tame media exist in a surreal state of detachment, hiding in a bubble of Panglossian abstractions where all is for the best in this best of all possible worlds.  We can likely expect this state of detachment to become even more extreme in the future, leading to policies disastrously out of step with the real world, and to serious disruptions as those policies run face first into the brick wall of a cosmos serenely uninterested in the fantasies of clueless elites.
Thus I'd encourage my readers to take a good hard look at anything in their lives that depends too heavily on the continued functioning of technological infrastructure and the vast and ramshackle government and corporate hierarchies that keep that infrastructure more or less working.  I'd encourage them likewise to put some effort into getting alternatives in place. I've already heard from readers of mine in Texas who followed the wry advice I offered in a previous post—"collapse now and avoid the rush."  They made themselves noticeably less dependent on the fragile infrastructure of industrial society as a result, and as a result, they found themselves prepared to weather the recent crisis without any particular difficulty.
Exactly how the strange days now dawning will unfold is a fascinating and troubling question, and one I can't yet answer.  A clear head and a close eye on the systems on which you and your loved ones depend would therefore be wise.