It so happens that last week's post on reading books by dead people had a curious echo. In a forum I frequent where occultism is the subject of discussion, an earnest young person put up a plaintive post, asking why so much classic occult literature is so boring to read. As usual in such forums, the discussion that followed produced more heat than light, but two things became clear in the course of the conversation. The first was that most people who get an American public school education have no idea how to read something that isn't written in a currently fashionable style of prose. The second was that most people who get an American public school education have no idea that there's any point to making the attempt.
Fairly often, mind you, occult literature is harder to understand than most other kinds of literature. What's more, this is often deliberate. The word "occult" literally means "hidden;" when an astronomer says that the planet Venus is occulted by the Moon, she means that the Moon moves between Earth and Venus and hides our closest neighbor among the planets from our view. In the Renaissance, with this in mind, the inheritors of a variety of ancient traditions of magic started using the term "occult philosophy" for their teachings; in the nineteenth century, the inheritors of the magical heritage of the Renaissance coined the term "occultism" to reflect the fact that there's a lot more to that heritage than philosophical speculations.
You may be thinking, dear reader, that these turns of phrase make it sound as though the occult is hidden because somebody or other keeps it locked away somewhere. What's more, occultists have gone out of their way to feed that notion, with stories of hidden vaults, eldritch tomes, and mystical initiations conferred in otherworldly settings. That's partly because a lot of occultists have a regrettable sense of humor, but it's also a deliberate distraction. With exceptions we'll be discussing further on, the secrets of occultism aren't secret because somebody chooses to hide them. They're secret because you can't understand them unless you've had certain experiences, and you won't get those experiences unless you put in a lot of hard work.
Of course occultism isn't the only thing of which this is true. Many years ago, for example, I took a series of university classes in botany, and those involved "keying out" plants to figure out which species they were. It's a long and often tedious process, but you do it if you want to become a botanist, because when you've spent enough time at it, the structures and functions and  family relationships of plants stop being arbitrary categories and become flowing patterns of life moving across evolutionary time—and once that happens, entire realms of botanical science open up to you that were closed before.
Unquestionably, occultism has its own equivalent of keying out plants, a set of practices that you do every day if you're serious about occultism. The details vary from one tradition to another, and often from one teacher to another, but if we're talking about old-fashioned occultism, they usually center on meditation. This is the one thing I've ever done that's more boring than keying out plants, and it's even more rewarding, and most of occult philosophy—and a great deal more—is closed to you unless you're willing to apply the seat of your pants to the seat of your chair and meditate for fifteen or twenty minutes a day.
Notably, though, botany is fortunate in that very few people tend to load wild fantasies of limitless power and equally wild terrors of limitless malevolence onto its practitioners. Occultists aren't so lucky. For a very long time now, if you teach occultism in the Western world, you get to deal with one set of people who are convinced you can teach them how to fulfill all their grubbiest dreams, and another set of people who are convinced that you're personally responsible for all the evil in the world. Just at the moment, witch burnings are out of fashion, and so the members of the second category are more a minor annoyance than anything else, but members of the first category are a constant irritation to teachers of occultism, because teaching people to fulfill their grubby dreams is not what occultism is about.
On the other hand, the difficulty here is that people who want to study occultism because they want you to show them how to fulfill their grubby dreams don't necessarily announce this up front. One of the consequences of two thousand years of Christian moral preaching is that people in the Western world have gotten very, very good at tarting up grubby desires in virtuous drag. I've long since lost track of the number of people who've approached me claiming to want to become personal students of mine and study this or that branch of occultism for the most Simon-pure of reasons, and turned out to be interested in something much less pristine.
Those of my readers who think that the grubby human desires in question have any least trace of grandeur to them are, I'm afraid, doomed to disappointment. None of the people I've just mentioned have been out to take over the world, or become insanely rich, or spend eighteen hours a day having wild orgiastic sex, or anything else particularly colorful. What they want, rather, is either what little status they can get from being a personal student of a fairly well known occult writer, or what little status they can get by having some kind of modest rank (usually, it's nothing more exotic than ordination to the priesthood) conferred on them by a fairly well known occult writer.
Is that all? Dreary as that doubtless seems, I'm sorry to say that it is. To be quite frank, I'd rather deal with a budding Lord Moldywarp, or whatever the fellow's name was, than have to face one more bland little person whose deepest, darkest, most unspeakable desires can be satisfied by swaggering it in front of fifteen or twenty online friends. Yet with embarrassing predictability, that's more often than not what shows up when people come bustling up to me asking to study magic as a personal student.  The effect is reliable enough that I've stopped accepting personal students at this point.
Certainly it's occurred to me more than once, in the silent hours of the night, that maybe the problem is me. When the student is ready, a famous Zen parable has it, the teacher appears; presumably, that also works in reverse, and when the teacher is ready, the student appears—and in that case, what am I ready for, given what generally shows up? Then I remember that I'm far from the only occult teacher who's had this problem. Aleister Crowley used to growl about the fact that requiring half an hour's honest work out of a prospective student was enough to send most of them scuttling for the exits; Dion Fortune liked to remind her students tartly that if they bothered to work at occultism the way they worked to make a living, they might actually achieve something.
Exactly such sentiments motivated Crowley, Fortune, and a great many other writers of occult literature to pursue the strategy criticized by the commenter mentioned at the beginning of this essay: they went out of their way to make their books hard to read. Then as now, most people who decide to study with an occult teacher start out by reading some of that teacher's books, and if the books make any kind of demand on the student, a significant number of the people whose sole interest in the occult consists of the desire to parade occult status symbols in front of fifteen or twenty friends will be sufficiently spooked to head for something less threatening.
There are, broadly speaking, two ways to go about making one's books difficult to read. One of them is exemplified by Manly P. Hall, one of the great American occultists of the twentieth century, the man who took H.P. Blavatsky at her word and explored the points of contact between traditional Western occultism and esoteric Buddhism. It's one thing to do this by dipping into books, as so many people have done recently. It's quite another to do as Hall did: become phenomenally learned and initiated into several of the core traditions of Western occultism, then receive formal initiation and training in Shingon Buddhism—one of the two great Japanese esoteric schools—and then fuse the lot to create a very effective system of meditation and spiritual development.
His method can be found in his books, too, but you won't find it all explained conveniently in one place. He broke up the discussion into various pieces, and squirreled some of the crucial points away in highly unlikely corners. Most of his writing was aimed at people who wouldn't make use of his inner teachings if they'd stumbled over them; he turned out reams of fodder for the mass market, essays on the esoteric significance of headaches and upset stomachs, essays on the inner meaning of Christmas, essays introducing the basic ideas of philosophy to those who'd never had to grapple with an abstract thought. An astonishingly large number of Americans in the middle decades of the twentieth century learned the basic ideas of occult philosophy from Hall's public work.
If you happen to read enough of his public work, it's hard to miss the suspicion that Hall has more to tell than he's willing to say outright. What's more, he goes out of his way to give you that suspicion—sometimes to a degree that I scratch my head, wondering why more people haven't caught on. His most famous work, the huge and lavishly illustrated tome The Secret Teachings of All Ages, has an entire chapter in it titled "The Cryptogram as a Factor in Symbolic Philosophy," in which Hall goes on at quite some length explaining that occult books routinely have secret messages woven into them, and discussing the specific gimmicks that are used to put those secret messages into the text.
Secret messages do in fact exist in a great deal of occult writing. In point of fact, they exist in Hall's The Secret Teachings of All Ages, and any reader who applies the specific methods Hall discusses to his texts will make some interesting discoveries. (For that matter, I've inserted a secret message in this post, using one of the simplest methods Hall discusses.) No doubt there are plenty of people out there who read that bit of Hall's text, grinned, and went to work with the tools of the cryptanalyst, but the vast majority of readers of occult literature these days seem to have missed Hall's genial nods and winks entirely.
You find such nods and winks in a great deal of occult literature. When Christopher Warnock and I translated The Picatrix, the classic early medieval sorcerer's manual, I laughed aloud when I got to Book III, Chapter Four, "Why the secrets of this science may not be understood except a little at a time." It reads in full: "The ancient sages who have spoken of the occult sciences and magic in their books write them as obscurely as they could, so that no one would be able to gain any benefit from them, except by wisdom and continual study and practice in them. This chapter is placed here, as though by mistake, in order to make a modest demonstration of this."
Occultism is full of such jeux d'esprit, deadpan humor deployed in the pursuit of an immensely serious purpose. Beyond such deliberate obscurities, which are used to keep this or that teaching out of the hands of the clueless or the unserious, there's the further dimension of obscurity discussed earlier in this post: the way that certain branches of knowledge can only be understood by those willing to do the necessary work.
Unless you spend hours with a magnifying glass in your hand examining the innards of flowers so you can assign the plant they come from to its proper species, whole worlds of botany will remain permanently closed to you. Unless you spend hours with the seat of your pants on the seat of your meditation chair, considering the elaborate and deliberately puzzling imagery of the tarot, the enigmatic engravings of the alchemists, or the intricacies of the Tree of Life, whole worlds of occultism will be just as securely shut against you. No doubt some will consider that unfair, but the universe is not subject to our notions of fairness, you know.
Pondering the way that occult knowledge makes sense only to those who've done the necessary work, some of the most influential authors in nineteenth- and twentieth-century occult circles took things in a direction less playful than Hall's, and set out to create books that have the same limitation hardwired into them. Two weeks from today, we're going to start discussing one of those—Dion Fortune's elegant little classic The Cosmic Doctrine—and those of my readers who are up for the necessary work will benefit in two ways.
At the beginning of Fortune's book is a note of explanation too often neglected: "These images are not descriptive but symbolic, and are designed to train the mind, not to inform it." I'd encourage my readers to reflect on that sentence for a while. The images being referenced here are presented in verbal form in the text; each reader is encouraged to imagine them as clearly as possible, and then think about certain things in relation to them.
Such exercises are in fact basic to the kind of meditation I've discussed earlier in this essay, and at much greater length in a variety of posts and books. Its technical name is discursive meditation, because it often takes the form of an inner discourse or imaginative discussion. If you read The Cosmic Doctrine the way that Fortune asks you to read it, you're going to get a first-rate training in discursive meditation, starting with very simple images and concepts, and working from there to some extremely complex ones. The formalities of meditation—relaxing the body, using rhythmic breathing to steady the mind, and so on—are less important than the style of thought required, and that you can pick up from many sources, including a close study of The Cosmic Doctrine.
So that's one of the benefits to be gained by the work ahead. The other is in some ways subtler. It's not just books carefully designed for the purpose that train the mind instead of, or along with, informing it. All books do this. That's the deeper implication of the spooky side of silent reading I've discussed in previous posts here. Whether or not they inform the mind, they train it, for good or ill. The sort of light reading so many of us engage in for relaxation—what I've called "popcorn reading"—is comfortable precisely because it leads our minds in familiar paths; the same thing, of course, is true of books we've read many times, so that the patterns of thought they contain have long since become part of our mental furniture.
A book you haven't read before, one that has its own unique pattern of thoughts to communicate to you and isn't simply a piece of popcorn reading meant to mirror your own normal thought processes back at you, is quite another matter. There's usually a little resistance to the new thoughts, maybe a little hostility, maybe a little shudder of fear. A good novelist gets the reader past that by various enticements—an appealing character, an opening scene that catches the reader's interest, any number of narrative hooks—which is of course one of the seductive qualities of fiction, and one of the reasons why people who want to remain comfortably settled in some approved style of thinking very often disdain or dislike fiction as a whole.
The Cosmic Doctrine, though, doesn't use any of the clever narrative tricks of fiction. This isn't because Fortune didn't know them—she wrote quite a bit of fiction, some of which has become fairly well known in the occult scene, some of which remains quite obscure, and there's reason to think she wrote a great deal of pulp fiction for magazines under pseudonyms that haven't yet been traced back to her. Again, she had the same problem other occult teachers faced, then as now: the problem of filtering out potential students who weren't worth the effort of training, because they weren't willing to put out the corresponding effort to learn.
Examine the opening pages of The Cosmic Doctrine—not the introductions, but the start of the first chapter—and you can see the method Fortune used. She plunges straight into what she has to say, without apology, without transition. All of a sudden you're dealing with the concept of the Unmanifest, which she defines in highly abstract terms and only then assigns to a visual image. It's hard to escape the feeling that you've suddenly been pitchforked into unfamiliar terrain without benefit of map or compass. Nor should this feeling be ignored, because that's exactly what Fortune is trying to do here.
She did that for two reasons. The first is the one discussed earlier, the desire to chase off would-be students who aren't willing to put in the kind of mental work needed to understand what she had to say. The second is subtler. The patterns of thinking which are habitual in the modern industrial world are not useful to the aspiring occultist; a case could be made that they're not useful to anyone but the political, commercial, and ideological authorities that have put so much effort into making them mandatory.
The best way to get someone to see the world in a different way is to toss them into the deep end of the pool all at once, with only the most minimal introduction. That's what Fortune did. She wanted to communicate, to those students who were willing to make the effort, a set of mental skills that would be central to their spiritual lives thereafter; she also wanted to communicate to them certain patterns of thinking that would help them get past "the mind-forg'd manacles," as Blake put it, of the industrial world's approved modes of thought. Two weeks from today, as our monthly book club starts on the first chapter of The Cosmic Doctrine, we'll discuss both the skills and the patterns of thought, and see what can be learned from them.
***************************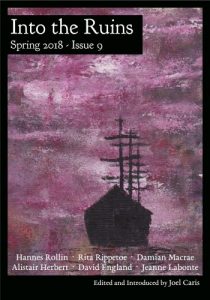 On a different subject—one that doesn't lend itself so easily to secret messages!—I'm pleased to announce that the latest issue of Into the Ruins, the premier magazine of deindustrial science fiction, has just been released. If you've followed Into the Ruins, you know already that this issue is full of vivid stories exploring the kind of future we're actually going to get, but this issue also has a livelier than usual letters to the editor column—that feature's really taking off now. If you haven't followed Into the Ruins—well, what are you waiting for? You can order copies here, and subscriptions here.
Finally, a reminder about the book club posts mentioned above may be in order. You'll need a copy of Dion Fortune's The Cosmic Doctrine in order to make any kind of sense of the posts that'll feature here on the second Wednesday of each month; the edition I'll focus on is the revised 1966 edition, which is out of print but available dirt cheap on the used book market. I'll also be referencing the 2000 edition, which went back to the unrevised text; to my mind, it's an inferior edition — the 1966 revisions were well made — but I've got both and will cite text from both.