For the last few weeks I've been making my way through the dense prose of Jean-Paul Sartre's Being and Nothingness, the most important work to come out of the existentialist school of philosophy. Why? Partly for no better reason than that a cheap paperback copy happened to turn up in the philosophy section of a used book store I frequent; partly because, just as dogs like to chew on big hard bones, I like to get my jaws around equally tough and toothsome lumps of philosophy from time to time, and Sartre's 812-page tome promised many hours of pleasant gnawing. Still, there's another factor, which is that my previous forays into Sartre suggested that he had something extremely useful to say about one of the most prevalent (and thus inevitably one of the most unmentionable) features of our time.
As I've discovered, he does indeed have something useful to say about the thing I have in mind, though it takes some teasing out. Let's take it a step at a time. Discarding the baroque obscurities of the vocabulary he learned from Husserl and Heidegger, this is some of what he was trying to point out:
When we look around ourselves, we confront a world full of things that simply are what they are. This cup is a cup, this table a table, this pen a pen, full stop, end of sentence. We can learn to see those things as something other than they are—for example, if we study physics, we may convince ourselves that cup, table, and pen are in reality complicated patterrns of stresses in four-dimensional spacetime, or what have you—but that requires us to insert reflective thought between ourselves and the world. What confronts us when we face the world bare, without reflection, is a world of things that are what they are.
The one thing you experience that can't be described that way, Sartre points out, is yourself. Ask yourself "What am I?" Nearly all the answers you can come up with, when they don't simply refer to external circumstances of environment and heredity, are descriptions of choices you have made in the past, and you could choose something else a second from now and make any of the answers obsolete.
If I say, for example, "I am an American," or "I am a moderate Burkean conservative," or "I am a Druid," or "I am a writer," those don't define me the way it defines a rock to say that it's a rock.  The rock will still be a rock an hour from now, unless some outside force intervenes, but in that same hour I could up and decide to emigrate to Ireland, embrace democratic socialism, become a Buddhist, and pursue a new career as a potter. I won't, but I could, and nothing but my own decision to keep making the same choices I've made earlier in my life stands in the way of those or even more drastic transformations.
When you think about that—and Sartre, of course, spent a lot of time thinking about it—that's an excruciatingly uncomfortable thing to have to deal with. You can never just be something; at each moment, whether you admit this to yourself or not, you have to choose to keep being what you've chosen to be. Your freedom surrounds you like an empty space, separating you from a world of things that don't have that insecurity to cope with, reminding you at every moment that nothing but your own will makes you keep on choosing what you've chosen in the past. That's not too difficult if you're entirely happy with the self you've chosen to be, but how many of us can honestly say that that's true of ourselves?
What's more, if you go looking for some essence you can call your own, some permanent identity that is neither a choice you keep making or part of the world of things on the other side of the empty space defined by your freedom, you won't find one, other than the bare fact of your existence. Existence precedes essence: that's the core formula of existentialism, and it neatly sums up the challenge we all face as human beings. What you are, at the core of yourself, is that empty space of freedom, that moment-by-moment choice to keep living the live you've chosen or to do something else instead. Look into that steadily and you'll feel the vertigo of the abyss.
Thus, as Sartre pointed out, one of the great longings most people have is the desire to be something the way a rock is a rock, to get out from under the terrifying burden of freedom that's hardwired into human consciousness. People use religion, politics, ethnicity, gender, and a vast array of other things as resources in that attempt to flee from their own freedom, to convince themselves that they are what they are and aren't responsible for the choices that have made them what they've chosen to be. Sartre's term for this cascade of evasions is as simple as it is useful: "bad faith."
The essence of bad faith is the habit of claiming some enduring identity that doesn't depend on the accidents of circumstance or the free and constantly repeated choices of the self. Normally, since the lure of bad faith is strongest to those who are most dissatisfied with what they are but don't have the courage to embrace their freedom and change it, the supposed identity people choose in an act of bad faith is usually very, very far from the identity they've defined by their past choices and actions.  Seen in isolation, as a mere verbal abstraction, that seems harmless enough, but there's a catch. It's a curious fact of history that the deeper people get into bad faith, the more likely they are to commit atrocities.  There's a reason for that propensity, too, and understanding it will take us a good step closer to the unmentionable realities of our time.
Sartre was a veteran of the French Resistance during the Second World War, and so it's not surprising that he discussed at length in some of his writing the role that bad faith played in the delusional racial politics of the Nazis. At the heart of the Nazi worldview was the insistence that "being an Aryan" was more than a mistaken identification with a piece of outdated philology borrowed by a crowd of insecure bigots, that "being a German" was more than an accident of the political history that landed certain places and people under one government rather than another, and inside some arbitrary set of borders. No, the Nazis insisted, "being an Aryan" and "being a German" defined them as Übermenschen, superior human beings uniquely blessed with a special destiny in the world, not to mention the right to trample anyone who got in the way.
That was the lure that the Nazi movement offered: the chance to shed the burden of individual freedom and become a thing. More to the point, that's what the Nazi movement claimed to be able to offer, and that its followers claimed to get from it. In theory, and only in theory, you don't have to settle for being Hans Schultz, stuck in a dead-end job and a failing marriage—and "stuck," of course, only because you aren't willing to face up to the fact that you can change things in a galaxy of ways, from changing your attitude toward life to catching a train across the Alps to Italy and never looking back.  No, without having to take responsibility for your own choices and your own freedom, you can be Hans Schultz, German, Aryan, Übermensch, member of the National Socialist Movement—a thing among things, supplied with a nice shiny identity you can use to hide from the dizzying void of bare existence.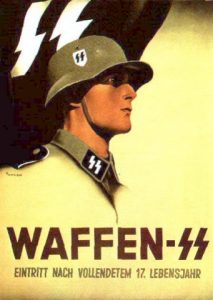 There are two difficulties with that superficially appealing choice. The first is that the identity you claim in the service of bad faith doesn't do the velveteen rabbit trick and become real, just because you say it does. Quite the contrary; bad faith always undercuts itself.  As you deny something about yourself that happens to be true, you have to keep one eye surreptitiously fixed on the thing you're denying about yourself, so you can deny it in detail, and of course that means that the more frantically you deny the thing you're denying, the more obsessively you have to attend to the thing you're denying. So you never actually get away from the thing that you're denying; the harder you try to pull free from it, the tighter it clings to you.
Making sense of the second difficulty requires us to take another step along the path we're tracing. To whom are you so loudly denying this thing you deny about yourself? Not to yourself; to yourself you're simply not noticing the thing that you are, and not noticing the act of avoidance you're using not to notice the thing that you are, and these are among the things you can do with your freedom. The problem is that you're not all by yourself. Cups and tables and pens aren't problematic in this regard; they are what they are, which means among other things they don't regard you, and they don't react to your bad faith; you can write reams of dishonesty about yourself, sipping coffee all the while, and the cup, the table, and the pen can be counted on not to look over your shoulder,  read what you've written, and tell you that you're shoveling smoke.
Other people are the problem. Other people regard you. Other people perceive you, and you have no control over how they see you. Just as your freedom gives you the capacity to see the people around you in whatever terms you choose, however wildly delusional those might happen to be, their freedom gives them the same right to do exactly the same thing to you. If you're facing your life and your world with a clear grasp of your own freedom, and aren't committed to the attempt to pretend you're not something that you are, that's not so big a deal. If you're mired in bad faith, though, the gaze that other people turn on you becomes—in the most literal sense—an existential threat:  their freedom is, among other things, the freedom to see you as you are, rather than as your bad faith leads you to try to convince other people you are.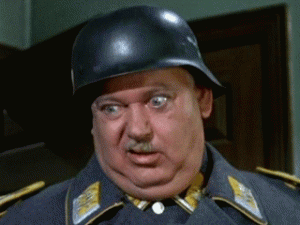 This is especially crushing to the Hans Schultzes of the world, the people who try to hide from the vertiginous freedom of bare existence behind some ready-made collective identity or other. As we've already seen, the imaginary identity embraced by an individual in an act of bad faith is normally very far from the identity embodied by that same individual's past and present choices and actions. Mass movements such as Nazism claim to be able to erase that difference, but that's simply another round of bad faith. Hans Schultz can insist to himself, to his fellow Nazis, and to everyone else that he really is the square-jawed, iron-willed scion of the Herrenvolk he wants to convince the world that he is, but the more loudly he proclaims this, the more haunted he will be by the fear that everyone else in the world actually sees him as Sergeant Schultz from the vintage television show Hogan's Heroes—not least because down below all the pretense and bellowing rhetoric, he knows that they're right.
There are various responses to the crisis of bad faith, but one in particular seems to draw the Hans Schultzes of the world the way a picnic draws ants. (As far as I know, Sartre didn't discuss this response in so many words—I'm still gnawing on the bone in question, so can't be quite sure—but it follows directly from the points he does make.) Since your freedom includes the freedom to see other people in whatever terms you choose, however delusional those may be, you can choose to see them as you know yourself to be.  It's a less honest version of the same reasoning children use when they respond to another child's taunting with the chant "Twinkle, twinkle, little star, what you say is what you are!"
If you're committed to bad faith, that's a hugely tempting option.  You can take the sum total of your choices and actions, the self you've made, and attribute it to the other person. These things you dislike so much about yourself, they're not your characteristics at all—no, no, they belong to that other person over there, the one you can then spend all your time hating.
The results make for high comedy if you don't mind the body count. In the case of the Nazis, again, it so happens that if you take the standard caricature of Jews from Nazi propaganda, what you get is a remarkably clear description of your common or garden variety Nazi. The insistence that Jews want to take over the world, that they think that all other nations and peoples ought to be subservient to them, that they spew lies through the mass media, and so on through the whole dreary litany, not to mention the physical caricature of the dark-haired, pasty-faced, stoop-shouldered, physically unimpressive urbanite—why, good morning, Herr Hitler! We were just talking about you.
So that's a very common way for bad faith to work out: first, the shrill insistence that the person over there has all the unwelcome characteristics you don't want to recognize in yourself; thereafter, a torrent of hatred ostensibly directed at the person over there.  That hatred can never be satisfied, not even by the mass extermination of the person over there and everyone who resembles him, because the person over there is only filling in for the actual target of the hatred. His own face has been erased, so that he can serve as an unacknowledged mirror in which the haters can see their own despised reflections.
With that in mind, we can turn to the present day here in America. It so happens that a very specific and, to the historically literate, highly familiar kind of bad faith is endemic to certain classes in today's United States. Despite the massive shifts in military and economic power that made the US, however temporarily, the world's dominant nation, in cultural terms the US remains a colony of Europe—a point I'll be discussing in some detail in a later post. As usual for colonies—Arnold Toynbee discusses this at quite some length—its educated classes clutch at a set of ersatz identities borrowed from the colonizing culture, and cultivate contempt for the mere "natives" who don't aspire to those borrowed identities; that's why some facility with European cultural forms remains de rigueur for much of the bicoastal intelligentsia, and why a shrill disdain for American folk culture and American identities is even more enthusiastically cultivated among these same strata.
As Toynbee points out trenchantly, the difficulty here is that the privileged intelligentsia of a colonized society falls between two stools. Having alienated itself from the members of its own culture, it never really manages to become part of any other. If you, dear reader, happen to belong to the privileged intelligentsia of the US, you know what I'm talking about. You may fancy yourself suave and cosmopolitan, a citizen of the world, and frantically try to distance yourself from any connection with those beer-swilling, pot-bellied, NASCAR-watching buffoons your imagination conjures up when you think the word "American"…but if you sit down and talk to an Italian or a Russian or an Iranian or an Angolan or anybody else from any other part of the world, you know, and I know, and they know, that in the irreducible freedom of their regard, they look at you, and they think "American."
What's more, they're right. It really is as simple as that.
And what do they think when that word crosses their mind? It varies from person to person, from culture to culture, from nation to nation, and doubtless across many other sets of variables as well. It so happens, though, that I've listened often enough to people from other societies as they shake their heads in disbelief about what we Americans have gotten up to this time, and read enough accounts (in several languages) of their reactions to us and to our society, that I think I can sketch out a very rough general outline. What are we in their eyes, in the irreducible freedom of their regard?
You know the answer as well as I do, dear reader. We're loud, brash, coarse, rude, vulgar, and of course one must not forget loud.  We're crass, clueless, blustering, and hamfisted, without the least trace of subtlety, sensitivity, or tact—oh, and did I mention that we're loud? We blunder through the world with a stunning degree of naïveté, missing every nuance, flattening the intricacies of the world into a set of simplistic notions that would be embarrassingly crude in stories meant for the nursery—and worst of all, despite all the vices and follies I've just enumerated, we're successful. Insufferably, infuriatingly, incomprehensibly successful.
That is to say, what people in other countries see when they look at Americans is precisely what you see when you look at Donald Trump.
There are certainly plenty of valid reasons why Americans might reasonably oppose Trump's policies and want to vote him out of office. There are doubtless at least some valid reasons to dislike him as a person. What's more, raucous criticism of our elected officials is an important if unofficial part of our political process here in the United States, one of the little ritual acts we use to try to remind our leaders that they are after all citizens like the rest of us, and have their current positions only because we gave those to them. Yet I'd like to suggest that a significant part of the shrieking rage and hatred that's been flung at Trump since his election, and especially the odd note of shrill self-pity that pervades so much of it, goes far beyond that.
Has Trump said and done things that many Americans dislike and oppose?  Of course—but it's easy to show that plenty of other presidential administrations in the last half century, including some on the Democratic side of the aisle, have done far more of these same things, and not come in for anything like the same degree of venom. Thus I've come to think that what infuriates a great many of Trump's most frantic opponents more than anything else is simply that he takes a thing about themselves that they find intolerable—their own cultural identity as Americans—and wallows in it. He is the walking, talking, appallingly hairstyled, gaudily orange-framed mirror in which all their attempts to act like sophisticated citizens of the world can be seen as the forced and artificial poses they are.
Starting two weeks from now, we're going to take a hard look at the background I've sketched out very roughly in this post, at the schism that's run through the heart of the American project since colonial times, and the way that schism has played out in the age of American empire. That may look like a departure from the theme of my recent posts here—the need for a new model of adult self-education as the academic industry prepares to crash and burn around us—but that's only an appearance. One of the core purposes of education—from a certain perspective, the core purpose of education—is to become a conscious and reflective member of one's own culture. To find appropriate roads to that end, we're going to have to grapple with the future of American culture itself.