This week's Ecosophian offering is the monthly (well, more or less!) open post to field questions and encourage discussion among my readers. All the standard rules apply — no profanity, no sales pitches, no trolling, no rudeness, no paid propagandizing, no long screeds proclaiming the infallible truth of fill in the blank — but since there's no topic, nothing is off topic.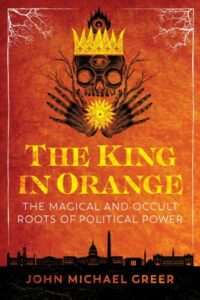 Before we proceed, a heads up to readers:  my latest book, The King in Orange: The Magical and Occult Roots of Political Power, has now been released. Those of my readers who have been following my blogs since 2016 or so got to read the first drafts of some of the material in it, but I've tried to sum up the magical dimensions of the Trump years in as straightforward a narrative as the weirdness will permit. Those who like their opinions prechewed by the corporate media are not going to like this book, but then I never expected anything else — it's already gotten a shrill and inaccurate denunciation in the pages of Publisher's Weekly, which pleased me mightily. (If you're not annoying the gatekeepers of the conventional wisdom, you're doing something wrong.) If you haven't ordered a copy already, why, you can get it in print or e-book formats here or here.
With that said, have at it!