This week's Ecosophian offering is the monthly (well, more or less!) open post to field questions and encourage discussion among my readers. All the standard rules apply — no profanity, no sales pitches, no trolling, no rudeness, no paid propagandizing, no long screeds proclaiming the infallible truth of fill in the blank — but since there's no topic, nothing is off topic.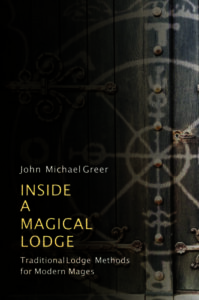 Before we proceed, a heads up to readers — my book Inside a Magical Lodge is now available in a new edition from Aeon Books. This was my third published book, and the first that really broke new ground; it's still the only thing in print on how to start and run a traditional lodge — and since more than 25 years has passed since its original publication, and the list of lodges I've belonged to and degrees I've received in that time fills more than a page in 12 point type, I've been able to do some useful revisions. By and large, the book held up well, but 10-15% of the content is new and I've been able to correct some errors and expand some discussions in directions I think readers will find helpful. If you're in North America, you can order it here; anywhere else in the world, here's your source. Knock once and then three times on the door, give the secret password, and check it out. 😉
With that said, have at it!