This week's Ecosophian offering is the monthly (well, more or less!) open post to field questions and encourage discussion among my readers. All the standard rules apply — no profanity, no sales pitches, no trolling, no rudeness, no paid propagandizing, no long screeds proclaiming the infallible truth of fill in the blank — but since there's no topic, nothing is off topic.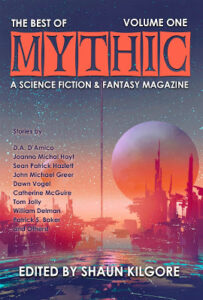 Before we proceed, a heads up to readers: Founders House Publishing has just released its first anthology of the best stories from MYTHIC Magazine, sensibly titled The Best of MYTHIC. Yes, I have a story in there, but so do D.A. D'Amico, Joanna Michal Hoyt, Sean Patrick Hazlett, Catherine McGuire, Tom Jolly, William Delman, Patrick S. Baker, and quite a few other good writers — 25 stories in all. If you need a dose of good imaginative science fiction and fantasy that doesn't just rehash familiar tropes, this is one good way to get it. You can get a copy from Founders House here or from other retailers via Universal Book Link (UBL) here.
With that said, have at it!