Last month we wrapped up three years of monthly discussions of The Cosmic Doctrine by Dion Fortune, arguably the twentieth century's most important work of occult philosophy.  I think it was time well spent.  I enjoyed the discussions, and I gather from reader comments that at least a few other people have had the same reaction to them. The inevitable question is what book to tackle next. There are plenty of good choices, and I was in a fine quandary about that until last week, when the obvious option suggested itself.
Given the "retro" approach this blog has applied to so many other things, what's the best sequel to the most important work of occult philosophy of the twentieth century?  Why, the most important work of occult philosophy of the nineteenth century, of course!  That simplified matters considerably, because there is one and only one book that qualifies for that title:  The Doctrine and Ritual of High Magic by Eliphas Lévi.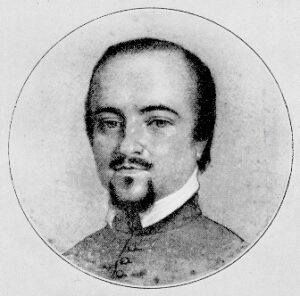 Lévi's real name was Alphonse Louis Constant. He was born in humble circumstances in Paris in 1810, and when he showed intellectual gifts, his devout parents and their parish priest arranged for young Alphonse to get the appropriate education for a career in the Catholic church.  All was well until, not long after he was ordained as a deacon, he was assigned to teach the catechism classes in a girl's school and fell in love with one of his students. Though he didn't act on the attraction, the experience convinced him that he was not cut out for a celibate life, and he left the church and started a career as a writer instead.
He wrote for newspapers and magazines, and won a certain amount of notoriety for himself by a tract entitled The Bible of Liberty which was confiscated by the Paris police an hour after it went on sale—France was going through one of its periodic bursts of repressive politics, and Constant spent a short time in prison as a result.  The Romantic movement was in full roaring spate just then, and some people on the fringes of that movement had begun to glance at the forgotten literature of magic and alchemy as a source for lurid local color for Gothic romances.  Some Romantic writers and poets began to take a more serious interest in those dusty old tomes. One of them, the novelist Adolphe Esquiros, was a friend of Constant's, and it may well have been as a result of conversations with Esquiros that Constant began thumbing through the strange old manuscripts in the Bibliothèque Nationale.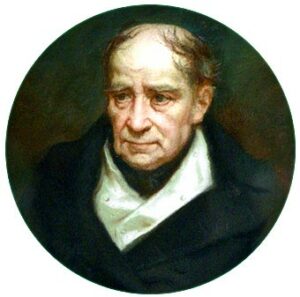 Old books on occultism like to say that when the student is ready, the teacher appears. Whether that's generally true or not, it was true for Constant. In 1853, after half a dozen years of growing interest in occultism, he met an old man named Joseph-Marie Hoëné-Wronski.  Wronski was Polish; like a great many Polish intellectuals at that time, he was living in exile in Paris, since his homeland had been conquered and partitioned by the Germans and Russians; his studies included mathematics (he was the inventor of Wronskian determinants) and engineering (the caterpillar tracks used today for tanks and bulldozers are another of his inventions), but toward the end of his life he became fascinated with the Cabala.
We probably need to pause here to say something about the Cabala, if only to head off a certain mode of self-righteous posturing that's very chic these days. The Cabala got into the Western occult tradition by way of Jewish mystics, who adopted it starting in the twelth century and then taught it freely to gentile students starting in the fifteenth. It was not, however, originally Jewish, and most of its core elements can be found in gentile sources many centuries before they first appeared in Judaism. For example, the Tree of Life, the core diagram of the Cabala, is referenced as a Gnostic diagram in the writings of the Roman writers Celsus and Origen, who wrote in the third and fourth centuries CE respectively—that is, seven and six centuries before the Tree first appeas in Jewish writings.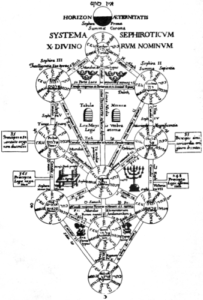 Many other elements of Cabalistic theory and practice can be found set out in detail in the writings of the Middle Platonists, a school of Greek philosophers active around the beginning of the Common Era, and there's good reason to think the core of the tradition comes from the Greek Neopythagorean movement a century or two before that—I'll be discussing this in a future book. There is even a version of the Tree of Life, the Wujitu, which appears in Chinese sources a century before the first Jewish documents reference it. (A lot of Greek mystical thought traveled east via the Silk Road; this is an example.) This is why Gerschom Scholem in his magisterial book The Origins of the Kabbalah stated categorically that the tradition came into Judaism from Gnostic sources and was not originally Jewish. Anyone who wades in here to make a fuss about cultural appropriation is therefore welcome to go shinny up a stump.
(One other note: Cabala, Kabbalah, and Qabalah are all the same thing. Semitic languages are notoriously difficult to transliterate accurately into the Latin alphabet, which is why the last name of the Libyan leader who was assassinated on Hillary Clinton's orders appears in Western media as Gaddafi, Qadhafi, Khadaffy, and so on.  The spelling "Cabala" was the first commonly used transliteration of the Hebrew word קבלה in Latin and English alike, and it's a good deal less cumbersome than any of the others, which is why it's the one I use. Thank you, and we now return to your regularly scheduled weekly post.)
Wronski, as I was saying, devoted much of the latter part of his life to the study of the Cabala, and he seems to have been influenced by the distinctive version of the Cabala which reached Polish intellectual circles by way of the Frankist movement. The Frankists?  They were a heretical movement in Eastern European Judaism that converted en masse to Catholicism in the eighteenth century, and brought their Cabala with them.  There's a lot of Frankist influence in European occult traditions; I was amused to discover a few years ago, for example, that one of the invitational Masonic degrees I've received started out as a ritual worked by a Frankist order in Germany. (Plenty of Masonic high degrees have equally odd origins.)
So Alphonse Constant met Wronski, studied with him for the last year or so of the old mystic's life, and was bowled over by the experience. Plenty of people who've studied occultism on their own and then encountered a teacher have had the experience of having everything suddenly fall into place around some concept the teacher mentions. Constant seems to have had some such experience. After Wronski's death, Constant set out to write a book that would communicate to the rest of the world what Wronski had communicated to him.  The first half, Dogme de la Haute Magie (The Doctrine of High Magic), saw print in 1854, and the second half, Rituel de la Haute Magie (The Ritual of High Magic), appeared the next year, along with a single-volume edition of both—and that, my children, is what kickstarted the occult revival of the late nineteenth century and turned magic into something that plenty of educated people practice today.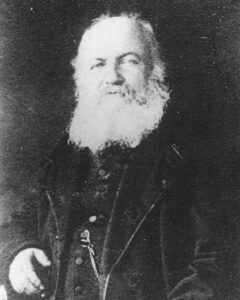 I mean that in all seriousness. Before Lévi, as we may as well call him from here on, wrote The Doctrine and Ritual of High Magic, occultism in the Western world was largely restricted to folk practitioners in rural areas and a handful of dissident intellectuals on the fringes of society. After Lévi's first and best book appeared, occultism became a massive cultural force across the Western world. France in 1855 was the cultural and intellectual center of Europe and the European diaspora, and so copies of Lévi's book found their way promptly to interested readers all over Europe, both American continents, and Australasia, as well as to European colonies elsewhere in the world.  An extraordinary range of men and women read Lévi, commented on his writings, borrowed his ideas, and were inspired by his example to take the occult teachings of the past seriously by making sense of them in terms of the thought of their own era.
That, you see, was Lévi's great innovation.  Other writers on magic before his time were content to repeat the teachings of the old occult philosophers, as though the Renaissance or the Middle Ages or the late Roman world had never gone away. That's a useful thing to do, since one of the keys to understanding ancient magical traditions is to understand the philosophies and ways of thinking about the world that structured them, but it places sharp limits on the number of people who will be able to make use of them. It's not just that only a few people have the time and opportunity to pick up, let's say, a thorough knowledge of medieval Neoplatonist philosophy. Even fewer people have the peculiar mental gift that makes it possible to shake off the influences of their own epoch and think like a person of a different time.
So the work of earlier nineteenth-century occultists such as Francis Barrett only appealed to a small audience. Lévi's gift was that he was able to make occultism make sense to the modern, up-to-date, cutting-edge thinkers of the high-tech, rapidly changing world of 1855.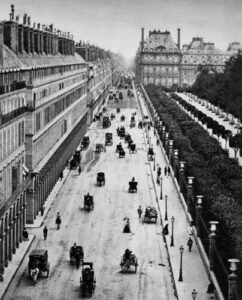 Does that sound like a joke?  It's nothing of the kind. One of the bits of historical amnesia that's necessary to maintain today's mythology of progress is the systematic erasure of the dizzying pace of change in the nineteenth-century world. In 1800, it's no exaggeration to say that most of France (and indeed most of Europe) was not far out of the Middle Ages; in 1900, the whole continent had been transformed by the explosive spread of factories, mass media, and a galaxy of brand-new technologies. By most measures, the changes in everyday life in Europe and the European diaspora between 1800 and 1900 were much more dramatic than those between 1900 and 2000.  Riding the crest of that wave of convulsive change, Lévi offered literate people a way to understand occultism that made sense to them.
How he did that, and what kind of sense resulted from his analysis, will be a central concern of ours in the months to come. Three themes, however, are worth introducing at the outset.
The first is the source of magic. Until Lévi wrote, magical philosophy took it for granted that magical powers came from outside the self, and the most the operative mage could do was to figure out some way to control some energy or entity who had magical powers. The Picatrix and a few other sources dropped hints about the role of faith in magic, but by and large the magical literature of the pre-Lévi era assumed that if you wanted to wield strange powers, either you had to tap into the natural flow of power from the heavens via a mastery of practical astrology, or you had to get some supernatural being to do what you wanted.  This latter option had an approved form, which was practiced by the devout and involved prayer and austerities to get help from God and the angels, and a forbidden form, which was practiced by the highly undevout and involved wheedling and bullying evil spirits into obeying you.
Lévi rejected this entire approach to magic root and branch. He argued that magic is present everywhere and in all things, and human beings thus had ample access to magical powers. The reason most humans didn't practice magic, he suggested, is that magic requires certain capacities of consciousness that human beings can develop, but most of us never do. The two capacities he had in mind were will and imagination.  Develop a strong, clear, and focused will and a rich and vivid imagination, he proposed, and it becomes possible to shape the medium through which magical effects take place in the cosmos.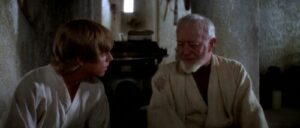 That medium is the second theme of his work. He held, as mystics, occultists, and operative mages of every age and country have held, that there is a certain subtle force on the borderline between matter and consciousness, which surrounds us, penetrates us, and binds the galaxy together. (If you think there was a single original idea in that lucrative and heavily hyped science fiction movie, in other words, I have a bridge on Tatooine to sell you.)  Lévi called it the astral light, and understood it as the foundation for all magical phenomena. Much of his book is devoted to explaining how the phenomena of the astral light accounts for various aspects of the traditional lore and legendry of magic.
Of course there's a mismatch between this way of thinking about magic and the way that, as mentioned above, was standard in medieval, Renaissance, and early modern occult literature. Lévi's response to that mismatch leads into his third essential theme, which is symbolism. He argued that the priests and wizards of ancient times were in no hurry to disclose the foundations of their power, and that a great many of the emblems and narratives of the ancient world were intended to express the secrets of the astral light in a form that would instantly be clear to anyone who was already in the know, but would be utterly misleading to anyone who took those emblems and narratives literally.
Unfortunately, the keys to the secret knowledge had been lost in the collapse of the ancient world, and people who only knew the literal sense of the emblems and narratives decided that they had to be believed or rejected in that literal sense. To Lévi, therefore, the task facing him and other students of occultism was a vast salvage operation, seeking to rescue the secrets of the ages from the rubble and muck in which they had been entombed for centuries. He had, however, a tool perfectly designed for the task of excavation, and that tool was the tarot deck.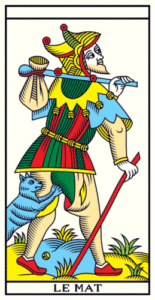 Lévi believed that the tarot deck had originated in ancient Egypt and preserved the secret lore of the ancient Egyptian temples. Of course he was entirely wrong. The tarot was invented in Renaissance Italy; its creator, Marziano da Tortona, was the private secretary to the Duke of Milan, and designed the first version of the tarot sometime between 1415 and 1425.  The tarot went through various changes before it settled into the standard 78-card deck we have today.  It didn't have a thing to do with ancient Egypt—but Renaissance Italy, the setting where it did emerge, was saturated with Neoplatonist mysticism and occultism. Even though Lévi was wrong about its origins, in other words, he was right that the tarot made a fine template for the kind of work he wanted to do with it. What that work is—why, we'll be getting to that in quite some detail in the posts to come.
Let's talk briefly about practicalities. If you have a decent reading knowledge of French, you should certainly use a copy of Lévi's original text to follow along with the posts to come; like most French authors, Lévi is best read in the original, and a translation is at best a pale substitute. (You can download volume 1 of the French edition here and volume 2 here.) If you don't read French and do read English, there are two English translations. One of them is partly by me, and the other one sucks.
I know that sounds like deep-fried ego on a plate, but it's not. The standard English translation of Lévi's work for many years was by Arthur Edward Waite, who retitled it Transcendental Magic—Waite could never be satisfied with a good title if there was a dull one he could use instead. His translation is full of errors, he deliberately left out certain parts of the text, and he burdened it with scores of footnotes in which he argued with Lévi and insisted that the French mage didn't know what he was talking about.
This wasn't accidental. For all his lifelong interest in occultism, Waite was a devout and rather orthodox Christian, and his great motive in writing books on occult traditions was to convince people that Christian orthodoxy really was the one true path. Like too many other Christian intellectuals down through the years, he was not above falsifying data and engaging in character assassination if he thought such things would help him lead souls to Christ. (I'll be documenting some examples of those bad habits of his in a forthcoming book.) Waite also suffered from another bad habit, more common among occultists than Christians, of thinking that if he didn't know about something, there wasn't anything there to know about, and a great many of his attempted critiques of Lévi's work thus amount to "But that's not in the limited range of teachings I've studied!"
While Lévi's book has long been an essential text in occult schools and magical traditions throughout continental Europe and Latin America, it's been largely ignored in the English-speaking world, and the main reason for this is because Waite's maneuvers succeeded in their goal. That was why Mark Mikituk and I set out to do a new, accurate translation of Lévi's work, which was published in 2017 to considerable acclaim. That's the English translation I recommend using if you have to use an English translation; you can buy it here if you like.
That said, Waite's version is long out of copyright and can quite legally be downloaded free of charge, while the translation by Mark and me will set you back S21.00 or so. If you don't have the spare money to buy a copy of the latter, and you want to follow along, Waite's translation is better than nothing, and you can get a copy here. Just remember, if you do this, that you'll be dealing with Lévi filtered through a thick and sticky layer of hostile spin.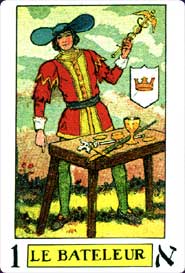 One other thing that may be useful in the work ahead is a tarot deck. No, you won't be using it to practice divination, but that wasn't what Lévi did with it either. (Did you know there are things you can do with a tarot deck other than telling fortunes?  An embarrassing number of people don't.)  You'll need a deck in the French tradition, not one of the many that riffs off the Rider-Waite deck—yes, there's Waite again.  The decks I recommend in particular are the Knapp-Hall deck (recently reprinted as the New Art Tarot, its original title), created by the great American occultist Manly P. Hall using French models; the Wirth deck, created by French occultist Oswald Wirth; or any of the various Marseille decks.
On May 12 we'll begin in earnest with "Introduction to the Doctrine of High Magic," and proceed one chapter a month thereafter for the next four years or so.  I expect it to be a long strange trip, but a worthwhile one. Welcome to the journey!