It's been sixteen years now since I first started posting these weekly essays to the internet. Though I didn't originally intend them to focus on the crisis of industrial society, that theme was impossible for me to evade, and I soon gave up trying; there was too much that had to be said about the future of our age, and too few people were saying it.  Over the years that followed, I watched (and joined in) the peak oil movement as it rose and fell, watched (and kept my distance from) the parallel movement of climate change activism as it rose and fell, watched (and dealt in my own life with some of the consequences of) the slow twilight of America's global empire and the vaster twilight of Western civilization as a whole—and all of those got discussed in blog posts.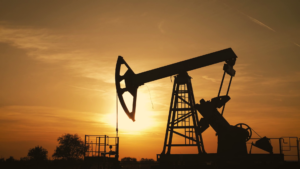 I sometimes get asked by readers what happened to all the fuss about peak oil, and now and again someone brings up one of the other topics I've talked about over the years and wonders what's up with those. A glance back over those four themes thus seems appropriate just now. Partly, a retrospective look is a useful thing from time to time, and partly—well, we'll get to that.
We can start with peak oil.  Starting in the middle years of the twentieth century, a handful of petroleum geologists began to point out that building a civilization on the breakneck extraction and consumption of nonrenewable fossil fuels would have an awkward downside once the fuels began to run short. Their concerns were brushed aside by almost everyone else.  When the United States—the first nation on earth to start extracting oil commercially—ran out of new conventional-oil reserves to extract in the early 1970s, and got hammered by the oil shock of that decade, a slightly larger number of people started paying attention to the risk that industrial civilization might literally run out of gas. (One of them was iconic science fiction author Isaac Asimov, whose vivid if inaccurate 1977 essay "The Nightmare Life Without Fuel" first got me thinking seriously about the subject.)
The energy crisis of the 1970s ended with a flurry of short-term fixes that temporarily flooded the market with cheap crude oil again. By the last years of the twentieth century, those fixes were past their pull date, for a simple if awkward reason summed up by petroleum geologists in a memorable phrase: "depletion never sleeps."  In any human timescale, petroleum is a nonrenewable resource; every barrel of oil that's pumped out of the ground and burnt today is a barrel you can't pump and burn tomorrow, or any time in the next fifty million years. The short-term fixes that drained the Alaska North Slope, North Sea, and Gulf of Mexico fields dry kept prices down for a few short decades, at the cost of leaving much less oil to cushion the impact when the next crisis hit.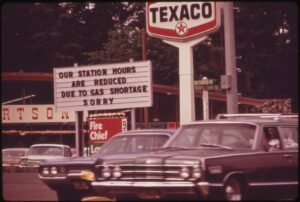 That happened around the time I started blogging. The price of oil spiked to previously unthinkable levels, the global economy sagged, and those warnings from the 1970s suddenly looked prophetic again. Peak oil accordingly got its fifteen minutes of fame. By and large, people who paid attention to the subject reacted in two ways. They insisted that some new energy source would pop up in the nick of time so that business as usual would continue, or they insisted that industrial society would crash into ruin sometime very soon and everyone would die. There was plenty of debate about which energy source would show up just in time to save the day, just as there was plenty of debate about just how the apocalypse would arrive and kill us all, but very few people took the time to question the dichotomy that undergirded these debates.
There were some of us who raised dissenting voices. We pointed out that all the "new" energy sources that were being brandished around so freely by the business-as-usual crowd had been tested in the 1970s and had proven hopelessly inadequate to support an industrial society. We pointed out that all the canned cataclysms being brandished about with equal enthusiasm by the apocalypse crowd had been predicted repeatedly in the past, too, and had failed to show up. We looked at what happens to civilizations that exhaust the resources on which they depend, and pointed out that this predicts a future nobody was talking about:  the future of ragged irrevocable decline that Jim Kunstler called the Long Emergency and I called the Long Descent.
Then, just as in the 1970s, a flurry of short-term fixes temporarily flooded the market with cheap petroleum and drove prices down again for a while. Those fixes didn't involve any of the new energy sources that had been brandished around. They involved taking a well-known oil extraction technology called hydrofracturing ("fracking"), using it on well-known shale reserves that weren't economical to drill and pump, and having the US government cover the costs by printing money at a reckless pace and funneling it to the fracking industry by way of a flurry of dubious financial gimmicks. (That orgy of money-printing is a large part of why we have runaway inflation now, in case you were wondering.) That was never going to be more than a temporary gimmick, and it lasted only a dozen years:  the price of oil was already skyrocketing again before the Russo-Ukraine war broke out.  The next stage—well, we'll get to that in a bit.
Anthropogenic climate change was another theme I started talking about nearly as soon as I started blogging. That was a known risk even before peak oil had come up for discussion—the brilliant Swedish chemist Svante Arrhenius identified it as a problem in the late nineteenth century—but it didn't get a lot of attention in the first half of the twentieth century, since global temperatures at that time moved down more often than up. (That's why up until the 1980s, quite a few reputable climate scientists predicted we were heading toward an imminent new ice age; that's easy to document, but try getting climate scientists to admit it these days.)  In the second half of the twentieth century, however, global average temperatures began to climb as the postwar boom hit and fossil fuel use skyrocketed worldwide, and we started hearing about "global warming" in the media.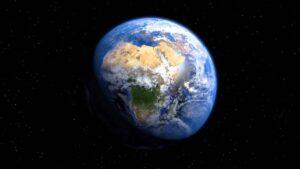 It was a lousy phrase to choose, by the way. Adding carbon dioxide and other greenhouse gases to the atmosphere does increase the average global temperature to a modest degree, but that's the least significant of its effects. As James Watt showed back in the 1780s, the more you insulate a heat engine, the more work you can get out of it. The atmosphere functions as a gigantic heat engine, greenhouse gases are a source of additional insulation, and the work the atmosphere does is called "weather." Thus the most visible result of anthropogenic climate change isn't general warming; it's an increase in extreme weather events of all kinds—cold, hot, dry, torrentially wet, you name it—combined with a more efficient transfer of heat from the tropics to the poles, which is changing rain belts and climate zones all over the world.
That wasn't what you heard about in the public debate, of course. What got splashed around on the media was the same dichotomy we saw around peak oil. On the one hand, people insisted that some exciting new technology would save the day and allow business as usual to continue forever. On the other hand, people insisted that the climate would spin out of control sometime very soon and everyone would die. Since big corporate interests had plenty to gain by angling for climate-based government handouts, the apocalypse crowd got much more traction here than they did in the case of peak oil, but that was the one noticeable difference between the two debates.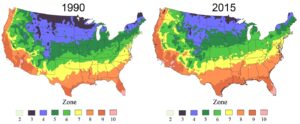 Once again, there were some of us who raised dissenting voices. We turned to paleoclimatology as a source of guidance, and pointed out that fast, drastic changes in global temperature have happened before many times without wiping out life on the planet.  We pointed out, on the other side of the balance, that all the loudly ballyhooed climate treaties and green-energy investments hadn't even slowed down the rate at which greenhouse gases were being dumped into the atmosphere, and that the people who were making the most noise about global warming were the people clinging most frantically to carbon-intensive lifestyles while insisting that everyone else had to use less carbon.  We predicted a future in which there were winners as well as losers, as rain belts and climate zones shifted implacably across continents, and the melting of the Greenland and Antarctic ice caps raised sea level worldwide by some 300 feet, drowning most coastal cities.
The climate change movement turned out to have more staying power than the peak oil movement. That was mostly because the global climate didn't send fuel prices spiking to politically risky levels, and so nobody even pretended to fix climate change with a flurry of short-term gimmicks. What happened instead was that the climate change movement kept going through the same hapless motions while greenhouse gases kept pouring into the atmosphere. It's entertaining in a bleak way to watch the way that each year's climate protests insist that something has to be done this year or we'll all surely die, often in the same words they used the year before, and the year before that, and so on. Meanwhile nothing is done, and the global climate year after year shifts further into territory not seen in recorded history. The next stage—well, again, we'll get to that in a bit.
There wasn't a big movement discussing the twilight of America's global empire. The few times the waning of American power abroad got into the media at all, it evoked a little nervous laughter here, a little blustering there, a few carefully evasive articles somewhere else for intellectuals to read, and then everyone in the political classes of the United States and its clients abroad went on pretending that the Pax Americana was still firmly in place and would last for the foreseeable future. The humiliating collapse of the US puppet state in Afghanistan showed anyone who was paying attention that America had lost it, but too few people were paying attention.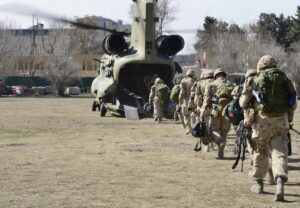 So it wasn't a matter of a few of us raising dissenting voices amid a busy debate. Those who spoke of the decline of American global hegemony were exiled to the fringes of contemporary discourse, serenely ignored not only by the cheerleaders of empire but also by those who claimed to hate US empire and everything it stood for. That didn't slow us down much, of course, because we were used to talking to small audiences about the things that mattered. We explored the factors that drive the rise and fall of empires, showed how the United States has followed in lockstep through all the usual patterns, and now is caught in the inevitable blowback of empire, when the imperial tribute economy no longer covers the costs of empire and the resulting crises start to drag the imperial nation down into a familiar spiral of economic collapse and political disintegration.
I can't speak for the other writers and bloggers who explored that subject, but I didn't suffer from any illusions about changing the course of history. My goal was simply to help individual readers to brace themselves for a difficult future and make preparations that might get them and their families  through the opening rounds of crisis intact. Meanwhile American global power dwindled steadily. It's indicative that when the Russo-Ukrainian war broke out and the United States and its client states responded with what were intended to be worldwide financial sanctions, the rest of the world shrugged and kept trading with Russia as though American edicts didn't mean a thing. May I point out the obvious?  That's not the kind of thing that happens to a global empire in the days of its power.  The next stage—well, yet again, we'll get to that in a bit.
Finally, all three of the processes I've just surveyed—the end of the era of cheap energy, the slow destabilization of the global climate, and the twilight of America's global empire—are all motifs in a much vaster picture. That broader perspective is the decline and fall of modern civilization. That's not something poised off in the distant future, by the way. European thinkers in the last years of the nineteenth century watched history unfolding around them and recognized all the familiar signs of impending decline in their own societies.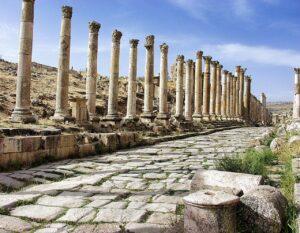 Historians now talk about the Decadent movement and the Fin de Siècle, but they miss a crucial point about those terms, which is that the people who created those names were correct in their diagnosis; they lived as modern civilization was beginning its descent toward a new dark age. Technology is a lagging indicator—it's quite common for a civilization in terminal decline to push its technologies further than ever before, while its economy turns into a hollow shell propped up by fakery and graft, its political system grinds to a halt in bureaucratic paralysis and hopeless incompetence, and its grip on its outlying regions becomes increasingly fictitious. In every way that matters, modern civilization is more than a century into decline, drawing toward the end of one of the eras of relative stability that reliably punctuate the downslope of history.
Here, too, it wasn't a matter of a few of us raising dissenting voices in the midst of a lively debate. The very notion that modern civilization might not last forever and conquer the stars themselves is still wholly outside today's collective mindset. The nearest most people are willing to come to that idea is the same refuge we've seen already, the dream of a sudden apocalypse that will wipe us all out and make the whole issue moot. That modern civilization might lose its grip a little at a time—that its technologies might be abandoned due to soaring costs of energy and raw materials, that its proud coastal cities might be swallowed by the oceans at a rate of a few inches a year, that five hundred years from now the title of President of the United States might be claimed by a successful warlord in the Ohio River basin, the Charlemagne of a deindustrial dark age—is unthinkable to most people. That won't keep it from happening, of course. It just means that most people will be blindsided by the changes on the way.
The decline and fall of a civilization is not a fast process. Neither is the twilight of an empire, the restructuring of a planet's climate, or the exhaustion of that same planet's once-extensive fossil fuel reserves. All of these happen over a scale of multiple lifetimes, and they also happen unevenly. Just as the movement of the tides is obscured in the short term by the ebb and flow of waves, the fall of a civilization is obscured by the ordinary vagaries of politics, economics, and culture. Only now and then, when several crises pile up together and disrupt the ordinary rhythms of business as usual, does it become possible to gauge just how far down the slope we've already come.
That is to say, the reality of decline becomes most visible in times like the present.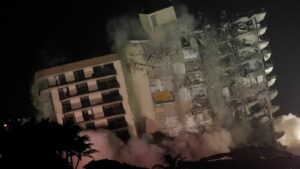 Look around you, dear reader, as you go about your daily life, and compare what you see now to what you saw a decade or two ago, or longer if your memory reaches that far. Here in the United States, it's been more than two years since grocery stores have reliably had fully stocked shelves; the same condition, all but unthinkable in the industrial world just a few years back, has spread to Britain and more recently to several European countries as well. If you live in or near a big city, compare how many homeless people there are now to how many there were in the past; compare the state of streets and sidewalks and infrastructure now to their condition in any earlier decade you care to name. Consider the impact of product debasement and the general crapification of the conditions of your life. Notice what civil rights you can actually exercise, as distinct from those you have in some theoretical sense. Notice the general texture of life.
Do I need to state the obvious? This is what decline looks like.
I'm sorry to say I can't offer you any hope of general improvement in the near future.  Quite the contrary, the cascading impacts of the coronavirus pandemic and the Russo-Ukrainian war have shown us just how brittle our civilization has become and how little resilience it has left. As the next round of crises hits—and there will be a next round, very likely before this year is out—we can expect to see more disruptions.  And peak oil, climate change, the twilight of America's empire?  Those mark critical fault lines around which the foundations of modern life are cracking.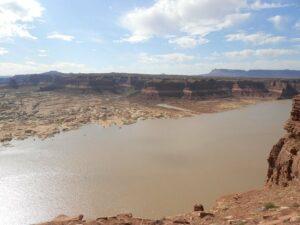 It's worth considering these one at a time. As I type these words, the price of oil has been above US$100 a barrel for months. Other energy sources have risen comparably in price.  Rising energy costs act as a tax on all economic activity, as wealth and resources that might otherwise go into different economic sectors have to be diverted to the energy sector to keep lights on and gas tanks full. The result is stagflation—a witch's brew of rising prices and shrinking economic activity.  We're already seeing that: US GDP shrank in the first quarter of 2022, and prices are up 8.8% year-over-year.  I expect stagflation to get considerably worse before it gets better, though the official media can be counted on to do its level best to obscure that fact.
As I type these words, furthermore, much of the western half of the United States is facing another year of extreme drought conditions. Reservoirs are emptying out fast as snowpack over the winter just past was a small percentage of normal, and increasingly harsh water restrictions are having to be imposed over much of the Southwest. Here in Rhode Island we've had plenty of rain but the maples are leafing out a month early.  The global climate is changing as rain belts shift in ways familiar from paleoclimatology; there will be winners as well as losers, but the economic impacts of the changes will have a hefty price tag.  The possibility that Las Vegas will have to be abandoned to the drifting sands because there will be no water available for its residents is being discussed quietly in a growing number of places.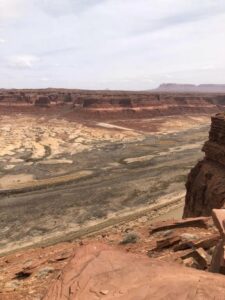 As I type these words, for that matter, the United States and its European client states seem to have decided that Ukraine is the hill they want to die on. War is always a risky thing—as the saying goes, no plan anywhere survives contact with the enemy—but confident predictions by Western pundits that Russia would run out of munitions and have its economy wrecked by sanctions haven't exactly played out well so far. Nor is the outcome of the war at all clear yet.  It bears remembering that we're only three months into the war; three months into the American Civil War and the Second World War respectively, the Confederacy and Nazi Germany looked certain to win.
No matter who wins the Russo-Ukrainian war—if anyone does; stalemate is always a potential outcome—the enormous strains the war has inflicted on the global economy are not going to be repaired easily, and will likely never be repaired at all. As China, India, and a growing list of other countries pay for Russian exports in currencies other than the US dollar, decades-old arrangements are coming apart, and wrenching shifts can be expected as economies adjust on every scale from households to continents. And of course all these changes—the end of cheap energy, the shift of the planet's climate, and the crumbling of America's empire—are hitting their stride at the same time, as elements of the broader arc of decline and fall.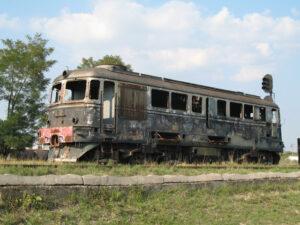 When I spent the last sixteen years discussing these things, in other words, I was talking about now.
Over the next few months, accordingly, I'll be revisiting each of those themes, explaining what to expect, why the technofixes won't work and why the changes ahead don't amount to the end of the world. I'll assess some of the flashpoints and fissures where crises seem most likely to break out soon. I'll also revisit what individuals, families, and community groups can do to respond to the crises ahead. Hang onto your hats, folks. We've got a wild ride ahead.