One of the great ironies of the history of ideas is the way that cultures and civilizations go out of their way not to follow up on their greatest intellectual achievements. Look at the trajectory of every great culture, and you'll find that the supreme breakthroughs of its thinkers don't happen at the beginning of an arc of intellectual achievement; they happen at the end, just before whatever field of work led to those breakthroughs gets abandoned.
Classical civilization is a case in point.  The great age of classical philosophy reached its zenith and its end with the works of Plato and Aristotle. There were plenty of philosophers after their time, some of them very capable, but nearly all of them backed away uneasily from the program of philosophical research into the nature of reality that started with Thales of Miletus and ended with the two figures just named, and focused on ethics instead. That's one of the reasons why so many histories of philosophy stop with Aristotle and go from there straight to the Middle Ages, skipping over most of a millennium at a single bound.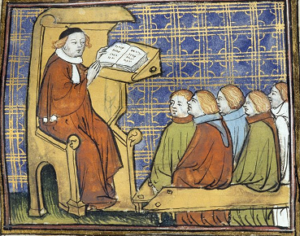 Despite its frantic claims of uniqueness, modern Western civilization is no exception to this rule, though its trajectory took a little longer to play out. Western philosophy got a boost from its classical predecessor, after all, and took up the study of logic in the Middle Ages. You can quite easily find historians of philosophy who call the medieval period one of the great ages of research into logic, and for good reason:  your average undergraduate at a European university in 1300 could take most of what passes for logic in modern discourse and pick it apart before breakfast, showing its embarrassing absurdity. (Those of my readers who know what a syllogism is can entertain themselves in the same way, before or after breakfast.)
The heritage of medieval logic was taken up by the founder of modern Western philosophy, René Descartes (1596-1650), and put to work in the service of a grand project. Descartes wanted to figure out exactly what the human mind can actually know by its own powers; he set himself the challenge of doubting everything that he couldn't prove to himself. He didn't succeed at that monumentally difficult task, but his efforts and conclusions were impressive enough that other thinkers followed in his track, challenging his ideas while pursuing the same quest.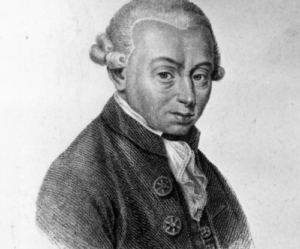 Fast forward a century and a half packed to the bursting point with important philosophical writings and we reach Immanuel Kant (1724-1804), who was Plato to Descartes' Thales, and took the philosophical analysis of what the human mind can know to its endpoint. Building on the efforts of his predecessors, he showed that everything we experience is an artifact of our own mental and sensory processes. There's a real world out there—that was easy enough to demonstrate—but we have no immediate (that is to say, unmediated) access to it.  What's more, all our experiences have been so thoroughly reworked on the way through our sensory and cognitive processing that it's accurate to say that we know next to nothing about its objective nature, except what we can infer through roundabout methods such as science.
If you doubt this, dear reader, please talk to a physicist sometime. They've gotten very good at the roundabout methods just mentioned, and discovered, for example, that solid objects aren't really solid—they're mostly empty space, dotted with minute atomic nuclei and probability clouds of electrical charge. They've also discovered that colored objects aren't really colored—what we call "color" is how our brains process chemical reactions in our retinas set in motion by the tiny fraction of the electromagnetic spectrum we call "light." I could go on at quite some length, of course. It's a source of some amusement to me that two hundred years of scientific research proved, among other things, that Kant was right.
It's when we proceed to the capstone of Kant's analysis of what the human mind can know about the world that physicists start getting acutely uncomfortable. Kant showed that the considerations I've sketched out earlier doesn't just apply to objects and motions. It also applies to the background against which we experience objects and motions—space and time themselves. He showed that these aren't objective qualities of existence; instead, they're basic structures of human consciousness, hardwired into our minds. They are the habits of awareness that make it possible for us to experience things one at a time, each in its own place, instead of getting them all at once, all mashed up together.
Of course this was, and is, not easy to grasp. It's particularly challenging if you happen to be committed to a view of the world in which space and time are objective realities, rather than subjective and profoundly human structures projected onto the inkblot patterns of the cosmos. If you happen to be a mystic, Kant's insights come as no surprise; mystics have been aware of this for millennia, because the subjective nature of space and time is one of the things you discover if you turn your attention to your own consciousness using the tools of meditation and contemplation. Europe at  the end of the eighteenth century, however, had a shortage of mystics and a surplus of people whose theories depended on the objective nature of space and time. As a result, most of Western thought since Kant's time can quite accurately be described as a frantic attempt to ignore the big gray elephant that Kant led into the room.
All this is the necessary prologue to an issue I mentioned in a couple of earlier discussions, and my readers asked me to explore in a post of its own: the existence of a realm we can call the "subnatural," as distinct from the supernatural, and its interactions with the natural world that we experience directly. If you understand space and time as objective realities, it's hard to make any kind of sense of the occult teachings about the subnatural realm. Recognize that space and time are conditions of consciousness and it becomes much easier. All you have to do is look at the experience of space and stop taking it in a simplemindedly literal sense. Goethe's famous saying is apt:  Alles Vergängliche ist nur ein Gleichnis—"All that is transitory is but a symbol."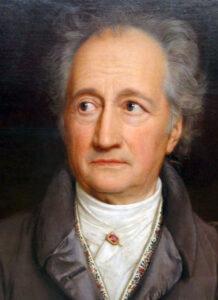 Our experience of space is twofold. On the one hand, we experience space as distance—the distance from my breakfast table to the study where I'm writing this, the distance from the town where I live to Poughkeepsie, New York, or the distance from the Earth to the Moon. On the other, we experience space as scale.  The distances I've just named are all more or less part of what we can call the human scale:  we can understand them in terms of human travel (it takes two dozen steps or so for me to walk to my computer after breakfast; it takes a couple of hours to take the bus at highway speeds to Poughkeepsie; it takes three days at escape velocity to ride an Apollo capsule to the Moon.)
There are other scales that cannot be understood in human terms. Some are too small for us to grasp in anything but a wholly abstract manner—the distance between the nuclei of two cells in your body is on the edge of that, the distance between the nuclei of two atoms in your body is deep into that, and that realm of incomprehensible smallness goes deeper still. Others are too large for us to grasp, again, in anything but a wholly abstract manner—examples are the distance from one star to another, from one galaxy to another, from one cluster of galaxies to another, and so on into incomprehensibility.
Now it so happens that in occult philosophy these differences in scale map onto differences in spiritual quality.  The most obvious form of this is the idea, found in a great many spiritual traditions around the world, that physical matter as we know it is denser and more contracted than the various nonphysical substances that also exist in the cosmos. The spiritual realms, in this way of thinking, are quite literally bigger than the material realm, and not just a little bit bigger; pick up an esoteric Buddhist sutra (I'm thinking here especially of the Mahavairocanasambodhi Sutra, mostly because I recently reread it) and you can expect to encounter dharma realms sketched out on scales of distance that would make astronomers blanch.
With Kant in mind, all this makes immediate sense. Space, from a Kantian perspective, is what separates the experience of different individuals, while time separates different experiences witnessed by the same individuals.  Experiences on the human scale are all experiences that human beings have had, or can have. Experiences on the radically different scales we've just been discussing are experiences that we can't have, and can only babble about in the language of vague abstraction.  They represent realities that brush against ours in subtle ways, realms of being distinct from the one we know, which we can infer by reflecting on our experiences but can never actually encounter directly.
There are, please notice, two categories of such realities, those that are incomprehensibly greater than the human scale and those that are incomprehensibly smaller. Since the human scale includes everything we would normally think of as "nature," we can refer to these neatly as the supernatural and the subnatural realms. Interestingly, C.S. Lewis made this point in his book Miracles, talking about quantum physics, and the way that subatomic particles violate the standard deterministic scientific notions of nature.  "It would be, indeed, too great a shock to our habits to describe [the behavior of subatomic particles] as super-natural," he wrote. "I think we should call them sub-natural. But all our confidence that Nature has no doors, and no reality outside herself for doors to open on, would have disappeared. There is something outside her, the Subnatural. … And clearly if she thus has a back door opening on the Subnatural, it is quite on the cards that she may also have a front door opening on the Supernatural."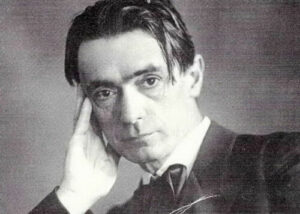 At this point it's helpful to turn to the work of another thinker, the Austrian philosopher and mystic Rudolf Steiner (1861-1925). Arguably the most brilliant star in the firmament of classic Western occultism, Steiner (like every thinker) also made his share of mistakes.  These have unfortunately been amplified by a strong fundamentalist streak among followers of his, for whom "Steiner said it, I believe it, that settles it" too often takes the place of thoughtful reflections on the strengths and weaknesses of his teachings.  That's unfortunate, not least because the sometimes shrill demands for blind obedience to Steiner have convinced a great many people to steer well away from his work.
One of his teachings that stands up very well in practice is his recognition that the simple binary of good vs. evil doesn't work in practice. As Aristotle pointed out a very long time ago, a virtue is not the opposite of one vice but the midpoint between two: courage is the midpoint between cowardice and heedlessness, generosity the midpoint between stinginess and profligacy, and so on through the catalog of virtues and vices. Steiner, who knew Aristotle inside and out, took this same principle and applied it more generally. He noted that by and large, there are two forms of evil, which he named Ahrimanic evil and Luciferic evil.
I've noted in the past that you can understand these with perfect clarity if you know your way around the cultural geography of California. Ahrimanic evil is sheer blind craving for sensory experience and material goodies; its Californian capital is Los Angeles, where everyone is on the make and Don Henley's song "Gimme What You Got" catches the flavor of life. Luciferic evil is spiritual pride, the conviction that you're better than everyone else and nothing in the world is good enough for you; its Californian capital is San Francisco, where the self-proclaimed Good People parade their virtue and serenely ignore the consequences of their actions. It would be helpful if Fresno, which is roughly halfway between the two, was a hotbed of the third, balancing factor, which Steiner associated with the Archangel Michael; regrettably Fresno as yet shows no particular sign of rising to any such cosmic destiny.
What makes Ahrimanic and Luciferic evil both so destructive is precisely because neither one of them allows for the whole human being. It's as though they chopped the archetypal human in half at the neck, leaving Ahriman with a mindless body chasing after instinctual cravings, and Lucifer with a bodiless head sneering at the merely material world. Only in the middle ground is it possible to be a complete human being, and that requires mastering both the Ahrimanic and Luciferic impulses in the self, finding the point of balance between them that allows for freedom.
Steiner had certain other points to make, however. He proposed that the Luciferic impulse comes from the supernatural realm, while the Ahrimanic impulse comes from the subnatural realm. He also suggested that from the perspective of the early twentieth century, when he wrote, the Luciferian impulse mostly belonged to humanity's past, while the Ahrimanic impulse was a rising trend that would manifest in humanity's future. He expressed these in mythological forms that many of his followers tend to take very literally.  Understood as visionary experiences rich with symbolism, however, his insights have an important message for the present.
While both the Ahrimanic and Luciferic modes of evil are always with us, it is in fact quite correct that from the perspective of the early twentieth century, the heyday of Luciferic evil was in the past and that of Ahrimanic evil was in the future. Our current crop of Luciferic "Good People," though their self-righteous posturing is admittedly annoying, can't hold a candle to the smarmy holier-than-thou brigades of the Victorian era, who turned wallowing in their own imaginary virtue into a fine art.  By the same measure, however, the Ahrimanic culture of the nineteenth century would look practically harmless in today's mainstream culture. Consider poor Aleister Crowley, who got a reputation as "the wickedest man alive" because he was a bisexual who practiced occultism, wrote sexually explicit poetry, and used drugs. These days? If he showed up at a Lost Angeles party he'd probably be shocked to the soles of his boots.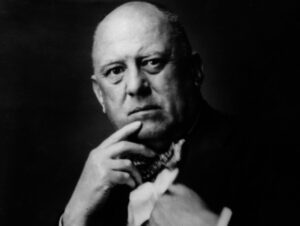 The connection between Ahrimanic evil and the subnatural realm can, however, be understood in a far more precise sense. We experience the subnatural realm in which Ahrimanic evil is at home as far smaller and denser than the natural world we inhabit. Our natural world impinges on the subnatural world, in turn, where subatomic particles interact with phenomena we can perceive. There weren't many of those back in the day. Now? Most of what counts as advanced technology depends on the behavior of particles on the quantum level. Electronics are a good example—the transistor, the basic building block of modern electronics, relies on quantum effects, and the computer chips that run most of our machines these days are simply vast arrays of incredibly small transistors on a single silicon wafer.
It's one of the consistent features of Ahrimanic evil, furthermore, that it defines the world in terms of binaries. (Luciferic evil, by contrast, has false unities as its keynote, and the Michael current always resolves unities and binaries into ternaries, threefold patterns of balance.)  To the Ahrimanic mind, it's always this or that, yes or no, me or you, desirable or hateful…1 or 0. Steiner died before digital computer technology came to the forefront, but it would have given him not a millisecond of surprise that computers reduce everything into binary digits.
If you've ever wondered, in other words, why the internet has so pervasive a bias toward blind wallowing in mindless cravings, why pornography remains one of its largest moneymaking sectors, and why people on internet forums so reliably behave like badly behaved dogs unless they're restrained by effective moderation, let's just say that there may be reasons for that which stray well outside the materialist worldview. It's worth considering the possibility that electronic technology has an inherent Ahrimanic bias literally wired into it. It's not the only such technology—it's worth noting, for example, that very nearly the first thing that happened once Einstein proposed that mass could be converted into lots of energy was that people in various parts of the world went, "Ooh, cool, you could make a really lethal bomb that way!"—but electronics shapes human interaction far more pervasively than the mostly stillborn technology of nucleonics ever did.
Steiner, again, was ahead of his time. In a lecture he gave in 1921 he described one of his visions of the future: "And from the earth will well up terrible creations of beings who in their character stand between the mineral kingdom and the plant kingdom as automative beings with a supernatural intellect, an immense intellect. When this development takes hold, the earth will be covered, as with a web, a web of terrible spiders, spiders of enormous wisdom, which however, in their organisation don't even reach the plant status. Terrible spiders which will interlock with each other, which will imitate in their movements all that which humanity has thought of with their shadowlike intellect."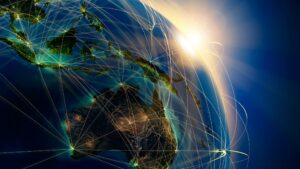 Score one for Steiner. Computer technology can quite accurately be described as midway between the mineral and the plant, more responsive than the mineral without actually being alive in any real sense, and the Earth is indeed covered with their World Wide Web.  There are hard limits to how long this Ahrimanic manifestation (or infestation) can prolong itself, as these "spiders" do in fact "well up from the Earth," and demand constant inputs of hardware made from rare earth elements and equally constant inputs of energy derived from fossil fuels. (Every server farm receives multiple truckloads of new components every single day to replace the ones that burn out, and require enough electricity to power a midsized town.) None of these resources exist in limitless quantities and many of them are running short right now.
I haven't yet seen any discussion, among students of Steiner, of resource depletion as an expression of the Michael current, but I hope to see that one of these days. In the meantime, while the internet remains so pervasive in contemporary life, I'd encourage my readers to keep an eye on the Ahrimanic biases the internet places on their contacts with others, and to look for alternative options that don't stray quite so close to the boundary where our world brushes against the unhuman and antihuman.