While Andrew Jackson Davis was attracting huge crowds with his discourses in trance, and the Fox sisters were listening to tapping noises, another important 19th century American occultist was pursuing his researches in a small town in Maine.  His name was Phineas Parkhurst Quimby, and his impact on the magical history of America would be far greater than that of any of the figures we've discussed so far; a good half of American occultism, and some of the most distinctive religious groups in the United States, would never have existed without him.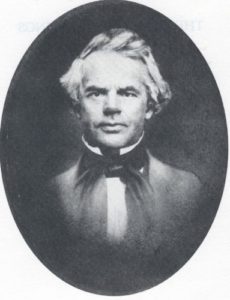 Quimby was born in Lebanon, New Hampshire in 1802, one of seven children of a blacksmith and his wife. When he was two his family moved to Belfast, Maine, where Quimby would spend much of his life. Since blacksmiths weren't exactly well paid in those days, Quimby grew up poor, received little education, and was apprenticed early on to a clockmaker.  That turned out to be an inspired choice; the boy had a talent for machinery of all kinds, became a successful clockmaker and watchmaker, and patented a series of inventions, including a steam-powered chainsaw and a steering device for that cutting-edge marvel of ultramodern technology, the paddle-wheeled steamship. He married, had children, and to all intents and purposes seemed to be settling down into the mold of the classic Yankee type of inventor.
Then, in 1836, a Frenchman named Charles Poyen came to Belfast. Poyen was a mesmerist, one of the disciples of Franz Anton Mesmer's healing art who helped spread it across the young United States by going from town to town and giving lectures and public demonstrations to paying audiences. Quimby attended one of Poyen's lectures and was hooked. He had the chance to talk to Poyen after the performance, and the mesmerist admitted that anyone could master mesmerism given proper training. That was all it took; Quimby raised the necessary funds, shuttered his clockmaker's shop, and spent two years from 1838 to 1840 traveling around New England with Poyen, learning mesmerism.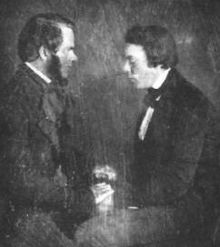 In 1840 Quimby met a young man named Lucius Burkmar who had the same sort of talent for being mesmerized that Andrew Jackson Davis had, without Davis' charisma or his eye for the main chance. Quimby had enough ambition for the two of them, and found that he could put Burkmar into trance easily, with colorful results.   The two of them quickly became an act on the New England lecture circuit, with Burkmar reading minds, practicing remote viewing, and diagnosing diseases—the standard features of mesmerist performances in those days.
As the tours proceeded, though, Quimby began to have doubts about the theory of mesmerism he'd learned from Poyen.  He noticed that the diagnoses Burkmar gave had less to do with what illness the patient actually had than with whatever the patient or some other nearby person thought was wrong.  He came to the conclusion that mesmerism wasn't about working with the life force, but had to do entirely with the mind. He accordingly stopped touring with Burkmar and returned to Belfast, where he plunged into further experiments, first using mesmeric methods and then moving in directions of his own.
Over the course of the 1850s he developed his own theory of health and disease, which with characteristic modesty he called "the Truth."  He became convinced that all disease was a function of wrong thinking, that it had no independent existence at all, and that any apparent disease could be cured at once if only the sick person could be convinced to give up their wrong ideas and accept "the Truth." Since at that time the profession of medicine was unregulated, he hung out a shingle as a doctor, and proceeded to demonstrate that in at least some cases, he was right. Ailments that had baffled ordinary doctors gave way to prompt recoveries once Quimby sat down with the patient, discussed the apparent problem, and in his grave, serious, and earnest manner, set out to convince the patient that the ailment did not actually exist.
Does that sound preposterous?  It was a commonplace of medical practice before physicians let themselves be turned into shills for the pharmaceutical industry.  A very large proportion of the illnesses people suffer—quite possibly a majority of them—are what the irritable jargon of an earlier day used to describe as "nonspecific psychogenic conditions:"  the products of stress, emotional conflict, and other mental states, acting on the body. Researchers in the jawbreakingly named medical field of psychoneuroimmunology have even identified the physical means by which many of these conditions happen:  the vagus nerve, which runs from the brain's underbelly down into the vital organs and carries messages in both directions.
These conditions aren't imaginary; they actually do cause measurable changes to organs and systems; they can cause a vast amount of pain, dysfunction, and misery—but attempts to treat them using medicines and surgery have consistenly proven ineffective, because those attempts address symptoms rather than causes. These frustrating conditions were extremely common in the 1850s, too, especially among women—and the reason for that can be laid squarely at the feet of Victorian morality.
It's one thing to decide not to have sex, for reasons of religious scruple, social pressure, or what have you.  People have been doing that for thousands of years without suffering any particular ill effects.  It's quite another to be taught from the cradle onward that you have no sexual desires at all, that no healthy and right-thinking woman could ever possibly want to have sex, and that to feel the least twinge of sexual desire was proof positive that you were a vile, corrupt, unnatural creature doomed to live a life of infamy, die a shameful death, and then fry in Hell for all eternity. That's what Victorian preachers, pundits, and physicians in Britain and America taught women, as part of a package of beliefs that insisted that any other sign of dissatisfaction women might feel toward the lives assigned to them was another bit of evidence that they were sinful, degraded wretches who deserved to get the divine boot in the face forever.
The result was a bumper crop of what psychiatrists today call "conversion disorders"—mental illnesses, that is, that express themselves in the form of apparently physical symptoms. Those used to be called hysterical disorders; they were very common in the 19th century, and are much less common today. During their heyday, they provided mental healers such as Phineas Parkhurst Quimby with their bread and butter.  If your illness is a result of emotional stress because you've had to bottle up a vast number of allegedly nonexistent feelings, sitting down with a grave, serious, and earnest man who will listen to you, let you talk about all those feelings you're not supposed to have, and then kindly explain to you that you're not physically ill at all, and that what's hurting you is your own thoughts—that can be a profoundly healing experience.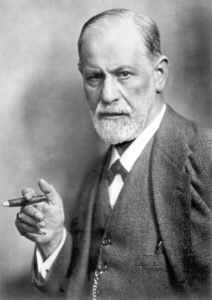 Yes, this is also what provided Sigmund Freud with his bread and butter. I'm not sure how many people realize that Freud was doing exactly the same thing that mental healers in the occult scene had been doing for half a century before their time.  Freud was simply better at decking out mind healing in scientific drag, and so managed to cling to a veneer of medical respectability that his more overtly occult predecessors never achieved.  If you've ever heard the famous anecdote told by Freud's pupil and rival Carl Jung about Freud's dread of "the black tide of mud—of occultism," now you know what was behind that. He was afraid of being mistaken for the people that he was, in point of fact, imitating.
In 1859, though, Sigmund Freud was but a twinkle in the Id's eye, and so Quimby had the field largely to himself.  That was the year that he moved from Belfast to the bustling metropolis of Portland, Maine, where he set up shop as a mental healer.  He faced a lot of pushback from other physicians, of course, but in those days what's now the mainstream of the medical industry hadn't yet succeeded in imposing a jealously guarded monopoly on health care in this country—that had to wait for the 1950s—and so Quimby could practice without having to worry about being thrown into prison and having all his papers burnt by the FDA.  He quickly attracted a steady stream of patients, many of whom seemed to benefit greatly from his approach to therapy.  One of them was a woman named Mary Baker Eddy…and thereby hangs a tale.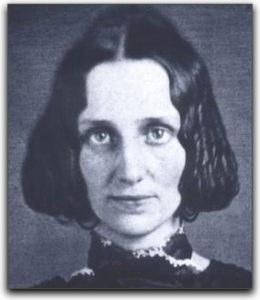 Eddy was another child of New Hampshire, the youngest child of a hardscrabble Yankee farmer and a doting mother, and her childhood and youth were made colorful by an endless sequence of fainting fits, hysterical outbursts, digestive upsets, and other standard conversion disorders, which continued into her adulthood. In 1862, having tried every other medical treatment available at the time, Eddy went to Portland to consult with Phineas Quimby. Within a week she was cured.  She continued to study with Quimby for three years, learning his system of treatment, and her letters at the time show that she was profoundly influenced by him.
In 1866, Eddy slipped and fell on ice in Lynn, Massachusetts, suffering a spinal injury, the seriousness of which has been the subject of lengthy debate ever since.  After three days in bed, she asked for a Bible, happened to read the description of Christ's healing of a palsied man in Matthew 9:2, and rose from the bed, completely healed. (That's what her memoirs said, though she sued the city of Lynn some time later, claiming that she was still suffering from the injury.)  She separated from her husband and spent the followng years working out a healing system of her own, which combined Phineas Quimby's "Truth" with the Christian faith of her childhood.  She called the resulting system Christian Science.
Exactly how she would present her Christian Science to an unbelieving world was a matter of some concern to her. For a while in the late 1860s and early 1870s she boarded with a sequence of Spiritualist believers, and there are fairly well-documented claims that on several occasions she acted as a medium. By 1875, though, she had left Spiritualism behind and set her system of Christian Science on its feet with her most important book, Science and Health with Key to the Scriptures. In 1879, having gathered a substantial following of students and believers, she founded the Church of Christ, Scientist.  Where Quimby finished his life as a successful healer with a steady income and a local reputation, Eddy finished hers as a hugely famous and controversial figure, the head of an international religious movement and the author of bestselling books that are still in print today.
This is a pattern we'll see more than once as our exploration continues—one person invents a system, another takes it over and turns it into a huge organizational presence—and there's a reason why women very often ended up taking on the second of those roles.  In the 19th and early 20th century, women who were talented, ambitious, and good at organizing had very few options in the social mainstream. Alternative religion, on the other hand, was a field in which women had taken the lead from early in American history.  Jemima Wilkinson, the "Public Universal Friend" of colonial Rhode Island, and Mother Ann Lee, the founder of the Shakers, were only two of many women who used alternative religious movements to extract themselves from the very limited sphere assigned to women at the time, and become the heads of organizations.
It's quite standard for the person who fills the second of the roles mentioned above to do everything possible to erase the contributions of the person filling the first of those roles. That's certainly what Mary Baker Eddy did. As her own reputation grew and her church found its feet, she went out of her way to minimize Phineas Quimby's contributions, and came to insist that the whole of Christian Science was her own unique discovery.  Like many people who fill that second role, she also did everything she could to try to prevent anyone else from doing what she'd done to Quimby, and using her ideas as a springboard to establish teachings and movements of their own.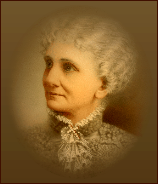 She succeeded in the first of these attempts—Quimby was all but forgotten until well into the 20th century—but failed in the second. Partly that was the result of her own contentious nature, as the period from the founding of the Church of Christ, Scientist until her death in 1910 was enlivened by constant, bitter quarrels with her subordinates in the church. There was another factor, though. From the 1870s onward she was a morphine addict, and as many opiate addicts do, she became paranoid.  She became convinced that people were trying to kill her by beaming "malicious animal magnetism" at her. By her last years she was convinced that 50,000 people were streaming evil thoughts at her in an attempt to cause her death.
If you want to encourage schism, a quarrelsome nature and a steadily deepening streak of paranoia is a great way to do it.  That's certainly what happened with Mary Baker Eddy.  One of her protegées, Ursula Gestefeld, was thrown out of Christian Science in 1888 for the sin of publishing a book of her own on the subject; she responded by coming up with her own teaching, called Science of Being. A far more dangerous rival was Emma Curtis Hopkins, a woman as ambitious and headstrong as Eddy herself, who tried to pressure Eddy into giving her control of all Christian Science activity in the western regions of the United States. Failing to force that division, Hopkins left Christian Science, founded a College of Metaphysical Science in Chicago, and taught students who went on to found a panoply of organizations of their own. Long before that happened, though, the movement that spun off from Christian Science and from Quimby's otherwise forgotten teachings had found a name for itself:  New Thought.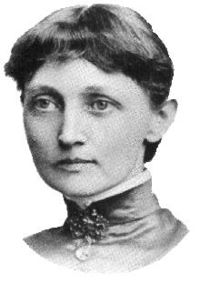 The role of New Thought in the history of American popular occultism is impossible to overstate. Freed of the constraints of Eddy's doctrine, New Thought teachers borrowed raw material from every conceivable source, and Western occultism became one of the standard quarries worked three shifts a day by New Thought writers and teachers. Meanwhile ideas flowed the other way as well:  all through the 20th century, it was rare to find an American occultist who didn't draw heavily on New Thought ideas.
What were those ideas?  The most important of them, the keystone of Quimby's teachings and the essence of the movement that developed from him through Eddy to the New Thought explosion of the late 19th and early 20th century, was neatly summed up by New Thought teacher and occultist William Walker Atkinson:  "THE ALL is MIND; the Universe is Mental." From the perspective of New Thought, matter is an illusion. All things are mental in nature; matter is our term for certain mental objects we have not yet learned how to shape with the powers of our own minds.  To the believer in New Thought, the universe is a vast thought held in the mind of God, and all beings are thoughts of God given the power to think themselves.
From this unfolds the second basic principle of New Thought, which is that illness and all other forms of human suffering are the result of wrong thinking. If the universe is mental, then any unsatisfactory condition we experience in the universe is a mental effect of a mental cause. Since matter does not exist, there can be no material causes for anything, and so the place to look when something goes wrong is the mind of the sufferer.  Figure out what is wrong with your thinking, and then change your mind, and as the mental cause goes away, the effect vanishes as well.
The third basic principle of New Thought starts from the second principle and takes it to its logical conclusion.  If all illness and suffering is caused by wrong thinking, and wrong thinking can be changed, then it should be possible to become free of all illness and suffering.  More, by replacing wrong thinking with right thinking, it should be possible to become radiant, joyous, and immortal, a superhuman being capable of fantastic achievements.
It's probably a good idea to stop here and mention that these teachings don't actually mesh that well with those of traditional Western occultism. In the magical traditions that the colonists brought over from Europe, and also those that the slaves brought over from Africa, matter is not an illusion:  it is one of several realms of being, each of which has its own laws and rules.  In these older magical traditions, human beings are capable of bettering their lot by attuning themselves to the spiritual realities of the universe, but only in the teachings of alchemy did anyone suggest that it was possible to overcome illness and death itself, and the alchemists believed that this required a fantastically difficult process of alchemical labor—not merely a change of attitudes and beliefs.
It's also worth pointing out that not all New Thought teachings went to the extremes noted above.  From the early 20th century on, there were also New Thought pragmatists, who adopted the basic attitude of "straighten out your thinking, and your life will straighten out in response" without claiming that matter did not exist. Early 20th century American teachers such as Burks Hamner and Norman Vincent Peale typified this approach to New Thought, while their opposite numbers such as Charles and Myrtle Fillmore were spreading the more colorful version of the movement, and laying the foundations for the New Age movement of the late 20th century.
Meanwhile, from the late 19th century on, New Thought ideas blended in the American occult scene with older occult traditions, in an unstable and wildly creative mix that gave rise to some of the enduring classics of American occultism, as well as some of its most embarrassing flops. In future posts, we'll be discussing how those unfolded. First, however, we need to circle back to Spiritualism, and trace from there the pyrotechnic career of another of the great occultists of American history: the first African-American occultist to achieve international fame, the astounding and tragic Paschal Beverly Randolph.
***************
On the off chance that readers might want to know more, one of the pragmatic New Thought courses offered in the middle years of the 20th century—the Life Science course written for the Order of Essenes by its founder Burks L. Hamner—is available from this website. As it was in Hamner's time, it's offered free of charge.