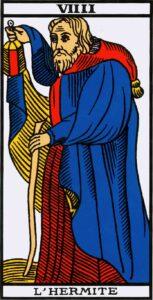 With this post we continue a monthly chapter-by-chapter discussion of The Doctrine and Ritual of High Magic by Eliphas Lévi, the book that launched the modern magical revival.  Here and in the months ahead we're plunging into the white-hot fires of creation where modern magic was born. If you're just joining us now, I recommend reading the earlier posts in this sequence first; you can find them here.  Either way, grab your tarot cards and hang on tight.
If you can read French, I strongly encourage you to get a copy of Lévi's book in the original and follow along with that; it's readily available for sale in Francophone countries, and can also be downloaded from Archive.org. If not, the English translation by me and Mark Mikituk is recommended; A.E. Waite's translation, unhelpfully retitled Transcendental Magic, is second-rate at best—riddled with errors and burdened with Waite's seething intellectual jealousy of Lévi—though you can use it after a fashion if it's what you can get. Also recommended is a tarot deck using the French pattern:  the Knapp-Hall deck (unfortunately out of print at the moment), the Wirth deck (available in several versions), or any of the Marseilles decks are suitable.
Reading:
"Chapter 9: Initiation" (Greer & Mikituk, pp. 96-99).
Commentary:
This is a very short chapter, one of the shortest in the book.  Lévi has something very important to say in it, but he was not interested in spelling it out in more words than necessary. A very close reading of our text is therefore in order.
The theme of the chapter is initiation. I noted in print many years ago that there had probably been more nonsense written about initiation than any other subject but the lost continent of Atlantis.  That's not as true as it once was, partly because initiation isn't the hot-button issue it was a few decades ago, and partly because the production of nonsense on certain other subjects has been ramped up to unprecedented levels. (It's a growth industry these days.)  Even so, a certain amount of clarification may be in order when dealing with the concept.
What is initiation?  The Latin word initiatio, from which it derives, literally means "beginning."  To be initiated is to begin, to make a start. To be an initiate is to be a beginner.  In occult parlance an initiate is someone who has actually made a start on the path of occultism.  In place of sitting around daydreaming about what it would be like to practice high magic, or doing any of the other delaying tactics that so many people use to avoid the hard work and equally hard realizations of occult training, the initiate is in motion.
Lévi tells us that the initiate has three curious items, which are shown on the tarot card that illustrates this chapter:  the lamp of Hermes Trismegistus, the cloak of Apollonius of Tyana, and the staff of the Biblical patriarchs.  It's a neatly turned image, and the three items mean a great deal more than the simple allegorical notions to which he assigns them.
To begin with, Hermes Trismegistus, "Hermes the Thrice Greatest" as the name means in Greek, was the nominal author of a collection of essays—the Corpus Hermeticum—which were actually written by an assortment of Greek-speaking Egyptian occultists not long after the start of the Christian era. The only surviving copy reached Florence in the fifteenth century and played a major role in kickstarting the Renaissance occult revival. Apollonius of Tyana was a Syrian occultist, active in the second century AD, who had a reputation as a miracle-worker, and who studied the surviving lore of the Pythagorean Brotherhood, an occult initiatory order that flourished in the Greek colonial cities of southern Italy around 500 BC. The patriarchs are the legendary figures fron the Book of Genesis—Abraham, Isaac, Jacob, and Joseph and his brothers—to whom Jewish mystics  trace the origins of the Cabala.
As a symbolic summary of the Western occult tradition, that is, Lévi's imagery is apt. Occultism as we know it does in fact come from a fusion of the Hermetic, Neopythagorean/Neoplatonist, and Cabalistic traditions.  All three of them were rooted in the rich magical heritage of the classical world; all three of them survived in a hole-and-corner way through the long centuries of religious persecution; all three of them came out of hiding in the Renaissance, as part of the general recovery of lost knowledge during that astonishing era; all three of them suffered a second era of obscuration after the rise of materialist rationalism—and all three of them flowed into Eliphas Lévi's great synthesis. To become an initiate, as he understood magical initiation, requires a good working acquaintance with all three.
Notice also that the items in question are not holy relics laid up in some safe place to be admired and venerated at a distance. They are tools that initiates pick up and put to work to meet their own needs. The point here—and it's a crucial one—is that the admirable figures referenced by the titles of these items are examples to be emulated, not icons to be adored. What you are now, they once were. What they became, you also can be.  Getting there isn't easy but it can be done, by those prepared to know, to dare, to will, and to be silent.
The lamp of Trismegistus, the cloak of Apollonius, and the staff of the patriarchs can of course be interpreted in other ways. That's one of the lessons to be learned from this chapter, and from Lévi's examination of symbolism more generally. The number nine, as our text explains, is that of the divine reflections. In the Cabala, this is symbolized by the nine lower spheres of the Tree of Life, each of which is a reflection of the first, divine sphere.  It is also symbolized by the ninth sphere, Yesod, which is called the Treasure House of Images and in one of its expressions is the realm of imagination in which the symbols of spiritual reality are found.
Every symbol, however, necessarily distorts the thing it symbolizes, and this is especially true when what's being symbolized cannot be expressed in any straightforward or literal way. To reveal something is to re-veil it. This is why the number nine is assigned to the concepts of superstition and idolatry. What is a superstition?  A custom preserved by habit when its meaning has been lost. What is idolatry?  Reverence directed at a symbol instead of at the thing to which the symbol is meant to point. To use a fine old Zen image, a finger that points at the Moon is not the Moon.  Expecting the finger to give light on a dark night is idolatry; pointing at the sky whether the Moon is visible or not is superstition.
What makes these considerations of high importance is that superstition and idolatry are the normal conditions of human thought. We routinely believe things to be true just because we read them somewhere, or heard them from someone we want to trust; we routinely orient our actions in relation to symbols, in the serene and unthinking conviction that the realities will be there when called for. Nor are superstition and idolatry restricted to the uneducated—quite the contrary, the more educated you are, the more things you have to take on faith.  Consider the content of a newspaper, a news website, or (if you must) the stories spouted by talking heads on a television news show.  How many of the things they say can you check against other sources of information?  How often do you even try?
Initiates know the dominion of superstition and idolatry over humanity. They also know that any attempt they might make to end that dominion will simply replace one superstition with another, one idolatry with another.  As Lévi points out, reason, liberty, and strength are available to anyone who wants them, but most people aren't willing to put in the effort needed to win them.  Nor can they be given to anyone by anyone else—they can only be achieved by the individual, through his or her own efforts. Since initiates know this, they do their best to point out the way to these things and then let people choose for themselves.  Meanwhile, the initiates conceal themselves within whatever form of camouflage the prevailing fashions in superstition and idolatry make most convenient.
Let go of superstitions and idolatries and the world becomes a more meaningful place. Divination, our text points out, is one expression of this. Most people, most of the time, see the world through a thick haze of mental clichés. Doing this makes the world much less complicated to deal with, since everything is reduced to one of a manageable number of stereotypes, but it also limits your knowledge of what is actually happening around you. "Divination," Lévi points out, "is simply the knowledge of the effects contained in the causes."  In less gnomic language, he is saying that the law of cause and effect is active everywhere and in all things; certain causes reliably precede certain effects, and if you compare the causes presently in motion to analogous causes at work in other situations, you can very often see the analogous effects taking shape.
As Lévi means to hint with his deliberately mocking examples, it's the small things that so often reveal the shape of the future crouching in the shadows of the present. The initiate pays more attention to trifles than to those things that seem more important to the general public, because the latter are easier to fake. Public figures who make a pretense of modesty very often betray themselves by little vanities—that's Caesar in Lévi's example. The other examples can be interpreted in similar ways, and it's an exercise worth the time to take some current figure, look for the little cues that don't fit, and see if you can see the real person underneath the layer of public relations. You will be able to do this to the precise extent that you become conscious of your own pretenses and falsifications.
This is also the one effective defense against what Lévi terms "the false lights of mysticism." One of the great risks run by anyone who aspires to a knowledge of the spiritual realm is that of confusing the symbol with the reality. Read histories of false messiahs and failed prophets and you'll find that this pitfall is the most common cause of disaster. The map is not the territory, the image held in the mind is not the reality it more or less expresses:  this is above all true of anything that comes out of seership or visionary experience.  Lose track of that and you're in the same predicament as all the other people who mistook a vision for an everyday reality and stood blinking in surprise and disappointment when Jesus didn't show up or the Space Brothers didn't land or the world didn't end promptly on December 21, 2012.
If you know your own bad habits of thought and feeling, it's much easier to recognize that mistaking experiences of the imagination as objective truths is simply another form of superstition, and that placing blind trust in the imaginative experiences of some supposed prophet is simply another form of idolatry. It's when imagination is recognized as what it is—a tremendous gift, but one that is subject to the same limits as all other forms of human cognition, and to certain predictable weaknesses of its own—that it can be used to best advantage.
The three instruments of the initiate, in turn, are also three of the four magical virtues:  the lamp is an instrument of knowing, the staff of daring, and the cloak of keeping silent. Knowledge gives the initiate the necessary framework for action, daring characterizes the action itself, and silence makes it possible to act without running afoul of the inevitable pushback from the superstitious and idolatrous collective mind, and the majority of people who are inevitably influenced by that collective mind. It's because initiates guide their actions using these rules that they accomplish their goals with a minimum of fuss.  Lao Tsu noted the same principle more than two thousand years before Lévi's time:  "Take action without unnecessary talk, and people will say, 'we did it all by ourselves.'"
Notes for Study and Practice:
It's quite possible to get a great deal out of The Doctrine and Ritual of High Magic by the simple expedient of reading each chapter several times and thinking at length about the ideas and imagery that Lévi presents. For those who want to push things a little further, however, meditation is a classic tool for doing so.
The method of meditation I am teaching as we read Lévi is one that is implicit in his text, and was developed in various ways by later occultists following in his footsteps.  It is a simple and very safe method, suitable for complete beginners but not without benefits for more experienced practitioners.  It will take you five minutes a day.  Its requirements are a comfortable chair, your copy of Lévi's book, and a tarot deck of one of the varieties discussed earlier.
For your work on this chapter, take Trump IX, L'Hermite, "The Hermit"  Your first task is to study it and get familiar with the imagery. Sit down, get out the card, and study it.  Spend five minutes doing this on the first day you devote to this practice.
Your second task is to associate a letter with it. Lévi gives you two options, the Hebrew letter ט (Teth) or the Latin letter I. As noted earlier, you should choose one alphabet and stick to it. The sound values aren't of any importance here, nor is there a "right" choice. You're assigning labels to a mental filing cabinet.  Most people can make the necessary association quite promptly, but spend a session exploring it. Sit down, get out the card, and study it.  Relate it to the letter in any way that comes to mind.
The third and fourth sessions are devoted to the two titles Lévi gives for the card: Yesod and Bonum. Sit down, get out the card, and study it. How does Yesod, Foundation, relate to the imagery on the card and the letter you've chosen?  That's one session.  How about Bonum, "good"?  That's the next one.  Once again, you'll have to choose a third word for this chapter, and that word is the theme of the fifth session.  Approach it in the same way.
Don't worry about getting the wrong answer.  There are no wrong answers in meditation.  Your goal is to learn how to work with certain capacities of will and imagination most people never develop.  Stray thoughts, strange fancies, and whimsical notions do this as well as anything.
Sessions six through the end of the month are done exactly the same way, except that you take the concepts from the chapter. Sit down, get out the card, and study it. Then open the book to Chapter 9 of the Doctrine and find something in it that interests you.  Spend five minutes figuring out how it relates to the imagery on the card, the letter, and the three titles. Do the same thing with a different passage the next day, and the day after, and so on. If you run out of material for meditation in this chapter, you can certainly go back to the previous chapters and review what they have to say.
Don't worry about where this is going. Unless you've already done this kind of practice, the goal won't make any kind of sense to you. Just do the practice.  You'll find, if you stick with it, that over time the card you're working on takes on a curious quality I can only call conceptual three-dimensionality:  a depth is present that was not there before, a depth of meaning and ideation.  It can be very subtle or very loud, or anything in between. Don't sense it?  Don't worry.  Sit down, get out the card, and study it. Do the practice and see where it takes you.
We'll be going on to "Chapter 10:  The Cabala" on March 9, 2022. See you then!