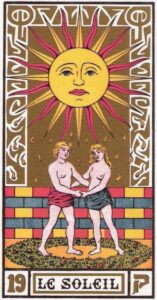 With this post we continue a monthly chapter-by-chapter discussion of The Doctrine and Ritual of High Magic by Eliphas Lévi, the book that launched the modern magical revival.  Here and in the months ahead we're plunging into the white-hot fires of creation where modern magic was born. If you're just joining us now, I recommend reading the earlier posts in this sequence first; you can find them here.  Either way, grab your tarot cards and hang on tight.
If you can read French, I strongly encourage you to get a copy of Lévi's book in the original and follow along with that; it's readily available for sale in Francophone countries, and can also be downloaded for free from Archive.org. If not, the English translation by me and Mark Mikituk is recommended; A.E. Waite's translation, unhelpfully retitled Transcendental Magic, is second-rate at best—riddled with errors and burdened with Waite's seething intellectual jealousy of Lévi—though you can use it after a fashion if it's what you can get. Also recommended is a tarot deck using the French pattern:  the Knapp-Hall deck (unfortunately out of print at the moment), the Wirth deck (available in several versions), or any of the Marseilles decks are suitable.
Reading:
"Chapter 20: The Stone of the Philosophers, Elagabalus" (Greer & Mikituk, pp. 168-172).
Commentary:
The Stone of the Philosophers!  Even before it was borrowed by J.K. Rowling for the first of her  bestselling Harry Potter novels, that phrase had plenty of cachet.  Most people who have learned anything at all about alchemy know that creating the philosopher's stone, lapis philosophorum in Latin, was the crucial step in the alchemical process.
To judge by eyewitness accounts of this "stone"—there are, curiously enough, quite a few of these from the Renaissance and early modern era, written down by people who didn't practice alchemy and had nothing to gain from making up stories about the subject—it was not a stone at all.  It was a red powder, slightly transparent like crushed glass, very dense and heavy.  A tiny pinch added to heated mercury turned the entire mass to gold in a few seconds.  Alchemical literature back in the day claimed that if the stone was properly made, the gold produced by it could be used to turn more base metal into gold, and so on, until one ounce of the stone had produced ten thousand ounces of pure gold.
Was this a factual account of a literally real process?  Distinguished scientists dismiss the idea with scorn—though of course it has to be remembered that not much more than half a century ago, distinguished scientists dismissed the idea of continental drift with scorn, and not much more than a century ago distinguished scientists dismissed the idea of space travel with scorn. Distinguished scientists are quite often wrong.  It is certainly true that all the currently known physical processes that can transform mercury into gold require much more energy than you can get from heating up the mercury and tossing a pinch of red powder into it. If the old metallic alchemy is a reality, it depends on a physical process that today's scientists haven't yet discovered—that much is certain. Beyond that, all is guesswork.
Yet it's not at all safe to assume that the alchemists were talking about literal descriptions of physically real processes. In fact, it's quite clear that some of them were doing no such thing. There is an entire literature of religious mysticism that uses the language of alchemy to talk about purely spiritual transformations. Much of it is Muslim, Jewish, or Christian, and the alchemy it has in mind is the salvation of the human soul.  There is also an entire literature of alchemical medicine in which the body is the alchemical vessel and healing from illness is the transmutation the alchemist seeks.  Carl Jung became famous a century ago for reinterpreting alchemy as a covert science of depth psychology; from an alchemist's point of view, he simply created a new alchemy—call it psychotherapeutic alchemy—in which the psyche is the substance to be transmuted and psychological health is the transmutation sought.
Too many students of alchemy make the mistake of insisting that one kind of alchemy—one of those just listed, or one of the many others—is the one true alchemy, and everything else is a concealment or a mistake. This is a category error. Alchemy is not a single branch of knowledge, like chemistry or psychology.  It is a method of knowledge, like science. Just as science has a scientific method, which can be applied to different subjects of inquiry to produce different sciences, alchemy has an alchemical method, which can be applied to different subjects of transmutation to produce different alchemies.  If we'd had an Alchemical Revolution in the seventeenth century instead of a Scientific Revolution, there would be hundreds of these alchemies right now, and the little fringe groups interested in science would be convulsed by bickering about whether science is properly about astronomy, or chemistry, or biology.
All of this is a necessary foreword to the current chapter of Doctrine and Ritual of High Magic. Several times already in our text, Lévi has discussed how magic offers a solution to the endless, pointless, and clueless squabbles between science and religion, reason and faith, and in this chapter he returns to this theme. He has his own alchemy to offer his readers, an alchemy of thought meant to convert the exceptionally base metal of the ongoing squabble between science and religion into a distinctive kind of gold.
Reason is the philosopher's stone he proposes to use here, but he does the thing that rationalists in his time and ours never do, and turns reason back on itself. There are things we human beings are capable of knowing through the application of reasoning to the evidence of the senses:  this much is obvious.  But it is just as obvious that there are things of very great importance to human existence that we cannot know that way.  These two realms, one rationally knowable, the other beyond the reach of rational knowledge, have to be clearly distinguished in practice as well as in theory. It is just as idiotic for scientific authorities to hand down pronouncements about the proper subject matter of religion as it is for religious authorities to hand down pronouncements about the proper subject matter of science.  Notes Lévi:
"Thus we must free our certitudes from our beliefs and render distinct the respective domains of science and of faith; we must understand that we do not know the things that we believe in, and that we no longer believe in the things which we are able to know, and that it is the essence of matters of faith that they are unknown and indefinite, while it is the complete contrary for matters of science. We would conclude that science is based on reason and experience, while faith is based on sentiment and reason."
It's an intriguing concept. It's also the normal compromise that every civilization reaches in the latter part of its history, once its Age of Faith has given way to an Age of Reason and its Age of Reason has run aground on the usual rocks of anthropocentric cluelessness and arrogance. It is the boast of every Age of Reason that human beings can know everything worth knowing about the world. In due time, that boast disproves itself, and the rueful intellectuals of a later age draw the same distinction Lévi does, separating the things we can know from the things we can't, and recognizing when the things we can't know still matter a very great deal.
The key to finding the point of balance between faith and reason—or, to use one of Lévi's own metaphors, the door to the temple midway between the two great pillars of Jachin and Boaz—is one that Lévi has also discussed before. He says:  "And the absolute is that which admits of no error, it is the fixed in the volatile, it is the rule of the imagination, it is the necessity of being itself, it is the immutable law of reason and truth:  the absolute is what is." Here we return to the first sentences of our text, where Lévi challenges Descartes' basic principle "I think therefore I am" and offers his own alternative, derived ultimately from the Cabala:  "I am, therefore something is." Each of us experiences ourselves and the world; whether or not these things are what they appear to be or not, it remains true that the experiences themselves take place.
Jean-Paul Sartre sent shockwaves through the twentieth century philosophical world by arguing that existence precedes essence:  that is, we do not encounter a world of meaning, purpose and value, but rather a world of bare meaningless existences into which meaning, purpose, and value must be inserted by our own efforts. That was the basic formula of existentialism, and it helped clear away a great deal of arbitrary handwaving by thinkers who wanted to insist that their own personal notions of meaning, purpose, and value were hardwired into the structure of reality. Long before Sartre was born, however, Lévi went a step further and pointed out that experience precedes existence:  experience, not matter, is the raw material from which our world is made.
That's a dizzying shift for most modern people. We're raised to think of material things as the basic building blocks of existence, and our experiences of material things as a sort of dim reflection of the real world of matter. Yet the material world is simply a way of talking about the fact that we experience something that to us, looks, feels, sounds, tastes, and smells like various kinds of matter. We have no access to the world except through our experiences of it—and those experiences, as philosophers and physicists alike have been pointing out for a very long time, needn't have  anything in common with the hypothetical whatever-it-is that lies behind them.
The basis of reality, then, is experience itself:  that which is.  Everything else is an extrapolation from that. We experience things that appear, to us, to be made of something we can call "matter." From our experiences of these things, we can come up with various rules that seem to explain how this stuff called "matter" seems to behave. This is the basis for science.  Yet this is not the only kind of knowledge we can have. Our experiences also include experiences of meaning, value, and purpose. Those have their own order and structure, which we cannot grasp directly under most circumstances but can sense in part by reflecting on our experiences, and also in part by reading or listening to the accounts of people—call them saints, sages, prophets, or what have you—who have come a little closer than most of us to the unseen core around which our experiences gather.
Those two forms of knowledge are not our only options.  We can also explore experience as such, reflecting on it and playing with it, and discover the roles that will and imagination play in shaping and reshaping experience. This is the way of high magic.  If we do this, we become aware that all the various forms of experience are shapes taken by an underlying something-or-other, which Lévi calls the astral light, and other traditions of mysticism and magic call by other names—God, Brahman, the Absolute, the Unmanifest, the Void. We also become aware that we ourselves are also products of this same underlying reality. This is the alchemy at the heart of Lévi's teaching: the transmutation of all things into the astral light, the One Thing of the alchemists, the one reality at the heart of all things which is also the reason why all things exist.
This reality can be intellectualized, of course, and though mystics tend to bristle at the thought, there's a point to that exercise. Even though Lao Tsu started off the Tao Te Ching with the useful warning, "A process as described is not the same as the process as it exists," he didn't just say this and shut up.  He went on to write another five thousand characters or so about tao, process, and te, the excellence achieved by moving in harmony with it. In the same way, Lévi has written at length about the astral light, and about reflecting on experience as a key to understanding it. Reading his words is not a substitute for encountering the world first hand and beginning to sense the One Thing, but it can point the mind in some semblance of the right direction.
In the classic manner, however, Lévi also provides a more enigmatic and therefore more practically useful way of approaching the same experience. He asks us to imagine a cube. On one face is the name of Solomon, legendarily the wisest of mortals, and on the opposite face the name of God; on another face the name of Adam, and on the face opposite to that the name of Eve; and on the other two sides, the word Azoth and the acronym INRI, the traditional contraction of the sign nailed on the cross where Jesus was crucified:  Iesus Nazareus Rex Iudeorum, "Jesus of Nazareth, King of the Jews."
Each of these names, in the spelling Lévi uses, is a Tetragrammaton, a name of four letters. Each therefore represents one way of looking at, and thinking about, the Great Arcanum, the supreme secret of practical magic. Imagine this clearly, and then take the image as what Zen teachers call a kōan, a puzzle that cannot be solved through ordinary thinking but only by making the leap to a new level of mental functioning. Here Lévi is being as clear about the nature of the Great Arcanum and the means of its attainment as he possibly can. Take his symbol as a theme for meditation, and see how much you can learn from it.
Notes for Study and Practice:
It's quite possible to get a great deal out of The Doctrine and Ritual of High Magic by the simple expedient of reading each chapter several times and thinking at length about the ideas and imagery that Lévi presents. For those who want to push things a little further, however, meditation is a classic tool for doing so.
The method of meditation I am teaching as we read Lévi is one that is implicit in his text, and was developed in various ways by later occultists following in his footsteps.  It is a simple and very safe method, suitable for complete beginners but not without benefits for more experienced practitioners.  It will take you five minutes a day.  Its requirements are a comfortable chair, your copy of Lévi's book, and a tarot deck of one of the varieties discussed earlier.
For your work on this chapter, take Trump XIX, "Le Soleil."  Your first task is to study it and get familiar with the imagery. Sit down, get out the card, and study it.  Spend five minutes doing this on the first day you devote to this practice.
Your second task is to associate a letter with it. Lévi gives you two options, the Hebrew letter ק (Qoph) or the Latin letter T. As noted earlier, you should choose one alphabet and stick to it. The sound values aren't of any importance here, nor is there a "right" choice. You're assigning labels to a mental filing cabinet.  Most people can make the necessary association quite promptly, but spend a session exploring it. Sit down, get out the card, and study it.  Relate it to the letter in any way that comes to mind.
The third through fifth sessions are devoted to the titles Lévi gives for the card: Vocatio, Sol, and Aurum. Sit down, get out the card, and study it. How does Vocatio, "vocation, calling," relate to the imagery on the card and the letter you've chosen?  That's one session.  How about Sol, "sun"?  How about Aurum, "gold"?   Approach these in the same way as the concepts you explored in earlier meditations.
Don't worry about getting the wrong answer.  There are no wrong answers in meditation.  Your goal is to learn how to work with certain capacities of will and imagination most people never develop.  Stray thoughts, strange fancies, and whimsical notions do this as well as anything.
Sessions six through the end of the month are done exactly the same way, except that you take the concepts from the chapter. Sit down, get out the card, and study it. Then open the book to Chapter 19 of the Doctrine and find something in it that interests you.  Spend five minutes figuring out how it relates to the imagery on the card, the letter, and the three titles. Do the same thing with a different passage the next day, and the day after, and so on. If you run out of material for meditation in this chapter, you can certainly go back to the previous chapters and review what they have to say.
Don't worry about where this is going. Unless you've already done this kind of practice, the goal won't make any kind of sense to you. Just do the practice.  You'll find, if you stick with it, that over time the card you're working on takes on a curious quality I can only call conceptual three-dimensionality:  a depth is present that was not there before, a depth of meaning and ideation.  It can be very subtle or very loud, or anything in between. Don't sense it?  Don't worry.  Sit down, get out the card, and study it. Do the practice and see where it takes you.
We'll be going on to Chapter 20, "The Universal Medicine," on January 11, 2023. See you then!