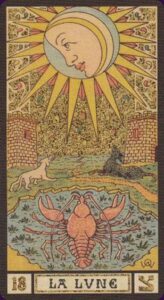 With this post we continue a monthly chapter-by-chapter discussion of The Doctrine and Ritual of High Magic by Eliphas Lévi, the book that launched the modern magical revival.  Here and in the months ahead we're plunging into the white-hot fires of creation where modern magic was born. If you're just joining us now, I recommend reading the earlier posts in this sequence first; you can find them here.  Either way, grab your tarot cards and hang on tight.
If you can read French, I strongly encourage you to get a copy of Lévi's book in the original and follow along with that; it's readily available for sale in Francophone countries, and can also be downloaded for free from Archive.org. If not, the English translation by me and Mark Mikituk is recommended; A.E. Waite's translation, unhelpfully retitled Transcendental Magic, is second-rate at best—riddled with errors and burdened with Waite's seething intellectual jealousy of Lévi—though you can use it after a fashion if it's what you can get. Also recommended is a tarot deck using the French pattern:  the Knapp-Hall deck (unfortunately out of print at the moment), the Wirth deck (available in several versions), or any of the Marseilles decks are suitable.
Reading:
"Chapter 18: Potions and Spells" (Greer & Mikituk, pp. 159-167).
Commentary:
When people who don't know anything about magic discuss magic, the title of this chapter sums up most of what they talk about—well, so long as they don't go veering off into gossip about ritual orgies and devil worship, that is. There's a reason for the fixation, of course.  For a good many centuries, if you lived in the European countryside, the wise woman in the little cottage at the far end of the village or the cunning man who had a little hut in the woods used herbal concoctions and verbal spells as the core elements of their stock in trade, and if you went to the equivalent figure in the older parts of the United States, the local hoodoo doctor or Pennsylvania Dutch braucher, you could expect to get much the same thing. A few strange leaves steeped in water, a few strange words murmured over the cup: that's not all of folk magic, to be sure, but it accounts for quite a large fraction of the total.
In mid-19th century France, however, when Eliphas Lévi picked up his pen, a far more sinister use of herbal potions had a pervasive presence in the popular imagination, and that's what our chapter starts with. Herbal poisons are of course a reality, and yes, practitioners of folk magic normally knew the nature, properties, and use of the vegetable poisons that grew in their area. Partly that's because most folk magicians are also healers, providing what health care rural communities could expect back in the day, and most poisons are simply medicines given to the wrong person in too strong a dose; partly, if you're an herbalist and you don't know which local plants can hurt you, you really should turn in your certificate and get your box tops back.
But it's also true that in the days before effective laboratory tests for poisons, poisoning was a very common and relatively safe means of murder, and if you wanted to do in some inconvenient person, finding an unscrupulous folk magician was one way to get the necessary substance. That was fairly common back then—a detail which authors of medieval mystery novels these days have noticed, and used to good effect—and it played a very large role in giving folk mages the reputation they had. Many medieval law codes punished convicted poisoners with death by burning, whether or not their nasty habits had any connection with magic at all.
There was also another, harsher reason why mages at all levels of society needed to know how to use poisons. Practitioners of magic routinely had to cope with monarchs and aristocrats who demanded the impossible and wouldn't take no for an answer, and poison offered an effective counter. There's a fine old Taoist recipe for the elixir of immortality, for example, which Taoist magicians and alchemists in China had ready to hand if they ended up imprisoned by an emperor or a powerful mandarin who wanted to live forever. It was a complex product including a great deal of mercury, and it was made into little pills to be taken one each day. It's a curious detail of heavy metal poisoning that it makes you feel healthy and energetic—at first. It also guarantees that you body won't decay, and any sufficiently fast-talking Taoist could explain to the family of the dear departed that this showed that the person in question had become an immortal spirit.
As Lévi points out, there are European magical and alchemical texts that have comparable recipes, concealed under various cover stories to fool the incautious . There were also more robust means to the same end. I have an alchemical recipe in my collection that claims to make the philosopher's stone, which can turn lead into gold. What it actually makes is several ounces of highly unstable gold fulminate, which the would-be alchemist is instructed to pound up in a mortar. One tap with the pestle and the alchemist and his laboratory will be blown to smithereens.  I don't recommend trying this, but it was doubtless a useful thing to hand to a greedy nobleman who threatened your life if you didn't tell him how to manufacture gold.
Another factor, however, made Lévi give so much time to poisons in this chapter.  In his time, it was a common belief that sinister secret societies pervaded European society.  These societies weren't thought to be all in cahoots with each other, the way today's conspiracy theories tend to portray things today. In the popular culture of Lévi's time, there were supposed to be liberal secret societies, conservative secret societies, radical secret societies, and reactionary secret societies, all fighting one another tooth and nail in an unending quest for power.  The dagger in the back and the poisoned cup were believed to be common weapons in this war—and so, among those who believed in the occult sciences, was magic.
Now it's worth mentioning that there were in fact quite a few secret societies in Europe at that time, they occupied nearly every imaginable point on the political spectrum, and they fought each other from time to time.  The history of Italy in the 19th century is incomprehensible if you don't pay attention to the massive role that the Carbonari and other Italian secret societies played  in the creation of Italian nationalism and the struggle to unite the Italian peninsula into a single nation; the history of Germany in the late 18th and early 19th centuries took the course it did in part because of the struggles between the Strict Observance and the Order of the Gold and Rosy Cross; and Russian secret societies were an ongoing challenge to the government of the Tsars until one of them seized power in 1917 and put an end to the Tsarist regime. Then there's the immense role that Masonry and other secret societies played in launching the American revolution in 1775 or the Latin American revolutions of the early 19th century.
Lévi was't simply shoveling smoke in this chapter, in other words. He was speaking to a widespread if somewhat exaggerated concern about the role of secret societies in European culture of the time, and linking his vision of magic with that concern.  His insights go deeper than today's conspiracy culture, however, because he understood the supreme secret of the secret societies. Whisper this: people form secret societies to support their political causes only when they don't have the numbers or the resources to pursue other methods.
The Italian Carbonari are as good an example as any. They were founded right after the French armies under Napoleon conquered Italy in 1801. None of the little nations into which Italy was divided in those days had the strength to rise up and throw the French out by sheer military force; all of them together couldn't have managed it.  Subversion, espionage, and assassination? That they could do, and did.  Once Napoleon was defeated and the last French armies were driven out of Italy, they turned their attention to their own corrupt rulers, and finally succeeded in getting rid of them and creating a single Italian nation. Meanwhile people in other European countries organized Carbonaro chapters of their own, and used them to frighten monarchs across Europe into granting civil rights and constitutional governments to their subjects.
You'll find the same trajectory at work in the American Revolution. It was organized by two secret societies, the Committees of Correspondence and the Sons of Liberty—the first, as my American readers might remember from history class, organized the legal resistance to abuses of power by the British government, while the second gathered armaments and prepared for war. As long as they were small, inadequately funded, and didn't yet have an army in the field, they stayed strictly secret. Once the shooting started they dropped the mask of secrecy and turned into the Continental Congress and the Continental Army respectively.  Yes, Congress and the United States Army both started out as secret societies. (The United States Navy started out as a gaggle of pirates, but that's another story entirely.)
All this history is part of the background for this chapter in our text. In 1854 France was under the autocratic rule of Napoleon III, the nephew of the Napoleon you've heard of, who'd gotten himself elected president of the French Republic and then staged a coup to put himself on his uncle's throne. Inevitably, there were secret societies of half a dozen kinds hard at work trying to destabilize the new regime. Novels of the time were accordingly full of references to secret societies and their plots, and plenty of people in Lévi's readership had firsthand knowledge of secret societies—a good many people belonged to at least one.
Lévi doesn't seem to have been active in the political secret societies of the time, though he was a Freemason for a while.  He did do jail time for publishing a book, The Testament of Liberty, which was considered subversive by the official censors of the imperial regime. (The only reason he wasn't banned from Twitter and Facebook is that those hadn't been invented yet.) By the time he penned our text, however, he had moved away from politics to work with subtler and more personal forms of power. The lurid details of the first half of this chapter are meant to lead to that other realm of power, which the second half of the chapter explores.
There are poisons of the mind as well as poisons of the body.  The folk magicians of medieval Europe who went in for harmful magic, like their equivalents in every other place and time, knew that fear can be as lethal as any chemical poison. "Once the imagination is struck," says our text, "once the nervous system is attacked, the victim perishes quickly, and the terror of his friends and family complete his perdition"—as neat a description of the nocebo effect, the placebo effect's nasty twin sister, as one could hope for.
Vulnerability to this effect varies from person to person, and one of the things that makes it vary is the presence or absence of superstition. That word, by the way, doesn't mean "a belief in which the officially approved authorities of mainstream culture don't approve." It has a much more precise meaning, as Lévi knew. In Latin statio, the root of words such as "station" and "static," means "stand," and super is a prefix meaning "over."  Superstitio means something that stands over from a previous time. In Lévi's sense, it is a practice or a symbol that remains behind when its meaning has been lost: "It is the sign which survives thought," our text says; "it is the cadaver of religious practice"—and it is also a source of tremendous vulnerability.
Though Lévi doesn't mention this, a useful hint is found in all those fairy tales where a spirit or an elf can control human destinies so long as nobody knows its name. Rumpelstiltskin is a classic example of the type. The girl who goes to the elf for help, having been commanded to spin straw into gold, ends up in the elf's power. She can break its power once she knows its name. It's a fine instructional tale for the budding mage:  know the inmost secret name of the power you have invoked, and you can use it; otherwise, it uses you. Nor is the name in question just a matter of letters or sounds. What is the inner meaning of the symbol?  That's what Lévi is telling you to ask.
Most of the surviving lore of magic consists of superstitions in this precise sense: symbols whose meaning has been lost, forms waiting for their proper force, substance detached from essence. The talismans, pentacles, and emblematic diagrams of traditional occultism, which our text discusses in this chapter's last paragraphs, are very often examples of this. Traditional occult symbols of all kinds have been designed to express entire constellations of meaning, and in that meaning is their power.
Understand even a small portion of that meaning and an equivalent portion of the power is yours to use, but what you don't understand continues to have an effect on you whether you know it or not. Thus the importance of discursive and conceptual meditation in occult study, for it is by unpacking the meanings in occult diagrams, pentacles, and talismans that the leaden weight of superstition is transmuted into the pure solar gold of wisdom.
Notes for Study and Practice:
It's quite possible to get a great deal out of The Doctrine and Ritual of High Magic by the simple expedient of reading each chapter several times and thinking at length about the ideas and imagery that Lévi presents. For those who want to push things a little further, however, meditation is a classic tool for doing so.
The method of meditation I am teaching as we read Lévi is one that is implicit in his text, and was developed in various ways by later occultists following in his footsteps.  It is a simple and very safe method, suitable for complete beginners but not without benefits for more experienced practitioners.  It will take you five minutes a day.  Its requirements are a comfortable chair, your copy of Lévi's book, and a tarot deck of one of the varieties discussed earlier.
For your work on this chapter, take Trump XVIII, "La Lune."  Your first task is to study it and get familiar with the imagery. Sit down, get out the card, and study it.  Spend five minutes doing this on the first day you devote to this practice.
Your second task is to associate a letter with it. Lévi gives you two options, the Hebrew letter צ (Tsaddi) or the Latin letter S. As noted earlier, you should choose one alphabet and stick to it. The sound values aren't of any importance here, nor is there a "right" choice. You're assigning labels to a mental filing cabinet.  Most people can make the necessary association quite promptly, but spend a session exploring it. Sit down, get out the card, and study it.  Relate it to the letter in any way that comes to mind.
The third through fifth sessions are devoted to the titles Lévi gives for the card: Justitia, Mysterium, and Canes. Sit down, get out the card, and study it. How does Justitia, "justice," relate to the imagery on the card and the letter you've chosen?  That's one session.  How about Mysterium, "mystery"?  How about Canes, "dogs"?   Approach these in the same way as the concepts you explored in earlier meditations.
Don't worry about getting the wrong answer.  There are no wrong answers in meditation.  Your goal is to learn how to work with certain capacities of will and imagination most people never develop.  Stray thoughts, strange fancies, and whimsical notions do this as well as anything.
Sessions six through the end of the month are done exactly the same way, except that you take the concepts from the chapter. Sit down, get out the card, and study it. Then open the book to Chapter 18 of the Doctrine and find something in it that interests you.  Spend five minutes figuring out how it relates to the imagery on the card, the letter, and the three titles. Do the same thing with a different passage the next day, and the day after, and so on. If you run out of material for meditation in this chapter, you can certainly go back to the previous chapters and review what they have to say.
Don't worry about where this is going. Unless you've already done this kind of practice, the goal won't make any kind of sense to you. Just do the practice.  You'll find, if you stick with it, that over time the card you're working on takes on a curious quality I can only call conceptual three-dimensionality:  a depth is present that was not there before, a depth of meaning and ideation.  It can be very subtle or very loud, or anything in between. Don't sense it?  Don't worry.  Sit down, get out the card, and study it. Do the practice and see where it takes you.
We'll be going on to "Chapter 19:  The Stone of the Philosophers, Elagabalus," on December 14, 2022. See you then!