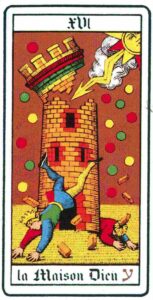 With this post we continue a monthly chapter-by-chapter discussion of The Doctrine and Ritual of High Magic by Eliphas Lévi, the book that launched the modern magical revival.  Here and in the months ahead we're plunging into the white-hot fires of creation where modern magic was born. If you're just joining us now, I recommend reading the earlier posts in this sequence first; you can find them here.  Either way, grab your tarot cards and hang on tight.
If you can read French, I strongly encourage you to get a copy of Lévi's book in the original and follow along with that; it's readily available for sale in Francophone countries, and can also be downloaded for free from Archive.org. If not, the English translation by me and Mark Mikituk is recommended; A.E. Waite's translation, unhelpfully retitled Transcendental Magic, is second-rate at best—riddled with errors and burdened with Waite's seething intellectual jealousy of Lévi—though you can use it after a fashion if it's what you can get. Also recommended is a tarot deck using the French pattern:  the Knapp-Hall deck (unfortunately out of print at the moment), the Wirth deck (available in several versions), or any of the Marseilles decks are suitable.
Reading:
"Chapter 16: Enchantments" (Greer & Mikituk, pp. 142-150).
Commentary:
Perhaps the greatest superstition of modern times is the conviction that magic no longer exists. What makes that superstition especially intriguing to those of us who practice magic is the frankly weird way that its defenders will cling to it even in the face of the evidence. Nor is there any shortage of evidence.
Visit one of the cheap department stores that cater to the poor in impoverished neighborhoods and small towns across America, and odds are you'll find a little selection of incense, candles, and scented oils tucked in among the other products for sale. Those aren't there for decorative purposes.  They are part of a living tradition of folk magic that thrives in our allegedly rational age. To get past that very basic and introductory level of the tradition, you typically have to know someone in the community who can direct you to the access points:  the old lady at such-and-such address who can tell you how to do this or that; the little shop in a rundown corner of town that has candles, statues, and herbs in back; the exact way to dress a cheap plastic doll, pack it for mailing, and send it to general delivery, Hell, Michigan, to get rid of someone you don't want in your life; and much more.
This sort of thing goes on constantly in today's industrial nations, and it always has. Only in the fevered imaginations of devout rationalists has the coming of modernity brought even the slightest decrease in the practice of magic.  Our current chapter of The Doctrine and Ritual of High Magic is intended to explain why this is.  In the process, Lévi has something even more unsettling to reveal:  the central role that magic plays in all human social interactions. Even when we don't talk about it—or especially when we don't talk about it!—magic is omnipresent.
We can start by reviewing the basics. Magic is the result of will and imagination acting on the astral light, the subtle energy that links all minds and things together. If you direct your will and imagination toward some goal, that action will set a current moving in the astral light; if you confirm that direction of will and imagination through actions on the material plane—yes, we can refer to these actions as "rituals"—the current becomes fixed in place, and will infallibly have an effect, either on its target or on you. Once fixed in place, the current cannot be changed. If circumstances are favorable, it will expend itself by fulfilling the goal on which you will and imagination were focused.  If they are not favorable, it will expend itself by rebounding on the caster for good or ill. Got that?  If you understand these few sentences fully, you now know everything you need to know about practical magic.
In the French original, by the way, this chapter is titled Les Envoûtements, and expresses a shade of meaning hard to communicate in other languages.  In English, a phrase such as "valley of enchantments" sounds appealing, like something from a well-scrubbed fairy tale; its partial French equivalent, valle des envoûtements, has a far more foreboding sound. Envoûtements are more often hostile than not.  What this shows is that French has remained far more closely attuned to the reality of everyday magic than English.
Lévi, certainly, was well aware of that reality. Since every one of us goes about willing and imagining things, he points out, we are all practicing magic, and since quite often we express our wills and imaginations in symbolic actions in the world of matter, we are all setting up currents in the astral light and fixing them in place. Human social existence is a sea of conflicting magical forces surging against one another, leaving most of us to flounder and struggle in the turbulence. Peer pressure, the magnetism of fads and fashions, the social seductions that lead so many people to do things not only against their own best interests but against their convictions:  from Lévi's point of view, all these are the products of involuntary enchantment, acting as a constant and pervasive presence in human life.
Not all enchantments are unconscious, of course. It is entirely possible for someone who has no occult training to notice how often pouring out will and imagination, and confirming these with some kind of simple physical action, can get results. Human nature being what it is, the people who discover this quite often put it to use to harm others. Even in the short run, this has drastic downsides. Lévi's metaphor is apt:  trimmed of euphemisms, he's talking about a man whose mistress was two-timing him, and got himself infected with syphilis in order to pass it onto the mistress and her other lover, so that all three of them would die horribly. (When our text was written, remember, there was no reliable cure for syphilis, and the most common outcome was a long slow descent into madness and death.)
No, it doesn't sound like a good idea to me, either, but Lévi is correct.  That's a close equivalent to what happens to people who turn to malign magic to hurt or exploit other people, because you can't project such influences onto anyone else without taking them into yourself. Of course there's no shortage of people who insist that this just isn't so, that they can fling around noxious influences freely without ever being touched by them. I've known quite a few people who made that claim.  Most of them are dead. Those that aren't have been slammed by one miserable crisis after another:  health crises, financial crises, relationship crises, you name it. The laws of magic are as calm and impersonal as the laws of physics, and they play no favorites.
One of those laws, as our text points out, is the requirement that effective magic must come from a unified will. Pure hatred, to use Lévi's example, is powerful for magic to the extent that it is pure. If it is mixed up with jealousy, or frustrated desire, or greed, or any other emotion, it fails.  The same is true of any other emotion. Ordinary human beings are ineffective mages because their emotions are so rarely pure.  This is as true of the positive emotions as the negative ones. Love is of course the great example. Sexual love is always tangled up with desire, parental love with pride, and even the most seemingly chaste love with a longing for comfort and solace. These combinations are normal, natural, and healthy; their sole disadvantage is that they have no magical power, and attempting to use them as a motive for magic guarantees that the usual result will be some unwelcome form of blowback.
The need for perfect focus of intention explains many of the oddities of magical practice. No, in a strict sense you don't need the candles, the robes, the incense, and the rest of the clutter, and the adepts of magic don't bother with such things. They have learned through years of practice how to direct will and imagination with perfect focus while sitting in a comfortable chair.  If you haven't reached that level of still, by contrast, the claptrap helps:  it gives your mind something to hang onto, and helps you direct your still-imperfect will and imagination toward a goal with enough force to matter.
The practitioner of evil magic gets to the same place by uglier means. It so happens that you can force the mind into a temporary state of intense focus by doing something that horrifies and disgusts you. That's what the ceremonies of evil magic are meant to do. Are they effective?  Of course, for some measures of the word "effective." Like other artificial means of stimulus, though, it has to be taken in stronger and stronger doses over time to get the same result, leading the evil magician further into various forms of crime, and eventually into the hands of the legal system.  The true mage, by contrast, works on developing focus and clarity directly, without depending on such unpleasant gimmicks.  The route is more difficult but it's honest, and the results are better and far more enduring.
Three more details are worth discussing here.  First, Lévi points out that it's not at all hard to sense when a voluntary or involuntary enchantment is incoming.  Since each of us is in constant contact with the astral light, attending to sudden shifts in mood can be an early warning of magic on the way. A sudden unreasonable antipathy toward someone can be such a warning sign; so can a sudden unreasonable affection. Attend to such things without falling under their control and you can very often head off the influences of everyday magic.
Second, certain things have a disruptive effect on the currents of the astral light. The ones Lévi talks about here, the toad, the basilisk, and the tard, are the least useful of them, but then he is not  yet talking about practice. Certain animals, plants, and minerals have reliable effects on the astral light, and can be put to work to protect the individual against hostile magic. Toads are helpful in this way, for what it's worth; if you happen to have a garden, and a toad takes up residence there, encourage it to stay.  It will eat its weight in insect pests every few days, and create a subtle atmosphere that will help you keep your mind clear of enchantments.
(There's an error that slipped past Mark Mikituk and I in the translation here, by the way. The toad, the basilisk, and the tard guarantee against hallucinations and the illusions of astral intoxication, rather than guaranteeing these things! Lévi was using, as he often did, an older way of speaking that came across in an ambiguous way, and the result slipped past. That it did so in the same paragraph that flaunts the mystery word "tard"—we never did figure out for sure what on Earth Lévi meant by it!—is all the more embarrassing.)
Third, there are other ways to defend against hostile enchantments.  Paracelsus, whose magical and medical work Lévi knew well, includes plenty of instructions along these lines in his works, and our text refers to a few of them. The rural witches and enchanters of Lévi's own time knew quite a few tricks along these same lines, too, and our text mentions some of those as well. The core element of most of these approaches is that the hostile enchantment can't simply be stopped in its tracks:  like any other current in motion, if baulked, it will simply build up pressure until it finds a way toward its goal. Rather, it needs to be redirected and allowed to disperse itself in some relatively harmless direction.
All these are useful points, and they relate to a subject whose breadth and importance Lévi barely hints at here. If all acts of will and imagination are magical acts, and all magical acts confirmed by appropriate actions are fixed in the astral light, then most of us live in a seething swamp of debased magical influences without ever realizing it.  Vast amounts of human misery and failure unfold from the simple fact that most people never get around to thinking their own thoughts, feeling their own emotions, or using their own will and imagination for purposes other than those handed to them by the fetid, churning mess of the astral light that surrounds them.
It's popular these days in some circles to imagine that this sort of failure of individuality is solely the result of modern high-tech media or of psychologically astute methods of advertising and publicity. Lévi reminds us that these things were already old in his time, and indeed were already old when the Great Pyramid was the hottest new construction project in Egypt. We are not born individuals. We are not born with free will.  We all have the capacity to achieve at least a certain level of these things, but that capacity has to be awakened, developed, and put to work through systematic practice.
Until that happens, we remain trapped in the vast stone tower shown in the tarot card corresponding to this chapter, waiting for the lightning to fall. Only when we begin to take hold of our own capacity for individual freedom does the lightning bolt become the sudden shock of liberation that frees us from the grip of collective consciousness and enables us to choose our own path in life.
Notes for Study and Practice:
It's quite possible to get a great deal out of The Doctrine and Ritual of High Magic by the simple expedient of reading each chapter several times and thinking at length about the ideas and imagery that Lévi presents. For those who want to push things a little further, however, meditation is a classic tool for doing so.
The method of meditation I am teaching as we read Lévi is one that is implicit in his text, and was developed in various ways by later occultists following in his footsteps.  It is a simple and very safe method, suitable for complete beginners but not without benefits for more experienced practitioners.  It will take you five minutes a day.  Its requirements are a comfortable chair, your copy of Lévi's book, and a tarot deck of one of the varieties discussed earlier.
For your work on this chapter, take Trump XVI, "La Maison Dieu."  Your first task is to study it and get familiar with the imagery. Sit down, get out the card, and study it.  Spend five minutes doing this on the first day you devote to this practice.
Your second task is to associate a letter with it. Lévi gives you two options, the Hebrew letter ע (Ayin) or the Latin letter Q. As noted earlier, you should choose one alphabet and stick to it. The sound values aren't of any importance here, nor is there a "right" choice. You're assigning labels to a mental filing cabinet.  Most people can make the necessary association quite promptly, but spend a session exploring it. Sit down, get out the card, and study it.  Relate it to the letter in any way that comes to mind.
The third through fifth sessions are devoted to the titles Lévi gives for the card: Fons, Oculus, and Fulgur. Sit down, get out the card, and study it. How does Fons, "fountain," relate to the imagery on the card and the letter you've chosen?  That's one session.  How about Oculus, "eye"?  How about Fulgur, "thunderbolt"?   Approach these in the same way as the concepts you explored in earlier meditations.
Don't worry about getting the wrong answer.  There are no wrong answers in meditation.  Your goal is to learn how to work with certain capacities of will and imagination most people never develop.  Stray thoughts, strange fancies, and whimsical notions do this as well as anything.
Sessions six through the end of the month are done exactly the same way, except that you take the concepts from the chapter. Sit down, get out the card, and study it. Then open the book to Chapter 16 of the Doctrine and find something in it that interests you.  Spend five minutes figuring out how it relates to the imagery on the card, the letter, and the three titles. Do the same thing with a different passage the next day, and the day after, and so on. If you run out of material for meditation in this chapter, you can certainly go back to the previous chapters and review what they have to say.
Don't worry about where this is going. Unless you've already done this kind of practice, the goal won't make any kind of sense to you. Just do the practice.  You'll find, if you stick with it, that over time the card you're working on takes on a curious quality I can only call conceptual three-dimensionality:  a depth is present that was not there before, a depth of meaning and ideation.  It can be very subtle or very loud, or anything in between. Don't sense it?  Don't worry.  Sit down, get out the card, and study it. Do the practice and see where it takes you.
We'll be going on to "Chapter 17:  Astrology," on October 12, 2022. See you then!