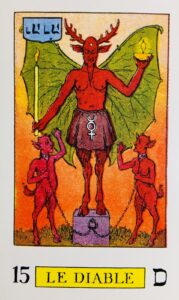 With this post we continue a monthly chapter-by-chapter discussion of The Doctrine and Ritual of High Magic by Eliphas Lévi, the book that launched the modern magical revival.  Here and in the months ahead we're plunging into the white-hot fires of creation where modern magic was born. If you're just joining us now, I recommend reading the earlier posts in this sequence first; you can find them here.  Either way, grab your tarot cards and hang on tight.
If you can read French, I strongly encourage you to get a copy of Lévi's book in the original and follow along with that; it's readily available for sale in Francophone countries, and can also be downloaded for free from Archive.org. If not, the English translation by me and Mark Mikituk is recommended; A.E. Waite's translation, unhelpfully retitled Transcendental Magic, is second-rate at best—riddled with errors and burdened with Waite's seething intellectual jealousy of Lévi—though you can use it after a fashion if it's what you can get. Also recommended is a tarot deck using the French pattern:  the Knapp-Hall deck (unfortunately out of print at the moment), the Wirth deck (available in several versions), or any of the Marseilles decks are suitable.
Reading:
"Chapter 15: Black Magic" (Greer & Mikituk, pp. 139-141).
Commentary:
This is the shortest chapter in Lévi's book.  It's also one of the most important. In Lévi's time as in ours, a great many people outside the occult community, and some people at least notionally inside it, couldn't and can't think of the subject of magic without cluttering  it up with lurid images of devil worship, unspeakable depravities, and the Black Mass. There are reasons for that rigor mortis of the imagination, of course, and it may be helpful to summarize these before we proceed to the single, precisely aimed point at the center of Lévi's chapter.
Behind this whole confusion, of course, is the long and not especially dignified history of Christian propaganda on the subject of magic. I wish I could avoid this discussion, not least because I have plenty of Christian readers, but there it is: Christianity has a great many virtues, but by and large, its treatment of other spiritual traditions displays very few of them. For every Christian—and of course they do exist—who applies the logic of Jesus and does unto other faiths as they would have others do unto theirs, an embarrassingly large number lie shamelessly when it comes to the religions and magical practices of other people. It's as though they think that the commandment about not bearing false witness against thy neighbor doesn't apply if the neighbor in question belongs to a different faith or practices magic.
It's really quite embarrassing. It's also counterproductive, since these days anybody who wants to find out what alternative religions believe and what mages practice can do so, and the contrast between the facts thus revealed and the saliva-flecked rantings of denunciatory preachers has played a substantial role in encouraging people to leave the Christian mainstream. I know this from personal experience; twelve years heading a Druid organization brought me into contact with quite a large number of former Christians, and they talked to me tolerably often about why they left their churches. The dishonesty of clergypeople who insist that anyone who doesn't belong to their church is a willing minion of Satan came up fairly often.
Not all of that insistence is driven by the same sort of logic that leads soap advertisements to say nasty things about Brand X. There's also the astigmatism of thought that can result from any passionately held ideology.  That's the second reason behind the attitude I'm critiquing:  true believers all too often lose the ability to grasp that other people really, truly do disagree with them.  That's where you get the mindset portrayed and defended so ably by Joris-Karl Huysmans in his brilliant fin de siècle novel La-Bàs (Down There). It's a typically French paradox that the greatest of all novels about Satanism was written by a devout Catholic, but it also bears on the point I want to discuss here.  Huysmans believed just as passionately in the existence and power of Satan as he did in the existence and power of the Christian God; he could imagine no other options, and his characters therefore dismiss all non-Satanist occultism as mere irrelevant dabbling. Real occultism, to Huysmans, has to be devil worship, because Christ and Satan are the only two categories that can fit in Huysman's head.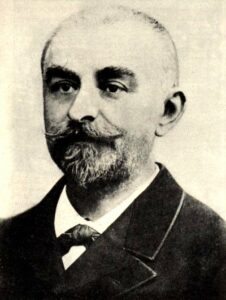 La-Bàs is a great novel and I recommend it to interested readers, but as a portrayal of the French occult scene of its time it's stunningly clueless. Looking back with well over a century of hindsight, it's clear that the Parisian Satanists on which Huysmans lavished his prose were the mere irrelevant dabblers.  The people Huysmans dismissed out of hand—Lévi, Papus, Stanislaus de Guaita, Joséphin Péladan, and many more—were the ones who were doing genuinely creative work, who revived the magic of the ancient world and the Renaissance, and launched modern occultism on its way.
In Eliphas Lévi's time, of course, information about magic was harder to come by than it is today. He was publishing in a place and at a time when most of the reading public was either Catholic, and believed that magic was devil worship, or atheist, and believed that magic was pointless irrational superstition. Many of the chapters we've already read focus on the second half of that equation, and challenge the atheist dismissal of magic. This chapter focuses on the Christian condemnation of magic, and it does so in a typically unexpected way.
Does the devil exist?  That's the first question Lévi raises. What is the devil?  That's the second. Our text notes that science, at least in Lévi's time, didn't claim to have an answer to the first question, while philosophy and religion were on opposite sides of that controversy. In Lévi's time, philosophy hadn't yet debased itself into the sort of intellectual onanism it has become in our day; European philosophy was a lively and controversial field that received a great deal of attention from the educated public. The existence of the devil was not an issue that any serious philosopher discussed, however. Satan's nature and power was taken seriously in religious schools whose curriculum remained what it had been two centuries before, but outside that setting?  The skeptical, confident, iconoclastic philosophy of the day dismissed it out of hand.
Not so fast, said Lévi. Though his view concerning religious matters was far from orthodox, he took the traditions of the Christian church seriously, and he also studied the accounts of sorcery and demonolatry from the past and took those seriously as well. The rationalists of his time, like their descendants today, liked to insist that supernatural evil was as nonexistent as supernatural good. Lévi believed in both, but he made sense of them in terms of occult philosophy rather than the terms of Christian theology.
The devil, then, exists. What is the devil? Our text sums up Lévi's view in a single carefully phrased sentence:  "The devil, in black magic, is the great magical agent used for purposes of evil by a perverse will."
That statement is less transparent then it might seem. It doesn't claim to define the devil in any general sense.  It speaks only of the manifestations of diabolic energy encountered in the practice of black magic.  Those manifestations, Lévi argues, are entirely real. They cannot be dismissed as empty legend or superstition.  Furthermore, they are just as destructive and self-destructive as the traditional lore claims
The source of these manifestations, our text goes on to argue, is the great magical agent. As we have seen before, this is the astral light, the life force emanated by the Sun, which is present everywhere and in all things, and can be shaped by will and imagination. It takes its character for good or ill from the will and the imagination that directs it.  To borrow a Biblical image much used in the Cabalistic sources Lévi studied, it is both Nachash, the serpent of the garden of Eden, and Nehushtan, the serpent of brass that Moses raised on a pole in the wilderness to cure the Israelites from the bite of serpents.   It is the medium of angelic and demonic forces, as well as everything between those two extremes.
The astral light is not a moral force. Like the forces of physics, it can heal and harm, create and destroy, bless and curse with equal facility.  Its effects depend on the character of the one who uses it. In our text, Lévi is mostly interested in discussing the influence of human beings on the astral light, but his definition of the devil very carefully avoids restricting his discussion of the wills that influence the astral light to the human—or for that matter to the physically incarnate. If a being capable of will directs the astral light in a way that moves in harmony with the cosmic pattern, the result is a blessing to those affected by it. It is just as possible, however, for a being capable of will to direct the astral light in conflict with the cosmic pattern, and the results in that case are evil.
There are established procedures for pursuing this latter path. Human society has never had a shortage of people too clueless to recognize that what goes around, comes around, and the law of supply and demand guarantees that the demand for manuals of corrupt and destructive magic has called forth a more than adequate supply. Huysmans' novel La-Bàs, which I mentioned above, talks at quite some length about that end of magical practice, and does a very good job of setting out its essential absurdity and the self-defeating and self-destructive effects it has on those who practice it. With that aspect of Huysman's analysis, Lévi would have agreed. He argues in our current chapter that evil magic is a bad idea, irrespective of whether it calls on the specific evil being that Christians think it does.
This same logic guides Lévi's quarrel with Jules Eudes de Mirville, which shows up in various corners of our text. Eudes de Mirville was a popular author who wrote several books on the Spiritualist movement that was attracting public attention all through the Western world in Lévi's day. A devout and wholly orthodox Catholic, Eudes de Mirville presented Spiritualism as devil worship pure and simple, comparing it with medieval and Renaissance traditions of witchcraft and sorcery.  Lévi agreed readily that there was a great deal of common ground between Spiritualism and these older traditions, and indeed that the force behind the remarkable phenomena exhibited by some Spiritualist mediums is the same force that was summoned and directed by the ritual workings of medieval grimoires. The one point on which they differ is the identity of that force.
This is also the point, or rather one of the points, of the metaphor with which Lévi ends the chapter. There's a widespread tradition in Christian theology, known as nominalism, which puts the omnipotence of the divine will above all other considerations, insisting that a thing is good purely because God wills it, and not because it is good in itself. This is the arbitrariness that Lévi rejects here. The division of the world he draws elsewhere between what we can know, the subject of science, and what we cannot know, the subject of faith, implies that the cosmos is an ordered whole whether or not we understand its order.
The vagaries of the astral light under the control of disordered wills are part of the cosmos, but so is the harmonious unfolding of the astral light under the direction of wise and good wills, and the latter has the final say. The implications of that insight will be taken up in Lévi's discussion in several chapters to come.
Notes for Study and Practice:
It's quite possible to get a great deal out of The Doctrine and Ritual of High Magic by the simple expedient of reading each chapter several times and thinking at length about the ideas and imagery that Lévi presents. For those who want to push things a little further, however, meditation is a classic tool for doing so.
The method of meditation I am teaching as we read Lévi is one that is implicit in his text, and was developed in various ways by later occultists following in his footsteps.  It is a simple and very safe method, suitable for complete beginners but not without benefits for more experienced practitioners.  It will take you five minutes a day.  Its requirements are a comfortable chair, your copy of Lévi's book, and a tarot deck of one of the varieties discussed earlier.
For your work on this chapter, take Trump XV, "Le Diable."  Your first task is to study it and get familiar with the imagery. Sit down, get out the card, and study it.  Spend five minutes doing this on the first day you devote to this practice.
Your second task is to associate a letter with it. Lévi gives you two options, the Hebrew letter ס (Samech) or the Latin letter P. As noted earlier, you should choose one alphabet and stick to it. The sound values aren't of any importance here, nor is there a "right" choice. You're assigning labels to a mental filing cabinet.  Most people can make the necessary association quite promptly, but spend a session exploring it. Sit down, get out the card, and study it.  Relate it to the letter in any way that comes to mind.
The third and fourth sessions are devoted to the titles Lévi gives for the card: Samael and Auxiliator. Sit down, get out the card, and study it. How does Samael, "venom of God," one of the classic Hebrew names of the devil, relate to the imagery on the card and the letter you've chosen?  That's one session.  How about Auxiliator, "helper"?  (Note how this contrasts with one of the titles of the previous card, Auxilium, "help.")  The fifth session goes into whichever word you've chosen for this card. Approach these in the same way as the concepts you explored in earlier meditations.
Don't worry about getting the wrong answer.  There are no wrong answers in meditation.  Your goal is to learn how to work with certain capacities of will and imagination most people never develop.  Stray thoughts, strange fancies, and whimsical notions do this as well as anything.
Sessions six through the end of the month are done exactly the same way, except that you take the concepts from the chapter. Sit down, get out the card, and study it. Then open the book to Chapter 15 of the Doctrine and find something in it that interests you.  Spend five minutes figuring out how it relates to the imagery on the card, the letter, and the three titles. Do the same thing with a different passage the next day, and the day after, and so on. If you run out of material for meditation in this chapter, you can certainly go back to the previous chapters and review what they have to say.
Don't worry about where this is going. Unless you've already done this kind of practice, the goal won't make any kind of sense to you. Just do the practice.  You'll find, if you stick with it, that over time the card you're working on takes on a curious quality I can only call conceptual three-dimensionality:  a depth is present that was not there before, a depth of meaning and ideation.  It can be very subtle or very loud, or anything in between. Don't sense it?  Don't worry.  Sit down, get out the card, and study it. Do the practice and see where it takes you.
We'll be going on to "Chapter 16:  Enchantments," on September 14, 2022. See you then!