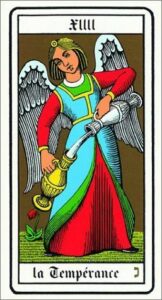 With this post we continue a monthly chapter-by-chapter discussion of The Doctrine and Ritual of High Magic by Eliphas Lévi, the book that launched the modern magical revival.  Here and in the months ahead we're plunging into the white-hot fires of creation where modern magic was born. If you're just joining us now, I recommend reading the earlier posts in this sequence first; you can find them here.  Either way, grab your tarot cards and hang on tight.
If you can read French, I strongly encourage you to get a copy of Lévi's book in the original and follow along with that; it's readily available for sale in Francophone countries, and can also be downloaded for free from Archive.org. If not, the English translation by me and Mark Mikituk is recommended; A.E. Waite's translation, unhelpfully retitled Transcendental Magic, is second-rate at best—riddled with errors and burdened with Waite's seething intellectual jealousy of Lévi—though you can use it after a fashion if it's what you can get. Also recommended is a tarot deck using the French pattern:  the Knapp-Hall deck (unfortunately out of print at the moment), the Wirth deck (available in several versions), or any of the Marseilles decks are suitable.
Reading:
"Chapter 14: Transmutations" (Greer & Mikituk, pp. 132-138).
Commentary:
Having discussed one set of popular beliefs about magic in the previous chapter, Lévi proceeds to explore another in the present one. His strategy here is straightforward. Having devoted the first part of the book to explaining what magic is and how it works, he goes on in the second half to explore specific branches of magic well known to the folklore and popular culture of his time, in order to show how the astral light shaped by will and imagination account for the traditions and practices of magic his readers knew about.
In this chapter he tackles one of the most challenging of these, the traditions of shapeshifting and lycanthropy. It so happens that all around the world, there are legends of people who are able to transform themselves into animals of various kinds. The werewolf of European folklore is only one example of the type, though it's the one that came first to mind among Lévi's readers. In the middle years of the nineteenth century, werewolf stories were still common in the French countryside.  A few centuries earlier they were even more so, a pervasive presence in folklore and literature all over western and central Europe.
By the way, you'll want to ditch the notion that werewolves do a furry version of the Dr. Jekyll and Mr. Hyde switcheroo, remaining basically human except for the ultimate bad hair day.  That idea entered the modern imagination by way of one of the classic monster movies of the black-and-white era, The Wolf Man, and it showed up there due to the limitations of cinematic special effects between the wars. Your classic European werewolf isn't satisfied with the kind of half measures that Lon Chaney made famous in that film. In the folklore Lévi is discussing, werewolves literally turn into wolves.
Or do they? This is where things get interesting.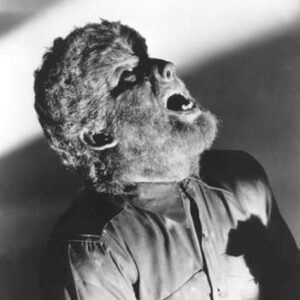 Lévi brings our attention, first of all, to several interesting points. The first is that werewolves are, or at least in early modern France were, not merely a matter of fables and delusions. People saw them, chased them, killed them and were killed by them. Serious scholars, judges, and government officials headed inquiries into local accounts of werewolf activities and decided that there really was something to it. It's easy for readers now, three and four centuries after the fact, to insist that everyone in early modern France must have been a superstitious fool, but that's simply a way of dodging uncomfortable evidence.  Something really was happening.
What was happening, however, did not involve human beings physically transmogrifying into wolves. It's not just that there's no known way for something like that to happen, and plenty of good biological reasons why it can't; the core issue is that the evidence doesn't support that claim. Our text outlines three of the crucial pieces of evidence:  victims of werewolf attacks were smothered, not torn to pieces by fangs; werewolves who were hunted down and wounded by the local authorities never left a wolf (or human) corpse on the spot of the apparent killing; and very often the person suspected of being the werewolf turned up dead at home the moment the marauding wolf-form was dealt an apparently fatal wound somewhere else.
It is quite well documented that under some circumstances, certain people can project a phantasm of themselves far away from their actual, physical location, and this phantasm can be seen and spoken to by other people. Lévi cites two cases of the kind that were exhaustively researched by the Catholic Church; some decades after his time, the noted psychical researchers Edmund Gurney, F.W.H. Myers, and Frank Podmore published a hefty two-volume study titled Phantasms of the Living that discussed the same phenomenon in rigorous detail, with an abundance of case studies. In occult jargon, this phantasm is called the astral body, and methods of shifting consciousness into the astral body and traveling in it while the physical body remains in trance make up a standard part of occult training in some modern and traditional schools. Do these methods work?  Yes, and anyone who is willing to do the necessary training can find this out in person.
Nearly all modern occult systems teach students to project an astral body that resembles their own physical bodies. Ancient  systems of occult training had other habits. The further back in time we go, the more the evidence suggests that the standard practices for astral projection involved animal forms rather than human ones.   Go back far enough, into those archaic times when the religious imagination of our species followed what Joseph Campbell liked to call "the Way of the Animal Powers," and the art of taking on an astral body in animal form seems to have been a core practice of many shamanistic traditions.  Some of these, in some parts of the world, managed to survive to more recent times.
Trace the werewolf lore Lévi discusses back as far as the records go, and one of these traditions comes dimly into view:  a warrior society among the Indo-European tribes far back in antiquity, which took young men from their homes into the wilderness to master the art of communing with wolf-spirits and taking on the astral forms of wolves. It's worth taking a moment to reach back in imagination across the millennia and call to mind pounding drums beneath the full moon, trees reaching up black clawing fingers toward the starry sky, shadowy forms dressed only in wolfskins and paint dancing in the night and then tumbling to the ground in trance, to race through the woodland in phantasmal wolf-forms until the pale predawn stars call them back to their sleeping human bodies.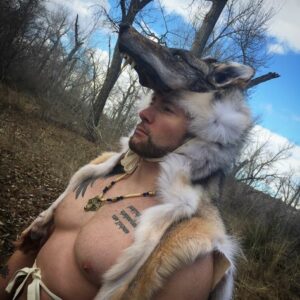 Even in those distant times, the wolf-cult was on the fringes of tribal society;  it's doubtless no accident that the same word means "wolf" and "outlaw" in Indo-European languages as far removed as Old Norse and Ancient Hittite. By the days of ancient Greece the descendants of those archaic cults survived in a hole-and-corner fashion in isolated regions, giving rise to spooky stories of lykanthropoi, literally "wolf-men."  More than a millennium later, similar traditions lingered in isolated corners of western and central Europe, to flicker out one at a time under the pressure of religious dogmatism and cultural centralization. If any trace of the old wolf-mysteries survived to the nineteenth century, the passionate quests of French and German occultists for archaic traditions failed to turn up the least trace of them.
None of this should be particularly surprising to those of my readers who know their way around research into the odd corners of European folk religion; put the old wolf-cult in the context of the traditions surveyed in Carlo Ginzburg's fine books The Night Battles and Ecstasies, and they don't even seem all that unusual. In Lévi's time, by contrast, very little of this context was known, and it speaks well of him that he was able to see through the legend to the archaic trance experiences and astral journeying at its heart.
Of course we don't tend to think of trance experiences as something that other people can watch, much less consider the possibility that the phantasm of a wolf projected in trance can kill and be killed. Our culture tries to draw a hard line between the material world, which we think of as real, objective, and "out there," and the world of dream and trance and vision, which we think of as unreal, subjective, and "all in your head." That division is very familar and very comforting, and it's a good enough generalization for practical purposes that people can go through their entire lives without noticing the places where it breaks down—where what seems to be "out there" actually belongs to the realm of consciousness, and what seems to be "all in your head" got there by way of the efforts of another mind.
In medieval and Renaissance France, the print of the werewolf's paw marked one of the places where the line between objective and subjective realities broke down. In twentieth century America, flying saucers marked another such place.  There have been, and will continue to be, many other examples. As Carl Jung pointed out in his incisive essay "Flying Saucers: A Modern Myth of Things Seen in the Sky," these interminglings of objective and subjective realities, of the world of facts and the world of dreams, trances, and visions, are especially common in times of severe collective stress. France in the medieval and Renaissance eras was such a place, as was twentieth-century America, and of course the same is true today.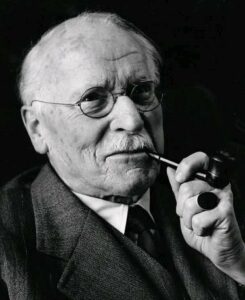 Yet our text goes in a more challenging direction, suggesting that the interpenetration of the visionary and mundane spheres goes on all the time, and that the extreme cases where that interpenetration becomes impossible to miss are simply the most obvious end of a continuum of interactions that affect most of us most of the time, especially in our human relationships. "We act through our imagination on the imagination of others," Lévi suggests. Thoughtful observation of other people, especially when they are affected by the deeper and more unreasonable emotions, strongly suggests that he's correct.
It's worth noting here, by the way, that psychiatrists figured this out themselves in the course of observing the relationships between their patients and themselves. One of the things that happens reliably in the course of therapy is what old-fashioned Freudian therapists call "transference"—the patient literally transfers his various emotional complexes onto the therapist, so that the latter becomes now the father, now the mother, now the rival, and so on through the litany of human relationships. This is useful, because the canny therapist can figure out what the patient is transferring and so gets to look under the hood of the patient's relationships, but it has a downside:  countertransference, when the therapist begins doing the same thing to the patient.
It was partly through watching transference in action that Jung came up with his broader theory of projection, in which most human relationships are at least partly mediated by each person projecting some more or less archetypal image on the other. The projection of the shadow, in which people project all their own faults onto someone else, is the part of this theory that has gotten the most attention, but there's more to it than that, of course.
What Lévi is discussing here is nothing less than the medium through which magic functions interpersonally. The world that we experience through our senses is not as real, objective, and "out there" as our cultural presuppositions insist; it is a co-creation of the objective and the subjective, the outer and the inner, the mundane and the archetypal, and it can never be anything else. When rationalists insist they are perceiving the objective world exactly as it is, they're doing nothing of the kind—they're projecting a subjective emotional state not that different from rigor mortis onto the inkblot patterns of experience, and then extracting from those patterns a content that they themselves put into them.
When mages choose to invest this or that part of the world of experience with this or that subjective energy, they're doing the same thing, but they're doing it deliberately, causing change in conscious experience in accordance with will. In the chapters ahead, Lévi will take this same insight in other directions—but he's also got some warnings to offer first.
Notes for Study and Practice:
It's quite possible to get a great deal out of The Doctrine and Ritual of High Magic by the simple expedient of reading each chapter several times and thinking at length about the ideas and imagery that Lévi presents. For those who want to push things a little further, however, meditation is a classic tool for doing so.
The method of meditation I am teaching as we read Lévi is one that is implicit in his text, and was developed in various ways by later occultists following in his footsteps.  It is a simple and very safe method, suitable for complete beginners but not without benefits for more experienced practitioners.  It will take you five minutes a day.  Its requirements are a comfortable chair, your copy of Lévi's book, and a tarot deck of one of the varieties discussed earlier.
For your work on this chapter, take Trump XIV, "La Temperance."  Your first task is to study it and get familiar with the imagery. Sit down, get out the card, and study it.  Spend five minutes doing this on the first day you devote to this practice.
Your second task is to associate a letter with it. Lévi gives you two options, the Hebrew letter נ (Nun) or the Latin letter O. As noted earlier, you should choose one alphabet and stick to it. The sound values aren't of any importance here, nor is there a "right" choice. You're assigning labels to a mental filing cabinet.  Most people can make the necessary association quite promptly, but spend a session exploring it. Sit down, get out the card, and study it.  Relate it to the letter in any way that comes to mind.
The third and fourth sessions are devoted to the titles Lévi gives for the card: Sphera Lunae, Sempiternum, and Auxilium. Sit down, get out the card, and study it. How does Sphera Lunae, "the sphere of the Moon," relate to the imagery on the card and the letter you've chosen?  That's one session.  How about Sempiternum, "that which endures for all of time"?  That's the next one. How about Auxilium, "help"? That's the third.  Approach these in the same way as the concepts you explored in earlier meditations.
Don't worry about getting the wrong answer.  There are no wrong answers in meditation.  Your goal is to learn how to work with certain capacities of will and imagination most people never develop.  Stray thoughts, strange fancies, and whimsical notions do this as well as anything.
Sessions six through the end of the month are done exactly the same way, except that you take the concepts from the chapter. Sit down, get out the card, and study it. Then open the book to Chapter 14 of the Doctrine and find something in it that interests you.  Spend five minutes figuring out how it relates to the imagery on the card, the letter, and the three titles. Do the same thing with a different passage the next day, and the day after, and so on. If you run out of material for meditation in this chapter, you can certainly go back to the previous chapters and review what they have to say.
Don't worry about where this is going. Unless you've already done this kind of practice, the goal won't make any kind of sense to you. Just do the practice.  You'll find, if you stick with it, that over time the card you're working on takes on a curious quality I can only call conceptual three-dimensionality:  a depth is present that was not there before, a depth of meaning and ideation.  It can be very subtle or very loud, or anything in between. Don't sense it?  Don't worry.  Sit down, get out the card, and study it. Do the practice and see where it takes you.
We'll be going on to "Chapter 15:  Black Magic," on August 10, 2022. See you then!