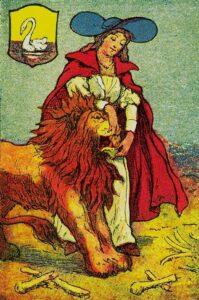 With this post we continue a monthly chapter-by-chapter discussion of The Doctrine and Ritual of High Magic by Eliphas Lévi, the book that launched the modern magical revival.  Here and in the months ahead we're plunging into the white-hot fires of creation where modern magic was born. If you're just joining us now, I recommend reading the earlier posts in this sequence first; you can find them here.  Either way, grab your tarot cards and hang on tight.
If you can read French, I strongly encourage you to get a copy of Lévi's book in the original and follow along with that; it's readily available for sale in Francophone countries, and can also be downloaded from Archive.org. If not, the English translation by me and Mark Mikituk is recommended; A.E. Waite's translation, unhelpfully retitled Transcendental Magic, is second-rate at best—riddled with errors and burdened with Waite's seething intellectual jealousy of Lévi—though you can use it after a fashion if it's what you can get. Also recommended is a tarot deck using the French pattern:  the Knapp-Hall deck (unfortunately out of print at the moment), the Wirth deck (available in several versions), or any of the Marseilles decks are suitable.
Reading:
"Chapter 11: The Magical Chain" (Greer & Mikituk, pp. 110-118).
Commentary:
The first ten chapters of our text have covered the foundations of magical practice, from the importance of will in the first chapter to the closely linked symbolic patterns of the Cabala in the tenth. In the course of those chapters we have finished our journey down the Tree of Life from Kether the Crown, the highest sphere, to Malkuth the Kingdom, the lowest. Though Lévi doesn't mention this, the remaining chapters can be correlated to the twelve signs of the zodiac, though the collections are a little forced here and there; more obviously, they complete the sequence of the tarot trumps.
In this chapter, which corresponds to Aries and Trump 11, Strength, Lévi reveals the central secret of magical power. I mean that in all seriousness. Grasp what he has to say in these nine pages, reflect on it until you understand it, apply it skillfully, and the power of the ages is yours. It really is as simple as that. It bears remembering, however, that simple is not the same thing as easy; knowing the secret of magical power is one thing, but applying it—we'll get to that.
The secret of magical power is the control of the astral light, the great magical agent which has been discussed at such length in previous chapters. The art of controlling the astral light requires mastery of two skills. The first is setting the astral light in motion and dispersing it.  The second is concentrating and stabilizing it. In the Latin of the old alchemists, these are solve and coagula, "dissolve" and "coagulate," and the results are discussed constantly in alchemical texts as the volatile and the fixed, the winged and wingless dragons, the bird and the snake, and so on through the whole bestiary of alchemical emblems. The same paired processes can be found in countless guises all through the literature of occultism, and in some contexts that seem wholly unrelated to occultism. Look for them and see what you can find.
The simplest form of these two processes happens in your body every time you take a breath. When you breathe out, expelling the astral light as well as carbon dioxide, that's solve; when you breathe in, bringing the astral light into your body along with fresh oxygen, that's coagula. Yes, this is why breathing exercises play a role in so many occult and spiritual disciplines, and it's also why breathing on something can be used as a way of working with magical forces. You can blow on something, with a sudden sharp breath, to dispell energies from it:  that's called "exsufflation" in old books. You can breathe gently on something, to charge it with energies:  in these same books, that's called "insufflation."  Again, solve and coagula. These are very simple examples, but that makes them useful for the sake of understanding.
Yet there's more going on here than a simple breathing in and breathing out of power. Here, instead of spending paragraphs brandishing around various symbolic expressions of the point he's trying to make, Lévi passes on a crucial detail in a single crisp sentence:  "We gather [the astral light] in isolation, and we disperse [it] through the magical chain."
We'll take these two stages in order, as our text does. To accomplish the coagula phase, it's necessary to isolate oneself from the collective, mentally, astrally, and physically. Mental isolation is the ability to think your own thoughts even, or especially, when they conflict with the collective consciousness of your community and your age. Astral isolation is complete freedom from involuntary emotional ties, so that nobody can "push your buttons" or evoke an emotional reaction in you that you do not want to feel. Physical isolation is habitual self-control over bodily cravings, taken to such a point that asceticism becomes natural. You cannot commands anything in human experience if that thing commands you:  that is the essential concept that has to be grasped in order to be able to attract and gather the astral light.
Lévi recognizes, of course, that this is exactly what many students of occultism are utterly unwilling to learn. The fantasy of having magical powers so that you can impress your friends, feed your ego, and wallow in whatever more or less dubious cravings appeal to you most, is very deeply rooted in the human imagination, and even more so in Western cultures, in which the craving for infinite expansion of the ego is generally cultivated.  His sly response—"Does not one need to be a little more than just an ordinary man if one hopes to become godlike?"—is valid, but there's another point. Spend the time in reflection you need in order to get to the bottom of your cravings on the mental, astral, and physical planes, and it will become clear that what you think you want won't actually satisfy you—that's why human beings so often spend their lives running after an assortment of absurdities, after all. Isolation of mind, heart, and body is among other things a good way to sort out what you actually want to accomplish in life.
There's an important distinction to be made here, however. The more intense forms of isolation are only necessary if you want to accomplish the more potent kinds of collective change. The habits of absolute renunciation are only necessary if you want to change the world.  You can accomplish smaller works with much less drastic means. You can also simply study the art of magic without attempting it into practice; as our text suggests, beyond the enjoyments of satisfied curiosity, this knowledge has practical benefits:  it protects against the paired stupidities of unthinking belief and unthinking disbelief.  Many follies in human society are driven by one of these, and even more are driven by both acting in conjunction.
It's when we move from coagula to solve, from concentrating the astral light to putting it in motion, that these possibilities can be understood. The magical chain, to use Lévi's term, is a group of people whose wills are aligned in the same direction, so that they transmit a current of the astral light toward a common goal, amplifying it all the while.  The more people can be induced to join the chain, the stronger the current becomes and the more it can accomplish. Those religious and occult organizations that have had a significant impact on the world are, or at least were, magical chains.  So are many smaller organizations that use the currents of the astral light to sustain themselves and have potent effects on the lives of their members.  Some of them are benevolent and some are quite the opposite; the Quakers in their era of greatest strength were a potent magical chain, and so was Charles Manson's murderous "Family."  The astral light is not a moral force; it can be used equally well for good or ill. Like Mercury in the legend, it runs around the world, enjoying alike the company of the evil and the good.
The power of the astral light to shape human consciousness is one of the crucial lessons our text has to teach. In every society there are a great many people who are impressionable, passive, and uncritical, and whose minds are therefore wide open to the vagaries of the astral light. As Lévi points out, public opinion can shape the astral light just as effectively as the concentrated will of a mage or a circle of mages—which is why, as he says, the astral light "reproduces in its revelations all the luciditty of the most marvelous daydreams or all the strangeness and all the lies of the most incoherent and vaguest of dreams."  Those who followed after Lévi didn't always remember this, which is why quite a bit of strangeness and no shortage of high-grade nonsense got taken at face value by would-be visionaries who should have known better.
We are all subject to the vagaries of the astral light at every moment, until and unless we learn one of the core lessons of this chapter, and isolate ourselves from its currents.  Once we do that, we stop being affected by the currents and start affecting them.  An isolated hermit in a cave, given enough intensity of focus, can set currents in motion that will shape the lives of millions. When you stop thinking and feeling and acting out the predigested notions of the mass mind, you begin to influence the mass mind. That's what Lévi is talking about when he discusses eccentric individuals:  they are literally outside the center or, as we would now say, off on the fringes; their goal, knowingly or otherwise, is to establish a magical chain that will sustain them against the established currents; their destiny, as our text notes, is to be broken by the conflict, or to triumph.
The astral light always has a twofold movement. Sometimes that expresses itself as a pendulum swing, first this way, then the other way:  watch trends in politics, society, and religion and you can see that clearly enough. That's the natural result of unbalanced astral action. The higher and more effective approach is the one hinted at in the symbolism of the Great Arcanum, the double current that moves in both directions in a balanced fashion, but that's not easy to manage—and of course when you are dealing with a current that's already in motion, you generally don't have that option. As our text says, once a current is under way, to oppose it while it's still strong is to court disaster for no good reason; wait until it has expended its force and push the other way, and you can accomplish much more.
Lévi understood that, though he was clever enough to conceal his intention behind his labored plea for some rich and famous person to take up the cause of charity and social betterment. His real intention, as shown clearly enough in his writings, was the revival of the traditions of magic; he followed his own advice precisely, isolating himself mentally, emotionally, and to some degree physically from his society, and then setting a current of intention going by way of his books; he gathered a circle of students and enthusiasts, formed them into a magical chain, and earned his success. That success depended on the fact that he didn't divert the energies he had awakened to his own practical advantage; he remained a figure of the fringes, unnoticed by most people in the worlds of scholarship and public affairs; he never became rich and never made himself the center of a cult of personality.  The dramatic revival of occultism in the late nineteenth and early twentieth centuries was his reward.
(No doubt he would have been delighted if some rich and famous person had taken him up on his challenge, but I tend to think that he knew better. People become rich and famous because they want wealth and fame more than anything else. That in itself is a magical act; to isolate oneself from the influences of mediocre surroundings in order to get rich and famous will gather the astral light just as surely as doing the same thing for some less crass purpose, and a magical chain assembled out of employees and consumers can be as effective at launching currents in the astral light as one assembled out of readers and students.  It's just that, as the guy from Nazareth said, "they have their reward."  No one can really will two incompatible things at once, though it's quite common to will one thing and to convince yourself in a halfhearted way that you really do want another, and would do something about it if only you had the time, or some other circumstance was different.)
Every human being capable of willing one thing strongly and intensely thus stirs the astral light into motion. As our text points out, however, not all currents in the astral light come into being because human individuals made them happen. The astral light responds to intentions from outside humanity—I'll leave it to individual readers to decide, on the basis of their own beliefs, the most likely sources of these other-than-human currents. One of the things they drive, however, are the great transformations in the realm of human spiritiual experience.
The Western world in Lévi's time was in the middle of two of those, and he mentions both of them toward the end of this chapter. On the one hand, the anarchic upsurge of Spiritualism burst into being in the United States in 1848, seven years before Lévi's book first saw print; in its early days, it was accompanied by astonishing bursts of what psychic researchers these days call poltergeist phenomena.  On the other, a major revival of European Catholicism had been kicked off in 1846 by the visions at La Salette, and continued to gain ground in intensity and strangeness until the First World War.
Both these, in Lévi's view, were created by movements in the astral light, attempting to reestablish magical chains like those of the great religions and initiatory mysteries of the past in order to bring the world back into balance.  It's an intriguing analysis, and by no means as hostile to the beliefs of the religions in question as it might seem at first glance. (Grant that the astral light exists and has the properties our text claims for it; if the Virgin Mary, say, wanted to help lead humanity away from an unwelcome future, what better way for her to do it than to make use of the currents of the astral light?) Lévi's own efforts had a similar purpose in mind. How well he succeeded—well, that's a complex matter, and may not be clear until long after our time.
Notes for Study and Practice:
It's quite possible to get a great deal out of The Doctrine and Ritual of High Magic by the simple expedient of reading each chapter several times and thinking at length about the ideas and imagery that Lévi presents. For those who want to push things a little further, however, meditation is a classic tool for doing so.
The method of meditation I am teaching as we read Lévi is one that is implicit in his text, and was developed in various ways by later occultists following in his footsteps.  It is a simple and very safe method, suitable for complete beginners but not without benefits for more experienced practitioners.  It will take you five minutes a day.  Its requirements are a comfortable chair, your copy of Lévi's book, and a tarot deck of one of the varieties discussed earlier.
For your work on this chapter, take Trump XI, La Force, "Strength."  Your first task is to study it and get familiar with the imagery. Sit down, get out the card, and study it.  Spend five minutes doing this on the first day you devote to this practice.
Your second task is to associate a letter with it. Lévi gives you two options, the Hebrew letter כ (Kaph) or the Latin letter L. (The Greer & Mikituk translation has a typo here, and gives the Hebrew letter Yod instead of Kaph.)  As noted earlier, you should choose one alphabet and stick to it. The sound values aren't of any importance here, nor is there a "right" choice. You're assigning labels to a mental filing cabinet.  Most people can make the necessary association quite promptly, but spend a session exploring it. Sit down, get out the card, and study it.  Relate it to the letter in any way that comes to mind.
The third and fourth sessions are devoted to the three titles Lévi gives for the card: Manus and Strength. Sit down, get out the card, and study it. How does Manus, Hand, relate to the imagery on the card and the letter you've chosen?  That's one session.  How about the concept of strength?  That's the next one.  Then choose a third word that sums up, for you, the lessons of this chapter, and use it for the next meditation. Approach these in the same way as the concepts you explored in earlier meditations.
Don't worry about getting the wrong answer.  There are no wrong answers in meditation.  Your goal is to learn how to work with certain capacities of will and imagination most people never develop.  Stray thoughts, strange fancies, and whimsical notions do this as well as anything.
Sessions six through the end of the month are done exactly the same way, except that you take the concepts from the chapter. Sit down, get out the card, and study it. Then open the book to Chapter11 of the Doctrine and find something in it that interests you.  Spend five minutes figuring out how it relates to the imagery on the card, the letter, and the three titles. Do the same thing with a different passage the next day, and the day after, and so on. If you run out of material for meditation in this chapter, you can certainly go back to the previous chapters and review what they have to say.
Don't worry about where this is going. Unless you've already done this kind of practice, the goal won't make any kind of sense to you. Just do the practice.  You'll find, if you stick with it, that over time the card you're working on takes on a curious quality I can only call conceptual three-dimensionality:  a depth is present that was not there before, a depth of meaning and ideation.  It can be very subtle or very loud, or anything in between. Don't sense it?  Don't worry.  Sit down, get out the card, and study it. Do the practice and see where it takes you.
We'll be going on to "Chapter 12:  The Great Work" on May 11, 2022. See you then!