In July of this year, when I revived the custom of asking my readers what they wanted to hear about on the fifth Wednesday of that month, I got plenty of suggestions, ranging from the future of industrial society to the metaphysics of sex.  Still, of all the requested I fielded, I have to admit that the one that pleased me most was that I should write something about the novels of Hermann Hesse. There's some history to that request, of course, and we might as well begin there.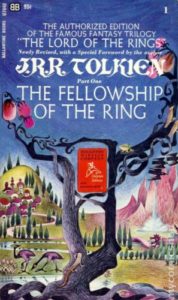 Imagine for a moment that in an alternate timeline, J.R.R. Tolkien's fantasy trilogy The Lord of the Rings became just as wildly popular in the 1960s as it did in our timeline.  The paperback copies with garish cover art, the pervasive presence of phrases and imagery in popular culture, all of it—from the mid-1960s until the very early 1980s, the two timelines ran in exact parallel.  Imagine, though, that thereafter, in that alternate timeline, Tolkien's work vanished from sight.
The disappearance wasn't forced.  Nobody condemned the trilogy, there were no fulminations against it from pulpits or television screens.  There was just spreading silence, as the people who'd read it and raved about it stopped talking about hobbits and Middle-earth and dumped their copies of the trilogy at the nearest used book store.  Imagine no movies, no fan culture, no eighteen-year-olds running around pretending to be elves or what have you, and when anybody under sixty or so heard the name of J.R.R. Tolkien, the response was, "Who?"
That's what happened to Hermann Hesse.  His novels were immensely popular in the 1960s and 1970s.  When I went to college for the first time in 1980, all his novels were for sale in the university bookstore.  Anybody who had the least claim to be au courant in literature read Hesse, and it seemed as though half the people I knew on campus had copies of Siddhartha or Steppenwolf in their backpacks.  There was, as I recall, a sense that Hesse was somewhat more serious than Tolkien, though Tolkien fans pushed back hard if someone suggested that to them.
Over the course of the 1980s, however, as the pseudoconservatives that took Ronald Reagan for their figurehead remade America in their image, and a lot of faux-radical Baby Boomers quietly cashed in their ideals and got with the program, Hesse got dropped like a hot rock.  He didn't get the half-fond and half-rueful laugh you heard from so many former hippies just before they said, "Yeah, I was into that back in the day."  He didn't even get the backhand tribute Tolkien did, in the form of a torrent of cheap mereticious knockoffs of his novels that borrowed all the props and settings and abandoned all the ideas and insights that made them mean something. Hesse was more dangerous and less marketable than that, and so his work was consigned to oblivion.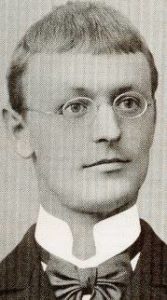 That might seem odd at first glance. Hesse's novels are quiet, meditative, strange. They take place mostly in the heads of their central characters, and those characters are worlds away from Tolkien's heroic hobbits and Dunedain.  The main character of Peter Camenzind, Hesse's first novel, is a young man from an isolated Swiss village whose talent earns him entry into the literary world, but who eventually abandons it to return to the village where he was born.  The main character of Steppenwolf, his most challenging novel, is a middle-aged intellectual who has a nervous breakdown and comes out the other side. The main character of The Glass Bead Game, his last and greatest novel, is an inhabitant of 25th-century Europe who becomes one of the supreme masters of an art form that hasn't yet been invented in our time.
Yet it's exactly that focus on the inner life of the individual, that refusal to retreat into theatrics, that makes Hesse so challenging. His characters are always trying to figure out how to become themselves—how to find their way out of the wilderness of masks their families and their culture have built up around them, so they can meet themselves face to face.  Those words are easy to misunderstand, because so many writers frame that in the cheap familiar stereotype of rebellion against family and culture.  Hesse's characters don't rebel, but they also don't submit. They grow, change, and finally either awaken to themselves or fail decisively to do so. Those who've contended with the same issues recognize the trajectory instantly and intimately; those who haven't—well, back in the day, Hesse inspired quite a few of those to take the leap.
That's what made his writings so dangerous.  In a time of universal deceit, despite the slogan, it's not telling the truth that's the truly revolutionary act:  it's recognizing that you don't know what the truth is yet, and going in search of it.  That search, the quest for a life that's authentic for the one individual who seeks it and for no one else, is central to all Hesse's work.
Hesse is the most autobiographical of novelists, and all his main characters are facets of himself.  One consequence is that the same themes, central to his psyche, surface again and again in his stories. One of them is death by drowning. Another is a passionate and contentious friendship between two young men who are as different as possible. Another is the creative process in literature, music, or art.  Another, pervasive theme is the conflict between the individual and the demands of society.  There are others. If you read his work, you'll get used to them, and marvel at the way he displays a different facet of each theme whenever it appears.
I'll go through his novels in order. Like every other Hesse fan, I have my favorites, and I'll indicate them, but there's much to be learned from every one of his tales.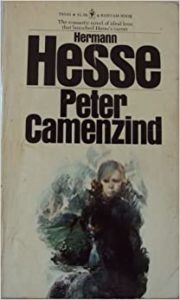 Peter Camenzind:  Hesse's first novel, published in 1904 when he was twenty-seven, this is the first-person biography of a young Swiss man from a little mountain village.  Identified as a gifted child, he is sent to boarding school, strikes up a friendship with another young man, has his first clumsy experiences with life, love, and literature, takes the first steps toward a literary career, and then walks away from it to return to the village where he was born.  It's a first, somewhat slight statement of Hesse's great themes, but it's rescued from insignificance by an extraordinarily vivid sense of place and the narrator's strong and distinctive voice.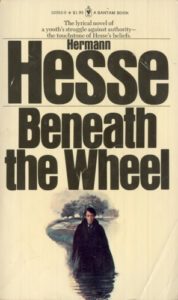 Beneath the Wheel:  The flip side of Peter Camenzind, this is another story of a gifted child, but it's told in the third person, and young Hans Giebenrath doesn't find a life for himself.  Nervous and shy, he cracks under the pressures of a fiercely competitive boarding school, and his friendship with another student, free-spirited Hermann Heilner, pushes him into a nervous breakdown. Sent home, he realizes what future his home town has in store for him, and drowns himself. Much of the story is inspired by Hesse's own bitter experiences—he also dropped out of a prestigious school and circled the drain in his home town, but made his escape by getting a job at a bookstore elsewhere, and finding time and space to write. Han Giebenrath wasn't so lucky.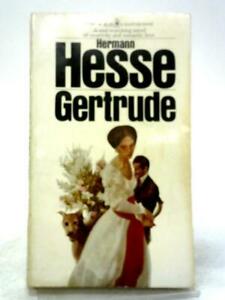 Gertrude:  Hesse returns to first-person narrative in this narrative about the rise of a talented composer and his tangled relationships with two singers, the brilliant but self-destructive Heinrich Muoth and the quiet and self-assured Gertrude. Left crippled after a toboggan accident, Kuhn directs all his efforts toward music; a series of encounters leads to an unlikely friendship with Muoth, who is everything Kuhn is not; both of them fall in love with Gertrude; Kuhn is too shy and too inhibited by his injury to pursue the attraction, so Muoth marries her, and tragedy follows. Among its other strengths, Gertrude is a first-rate portrayal of the development of a creative talent; it had a significant role in shaping the career of Brecken Kendall, the composer who features in my novels The Shoggoth Concerto and The Nyogtha Variations.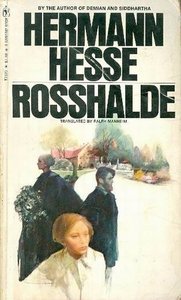 Rosshalde:  This novel takes us back to the third person and to even more pointed autobiography than usual, echoing the disintegration of Hesse's first marriage. Johann Veraguth is a successful painter in a failed marriage; he and his wife live in separate worlds on the same rural estate, Rosshalde, and compete for the attention of their son Pierre.  Conversations with his friend Otto Burkhardt, and a sudden tragedy at Rosshalde, force Veraguth to face the failure of his life, and send him on a journey to India and a new life beyond.  The Journey to the East, a theme not only in Hesse's work but all through the twentieth-century West, makes an early appearance here.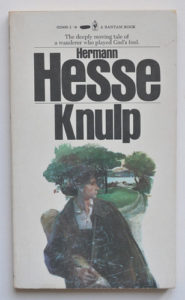 Knulp:  The most popular of his early tales, Knulp tells the story of an amiable vagabond who wanders from place to place, staying with friends, getting by on very little, moving from one town to another and one woman to another.  It's a story about freedom—not an allegory or anything else so hamfisted, but an exploration of what it would mean for an ordinary person to be free of the ties of ordinary society. It's a short novel composed of three stories linked only by Knulp's personality and the questions his existence poses to himself and the rest of the world, but it's anything but slight; in it, some of the core issues of Hesse's mature fiction surface.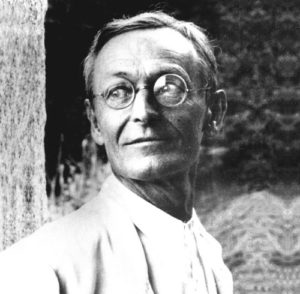 Between the five novels ending with Knulp and the six novels that follow it lies the chasm of the First World War.  Not many people, especially in America, realize any more just how wrenching an event that was, how completely it shattered the comfortable certainties of an age. There are uncomfortable parallels with the present, for in 1914, as recently, vast numbers of people who insisted that they were in favor of peace and tolerance and understanding pivoted on the smallest local coin and started screaming abuse at their enemies. Hesse was one of the few who escaped that fate, but he was vilified by former friends for failing to fall into line.
He spent the war in Switzerland, where he worked more than full time helping to make life bearable for German prisoners of war. He also had the nervous breakdown he'd been writing about for so many years already, underwent psychotherapy with a student of Carl Jung, and became a friend of Jung's and a thoughtful student of Jung's theories and of Eastern philosophy. When he sat down at his typewriter again, the difference was impossible to miss. He had been a capable writer; he became one of the greatest writers of his era.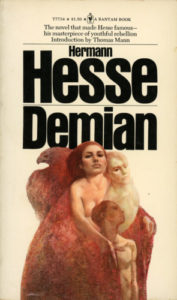 Demian:  This is the first of his mature novels and one of his very best. Once again we're back in the first person with another account of boyhood and youth, in territory not all that dissimilar to Peter Camenzind, but shot through with extraordinary imagery and insight. Emil Sinclair is young, troubled, dissatisfied; in the course of his youth he makes a friend, Max Demian, who is everything he is not—but then, step by clumsy, painful step, Sinclair sets out to transform himself, to become what he could be. The image that pervades the book is that of the baby bird pecking its way out of the egg. That's what Sinclair does, in a world trembling on the brink of war, and of course that's what Hesse was doing as well as he wrote this tale.
Hesse published Demian anonymously in 1919, and it became an instant bestseller. Reviewers assumed as a matter of course that the book had been written by a young man fresh out of the military, not a mature and bookish author of 42. (He 'fessed up after the work received a prize intended for the best new author of the year.)  It became one of the favorite book of the rising generation of postwar Germany.  There are few better measures of the tragedy of that generation than the gap between the quest for authentic personal identity central to Demian and the manufactured pseudoracial unity of Nazism that so many of that book's readers later embraced.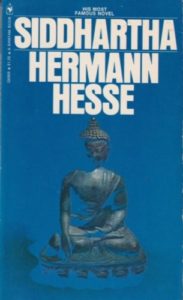 Siddhartha:  Published in 1922, this was written at the peak of Hesse's interest in Asian philosophies, and became his most famous novel.  It's not my favorite of his works, not by a long shot, but it's very capably done.  Siddhartha, the main character, is a young Hindu living in the time of the Buddha; he has, inevitably, a close friend who is his perfect opposite, but this time the friend is the troubled one who aspires ineffectually to be what Siddhartha so effortlessly is. Seeking enlightenment, they leave their homes and parents, practice austerities with a band of wandering mendicants, and after several years encounter the Buddha; the friend becomes a Buddhist monk, but Siddhartha finds no peace there. He discards his ascetic life to pursue sex and wealth, but eventually those leave him bored and disgusted.  Finally, going beyond both the life of the spirit and the life of the flesh, he finds his own path.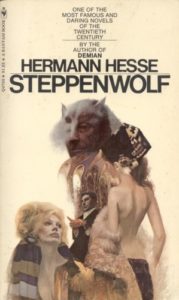 Steppenwolf:  The most challenging of his books in many ways, this is the story of a middle-aged man's nervous breakdown and recovery. That probably sounds dull; Steppenwolf is anything but.  Harry Haller is sensitive, intellectual, thoughtful, and cultured, living in a Germany sliding back toward militarism and war; he's also a loner, miserable in his self-imposed isolation, and something of a jerk.  In his own mind he's two beings, one the cultured intellectual Henry Haller, the other a Steppenwolf, literally "a wolf of the steppes."  In reality he's an entire galaxy of possibilities he hasn't even begun to explore, a Magic Theater whose performances are only open to madmen, and a chance encounter with a prostitute when he's on the brink of suicide sends him on a dizzying journey into himself and out the other side, into new life.
It used to be popular among critics to insist that Steppenwolf is "a searing critique of bourgeois values."  It's nothing of the kind.  It's a brilliant, heartfelt, and compassionate exploration of the pretenses and posturings of intellectuals who came out of the middle class and think that they've left it behind—that is to say, most literary critics, and most other members of the intelligentsia as well. Harry Haller's redemption comes when he stops trying to run away from himself into a world of Good People enjoying Good Culture, and lets Hermine, his blowzy muse, anima, and guide through the Inferno, teach him to dance to jazz tunes—a habit that had the same cachet in late 1920s Germany that going to a NASCAR race has in today's America. In the words of a current catchphrase, he gets down off the Cross and uses the wood to build a bridge, but the bridge is there to help him get over himself.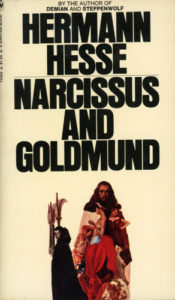 Narcissus and Goldmund:  The critics—well, those who can stand Hesse at all—adore this novel; me, I'll take Steppenwolf or Demian over it any day, but it's still very good. We're on familiar ground here, with two young men who are fast friends even though they couldn't be more different. The setting is medieval Germany, full of wars and plagues, but our two friends start out safe from that in a monastery.  Narcissus is the first iteration of a figure who will rise to dominate Hesse's last three novels, the contemplative intellectual perfectly fitted to his role in life, whose perfection becomes the final challenge he has to overcome. In this version, he loves the monastic life, he's well suited to it, and rises with effortless discipline to become the abbot.
His friend Goldmund is cut from wholly different cloth.  He's Kuhn without the crippling injury and shyness, Veraguth without the failed marriage:  a born sculptor, he's also afire with a longing for life, and that takes him out of the monastery on a nearly lifelong plunge into the hurly-burly of the German Middle Ages. While Narcissus spends his days in the perfect rhythms of the monastery, Goldmund encounters love, death, war, art, and life, and when he finally comes back to the monastery to die, his words and his life shake Narcissus to his core.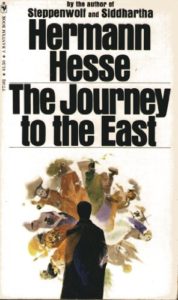 The Journey to the East:  This one may just be the strangest of Hesse's novels, and that's saying something. It's another first person narrative, but the nameless narrator isn't recounting his boyhood—or is he?  He joined a mysterious League committed to a Journey to the East that strayed weirdly across space and time, and then—after a complex series of events in which the perfect servant Leo played an uncertain role—drifted away from the League and the journey and found his way back to the ordinary world. His story belongs to everyone who looks back on life's least ordinary moments and wonders what happened. In a certain sense the story resolves and in a certain sense, like life, it never does. It's the novel of his that I go back to most often.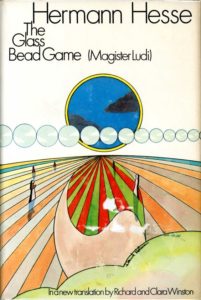 The Glass Bead Game:  Hesse's last, longest, and greatest novel, stupidly retitled Magister Ludi in some American editions, this is the only science fiction novel ever to win its author a Nobel Prize for literature, and it's so far beyond most of the science fiction written since Hesse's time that it's easy to see why.  We're somewhere around the twenty-fifth century. Europe, ravaged by cataclysmic wars in the twentieth and twenty-first centuries, transformed into a backwater in terms of world politics, has settled into a renewed stability, with technology more or less on a par with 1920—trains, broadcast media, the very occasional automobile.  To prevent the debasement of intellectual standards that led to the age of wars—"Not the faculty but His Excellency the General can properly determine the sum of two and two," to quote something from the book's backstory that may seem uncomfortably familiar just now—the nations of Europe have entrusted their intellectual life to orders of celibate scholars living in monastic conditions, and those scholars have created in turn the final synthesis of human knowledge, the Glass Bead Game.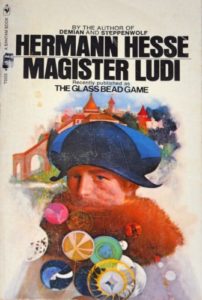 The Game is a sequence of ordered concepts that span the landscape of culture. "A Game, for example," says the book, "might start from a given astronomical configuration, or from the actual theme of a Bach fugue, or from a sentence out of Leibniz or the Upanishads, and from this theme, depending on the intentions and the talents of the player, it could either further explore and elaborate the initial motif or else enrich its expressiveness by allusions to kindred concepts." In one sense, the Game is fiction itself, for The Glass Bead Game is itself a splendid example of the kind of game it describes; in another sense, it's a metaphor for culture, and the role of artistic creativity in a culture already rich with literature and art; in yet another sense, it's an attempt to imagine in advance the future of European culture in the light of Oswald Spengler's suggestion that the creative days of the western world are over, and what remains is the work of synthesis.
Hesse places his tale in a double frame.  There is the life story of Johann Knecht, a gifted youth—yes, we've met him before—who rises out of obscurity to become one of the masters of the Glass Bead Game, and then turns his back on everything he has made of himself and leaves the cloistered world in which he has been so splendidly successful.  Surrounding this is the narrative written by the teller of that story, a bumbling, officious biographer of the century after Knecht's time, who has no clue about the vast ambiguities that surround the man whose story he is trying to tell. It's not a light read—quite the contrary, it's a dense, intricate, challenging work. It was only on the third reading that I finally began to get a clear sense of what Hesse was up to, and each reading after that has deepened my appreciation for it.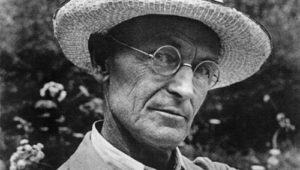 Those are Hermann Hesse's novels—the work of a brilliant, thoughtful author whose works went from explosive popularity to complete obscurity once the generation that lionized him realized exactly what he was calling them to do.  As that generation finishes its trajectory through time, it's occurred to me rather more than once that Hesse's work, like the distant glint of glass beads in a dark place, might again provide some orientation toward the things that matter.  Still, it's early days yet, and we'll just have to wait and see.