Two weeks ago we talked about the way that Bakongo spirituality made its way to the American colonies along with enslaved Africans from the Congo basin.  Once here, it adapted to the conditions of slavery and the radically different environment of temperate and subtropical North America to become the earliest form of hoodoo—one of the great traditions of American magic. That was part of a much broader cultural impact, of course; it's not going too far to suggest that modern American society derives nearly as much of its cultural DNA from the Congo as it does from, say, England. (That these two make up only a  small part of the ebullient slumgullion of influences that went into the shaping of American culture is one of the points I hope to make in these posts.)
This week we're going to turn that equation around and talk specifically about the magical traditions that came across the Atlantic with colonists from England.  By that I don't primarily mean the learned traditions in the forms that Johannes Kelpius and Joseph Stafford studied, though we'll have more to say about those – the history of alchemy in colonial America, in particular, is a fascinating chapter in our tale and will get its share of discussions. The aspect of American magic I want to talk about this week is the magic of the English common folk, the ordinary farmers and laborers who left their homes in England far behind to cross the Atlantic and settle on the shores of a mostly unknown continent.
In order to start making sense of that dimension of this nation's magical heritage, it's going to be necessary to head off one common misconception in advance. The village folk of England in the era of the American colonies practiced magic, treasured a great many customs that most people nowadays like to call "superstitions," and went to local practitioners—"cunning men" and "cunning women"—to get their futures foretold, seek healing from natural and supernatural ills, and make contact in a galaxy of other ways with the realm of the unseen.  That much has been documented exhaustively by generations of scholars. The teachings and practices the cunning men and women used have also been well documented, and they all have one thing in common: they have nothing to do with modern Wicca or anything resembling it.
Wicca was invented by an English occultist named Gerald Gardner and publicized by him in a series of books starting in 1951, when Britain finally got around to repealing the last of its laws against witchcraft. Did he draw on older traditions?  Sure, and they've been well documented since his time: a medieval handbook of magic called The Key of Solomon, the teachings of the Hermetic Order of the Golden Dawn and its erratic alumnus Aleister Crowley, a mostly forgotten back-to-nature movement called Woodcraft, and the writings of Robert Graves, Charles Godfrey Leland, Jules Michelet, and Margaret Murray, four writers who all postulated that medieval witchcraft was a survival of archaic Pagan religion. The first two of these authors insisted that medieval witches worshiped a goddess, the others insisted that they worshiped the Devil; Gardner split the difference and had his witches worship a goddess and a horned god.
Gardner's invention was a roaring success, and part of why it was a roaring success is that he insisted that he hadn't invented it at all—no, of course not, it had been passed down to him from antiquity by a coven in the New Forest. That was standard practice in those days. (One of the reasons that Aleister Crowley's attempt to launch a new religion with himself as prophet flopped so completely in his own lifetime is that he didn't cobble together a bogus pedigree for his system of Thelema.) Within a few years of the publication of Witchcraft Today, Gardner's first book on the subject, other people accordingly started leaping on the bandwagon, claiming to have received some more or less parallel set of teachings from their own untraceable lineage of witches. It was quite a growth industry for a while, though the market for third degree grannies seems to have had a dip in demand recently.
It probably has to be said outright that this doesn't devalue the validity of Wicca, or of any of the other varieties of modern quasi-Wiccan witchcraft. Every religion was invented by somebody, and the vast majority of faiths have backdated themselves to the dawn of time in exactly the same way that Gardner's did.  The one problem with this very common habit is that it can obscure what was actually going on in those circles that have undergone retrospective recruitment into a newly minted faith.  That's relevant here, because ever since Wicca came to America, there have been enthusiastic attempts to plant Wiccan covens (or covens of some other form of modern witchcraft that can be told apart from Wicca only by the cognoscenti) in colonial America—think of these as being Neopagan equivalents of all those fundamentalist Christian attempts to find Noah's Ark on Mount Ararat.
As already noted, there were unquestionably practitioners of folk magic in colonial America. Quite a few of them have been documented to one degree or another by industrious historians over the last century or so. They weren't Wiccans, because Wicca hadn't been invented yet, and they didn't call themselves witches—that term wasn't something you called yourself in those days. In England and the American colonies in the 17th century, a witch was a person so full of malevolent power that he or she could bring ill-luck on people, livestock, or crops simply by looking at them. (The southern European tradition of the "evil eye" is a closely related belief.)  Ministers and educated people believed that witches made pacts with the Devil, but the folk belief was far simpler: some people are just so nasty it spills off them, and we call them witches.
In the 17th century, most ordinary people in England practiced magic. They didn't practice a lot of it, or do it very systematically, but the great majority of them cast simple spells now and then for luck and healing, and practiced simple divinations in the hope of foretelling the future. Literacy was fairly widespread among them, and you had to be fairly deep into poverty not to be able to buy cheap print media such as almanacs. Those same habits crossed the Atlantic with the first English colonists and became standard practice here as well.  In an attenuated form, they remain standard in rural and small town American culture, especially but not only east of the Mississippi; you can still find local almanacs in a great many places with many of the same features that guided simple magical practice in Colonial times.
The example most people know about is planting by the Moon.  That's one of several forms of practical astrology that have been simplified for popular use. In Elizabethan gardening books—The Gardeners Labyrinth by Thomas Hyll is one on my bookshelves—the art of astrological timing played an important role in gardening, as it did in literally every other aspect of daily life. Hyll's manual includes a chapter of detailed astrological instructions that rely on the positions of the Moon and Saturn relative to each other, the lunar nodes, and specific segments of the zodiac. In popular use, such intricacies were replaced by simpler instructions based solely on the Moon's phases and her position in the signs of the zodiac.
You can find a basic guide to the resulting system in any old-fashioned almanac, and a thorough introduction to it in the pages of that durable classic of Americana, The Foxfire Book.  The very short version is that each sign of the zodiac is assigned to one of the four traditional elements, and each element is either hot or cool and either dry or moist.  Cool signs are fertile signs, so when the Moon is in one, that's when you plant; hot signs are barren signs, so when the Moon is in one, that's when you weed. There are some wrinkles in the system—Gemini is a hot and moist sign, for example, but the Moon in Gemini is the best time to plant beans; Virgo is cool and dry, but seeds planted when the Moon is in Virgo rot in the ground, and it's a bad time to pickle, can, or preserve things, too—and you also have to track the waxing and waning of the Moon. All in all, though, it's far simpler to practice and easier to learn than classic astrology; a local almanac and a little bit of oral instruction are all you need.
The same process of simplification shaped a great deal of the folk magic and divination that crossed the Atlantic with ordinary English farming and laboring people: find a tradition of folk occultism, and tolerably often you can trace it back to some considerably more detailed and demanding set of teachings and practices that thrived a few centuries further back.  The same thing, interestingly enough, is also true of the practices of those people who didn't just dabble in magic and divination on an occasional basis:  the professional folk mages of the American colonies. There wasn't a fixed term in colonial culture for these practitioners, but it's become standard usage among scholars to borrow the most common label for their English equivalents and refer to them as cunning men, cunning women, or (generically) as cunning folk.
Even in those colonies where laws prohibited such practices, there were plenty of cunning folk around.  One survey from the surviving literature noted eighty professional mages and diviners in New England alone between 1644 and 1850, and there were doubtless many more who lived and died without leaving a trace of their occult activities in the written record.  The methods of magic and divination they practiced were so close to those practiced across the sea in England that several scholarly studies of that end of occult history treat them as a single phenomenon.
Jim Baker's excellent The Cunning Man's Handbook: The Practice of English Folk Magic 1550-1900 is among these.  It's also the best single resource for students of the subject, because Baker reprints hundreds of pages of original texts detailing the practices used by cunning folk on both sides of the Atlantic. The curriculum for the ordinarily well-trained cunning man or woman, as Baker lays it out, includes:
Geomancy, a method of divination using randomly generated patterns of dots to produce a chart that foretold the future;
Folk astrology, including planting by the signs and a range of other methods that didn't need the demanding mathematical skills classic astrology requires;
Chiromancy (palm reading), physiognomy (face reading), and other methods of divination using the body of the client;
A range of other, less easily classified divination methods such as divination by sieve and shears, and the use of number-based oracles such as the Wheel of Pythagoras;
Dream interpretation;
The compounding of herbal and other natural remedies for illness;
The making and consecration of talismans, amulets, and charms for health, protection, and luck;
The conjuration of spirits of various kinds, good or evil.
All these practices have very deep roots in occult history; all of them were practiced in more complex and literate forms by learned occultists during the Renaissance—and all of them were available to cunning folk in colonial America in readily available books.
There's an interesting bit of history behind this. From the arrival of the first printing press in England until 1641, anyone who wanted to publish a book had to get permission from the government, and once Henry VIII took England out of the Catholic orbit, the bishops of the Church of England were given the power to censor anything they considered theologically suspect. In 1641, however, the English Civil War broke out and the censorship laws became impossible to enforce. English printers responded by flooding the market with a torrent of previously forbidden books—among them, books on magic, divination, astrology, and related subjects. Since the primary market for such books were the literate skilled craftspeople we discussed in an earlier post, who by and large knew English but not Latin, the vast majority of these magical works were written in or translated into English.
As the English settlement of the eastern American seaboard got under way, in other words, anyone who had even very modest amounts of money could buy books about divination and magic, and anyone with basic English literacy could read them. Important occult books such as Cornelius Agrippa's Three Books of Occult Philosophy and William Lilly's Christian Astrology became standard manuals and filtered well down the social ladder, while authors of derivative and simplified books on occult subjects found audiences even among the semiliterate. Such books, endlessly reprinted by presses in England and America, became standard texts for cunning folk on both sides of the Atlantic and helped large parts of traditional occult lore survive pressure from the privileged classes as those latter became increasingly hostile toward occultism.
Survey the folklore of American magic and it's easy to see the results. In Appalachia, where colonial American occultism survived with surprisingly little change until quite recently, a book of spells was the sine qua non of the practicing folk magician. The mage didn't have to use the book; he or she might not even have it.  Even the rumor that he or she possessed it was enough, but a book of spells had to be involved somehow. One common volume of this sort was The Sixth and Seventh Books of Moses, which was a German handbook of Christian magic first reprinted in this country by Pennsylvania Dutch presses—and yes, this was treasured by folk magicians even in the parts of the Appalachians that never had much German settlement.
Along the same lines, consider the advertisement printed in 1795 in a Charlestown, MA newspaper: "JOHN FRANCIS respectfully informs the public, that he would thank them kindly not to call on him after this public notice, for any explanations in Astronomy, Physiognomy, etc., commonly called Fortune Telling, as he has now engaged himself in a line of mercantile business, that will require his whole attention." The art of physiognomy, or divination by face reading, was mentioned above; "astronomy" in this context, of course, means astrology—the two sciences were by no means entirely differentiated in 1795. Francis was thus getting out of a career in the more educated end of popular divination to set up a more ordinary business.
What makes this particularly interesting is that Francis was African-American, one of the sizeable population of free black people in the northern end of colonial America. What else he might have practiced as part of his occult career is anyone's guess—the advertisement is the one scrap of surviving information about this solid citizen of Charlestown that links him with occultism—but he had certainly become sufficiently well known as a practitioner of two branches of classic European divination that he had to inform the public that he'd left the business.
Two trends we'll be seeing over and over again in these posts can be tracked in this brief glimpse at a working occultist's practice.  The first is that the varied traditions that provided the raw materials of American magic didn't remain the exclusive property of the ethnic groups that brought them to this continent. We've already seen how the German Pietist occultism of Johannes Kelpius spread outside the Pennsylvanian German community by way of interested outsiders such as Christopher Witt, and we'll see in future posts how hoodoo, created out of traditional Bakongo spirituality by enslaved Africans, spread throughout the African-American community and then became part of American occultism as a whole.
The career of John Francis marks another aspect of that same intermingling of occult traditions. His knowledge of physiognomy and astrology shows that he had access to the same books of popular occultism as his lighter-skinned neighbors, and if his "explanations in Astronomy" involved classic astrology with its intricate calculations, rather than the less demanding forms of folk astrology, he participated at least to some extent in the same currents of learned occultism that also shaped the career of Joseph Stafford, the astrologer of Narragansett Bay. Displayed here is an early stage in the emergence of a American magical culture that was shared by people of many different ethnic backgrounds.
The second trend highlighted by this vignette of 18th-century Massachusetts history is at least as important.  From colonial times right up to the present, occultism has been one of the standard ways by which gifted members of marginalized ethnic and economic groups in America could slip past the usual barriers to social advancement and make a name and a fortune for themselves. (Writing is one of the others—and it's not accidental that many of the examples of this phenomenon we'll be discussing were authors as well as occultists.)  John Francis apparently used his business as a fortuneteller to raise the funds that enabled him to enter a more respectable trade. Some of his successors did the same thing; others remained occultists.  The history of American occultism is full of such entrepreneurial figures—and some of them became significant figures in American cultural history.
**********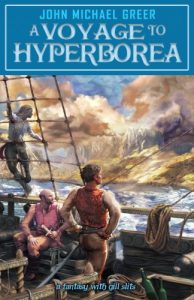 In news unrelated to the history of American magic, I'm delighted to announce that the next of my novels set in the universe of The Weird of Hali is now available for purchase in print and ebook formats. Here's the back cover blurb for A Voyage to Hyperborea:
Beneath Greenland's Glaciers…
All Toby Gilman wants is a postdoc position where he can pursue his studies in ancient Arctic linguistics and keep the secret of his nonhuman ancestry safely hidden. The bitter academic politics in his field leaves him only one option: a Miskatonic University expedition to an isolated station on the eastern coast of Greenland needs a linguist who can decipher the language of the long-vanished Hyperborean civilization. Having no other choice, he sails with the advance party to the wilderness on Tornarssukalik Inlet.
But the expedition is more than it seems, and he is not the only nonhuman among its members. A lethal peril threatens the survival of Earth itself, and the Great Old Ones and their deadly enemies are both in motion—and they are not alone. When disaster strikes Tornarssukalik Station, Toby must make his escape across arctic wasteland, board a tall ship crewed by undead pirates and captained by the Terrible Old Man, and face all his deepest fears in a journey in which love, betrayal, and death are constant companions—a journey that will end in the caverns far below Mount Voormithadreth, where the nightmare being Abhoth guards secrets that could end the world…
Interested? Copies can be ordered here.