As announced earlier, this blog will host an open space once a month (well, more or less!) to field questions and encourage discussion among my readers, and this is the week. All the standard rules apply — no profanity, no sales pitches, no trolling, no rudeness, no long screeds proclaiming the infallible truth of fill in the blank — but since there's no topic, nothing is off topic.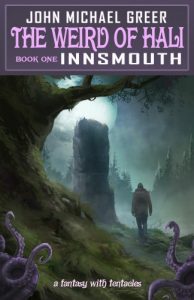 In other news, I'm delighted to report that the first volume of my epic fantasy with tentacles, The Weird of Hali: Innsmouth, is now available in e-book format and will shortly be released in a new trade paperback edition. (Yes, that's the new cover on the left.) Five of the other six volumes are finished and will be available in paperback and e-book editions in the months immediately ahead; the final volume, The Weird of Hali: Arkham, is about half finished and will certainly be available before the end of next year. (That is to say, those readers of fantasy who've been drumming their fingers irritably waiting for The Kingkiller Chronicles or A Song of Ice and Fire to finally wind up, need not worry that the same thing will happen in this case. Oh, and the last volume? It brings the series to a definite and, I hope satisfying conclusion — and yes, before the story ends, Great Cthulhu does indeed rise from the sea.)
So there you are. With that said, have at it!