As announced earlier, this blog will host an open space once a month (well, more or less!) to field questions and encourage discussion among my readers, and this is the week. All the standard rules apply — no profanity, no sales pitches, no trolling, no rudeness, no long screeds proclaiming the infallible truth of fill in the blank — but since there's no topic, nothing is off topic.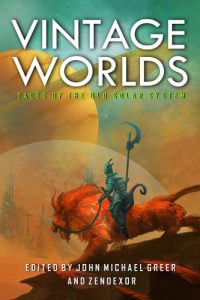 Before we go on, though, I have some good news to pass on regarding writing projects associated with this blog. First of all, I'm delighted to report that Vintage Worlds, the anthology of Old Solar System SF edited by myself and Zendexor, is now available in both print and e-book formats. If I may risk tooting my own Barsoomian horn a bit, it's a wowser of a collection, seventeen stories celebrating one of the great imaginative creations of our age — the nonexistent but endlessly wonderful solar system of classic SF, full of alien beings, inhabitable planets, spaceships that look like something other than random assortments of pipes and tanks, and two- (or more-) fisted adventure. Order your copies here.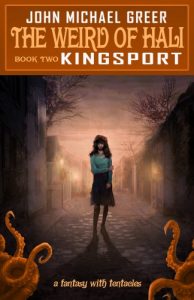 Second, fans of squamous, rugose tentacles everywhere will be pleased to know that the second book in my Lovecraftian epic fantasy series The Weird of Hali is finally stirring from its aeonian slumber. The first volume, The Weird of Hali: Innsmouth, is already available in e-book format; the paperback edition will be out on December 17 of this year and can be preordered here. The second volume, The Weird of Hali: Kingsport, will be released the same day in both e-book and paperback formats — the paperback can be preordered here. Those readers who are fairly new to this blog may want to know that this is not your common or garden variety Lovecraftian fiction; it's fantasy, not horror, and those vast tentacled critters and their human (and not quite human) cultists…well, let's just say they get to tell their side of the story for a change.
The third volume in the series, The Weird of Hali: Chorazin, will be forthcoming early in the new year; volumes 4 and 5 are in the publisher's hands as I speak, volume 6 is finished except for a final edit, and the seventh and last volume is about half done and will be in print by the end of 2019. (Those readers who are still waiting for the last volume of The Kingkiller Chronicle or A Song of Ice and Fire needn't worry about having to put up with that sort of nonsense from me.) And before it ends, Great Cthulhu will rise at last from the sea…
With that said, have at it!