As announced earlier, this blog will host an open space once a month (well, more or less!) to field questions and encourage discussion among my readers, and this is the week. All the standard rules apply — no profanity, no sales pitches, no trolling, no rudeness, no long screeds proclaiming the infallible truth of fill in the blank — but since there's no topic, nothing is off topic.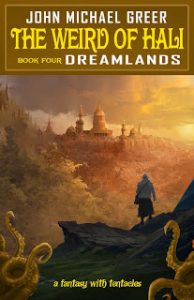 Before we go on, I'm delighted to make a couple of announcements that may be of interest to readers of this blog. First, the fourth book of The Weird of Hali, my seven-volume epic fantasy with tentacles, is now available for preorder in print and Kindle editions (the other ebook formats will be following shortly). This fourth adventure in the world of H.P. Lovecraft's Cthulhu mythos turned topsy-turvy sends Miskatonic University professor Miriam Akeley on an adventure of her own, in which strange dreams, the long-vanished Boston author Randolph Carter, and a weapon of tremendous power from long-drowned Poseidonis all have roles to play. The release date is April 17 — and not too long after that I expect to be able to announce the appearance of the next volume.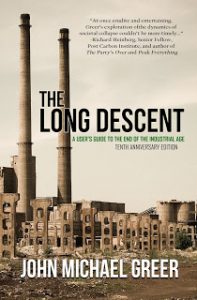 Second, my first book on peak oil, The Long Descent, has just been released by Founders House in a 10th anniversary edition with a new foreword. The Long Descent was highly controversial when it first saw print, because it rejected both sides of the conventional wisdom of our time — the blind faith in perpetual progress and the equally blind faith in imminent catastrophe — and showed that modern industrial civilization is following the same path of prolonged decline that brought down every other civilization before ours, and can expect the same fate. So far, that prediction has fared much better than competing views, and many of the other predictions made in The Long Descent — for example, my then-controversial prediction that the imminent spike in petroleum prices would be followed by a slump — have also turned out to be quite correct. As the industrial world stumbles blindly toward the next oil crisis, I think The Long Descent deserves another look, and I plan on revisiting the issues it raises in future posts here.
With that said, have at it!